If there is one question I get asked more than any other it is 'where should I stay on my upcoming trip to London?'. I remember asking Whitney and Kristan, two of my best friends, the same question in 2015 when we were planning our end of the year New Years' Eve trip. I remember looking at the map of London, not having been there since 2004, and thinking 'good Lord, how do you even choose?'. That's what I'm finally going to help you with today!When visiting a city, where you stay is everything. It gives you the first impression of the city and can either add or take away from your overall travel experience! Moreover, London is massive and there are so many neighborhoods that could suit you. Knowing all of these things is why it's been so hard for me to sit down and tackle it in a blog post. It's simply too complicated to answer this question without identifying something about you, the visitor. If you love art and staying in areas with a bit of grit, I wouldn't recommend South Kensington. If you want a quintessential London feel, I wouldn't recommend Camden. So, since I can't give everyone personal recommendations on where to stay in London, I thought it'd be helpful to provide some insight for first-time visitors, as I feel like that's mostly who I hear from!
What's The Best Area To Stay For First Time Visitors?
For first time visitors, I always recommend staying in central London. The central part of London is known as Soho. It is the busiest area of the city and within it, you have Piccadilly Circus, the West End, Leicester Square, a melting pot of restaurants and bars, and on the brink of the most extensive shopping district. I've found that most people seem to give themselves three to five days in London, which is certainly a great start, but I'd argue that with a city as large as London, you simply will not be able to do it all in that amount of time. With that in mind, staying somewhere central on your first trip puts you in the best position at the start of each day to ensure you can tick off everything on your [realistic] list of must-see's, which are likely sprinkled all over the city! It'll give you less commute time overall if you plan accordingly!
PRO TIP
: I always recommend making a list of the must-see's, must-do's, and any restaurant recommendations and put them on a
personal Google Map
. [Here's an example of one I made for my trip to
Cartagena, Colombia
] This can help you visualize where everything is in the city and plan which things you should lump into which days. In Google Maps, simply click the hamburger menu button directly next to the search box in the top left corner of the page. Go down to 'Your Places', click on the 'Maps' tab and then select 'Create Map'. It takes some figuring out but you'll get the hang of it. Simply create layers for each organizational category you'd like. With London, it may be easier to just mark every place you want to make sure you go to whether it's a restaurant, historical landmark, etc. and then make layers for each day of your trip. Each morning, simply isolate that layer so that the places in the area you're going to tackle day is the only thing you see on your map. Hope that makes sense!
Any hotel recommendations?
Yes! There are two I stayed in last year that I absolutely loved and would highly recommend for first time visitors.
HOTEL INDIGO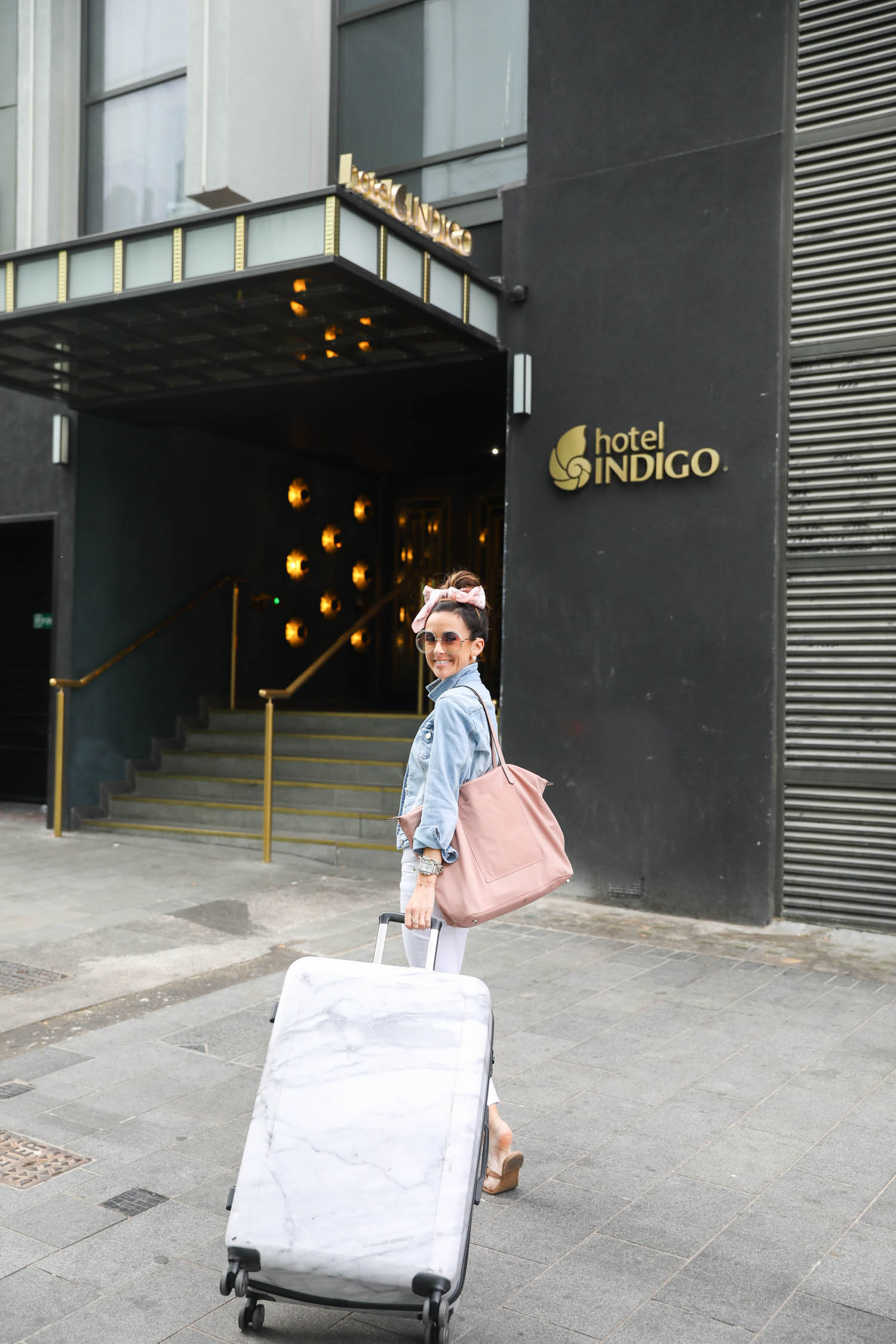 Hotel Indigo's boutique hotels can be found all over the world but you won't find anything cookie cutter about them. They use the neighborhood each location sits in as inspiration for the feel and decor because they 'believe in providing more than just a comfy bed, but an experience as unique as the neighborhood'. I found this to be completely true for their Leicester Square location when I stayed there last Summer. Historically speaking, Leicester Square's theaters and music halls were a huge draw during the Victorian era and it was only amplified by the roaring 20's and the advent of cinema. To this day, it's a bustling area of the city with celebrities dotting the red carpet laid out for their movie premieres, which typically take place at the famous Odeon Theater, just down the street from Hotel Indigo. So, to honor the area's heritage, this location is stunningly decorated with framed scripts, stage lights hanging from rigging, and it's topped off with a stunning rooftop bar that makes you feel like you're staring in a spectacular show! I enjoyed my stay at this location so much I stayed with them three times throughout the course of the year!
Get a load of this view from the rooftop bar:
I've stayed in quite a few different room styles at Hotel Indigo and I can assure you that they will all make you feel spoiled, each with a generous splash of opulence. I could see Big Ben and the London Eye from one of the rooms I stayed in. Talk about perfection!
VICTORY HOUSE:
Victory House Hotel is an 86-room luxury boutique hotel located in Leicester Square in the heart of beautiful London and housed within a stunning building originally erected in 1898. It is steps away from the iconic Leicester Square Odeon theater, which has hosted movie premieres for decades. Adorning the walls around the hotel are silent films and black-and-white photographs of 20th-century film stars as an ode to this cinematic-centered area of the city.
As mentioned on their site, "Victory House's 86 chic bedrooms range in size from cosy, intimate rooms to large suites, all designed and inspired by the 1950's cinematic glamour and finished with 50's art deco touches such as dial phones and bellman-cart style brass dressings.  The interiors have been designed to be gentle on the eyes with soft teal, grey and beige furnishings featuring subtle cinema icons and references integrated in an ode to the local dramatic heritage of the area." More photos and information on their room options can be found here!
I stayed in an Executive Suite, which offers a small area with queen-size bed as well as a small room with a spacious sitting area. I enjoyed free WiFi, a 40″ Samsung Smart TV, mini fridge, in-room safe, hairdryer, shower, tea & coffee making facilities and complimentary toiletries. What else could a girl want? Honestly, you'll find the service here to be completely superb! Everyone is lovely! If you are American, you will likely find even the suites to be 'small' compared to what a suite would be in our neck of the woods but, you won't be in your room much so keep that in mind. In the smaller rooms, I will say … keep your luggage in mind when booking your room. There isn't a lot of space for multiple suitcases so I'd keep it to one suitcase per person if at all possible! It also may help to hang up your belongings upon arrival to give yourself a little more room. I thoroughly enjoyed my stay here and I think y'all will, too! Be sure to grab breakfast downstairs in the restaurant before starting your days!
They are also doing some money saving offers right now like 'save 10% when you book directly on their site' and 'save 20% when you book three nights or more'! Those are both really great deals for such a nice place in central London!
Answering Questions You May Have
Would you recommend these hotels over an Airbnb?
I love staying in Airbnb's but, personally, on your first trip, I'd say opt for one of these hotels for the added convenience. There are lifts, which are few and far between in residential buildings in the Soho area. There is a doorman and concierge there 24/7, which makes it easy for your delayed luggage to be delivered whether you're there or not [this has definitely been a lifesaver for me before!]. There is a super comfortable bed to enjoy after those long, long days on your feet! So, while you may pay a little more, I recommend one of this two options for your first trip to the city!
Were there any pain points that you noticed during your stay at these hotels?
So, the location is a massive benefit to you as a first time visitor but, being dropped off in Leicester Square can be difficult depending on what's going on in that area. Leicester Square is a walk only area so cars typically cannot enter. I always ask the taxi driver to get me as close to M&M World as they can by requesting they turn down Wardour Street if they can. [Tell them this before they get to Leicester Square]. M&M World is literally at the end of that street and you will walk left when you get out of the cab. If you turn right, you'll walk into Piccadilly Circus. When you walk left, the main bit of the square is on your right and the hotels are down small streets on the left so just keep your eyes open. Sometimes, the taxi drivers can't turn down Wardour St because it's the main street in China town and can be flooded by people. For me, where I get dropped off doesn't matter because I know exactly where I'm going no matter where I'm dropped off but, I know it can be stressful to not be dropped off right in front of the hotel when you're unfamiliar with the area in general. I promise – staying at either of these hotels is WORTH. IT. but that could be something that is a bit disconcerting at first so just stay calm, get your bearings, keep an eye on your belongings as you're walking, and I promise, you'll find it!
It's also a really busy area of the city with street performers and lots of tour groups so it's definitely loud during the day. At night, everything quiets down around 10-11pm. I'm always SO beat at the end of a long day of running around the city that the noise has never bothered me but do think it's worth mentioning.
What are some must-see / must-do things in this area of the city?
• You're basically IN the West End when you walk on to Shaftesbury Avenue. It's London's version of Broadway and I cannot recommend seeing a show while you're in town. I've seen quite a few but I think Les Miserables might be my favorite. It's always smart to eat beforehand somewhere quick like Muriel's.
• Grab a drink at one of the world's best cocktail bars, The Blind Pig, secretly located above Social Eating House. The door is a bit hard to find but if you just go to 58 Poland Street, you'll figure it out! There's a pig on the door.
• Regent Street is just on the other side of Piccadilly Circus from Leicester Square, where the hotels are located. So, if you're there to take advantage of all the great shopping that London has to offer … it's literally on your doorstep. Did you know? Regent Street is the worlds' first-ever purposefully built shopping street,
• Carnaby is a must-see area of Soho during your time in London! It gained quite a reputation in the 1960's as it was a magnet for creatives looking for inspiration, drawing in the likes of music idols Jimi Hendrix, the Beatles and the Kinks and style icons  Brigette Bardot and Elizabeth Taylor. It's comprised of 14 streets comprised of over 100 shops and 60 restaurants, bars, and cafes so if you're needing a midday pick-me-up, it's the perfect stop off! I love Joe & the Juice as well as Farm Girl for good, fresh eats to keep you going!
• Grab some tea to bring back to the States with you from Fortnum and Mason, the Queen's official grocer. During the holidays, I absolutely love the window displays they put together!
• For all you history buffs, be sure to check out the water pump on Broadwick Street, in the heart of Soho. This iconic spot was identified by epidemiologist John Snow as the source of the infamous cholera outbreak of 1854. The John Snow Pub is now located there to commemorate the importance of his discovery.
• Covent Garden is also a must and a short walk from Leicester Square. It's quite historic and a bustling area with lots of shops and restaurants, bars, and cafe's. I particularly love Seven Dials. It's especially dreamy during the holidays. Petersham Nursery and Avobar are both healthy spots to grab lunch if you're in the area and needing a pit stop.
• A couple quick, off-the-cuff restaurant rec's for ya within a 2 to 10-minute walk: Sticks n Sushi [best sushi ever ever ever ever!], Dishoom, Hawksmoor [Flat Iron is similar and closer to the hotels, but Hawksmoor is better, in my humble opinion], Sarastro, Bocca di Lupo [my friend Sarah has been in London for six years and raves about this place; still haven't made it there myself but looking to change that soon!], and Barrafina. Don't you dare go anywhere that we have in the States! Get out of your comfort zone! 🙂
I could go on … but, you're literally on the brink of anywhere in Soho, so venture off and catch a view somewhere! It won't take much effort, to be honest! 🙂
What's the best way to navigate the city? Google Maps?
I have actually had much better experience using the CityMapper app.
What's the best way to get around the city or your favorite public form of transit?
The tube – without a doubt! It is SUPER easy and the CityMapper app will help you if you're nervous. It's fool proof and there are service members at every station if you have questions. More information on Oyster cards, which is your 'ticket' for tube access, here.
Black cab's are great every now and then but, honestly, I try to take the tube as much as possible because it's so much cheaper! [NOTE: If you are set on taking Uber or black cabs around the city, try and opt for black cabs as these guys KNOW the city like the back of their hand. When there's bad traffic, they can often find a shortcut to take you down to get you there faster. They're typically super fun to chat with, as well. Uber drivers only follow the route their navigation sets for them].
I also love taking the city bus! I recommend anyone opt for it at least once on their trip and try to sit at the top! It's a really fun way to see the city. It usually takes a bit longer to get from Point A to Point B but if you're tired and need to take a load off your feet … it'd be a good option! [NOTE: You will use your Oyster card for bus access, just make sure it has money on it because there's no way to top it up / refill it on the bus like you can in tube stations.]
Anything I need to keep in mind as a first time visitor to London?
Yes! Here are a few things to make note of as you're navigating the city:
• When you're on an escalator, stand on the right and walk on the left. If there's something I wish we would adopt in America from the British, it is THIS rule.
• When you're crossing the street and you're not sure which way to look, always look behind you.
• At a crosswalk with black and white stripes with two blinking lights on either side, pedestrians have the right of way but ONLY at these crosswalks. At most crossings, you'll have to push the button and wait until you're allowed to cross over.
• There's no sidewalk etiquette. It's every man and woman for themselves. Same with stairs. There never seems to be a method to the madness. Just commit to a side and stick with it.
• London is very much a city from a people standpoint. Everyone is rushing to get to where they need to be and you, as a visitor, are sharing it with people who live and work here. I wouldn't say people are overly friendly but, they're typically not rude as long as you're not holding things up! In shops and restaurants, you'll find the British to be quite friendly but not overly outgoing. Most will great you will 'hey there, you alright?' and it's the same as 'hey there, how are you?' so feel free to treat it as such!
• You will sit at your table for a long time waiting after your meal has been cleared if you don't verbalize that you want the bill. In restaurants, I've learned you need to take the initiative to make your needs known as your server doesn't check on your table the way they do in states throughout your meal. Don't take it as a form of laziness or deem it bad service. The British always air on the side of politeness and they never want to rush anyone out of the restaurant so they put the ball in your court and let you decide when you're ready to pay.
• Speaking of paying your bill … I try to use Apple Pay as much as possible as it is so much faster, especially for small transactions like coffee and small purchases in shops. Brit's typically have the ability to tap their credit card to pay for things and the transaction is complete without a signature. Our cards sadly don't have that ability and I've found Apple Pay to be the best alternative. [When I enter my chip card to get coffee at Costa, for example, the cashier never has a pen handy because of what I just explained so I just make it easier on both of us by using Apple Pay!] I also always opt for my American Express, when possible, because they don't charge foreign transaction fees.
• Be aware that sometimes, the distance between two tube stops is a 5-minute walk [i.e. Piccadilly Circus to Leicester Square] so keep that in mind when deciding to take the tube or going down into a busier tube station. For example, if I'm in Piccadilly Circus and I want to get to Covent Garden, I would suggest walking. Both tube stations are always busy and it's only a 10-minute walk.
• Stay ahead of your navigation app. It makes you look like less of a tourist.
Alright, that about does it for now! I hope you found this post to be helpful. I know, for me, it feels like a weight has been lifted! Happy planning … you're going to the best city in the world! My deep hope is that you enjoy it and stirs up something new in you! For more resources to help you plan your London trip, head here next! xo.