It has gotten CHILLY here in London. I'm sporting all the neutral layers, like these from the other day. The tunic sweater is under $30 and the denim is $70.


My absolute favorite pullover sweatshirt is on sale right now making it under $35 and it comes in so many beautiful colors! Enter 14989 at checkout to get the discount!


 If you have any questions about extensions, I'll be doing a follow-up post about them on the blog soon. Also, this dress could not be any cuter for this time of year and also comes in a couple of holiday prints (yep! time to start thinking about your holiday wardrobe now!) + 25% off with code 14989!


If you're needing some comfy travel outfit pieces for this time of year, I highly recommend these! The sweatshirt is perfect over leggings [no longer available in white but I linked the page with all of the other colors for you!] and this pair of leggings has been a long-standing fave! They're so soft and under $100!


This is the top I cannot stop wearing. It's so cute, sits off the shoulder and comes in a bunch of colors.


ICYMI: I shared this travel look from Nordstrom that is basically what I wear every time I cross the pond + my updated style travel tips here. This cardigan is under $50, by the way!


This mock-neck sweater is so cozy and perfect for the holidays! I snagged this ivory one and the olive green one. I'd say snag one now because they're 30% off with code SOGOOD!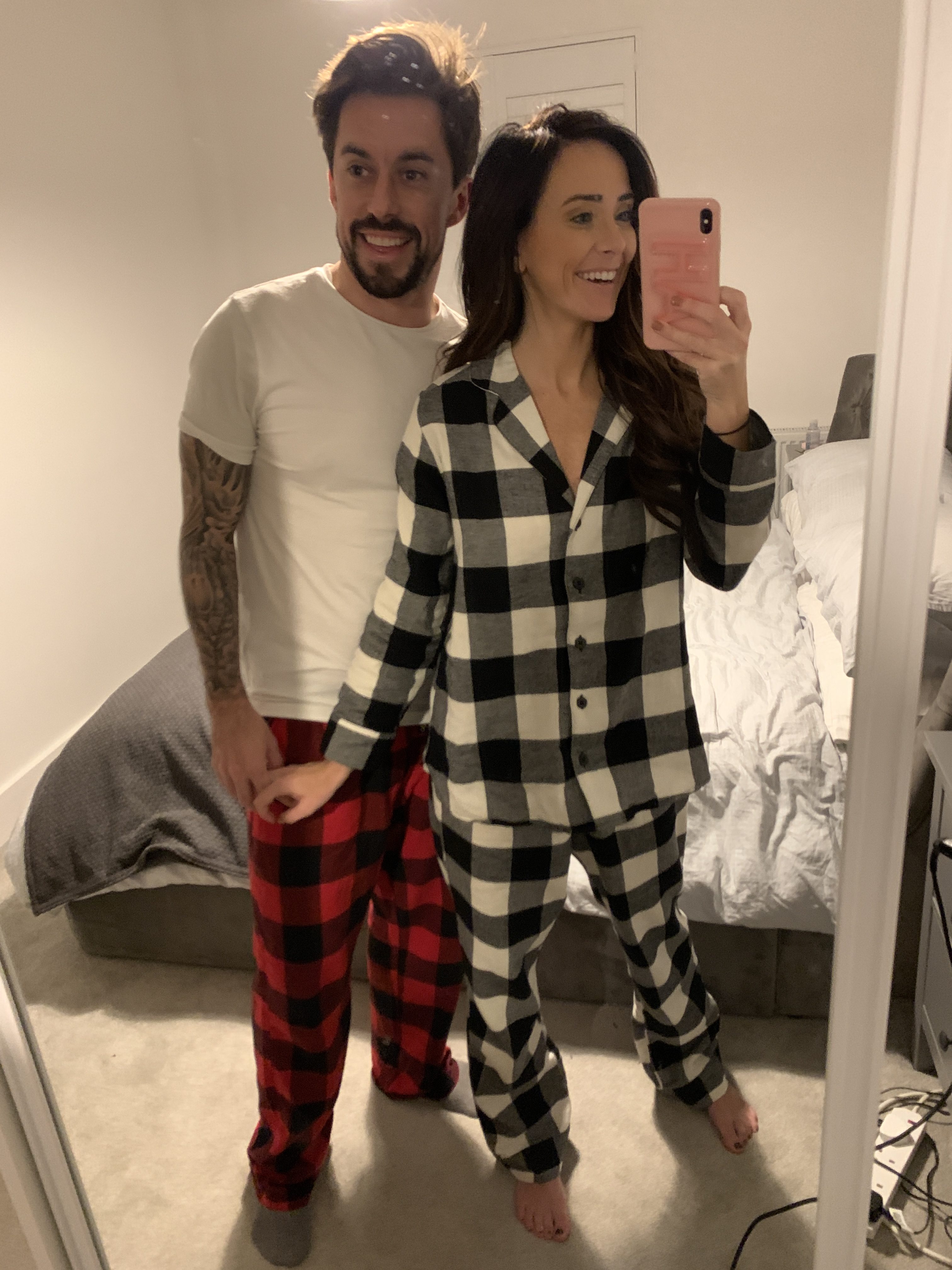 John was thrilled when I bought these matching holiday pajama sets for us. He couldn't wait to take a mirror selfie with me to show all of you…hahah! He is such a wonderful sport … and both sets are seriously so comfy! Enjoy 20% off with code SWEET.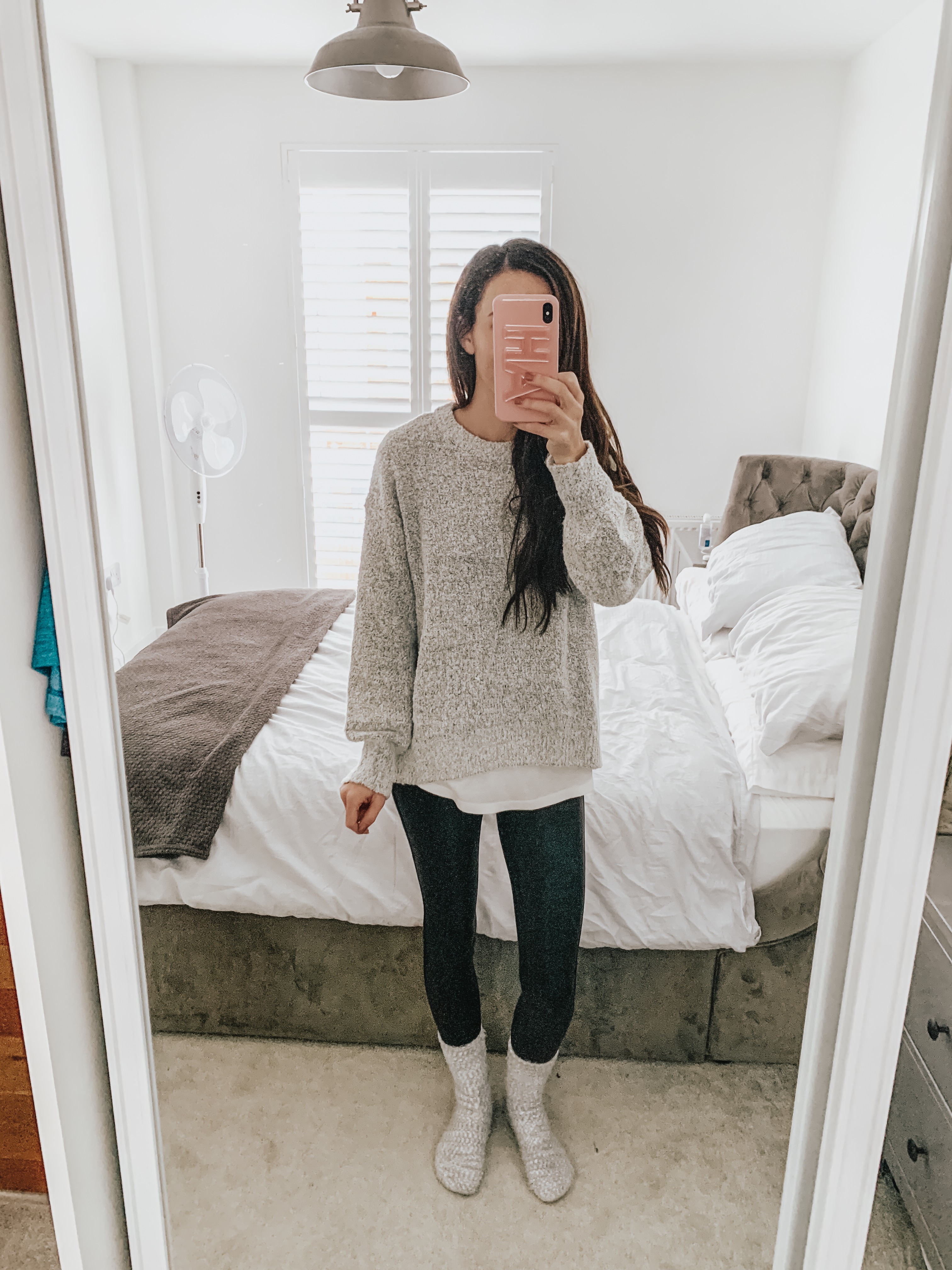 Nothing like finally making it to London and grabbing a nice head cold on the way! I got all cozied up in this sweater and rested up to try and get better. I went one size up and think it's a great buy under $45 + 20% off with code SWEET.


I wore this mock neck oversized sweater today that works well over leggings, comes in so many colors and is under $50.


Saying bye to the handsomest king of all last week was so hard! I miss him and his brother so much when I am gone. Counting the days until me & all of my favorite boys are in the same city!
This Weekend's Sales
Banana Republic: Friends & Family Event: 50% off regular price with no BR merchandise exclusions. Use code BRFAMILY
Bloomingdales: Women's Cashmere up to 30% off
Express: 40% off everything | 50% off jeans & dresses
Gap: Friends & Family Event: 40% off everything with code GAPFRIEND
One Kings Lane: Limited time only: 20% Off Art, Lighting & More Finishing Touches with Code OKL20DECOR
Paper Source: 20% off everything with code FUNANDDONE
Pier 1: Save $10 for every $50 you spend with code 10MORE 
The Container Store: Kitchen & Pantry Holiday Sale, up to 25% off
This Week's FAQ's
Q: Where is the cosmetic case from you shared on stories the other day?
A: It's HERE!
Q: Can you share your turkey chili recipe again?
A: Yes, it's HERE!
Q: Where did John get that cute dachshund towel you shared?
A: He got it from a place called Dunelm. It's based here in the UK, though, and they don't have international shipping. I'm sorry!
Q: Can you link your travel neck pillow again?
A: Yes, it's HERE!
Q: What is the contraption that gets all the fuzzy's off of wool coats and sweaters?
A: Oh, I love that thing! It's a fabric shaver and it's HERE!
Q: Have you ever been to Scotland? I'm planning a trip from the states to the UK next autumn and London/Edinburgh are going to be our base cities! Any must-have's or advise for Edinburgh from you would be so so helpful.
A: No, I have never been to Scotland! It's on my list, though. I'm so sorry I can't be of more help.
Q: How is Justine doing? Do you guys still keep in touch?
A: Justine is doing good! I ran into her recently and we got to catch up a little bit. She really likes her new job and her little fam [husband and two pups] are all doing well! I miss her dearly. We are hoping to get together once my travel schedule settles down a little bit.
Q: Why does your luggage never make it to London?? It makes me scared to go there, ha!
A: Hah, oh girl … don't worry. It's honestly because the weather in the South is historically terrible in the Summer. So, in July when I came over, my flight to Atlanta got delayed and I already had a really short layover before my international flight so, they couldn't get my luggage on the flight that quickly. It arrived the next day. The same thing happened this time. I only had an hour and a half layover and my flight out of Jacksonville got delayed to Atlanta. By the time we got in the air, and I got to Atlanta, I only had 15 minutes to get to the plane. I made it but, luggage didn't. I'm learning that I need to take the earlier flight to Atlanta to give myself a little more time in case of delays, especially in the Summer. I was actually surprised the weather acted up this time because, usually, it's not as rainy in the South this time of year. So, anyway … that's why … a mixture of poor timing and poor weather.
This Week's Best Selling Products
Thanks for stopping by today, y'all! Have a wonderful weekend! xo.