Hey y'all! Happy Monday! John and I had the best time in Abu Dhabi and Dubai. It was such an interesting place and I hope to go back someday and see more of it! Today, I'm excited to catch up and do some brainstorming for all of the holiday content I want to put together for you guys! But, before we get into holiday mode, I wanted to tackle the topic of hair extensions because I've gotten a lot of questions about them lately … if I still like having them, what kind I have, what the maintenance is like, etc. So, since I have a little more experience under my belt, having had them for over a year, I thought I'd do an updated post [ICYMI: here is my original one].
For anyone who is new around here, let me give you some background! I got my natural beaded row hair extensions last September with Danielle White, who created the technique, in Laguna Beach, California. It was so cool to meet someone who has created a set of extensions that have the least amount of damage to your natural hair after years and years of using every other kind under the sun. She is a hair genius and wizard and has made it her mission to teach other hair stylists around the country how to install her hair extensions, which leads me to a beautiful stylist I've been going to recently, who is MUCH closer to home … miss Maeghen Soucinek at Vera Salon in Lake City, Florida.
I've been going to her for the past couple of sessions to have my extensions moved up and re-blended and y'all … she kills it every time! If you girls are in the  Jacksonville area, I can't recommend Maeghen enough. She is not only excellent at her craft [she's a hair artist & educator who specializes in blonding and natural beaded row extensions], but she is truly all about making women feel good about themselves. I love how thorough she is with the process and how she takes your lifestyle and preferences into account when applying extensions. The one thing I love and appreciate the most about her, though, is that she has truly mastered the art of blending your extensions into your natural hair. Nothing is worse than when you can tell someone has extensions! See the photos below for proof. The colors blend effortlessly together and when you lift up your hair, you can barely tell those are extensions.
I've rounded up some on y'alls top questions on extensions, and with the help of Maeghen, have answered them all below. Hopefully this covers all of them, but if not, leave a question in the comments or on Instagram, k?
The Process
The process of natural beaded row extensions is the least damaging method of hair extensions that I have found, personally. First, your natural hair is colored to match the wefts of hair that have been carefully chosen to ensure the end result blends seamlessly. Then, it's washed and toned.
Next, your hair is sectioned off for the first weft to be placed. Beads are placed along the section and then the weft of hair is clipped along the section before being sewn in place on the beads, ensuring there are the fewest actual points of contact on your natural hair.
Once all of your wefts have been placed, your hair needs to be cut so that it blends nicely with you natural hair.
Then, it's styled and … voila!
Before & After
I've had a few people ask if they could see a before and after photo so, without further adieu:
Ha, my hair looks a little crazy on the left being that it had been up for quite a while so it has that big crease in it! But, isn't it a crazy transformation. My hair was much shorter when I first had them put in so, it's great to see how my natural hair is still able to grow without any difficulty, even with the extensions in.
Your Latest Hair Extension Questions
What is your hair coloring formula?
She used a level 4nn with 20 vol. for your base color, 05g + 05gb for your lowlight to add dimension + depth, and for my color gloss, she used 08wg + 07gb + 08gg to create those warm, caramel tones + added shine.
While this may be helpful to your hair colorist, remember that it may not turn out exactly like mine because the color it ends up processing to is completely dependent on the color of the hair the formula is applied to.
I have NBR extensions and I am finding them hard to get used to. Does that go away?
I find that they're tight and slightly uncomfortable for about 3 days after I get them moved up, then I barely know they're there. I have a pretty tough scalp so maybe you're is a bit more sensitive. If it's still bothering you after 5-7 days, I'd contact your stylist.
Will doing a blowout pull them out?
No, I've had my hair blown out before. You just need to let the hairstylist who's blowing your hair out know you have them.
Have you left the extensions in for the entire 12 months? How often do you have to move them up?
I've had extensions for over a year, yes. However, every 6-8 weeks, I have them moved up and, every 6 to 8 months, I have the hair changed out.
Have you had to replace the initial hair yet?
Yes! I got my initial hair in September of 2018 and replaced it in June of 2019.
How often do you wash your hair?
Once a week! It's one of my least favorite things to do so dry shampoo [this one is my favorite] is my best friend in order to ensure I don't have to do it more than I want to, ha! For the record, this $9 dry shampoo is my favorite. This post is a bit older, but in general, these are still my holy-grail hair products for getting my hair to last throughout the week and re-styling. One update worth mentioning is, instead of a Dyson hair dryer, I use THIS handy contraption. While I do love the Dyson, I just find this to be so much easier as I have a lot of hair and it goes EVERYWHERE with the powerful Dyson.
What does your hair look like without the extensions? It is growing? Any damages?
Be sure to see the before and after photos above but I'll also post a couple of videos on IG stories so you can see it there, too! You can't get any type of extension without it somewhat damaging your natural hair. However, I fully believe the natural beaded rows are the least damaging of any kind because there aren't as many points of contact and the points of contact are small.
What shampoo and conditioner do you use?
I use Oribe's shampoo for color [helping the color last!] and Oribe's conditioner for hydration [which hair extensions do need a lot of over time].
About how much do they cost initially and what is the cost to maintain them?
This is something that is so hard to answer because it totally depends on how much hair you'll need to achieve the look you're wanting. I would set aside $1500-2000 for the initial install and then approximately $300-600 for move-up's. Please consult with your hairstylist to confirm this would be a safe bet as, again, everyone's hair is different and will require a different amount of hair and color treatments.
Maeghen makes figuring everything out so easy! To get more information about what this would cost for you, simply fill out the application on her website HERE. It tells her and her team a little more about your hair currently and what you are going for, which will then lead to a phone consultation shortly after submitting your application online.
What are your thoughts on them after having them for a year?
They are a worthy investment if you want longer and / or fuller hair. I absolutely love them. However, every good and / or fun thing comes with a cost. I certainly spend quite a bit of time curling it. Washing it takes quite a bit of time, as well. I've gotten much faster at both but, you have to be willing to put that time into maintaining them and making them look nice.
To give you some insight, here are some tips from Maeghen on how to take care of your extensions: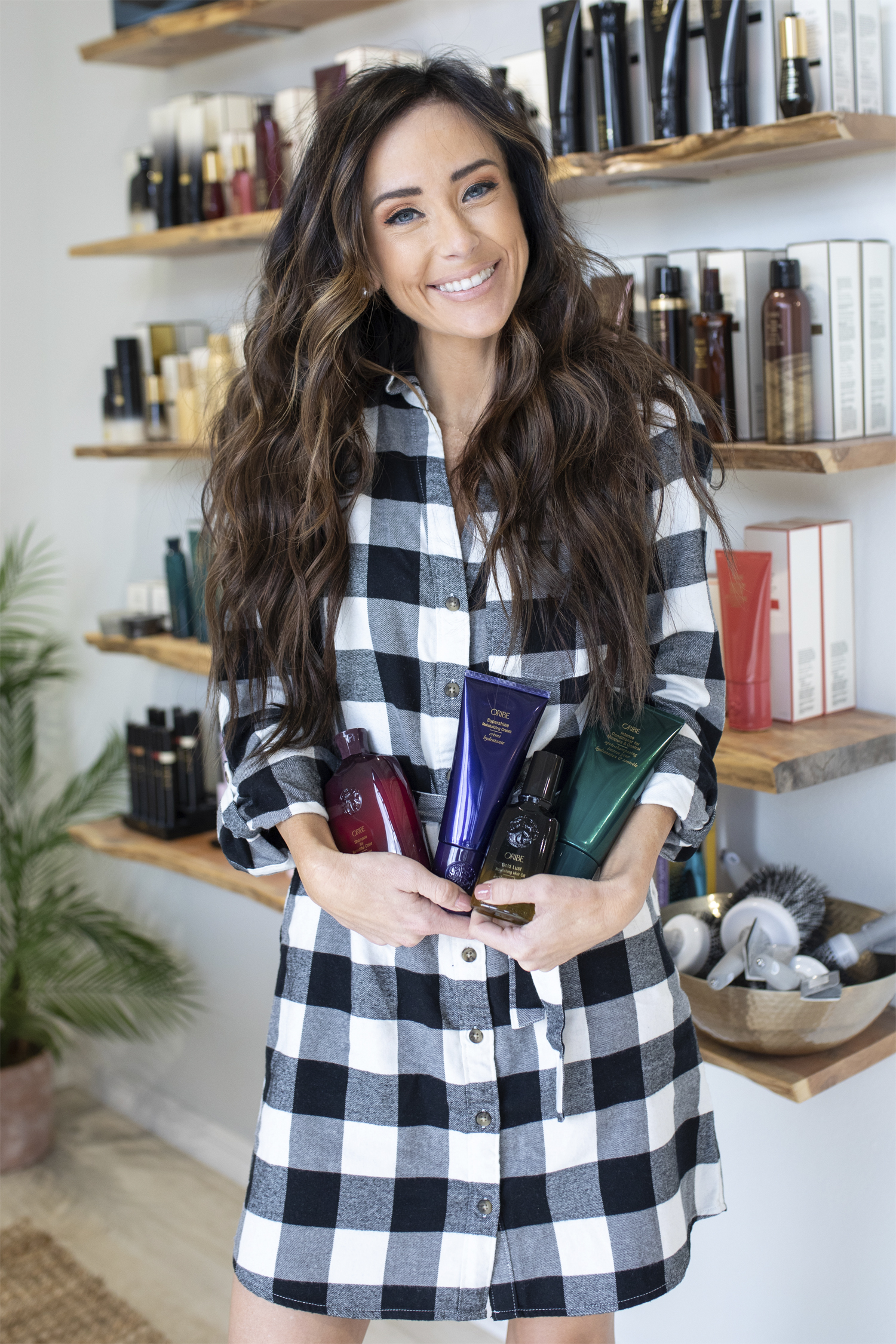 How to Take Care of Hair Extensions
SHAMPOOING
Use a sulfate-free shampoo and conditioner to prolong extensions [and color, if you have it]. Stay away from protein or texturizing shampoos with these extensions. Gently shampoo in between the rows of hair, no need for intense scrubbing / pulling.
Deep condition the ends of your extensions once a week. [I'm horrible at this and need to get better!]
STYLING
Avoid putting hair on top of your head in a towel to dry.
Use a leave-in conditioner and a hydrating oil before brushing out hair with a wet brush. Gently brush from ends to the scalp, holding the hair in a ponytail to avoid additional tension while brushing.
Let hair air dry as much as possible [she recommends 80%].
You can use a round brush and a small amount of tension to smooth your hair and the extension hair the last few minutes of your blow-dry.
IF curling your extensions, run the extension hair through the curling iron to smooth the hair once or twice, before curling. This will give your extensions a more polished look, close the cuticle, and prolong the extension hair.
Always use heat protectants.
Avoid pulling hair straight back into a ponytail, as this will create tension on the anchor beads.
SLEEPING
Brush the hair extension hair out and then place it in a loose ponytail or braid.
OTHER
Avoid lots of exposure to chlorine, saltwater, and spray tans. If you're doing any of those things, coat the hair with a recommended oil and leave-in conditioner prior to getting the hair wet.
Avoid extension contact with sunscreen.
If you notice any excess tangling or hair shedding, please contact your stylist ASAP.
Alright, ladies, that rounds it out. If you're in the North or Central Florida area, give Vera Salon a call to schedule your consultation and appointment with Maeghen! She has been kind enough to offer my readers 10% off when you mention me at checkout and give her my code ALYSONHALEY10.
If you have any questions, leave them below or head over to Instagram where I'll be sharing more about this process! Thanks for stopping by! xo.