With all the content I produce here on AlysonHaley.com, I find it a tad wasteful not to re-share favorite outfits that I've either worn in the past or earlier in the season. While I love sharing all the new finds as I curate them, I'm all for recreating looks with what's in your closet, too. Or, for finding new items and pairing them with something older in a way you might not have thought of before. So, with that, I'm excited to bring you ten holiday looks that I've personally worn and loved. While all of these weren't necessarily put together for a holiday celebration, they're all perfect this time of year.
You might remember a few weeks ago when I shared a similar post rounding up Thanksgiving Outfits [which by the way, are really just great Fall & Winter combos in general]. If you're looking for more seasonal items, don't miss that post.


Dang, looking at this outfit makes me want to recreate it … like tomorrow! I adore the timeless feel of wide winter white pants. Mixed with a red sweater plus pretty earrings and you have yourself the perfect holiday look. I'd suggest something like this for work, a work party, something with the in-laws, church, or anything you want to feel extra chic for. My culottes are old but I found an almost identical pair HERE for under $100.


Y'all know my love for a sweater dress & boots combo by now, right? I actually live in this combo here in Florida during the holidays. If you missed my post on the Top Ten Selling Items of November, you'll find this cozy yet light sweater dress there. It's a gem! This look would be just as cute with regular booties as well.


Here's a good example of something you can wear now … and basically all winter long. Not overly festive yet cute and snuggly for the season. You'll notice these boots on repeat for me during Fall and Winter. They are incredibly versatile and I find the leg height ideal for dresses or jeans.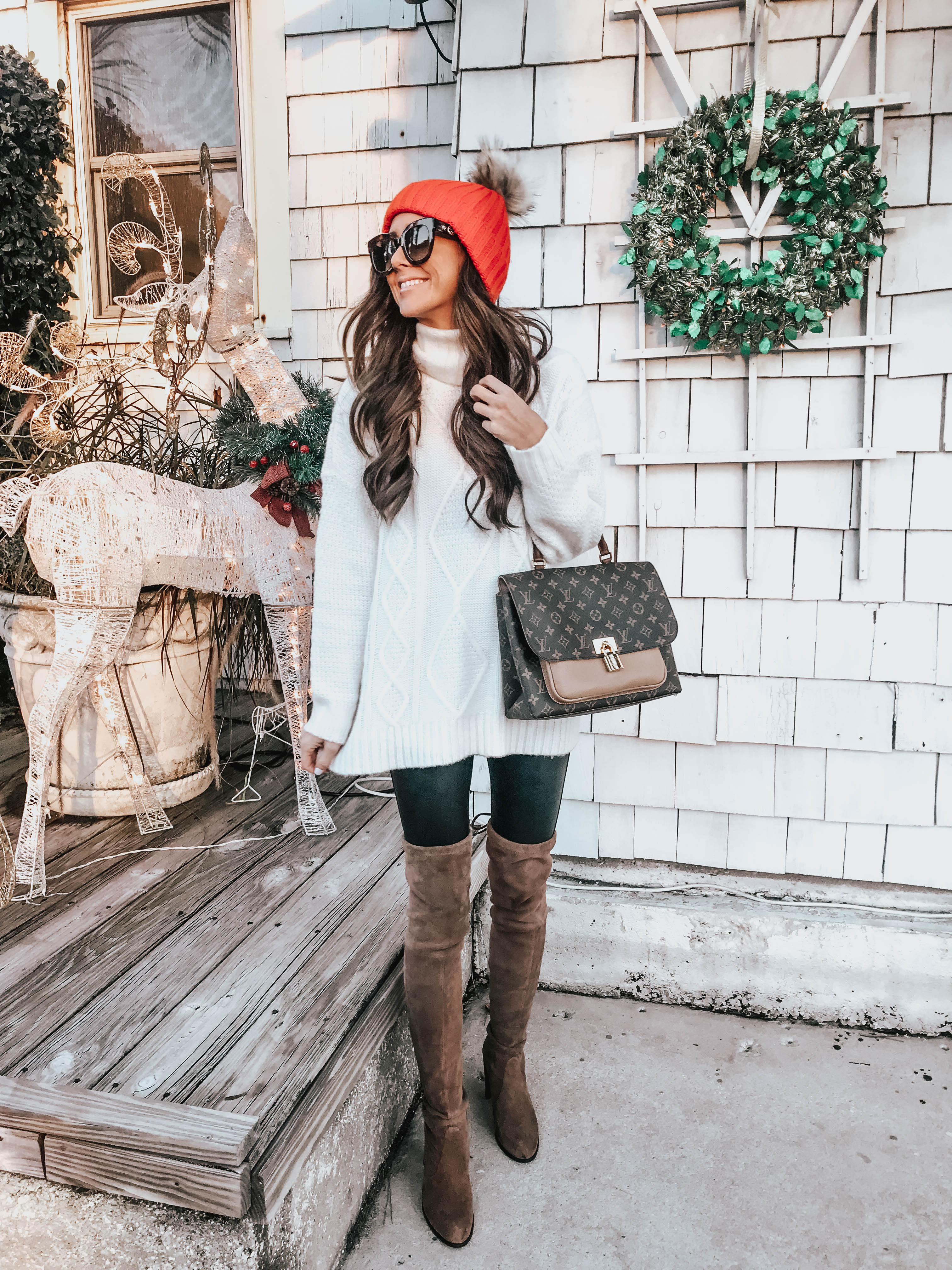 Throw on an oversized white sweater, a red or green beanie, and you've got yourself the comfiest Christmas look. I like feeling festive yet not over the top and I find this combo accomplishes that. And yep, once again, these same OTK boots. Told ya I was obsessed.


Oh my gosh! This might be one of my favorite December looks ever. The mix of green, red, and plaid on this scarf is too adorable and pairing it with a classic sweater dress and boots tones down the Christmas vibes a bit. While this particular scarf is sold out, I've linked other chunky substitutes above. I'd absolutely rewear this to a casual holiday get-together or while holiday shopping.


I feel like I just smile bigger when in London, don't you? Ha. This outfit is similar to the one above but I just mixed in different colors of the same elements. My love for cognac over-the-knee boots runs deep, can you tell? And the shade of these goes well with literally everything this time of year but, honestly, you can get away with any neutral color.


Alright, alright, obviously getting a little snazzier with this pick! I shared this beautiful red dress + other holiday party picks in this post if you're looking for more of this. If you have any sort of fancy dinner, wedding, or holiday party, this flattering dress is amazing. I personally love the red paired with crystal, pearl, or gold jewelry, and neutral accessories for a festive look that is all sorts of classy, as well.


You'll definitely find flannel shirts on rotation in my closet right now. They are one of the most versatile December items, as you can dress them up as I did here [with leather leggings and pumps], or keep things casual with jeans and a pair of sneakers. And while my flannel happens to be red, I really think any flannel plaid feels seasonal. You can also borrow one from the boy's closet and tie it up or tuck it in. John, I'm coming for yours soon 🙂


This is another fancier holiday outfit that I shared in this post. If you're not a dress girl, jumpsuits are a great option for an event that calls for a dressier dress code. I found this one-shoulder option to be all sorts of flattering. Since the material isn't very thick, I'd bring along a cropped jacket if you're spending any time outdoors in it.


This insanely cute puffer jacket is back in stock this year AND on sale!! It kept me so warm when I was in London last Christmas and I absolutely love the pop of red for the season!
Are y'all liking these round-up posts? Are there any other occasions you'd want me to do this for? Please let me know and I'm happy to put together! xo.