Hi there, friends! Is it too late to share one of these posts?  Ha, I hope not. I am doing things completely different in 2020 and I am already loving it. I took a lot of time off during the holidays and allowed myself to slowly get back into the whole work thing. In years' past, by this time of the month, I would never have let this post go this long without being shared but, lately, I've spent a lot of time reconciling my need for rest and a healthy pace at work with the pressure I sometimes feel in this industry. Let me just say … it's been refreshing. So, here we are, in the middle of the month and I'm finally ready to reflect on 2019 and share some things I'd like to do different in 2020. And, if I'm honest, there are quite a few things on my heart that I'm finally ready to let lead me this year in a completely different way than in years' past.
Recently, I've been thinking about how I want to use my influence for the better. This has always been important to me. Over the past couple of years, I have incorporated more travel content into this space, which mainly focuses on style, and I've become a respectable travel resource. For me, I've always wanted it to be clear that there's depth here. There's more than just someone who is recommending a great pair of shoes or the new latest and greatest. Because, for me, travel and investing in experiences is always something that is a more worthy investment than making purchases on clothing. It warms my heart when I hear I inspired one of your trips or I made you feel more comfortable about going somewhere 'foreign' to you. That was the goal. I've always realized the amount of travel that I do isn't realistic for most people but it's allowed me to provide more variety in the travel content you now have at your fingertips to plan the trip of your dreams.
In 2019, though, I spent a lot of time wrestling with a lot of unsettled feelings about what it takes to be successful in this industry against things that I think are important. I have become more aware of what the industry is doing to the environment and the world really needs us all to do our part. I've been so uncertain as to how to continue to do this job while also acting on these convictions. I've had to be really honest about how the monetary value of my business squares up to health of this world. For me, there's nothing more valuable than the world we live in. I believe we all have to do better and, while this will always be a space for style inspiration and travel resources, I also want to be a more realistic and responsible voice in this style blogger space. From what I'm seeing, it's desperately needed. And, believe me, I am not perfect. I'm not pointing fingers here. My hands are far from clean. I making too many purchases and welcome too many boxes full of plastic and clothing made of non-sustainable, cheap materials into my home almost every single day. I've built a business on encouraging like-minded women to take my recommendations and, essentially, welcome similar boxes into their homes. And, listen … I do this because I love it. It is FUN … the best job I could ever ask for as a girl who was raised by a momma who loved to take her girl shopping and find herself a good deal. Creating outfits is so fun for me. That's where this all began.
But … as we grow and as we learn, sometimes we have to be honest about how we need to change. And, that's where I'm at.
When I asked y'all what you wanted more of from me this year, you said you wanted real. You wanted authentic. You've always said that's what you love about this space. So, that's what you'll get. I can't be anything but, to be honest. You'll see that I have a lot of goals / resolutions this year that revolve around these convictions. I'm scared to put them out there as I feel like I'm putting myself out there to be scrutinized when [not if] I mess up but, here we go!
Minimize single-use plastic use.
This year, this is a huge priority for me. It's something that I've found to be super easy if I just make it a priority and am intentional about it. I always have a collapsible steel or metal straw and reusable cup with me, whether in my bag or car. I've replaced plastic cling wrap with beeswax wrap. I will be starting to bring organic cotton produce bags along with me to the grocery store, as well as the reusable grocery bags. I've also replaced the last few tupperware containers with these glass ones and plastic baggies with these silicone Stasher sandwich and storage bags. There are so many ways we can minimize our plastic use and make a much better carbon footprint. Linking a few things for you to consider below:

Cook more + make better food choices.
I was floored when I looked at how much money I spent eating out last year. This years' aim is to strengthen my game in the kitchen by cooking at home more as well as eating healthier foods. I have recently discovered Half-Baked Harvest and The Defined Dish and now feel equipped and motivated to do so!
Wear more items already in my wardrobe.
Last week, I shared that this year you will be seeing me style some old favorites in my wardrobe, like this old Valentino I rocked all of the time in 2015 [see this post for proof, ha!]! While I love to shop and share new finds, and will continue to do so just on a smaller scale, I believe it is much more responsible, realistic and ecological to make the most use of our wardrobe for as long as we can. While I realize that part of my job is to help you build your wardrobe, I also think part of my job is not to encourage you to accept this 'you need it all' mentality that social media can sometimes sell you. The items that I pull from my closet and rewear might not be readily available for purchase but I will do my best to find similar items for you guys!
I have plans to do a closet clear out. Would y'all want me to document this in a YouTube video? I'll be doing this in an effort to streamline my wardrobe and see what 'speaks to me' at this point in my life.
Take the pressure off + just live.
I have already felt like I have been operating in a much more carefree, happy and shameless way. If I can't get something together by a certain date … it goes undone. I'm not sacrificing sleep, depriving my body and mind of what it needs, to satisfy my to do list anymore. I do my best to plan ahead and stay on top of my to do list. I have an amazing team that facilitates productivity and getting all that we've planned out to you guys but, I also am reminding myself [a lot] that I am also still tackling a heap of other things outside of work [pet health, visa stuff, prepping for a potential move, social life, etc] and that life isn't always about how much you can get done at work. I am allowing myself to just live. I want to work hard but I also want to do other things, as well, and just live.
Explore a new creative space.
I've been the little lady behind this blog since 2013. That's SEVEN years. Almost exactly. Ha, I should write a post on what I've learned. But, I think it's time for me to explore a new creative space and do things a little different. I absolutely love sharing myself on IG stories but, often, the aspirations I have for content on IG stories is much more suited for a space like YouTube. I shared in last years' resolutions post that I have been craving a new creative venture and I think I knew then that it was YouTube but … I was juggling way too much between the blog and my personal life [tons of travel, my dental journey, tons of surgeries, meeting John, and prepping visa paperwork]. At the end of 2o19, I offloaded a lot of things I typically do here on the blog to other creatives who have been literally my saving grace. It has felt so nice to open up some of my time to something completely different. I've already learned so much and I can't wait to share more with you guys on YouTube this year! Let me know in the comments below what you'd like to see from me on my channel!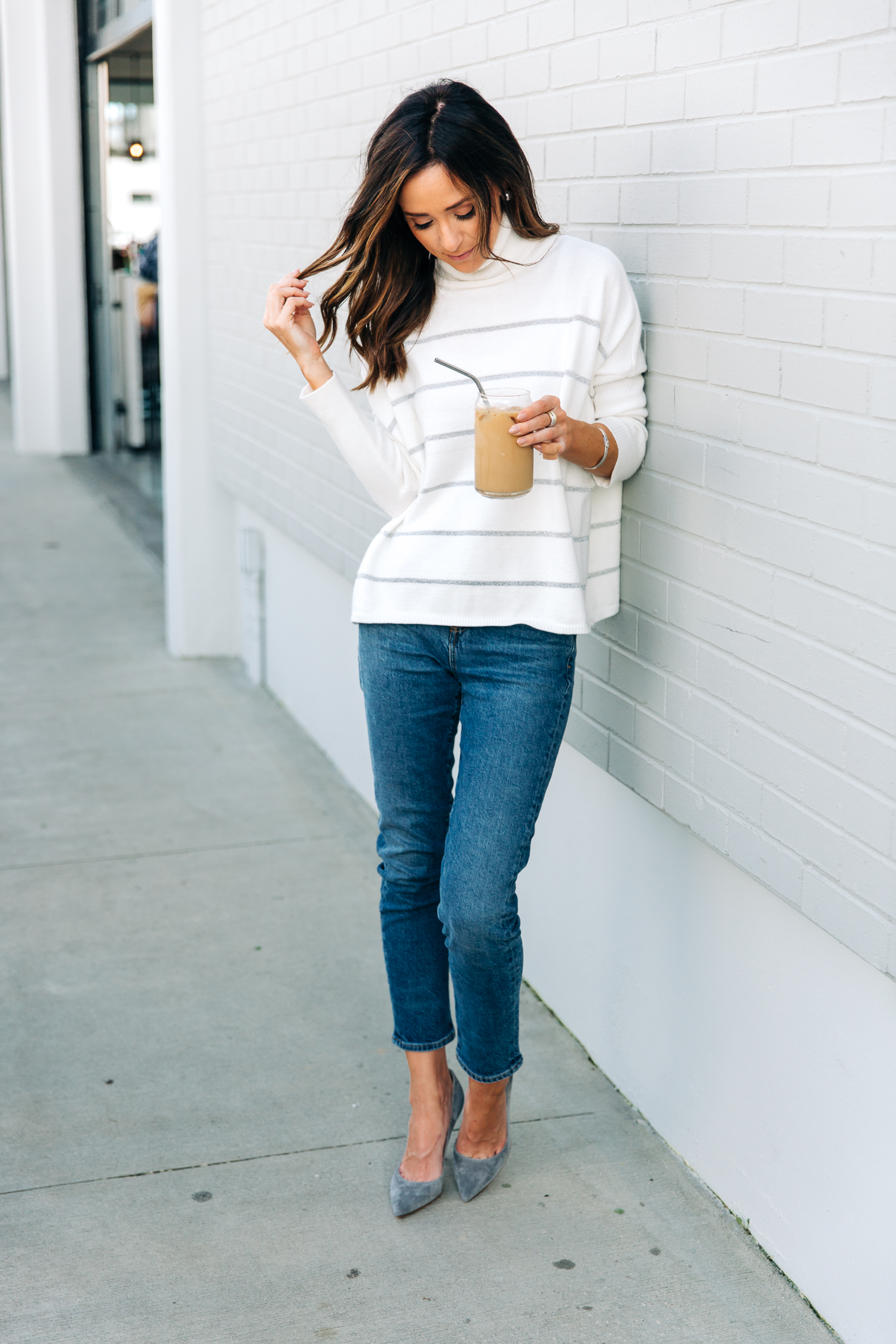 Allow for more non-work weeks.
I am hoping to clear out my work schedule a more to allow for clarity. I want to allow myself to breathe more and tackle more things at home from time to time [I.e. closet clean out, etc.]. When you're constantly working on a digital space like this one, it can feel like you can't catch your breath and work on anything else without getting extremely behind so, I want to work in some non-work weeks to allow myself to dream up new ideas as well as work on things at home.
M O V E
I think that last resolution naturally leads me to this, ha! I mentioned last year I really wanted the move to happen before 2020 but it made more sense to hold off until now. I have experienced a few really frustrating speed bumps over the last few weeks but, I do believe this will all happen in His time. We are making slow progress and I think allowing myself more non-work weeks this year will give myself room to breathe during these huge changes. It just wouldn't make sense to try to do it all in the midst of something so big.
Talk more about things that matter.
Over the last year or so, there have been a lot of things about this industry that have not quite sat right with me. While I'm not out to shame the industry or anyone in it, I'd like to to use my voice and platform in a bit of a different way this year. I want to talk about things that are important, things that will actually make a difference in more than just our wardrobes, and things that not a lot of influencers are talking about: sustainability, clean beauty, wearing stuff we already own, maximizing our wardrobes, how we can give back through the things we don't need, and the list goes on. I'm not trying to make any bold statements outlining what I do and do not approve of or will and will not participate or stand for anymore, ha. Ultimately, I just want to be an encouraging voice that motivates you to want to do better and be better but that starts with me. That's what I want for myself based on a lot of things that I have educated myself on, become curious about, and open-minded in understanding. So, in all the ways that I am trying to live a little bit differently this year, in an effort to live a more conscious and responsible life – as a consumer, as a business owner, and as a human – I want to talk with you guys more about those choices and why I think they are well-intentioned and good. It's always a bit unnerving to talk about things like this openly on the internet because people automatically think you're supposed to know it all and do it all perfectly. But that's not the point. It's about making small steps forward in the right direction. It's about trying your best and being open to learning more. This may sound vague and I apologize but, keep following me closely on Instagram, here on the blog, and on my YouTube channel and I think you'll get what I mean eventually.
Alright, I think that's it! What are you aiming to do better or change up in 2020? I'm all ears! Leave them in the comments below! See you tomorrow! xo.