I'm new here and would like to know …
alyson or haley? confused.
I go by my middle name, which is Haley.
where are you from?
I'm originally from Jacksonville, Florida. I was living in a small beach town, Atlantic Beach, prior to moving to London.
how did you meet your boyfriend?
We met on Hinge! More on that in THIS post.
why do you live in the UK? when did you move?
I moved here in March of this year after a long, hard fought pursuit of a UK visa. More on why I wanted to live in the UK here. While it might seem like it was because of my relationship, I actually started pursuing it before I met John.
how tall are you?
I'm 5'3
what visa do you have and how long are you able to stay in the UK?
I did a whole Q&A on my visa HERE!
london living questions

In which area of London did you move to? It looks lovely.
We live in Surrey, one of the counties just outside of London, with hopes to move closer to the city in the next few months.
Where in Surrey are you guys? My mom grew up in Surrey.
We live in a little town not far from Farnham.
Do you still plan on finding your own place in London?
For reference, for anyone new, I was initially going to move in with John for a short time [a few months or so]. This was to give myself some time to get settled, recover a little bit financially from all of the legal, immigration, and moving expenses, as well as find a good place to live. However, the more we thought about it, talked through what we both want for our relationship, and weighed the realities of  what one of us living in Surrey and one of us living in London would mean for us from a logistical and financial perspective … we just felt like it made more sense for us and our relationship to live together.
What made you move in with John permanently?
After being long distance for a year, we just simply wanted to be together and felt it was the best decision for us to deepen our relationship by being able to see each other more. Him living in Surrey and me living in London would make it difficult for us to see each other often and would be expensive (to travel to see each other, rent for me, as I don't want to live with roommates and require quite a bit of space with what I do for a living, etc). It also allows us to make smart financial decisions that we will be thankful for in the future.
When do you think you will move closer to London?
It's hard to say. The real estate market here is open again so we've started getting everything in order to list John's flat to rent. However, he isn't back to work yet, even though he works in the construction industry, so we are waiting until he's back to work. We also don't want to pay to live in London when the London we love isn't really operational, if that makes sense.
Are you near Richmond upon Thames?
No, Richmond is much closer to London than we are. We both love that area. It's absolutely beautiful and a great place to raise a family if you want to be close to London. There are some really cute places to rent around there but, I will say, we are looking for something that is near an underground tube line.
What is your biggest adjustment to living together?
We have done really well living together. The 'adjustments' have been really small and really easy to conquer. I'm not used to being with a significant other during all hours of the day so, especially during quarantine, there have been times where I have struggled finding a balance between personal time, together time, and work time. But, I love being with John so it's not something that is causing any problems. It's just the normal process of figuring out something new and how to make it all work.
How does John feel about you taking over his space?
Ha, this was a funny question to read. I guess that's how it seems from the outside? And I'm not sure if this is in reference to me adding my decorative touch or me having the IKEA wardrobe put into the second bedroom but I'll speak to both.
For reference, our space is about … 700 sq ft? If that. Our bedroom has one small wardrobe that John had put in after he moved in at the end of 2018. We have one small closet in our main hallway with the hot water heater, wifi cables, cleaning supplies, John's shoes and a clothing rail with his nicer jackets and coats. And that's it. The second bedroom had zero storage space. John understands and appreciates that I love shopping. He supports what I do completely. He knows I love styling outfits and he knows that part of my job is sharing that love with all of you and, with all of that, comes a need for storage. He knows that that is what this space, and lots of space in the UK, lack. And, he has always said that, if I moved in, he would want me to make the second bedroom whatever I needed it to be for storage but also for work. He wanted me to create a space for me to use for work. He wasn't really using the second bedroom before anyway so, he felt like me using it was a better use of the space.
He also felt like his space was never 'complete' and it bothered him. Some guys just don't have an eye for creating a space and he has always said he couldn't wait for me to be here full-time to help him make it feel more like a home. Plus, that's something I love, as well. I love creating cozy spaces and was looking forward to it.
So, overall, he has welcomed it. While it might look like I'm 'taking over', it's actually something I was encouraged to do. I'm not someone who just barges in and takes what they want, ha! I'm very shy and hesitant about overstepping … in LOTS of situations, including one like this. I'm so thankful John has been so insistent and supportive in the ways that it might seem like I've 'taken over'.
Any advice on moving in with a significant other? I'm about to be in the same boat and I'm nervous!
Yes! I just wrote a whole blog post with my advice! Let me know if it's helpful!
Does John own his flat or rent? I'm so intrigued by the UK real estate market.
He owns it but he doesn't own the freehold, which is the land ownership title. In the UK, that is very typical when you buy a flat.
Do you know where you'd like to live in London?
We are looking in a lot of different areas of West London, both North and South, like Chiswick, Hammersmith, Shepherd's Bush, Acton, Maida Vale, West Hampstead, Cricklewood, Wimbledon, Battersea, Barnes, Putney, and even as far north as Pinner, Harrow or Crouch End. We are casting a wide net so we can find the best place for the best price for us.
Can you share what some of your favorite London photo backdrops are?
Ha, I actually did a blog post on the Instagramable Spots in London a few years ago!
When you move to London, will you rent or buy?
I have zero credit here in the UK so I don't think we will buy something together for awhile.
Surrey looks so cute and quaint. Will you do a post on the places to visit there?
Of course! But, I'll need some time to actually explore it first, ha! I have only 'lived' here for two months and we've been on lockdown the whole time so it may be awhile before I get that post up!
Any tips for Americans wanting to live in London?
You can live in London without a visa for up to six months – you just need to find somewhere to short let and be able to provide proof that you can support yourself here, financially, for that amount of time. You're not allowed to work. That's what I did in 2016. If you want to find a visa option that makes the most sense for you, I'd recommend finding an immigration lawyer to assist you. I'm happy to provide information on mine if you email me.
Home Decor
Where do you find decor inspiration?
I find a ton on Instagram thanks to the @liketoknow.it.home account! It makes it so easy to find tons of great home decor accounts that fit your style and aesthetic. I love that you can save them to folders in the app and then when you're ready to shop, you can screenshot them and open the @liketoknow.it app to shop the items you like the most!
Where are your nightstands from?
John got them at IKEA.
Skincare
What TULA product would you start with? Which one is your favorite?
I've been a lover of TULA for YEARS now. So many of their products have done wonders for my skin and they have really blown me away with so many of their new ones over the last year. However, if I could choose ONE to start with, it would be the one I've used the longest – purifying facial cleanser. The best thing you can do for your skin is to wash it so I had to go with this one. From there, I'd recommend checking out some of the blog posts I've written about TULA products. There are quite a few! Don't forget to enter ALYSONHALEY at checkout for 15% off!
How is your hair feeling now without hair extensions? Healthier? Lighter? Or are you missing them?
I'm loving how much more low maintenance 'getting ready' is. I've been wearing my hair straight a lot lately so I'm not even curling it is and it's so refreshing to not spend so much time on my appearance. I hope I bring that with me out of lockdown, ha! I do miss my hair extensions, though, I won't lie!
How often do you wash your hair? What do you do post work-out if you're not washing?
Washing my hair is one of my least favorite beauty tasks and I think it would take so long with long hair. I would wash my hair once a week, strongly relying on dry shampoo to keep me from having to wash it, hah! Now that it's shorter, I wash it about twice a week and it takes no time at all to wash it!
If you had to choose one skincare item and one beauty product, what would they be?
For skincare, I would choose a cleanser. A cleanser is the ONE thing we all need more than anything. We also need moisturizer but you said choose one, ha! And, then, I would choose this CC cream with SPF for my beauty product because it'd even out my skin tone, give me a bit of a glow, and provide my skin with protection with SPF. I'd choose mascara after that to open up your eyes a bit!
Lockdown
What is the first three things you'll do post lockdown?
I have quite a few things I need to do in the #adulting department like, open a bank account [both personal and business] and buy a UK phone and get a UK phone number, neither of which I was able to do before the lockdown. I also need to apply for what's called an NI number, which is essentially the UK version of a social security number. It's the best form of identification and I don't have one right now because the application process has been shut down until June. So, I need to do all of those things post lockdown and, once John goes back to work, we will also be getting the process of finding a new place to live, closer to London, started.
What is the hardest part about being in lockdown?
I think just not knowing when things will end. We are anxious for John to get back to work. We are anxious that we don't know when we will be able to plan the boys' move. But, we are healthy and we realize that is the most important. Everyone is healthy and happy, the pups included, so we are continuing to be patient and understand that it's for the best that we are on lockdown. Things are starting to open up here, though. People are returning to work in some industry sectors – construction, manufacturing, real estate, etc. We are getting there – we just all need to be very careful.
What is the first place you want to vacation once things improve?
Hmm, I'm not sure. John says he definitely wants to go on a holiday this year, if we can. And maybe we will but, realistically, we have a lot of other things that we need to focus on that are a little more important. We want to move up to London, which will take time and be a venture in and of itself. We need to get the boys here. I have a business to set up here in the UK and make more connections here. I need to keep the US side of the business afloat. I have quite a few things that need to be moved over here still. I don't know – I love to travel but, I'm also someone that gets a little stressed when there are a lot of other things on the docket, that hold a lot of weight in importance, that need to get done. I also hate the thought of getting the boys here after being away from them for so long and then leaving them again. I told John that if we do go somewhere, I'd love for it to be somewhere where they can be invited to come along, ha! Somewhere we really wanted to go before all of this happened is the French Riviera so, next year … I think that will be somewhere we plan to go together. But, this year, it'll likely be like … the Cotswolds or the Lake District … somewhere in England that would be nice to getaway to.
If you had a do over, would you have moved right before lockdown or would you have waited?
Gosh, that would have been so hard because I would have had to choose between my two loves – the boys and John. I probably would have made my decision based on finances and, without talking about finances because that's weird, I would have moved. I was ready to get out of the townhouse. I wouldn't want John to have been on lockdown alone, especially now knowing that he was furloughed. The boys are being taken care of, are having fun, and don't have any idea on how long we've been apart. I hate being away from them but, yeah, I think I would have moved.
Fish & Chips
How are Fish and Chips doing?
They are good, very happy and getting lots of exercise! I get updates on them everyday and we Facetime a couple of times a month.
Will the boys need to be quarantined when they arrive in the UK?
Thankfully, no! The UK did away with quarantine a number of years ago.
Who is watching the boys right now?
They are being watched by one of the dog sitters employed by DogJogJax. She has watched the boys for years and they absolutely LOVE her!
Do you think they'll adapt to the hustle and bustle of a big city?
Yeah! I think so! I'm honestly really excited about the life they'll live here. We are looking for a place near a park or a common for them to romp around with new friends and stretch their little sausage legs. We are also looking for a place with a 'garden', or a backyard, where they have a little more space than they did at the town house to go out, do their business and then lay in the sun. I'm excited about weekend getaways with them to the countryside and walks around the area with them. Now that I have John, it'll be so much easier to incorporate them into fun aspects of our life. They'll get even more love between the two of us and get a lot more attention, if that was even possible! I think they will really love it.
Blogging
How exactly do you earn an income?
A few different ways! I outlined it in great detail in THIS blog post in the first question.
How has your business changed since you moved? Have there been any challenges?
Yes, definitely! But I think it's been moreso because of Covid than moving. When the situation became more serious, a lot of brand partnerships came to a complete halt. They were either frozen, or put on hold, or completely cancelled. Everyone is being really careful with their money right now because of the uncertainty of the future, including brands. There are multiple ways that bloggers can generate an income for their business, though, so we are able to make money in other ways, like commission on sales through affiliate links, preset sales, online workshop sales, etc. But that all is completely dependent on how well people are doing financially and that is obviously something everyone is watching closely. So, overall, yes … the business has been affected. My hope is that I've been smart with my spending and savings over the last few years to get through a recession, and your support up until this point, has made that possible. Thank you for that and for your continued support during this time, where you can provide it.
Even without Covid, though, I think my business will take a bit of a hit. It's just the nature of living in another country but, you can't live your life in fear of the hits you'll take. You just have to believe you're strong enough, smart enough, savvy enough, etc. to make it through and maybe you'll reach greater heights than before. You never know! So, that's what I'm focusing on!
Do you see much difference with UK and US bloggers? Will you change brands / partners?
I actually don't follow many UK influencers. The ones I do follow here are focused more heavily on YouTube than Instagram. They're not as fussed about being 'on' on IG stories as much as American influencers are. At least that's just my very general take … I could be wrong. Again, I don't know of or follow many UK influencers.

How come sometimes you don't say the 'retailers' name on stories?
Sometimes I do but, other times, I want to encourage you guys to go to the LTK app and shop through my links, especially if it's a retailer you're not familiar with. I'd rather you shop through my links so the activity on the links tells me if it was a brand, or if they were products, that you were interested in enough to click and shop through them. It helps me understand what you're liking and what content to consider sharing in the future. If I tell you the retailer, 1000 of you could go to the website yourself and find what I'm wearing and maybe only 10 of you actually clicked on my links so … that would tell me you didn't like it but if ALL of you went through my links, I would know that you guys actually did have quite a bit of interest in that. So, it's not to be annoying, although I understand that it could be seen as that. But, sometimes, I need to do what makes sense for me as a business owner because I want to ensure what I'm sharing is actually interesting to you guys.
Have you thought about how an impending recession might impact the blogging industry?
See the answer to the second question. It's basically already begun. Everyone is being careful with their spending – consumers, like you, and brands – so we are seeing the effects already.
What is your daily routine?
Gosh, I feel like this changes every day. I get up, make my coffee, clear the sink, straighten up the couch and living room area, fold whatever laundry is out, put that away, turn on the news, open my computer to catch up on whatever emails I missed from the day before, then take a look at my task list in Asana and get started on whatever those are instructing me to do for the content we have planned and that my team needs from me. So, everyday is different. I try to get as much computer work done as I can in the morning so I can be free to get on stories and hang with you guys. During this weird time, I also prioritize spending time with John being that we'll never have a time like this in our lives again where we literally don't have anything else going on and we HAVE to stay home and be together. He isn't working his normal job so I try to find a balance between realizing the blessing that it is that I can still continue to work with also realizing what a blessing it is for us to be able to spend this time together.
Miscellaneous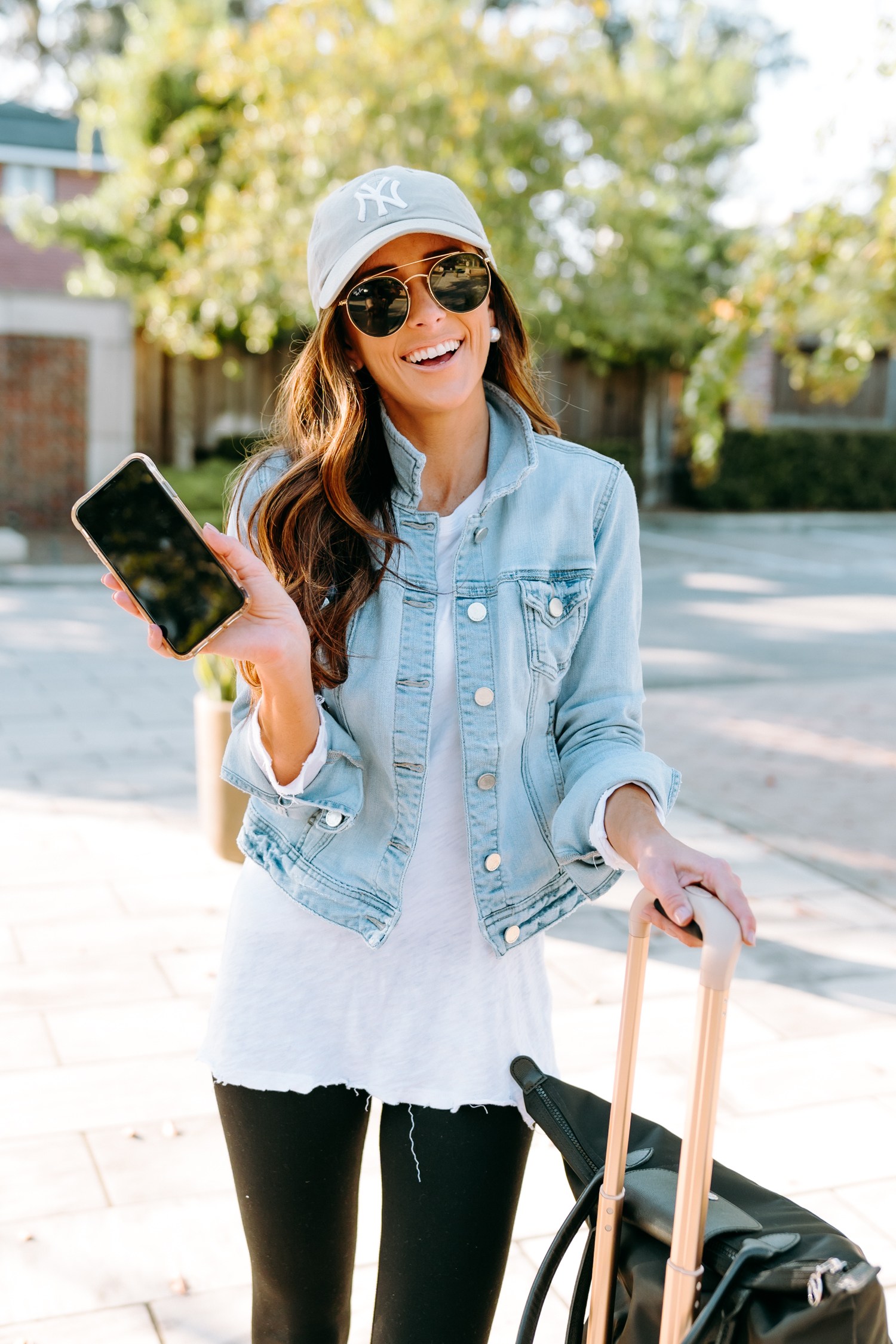 Do you ever plan to return to the States permanently?
I literally just got to the UK in March, after a long pursuit of a visa, so I probably won't think about making the U.S. my home again for a long time, if ever. Of course, you never know what the future holds but, at the moment, that thought is not on my radar at all. 🙂
Babies??
I'm assuming this question is asking when we will have babies. I can't be too sure but I think that's what this is, ha! We both want babies but I think we want to get married and put some roots down somewhere first. I just moved here guys! Give us some time, hah!
What is your most reached for bag for a day of exploring London? Or, just for life, in general?
I have always been a huge advocate for crossbody handbags when traveling, preferably one with a zip top. I also find them to be the most comfortable for everyday. THIS has been my go to for YEARS now. I've gotten the price per wear down so much. It's been such a good investment. My review on it is in THIS post.
What is appropriate to wear under a muscle tank?
Oooo! I'd wear a bralette for sure! I rounded up my favorite options HERE!
What are some British brands that are available in the U.S.?
Sweaty Betty, M&S, & Other Stories, Topshop, River Island, ASOS – there are tons! I think many of you just get nervous to buy from places you're not used to hah!
Favorite Bible verse and why?
Ecclesiastes 3:11 because … I just think it's a beautiful way to look at life. We are destined to have trials and it's important to always remember that 'He will make everything beautiful in its time'. I talked a little more about it in this youtube video!
What are your favorite Nespresso pods?
My all time favorite are THESE. A full post about Nespresso HERE.
I'm so confused! Why do you heat your milk for an iced coffee?
For reference, she's referring to my iced honey latte IGTV! Ha, thank you for this question! It does seem weird, doesn't it? But, the frother actually has a setting that allows you to froth the milk on a cold setting so it's not actually hot when it's done! The only thing that is hot is the espresso that you brew into the cup, which heats up the honey. Mix that together really good then pour in the cold milk, plus a few ice cubes, and I promise you – it's cold and perfect for a nice little treat!
Do you think your style will change now that you live in a predominately cooler climate?
Yes, probably! Layers are everything here so you'll probably see me wearing more layers and being a better resource on what to wear here when you travel. Because the city is so big and walking around wears on your feet after awhile, I can imagine I'll become a pro at finding footwear that is stylish and also comfortable. I'm really looking forward to seeing how my style changes, if I'm honest.
What do you miss in the US besides your friends, family and the boys?
Hmm, I thought I would say Chik Fil A, which is good, don't get me wrong but … I'm doing fine without it. I think I mostly miss being able to shop where I normally shop without having to pay such high taxes or without seeing that they don't ship internationally, ha! I also miss Trader Joe's jalapeño chicken sausage, cauliflower gnocchi, and their kale pesto, ha! And, this is really weird, but I can't find cute mugs here for the life of me … I've looked everywhere … so I miss Target and Urban Outfitters and Anthro because they have the best mugs. Sadly, UO and Anthro's stock on their UK site just doesn't have the ones I want! But, there are worse things I guess, ha!
Okay, there are still more to answer but my hands is about to fall off, hah! I hope this was fun to read / insightful! Have a great rest of your week, friends! Friday Five will be up tomorrow! xo.