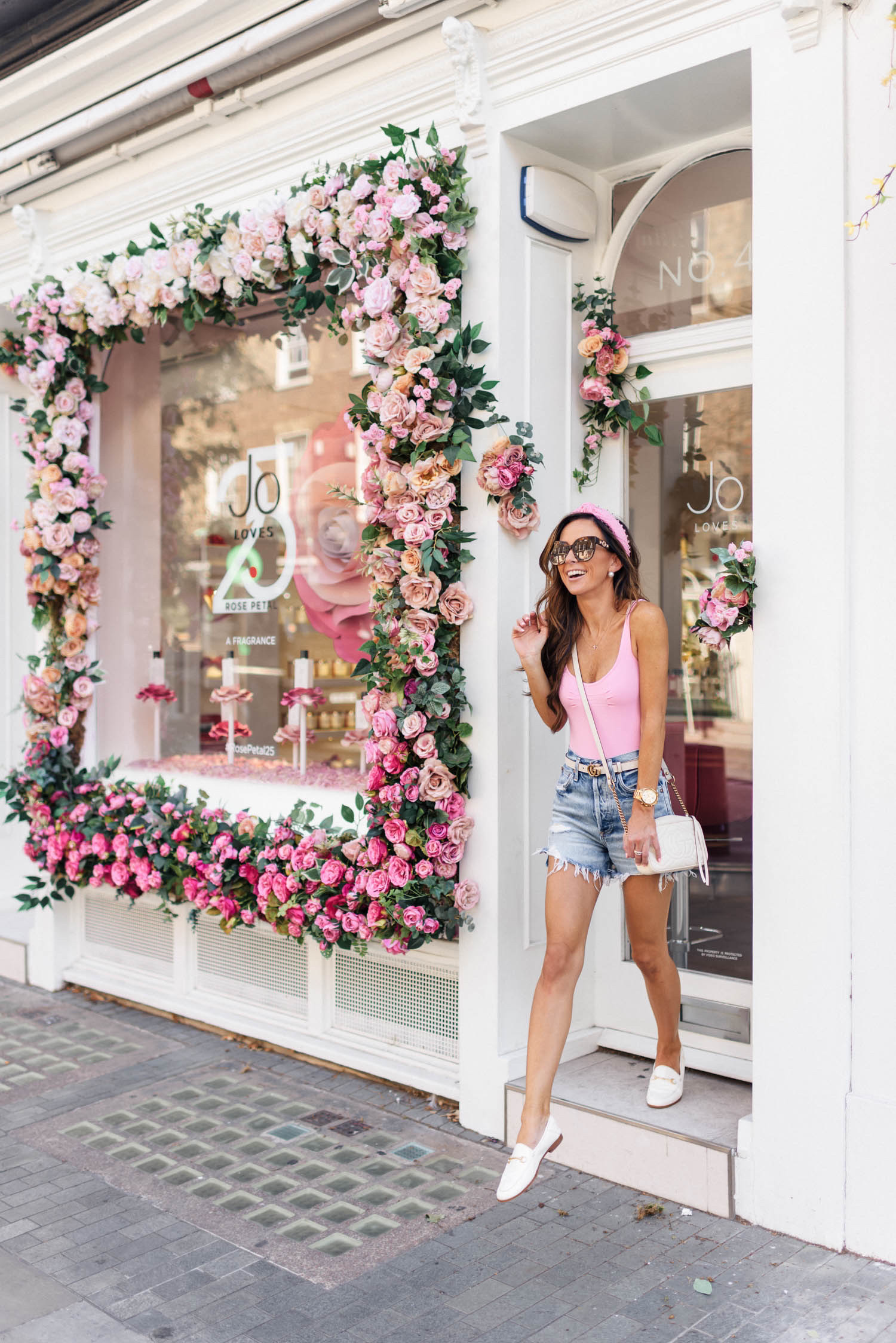 Hey y'all, how was your weekend? John and I spent quite a bit of time looking for flats in London. Other than that, it was more of the same – lots of cooking, reading, some time spent outdoors, and getting caught up on work. I hope you were able to spend yours with friends or family and get out a bit! For today's post, I want to cover Spring and Summer denim shorts!
To be honest, I've had this post planned for quite some time but with shipping delays surrounding Covid and being across the pond from many of my favorite US retailers … stuff just takes longer. Moreover, the ones that I was able to get a hold of are a little pricier than most people may prefer to spend on denim shorts. So, I apologize for not covering shorts earlier in the season like I normally would, but if you're still looking, I hope today's post is helpful and I have included a little widget at the bottom with budget friendly shorts I wish I could get my hands on, ha!
This year, more than any other, we're seeing a new denim shorts trend: longer hems. We're seeing very baggy shorts too which isn't quite my style but I do like some of the longer, sleeker hems which I'm covering today. If longer hems don't appeal to you though, no worries, I'm also covering my favorite 'regular' cut-offs which happen to be a pair I've had for years. Any guesses?!
Alright y'all, here's my haul! I'm going from shortest to longer to give the post some organization. If you're looking for a shorter cut-off denim pair, start at the top. If you prefer a bit more coverage, keep scrollin' 🙂 Also, be sure to check out last years' denim shorts review as many of them have likely been brought back this year!
Four Jean Short Length Options I Tried
I absolutely love these shorts! They're probably my favorite on the list just because of how much wear they get and they have that lived-in feel that isn't always the case with denim shorts. In my opinion, they're the perfect length for a go-to pair to throw on during summer or even with a sweatshirt. They're one of AGOLDE's most popular pairs and I'm actually shocked to see them in stock right now — I usually have to link to quite a few retailers with random sizing. They're definitely casual and on the shorter side so if you are wanting a pair that is longer or not the 'cut-off feel', I'd choose a pair from below.
Fit: TTS but a little loose in the leg
I am in a size 23 here and have had these for a couple of years so they likely will look a little more 'worn' in these images than your new pair will be. To be honest, I am thinking I may need to size up to a 24 now as these are feeling a little tighter on me than they have in the past and I do like them to be a little more loose fitting. This is not because I bought the wrong size. I think it's all of the pasta I've been eating during lockdown, ha.
I absolutely love the wash on this pair and the inseam is almost two inches longer than the pair above. These are another great everyday pair but provide a bit more length, especially if you have long legs [lucky girl!]. The wash gives these a vintage feel that is different from the Parkers above. The high waist here makes them ideal to wear with cropped tees or a bodysuit. I wore them yesterday for a neighborhood walk yesterday with this old white tank.
Fit: TTS
While I definitely took a bit of time to warm up to this length, I totally get their appeal – especially as I'm getting more and more into my 30s … ha! I'm giving two options for this length because I felt like these two may appeal to two different styles. LEVI'S are always great quality and a great price and are also good for people who like shorts that don't cling to their leg. I'm in a 23 in these and they fit perfect.
AGOLDE is a little pricer and are a little bigger in the leg, which I'm not sure I'm a fan of for a longer inseam [just my personal opinion for my body type]. The quality IS exceptional, though, so these may be a great option for you if the style suits you. AGOLDE always feels a bit more fashion-forward while LEVI'S are your classics.
I actually might exchange both of these pairs for the white LEVI'S because I think I'm set on blue denim shorts.
And, now, the longest hem. Think of these as the 2020 version of Bermuda shorts. I'm wasn't sure these were very 'me' at first,  but I do think they have a really chic edge to them if you style them right! If you're a bit on the shorter side, like myself, these might make you look even shorter with flats so I'd recommend wearing heeled sandals and a nice loose-fitting top to balance out how fitted they are. I'm tempted to get a distressed black pair like these which would work well into Fall with a loose sweater. I ordered them but the 23 was too small so I'd size up if you're interested in that look! I love the raw-hem distressing at the bottom!
Now, I've broken down a few of my personal faves but, that doesn't mean there aren't other great shorts options out there. If you're wanting a few more styles that are a little more budget friendly, here are a few that caught my eye on a quick search! I wish I could get my hands on these, these and these in particular!

Do you have a favorite pair of shorts on the list? What do y'all think of the longer hem trend? Have a great start to your week! xo.