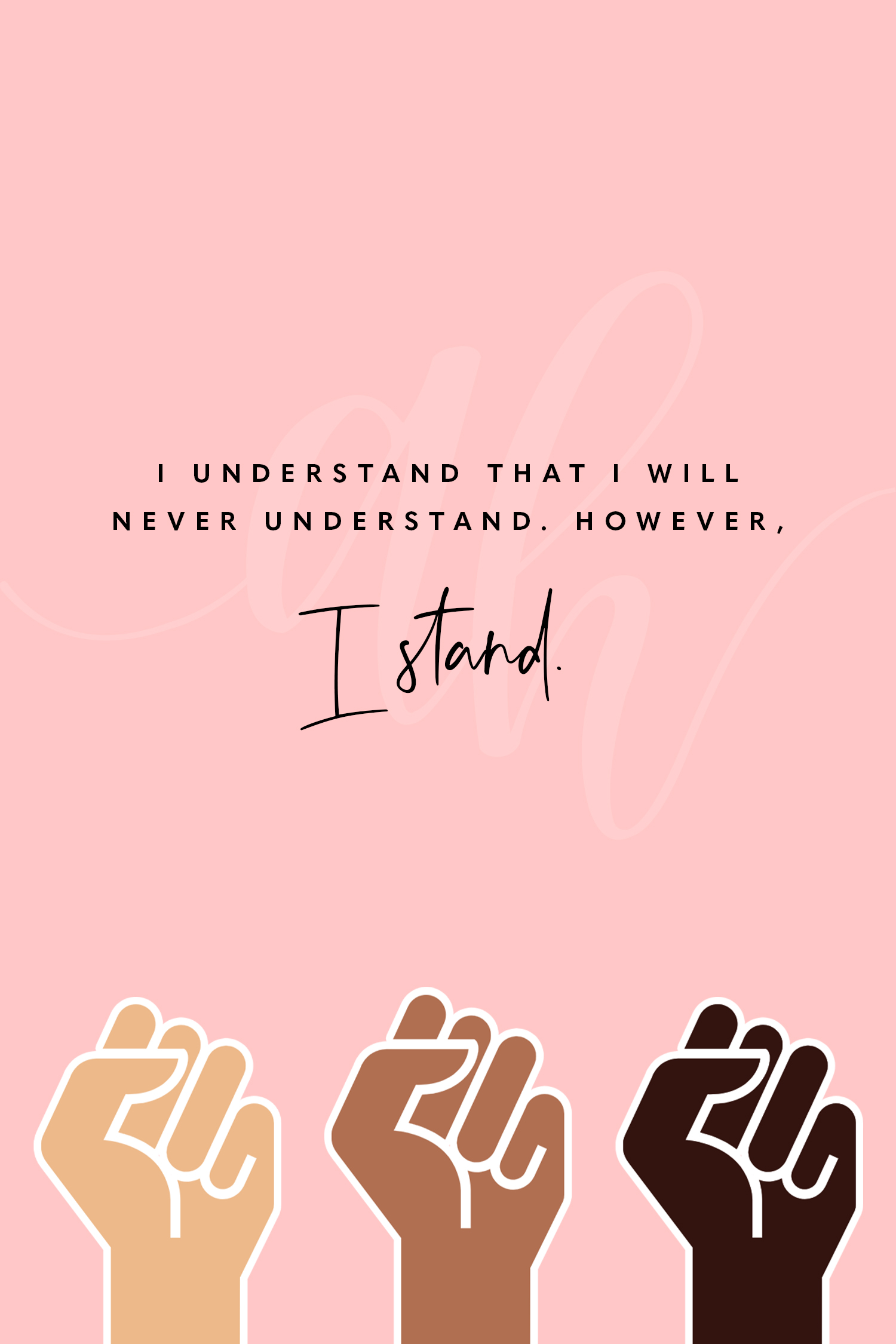 The past week has been simultaneously heartbreaking and eye-opening. The other day it became so crystal clear to me that this is a human rights issue that can no longer be ignored just because it makes me uncomfortable which begs the question … why is my comfortability more important than understanding something that is unfairly taking the lives of members of the Black community? I'm not sure why it took so long or why I never asked myself that before. Probably because it was easy and because I benefit from the ways society has run my whole life. As Rachel Cargle said "White feelings should never be held in higher regard than Black lives". The truth is it should be uncomfortable for us to look this in the eye. And, until we all lean in to the discomfort and use it as fuel to work on our anti-racism efforts … Black lives are going to continue to be lost.
"Justice will not be served until those who are unaffected are as outraged as those who are." Benjamin Franklin
For the past few days, all I've been doing is digging into these questions and looking for answers, looking to learn, etc. And the deeper I dig, and the more I unpack, the more angry I become … and it's not even been my lived experience. No wonder why we're witnessing such an uprising! The anger is so palpable. It's very, very clear that what we've been doing [and not doing] and how we've been operating is wrong. It's unjust. And, I think it's time we take it further than just making that statement.
Using our voice is good. Making a donation is good. Sharing a post is good. But, those things should be just the beginning in our anti-racism efforts. There is heart work to do … work that needs to be done off-screen, even when this is no longer trending. We all need to take part in becoming non-optical allies to the Black community as we move forward. [More on allyship here] As individuals, we need to commit to doing the work to attain a better understanding of what that means, what needs to change within us, and how we can use that understanding in daily life to be better to members of the Black community, even if we've never necessarily considered ourselves to be racist.
"In a racist society, it is not enough to be non-racist, we must be anti-racist." Angela Davis
If you look like me and you've been feeling this same conviction but you're feeling a bit overwhelmed, my hope is that this post can serve as a jumping off point and a resource you refer to when making your next step in the work. This will likely not cover everything out there that you could read, watch, listen or donate to. So, please leave additional anti-racism resources in the comments. I understand there is a lot here. It's impossible to get through it all in a short amount of time. Remember: it's a marathon, not a sprint. So, let's commit to being intentional over a long period of time with this work. Moreover, let's commit to not doing it for pats on the back, our own selfish gain, or to make ourselves feel better. We can do this! We CAN and we NEED to do it … because we believe Black peoples' lives matter and we want to better understand how we've played a part in this problem and how we can be a part of the solution. Let's stand with our friends and get to work!
Where To Donate
Here are some great organizations to donate to at this time, if you are able to do so. Many of you partnered with me in donating over $500 to The Loveland Foundation the other day. I'll be choosing another one in July to donate to and will ask you to join me if you are able to on Stories.
George Floyd Memorial Fund – this is the official memorial fund to support the Floyd family
Black Lives Matter – an international activist movement to build power to bring justice, healing, and freedom to Black people across the globe
Color of Change – a progressive nonprofit civil rights advocacy organization that uses online resources to strengthen the political voice of African Americans
Innocence Project – nonprofit legal organization committed to exonerating individuals who it claims have been wrongly convicted through the use of DNA testing and to reforming the criminal justice system to prevent future injustice
Reclaim The Block – a coalition that advocates for and invests in community-led safety initiatives in Minneapolis neighborhoods
Black Visions Collective – a Black, Trans, Queer-led organization committed to dismantling systems of oppression and violence and shifting the public narrative to create transformative, long-term change
Campaign Zero – an online platform & organization that utilizes research-based policy solutions to end police brutality in America
NAACP Legal Defense Fund – America's legal organization fighting for racial justice
The Loveland Foundation – non-profit organization started by Rachel Cargle to provide funding for therapy to Black women and girls who are in need of healing
Unicorn Riot –  non-profit organization that is dedicated to exposing root causes of dynamic social and environmental issues
Minnesota Freedom Fund – community-based non-profit that pays bail and immigration bonds for individuals who have been arrested while protesting police brutality ** this is the one you've likely seen shared a lot so I'm listing it last as they have raised $20 million and are asking your donations to be deferred to other organizations who also need support
What To Read
Something that really struck me the other day was listening to Rachel Cargle say in this episode of the Almost 30 podcast [centered around anti-racism and allyship] just how typical it is for white people to see what is going on and go to our Black friends and ask them what we need to do about it, as if they have failed to clue us in all these years. Our friends in the Black community have been speaking out about the problems at hand for quite some time so let's utilize the resources they've already supplied us with. I'm starting with the first one on the list and will be choosing one book out of this list each month for the next year and talking about my takeaways from it here on the blog and on stories. If you'd like to join me, I'd absolutely love it. Which one are you starting with?
Me and White Supremacy: Combat Racism, Change the World, and Become a Good Ancestor by Layla Saad
I'm Still Here: Black Dignity In A World Made For Whiteness by Austin Channing Brown
So You Wanna Talk About Race by Ijeoma Oluo
How To Be An Anti-Racist by Ibram X. Kendi
White Fragility: Why It's So Hard For White People To Talk About Racism by Robin DeAngelo
Their Eyes Were Watching God by Zora Neale Hurston
I Know Why The Caged Bird Sings by Maya Angelo
White Rage: The Unspoken Truth About Our Racial Divide by Carol Anderson 
Stamped From The Beginning by Ibram X. Kendi
American Lynching by Ashraf H.A. Rushdy
What To Read [With Your Littles]
A few of the gals on the AlysonHaley.com team have littles and they have come together with a few books they have purchased to start the conversations with them about anti-racism.
A Kid's Book About Racism by Jelani Memory
The Skin I'm In: A First Look at Racism by Pat Thomas
It's Okay To Be Different: A Children's Picture Book About Diversity and Kindness by Sharon Purtill
I Like Myself! by Karen Beaumont
A Is For Activist by Innosanto Nagara
A Little Radical by Danica & Jason Russell
What To Watch [For You]
Here are some recommendations of things could be helpful in providing context to many concepts you have read about in the books above and understanding to why the Black community wants us to wake up. This first one had me emotionally unraveling when I watched it last year and if you don't feel convicted to start your anti-racism effort, I don't know what will. Like reading, I will be choosing one to watch each month.
When They See Us – Netflix
Dear White People – Netflix
13th – Netflix
See You Yesterday – Netflix
If Beale Street Could Talk – Hulu
The Hate You Give – Hulu
Fruitvale Station – available to rent
Selma – available to rent
Just Mercy – available to rent
I Am Not Your Negro – available to rent
I'd also recommend watching THIS STATEMENT made by Rachel Cargle
What To Watch [With Your Littles]
Embrace Race – For children that are older and are able to sit through webinars, this is a great option as it has so many great resources and has so many great webinars with wonderful topics to get our children thinking.
Sesame Street focused on anti-racism in this episode [part one, part two] and they are a great option for the younger ones who can't quite sit through a webinar but aren't partial to books or art prints.
Please leave more suggestions down below! I'm clearly lacking resources in this section! Thank you!
What To Listen To
I will get to anti-racism podcasts in a moment but the following are things I've watched on Instagram over the course of the last few days that really spoke to me. Highly recommend listening to them all the way through.
Chrissy Ford talking through why it's not enough to say "I'm Not Racist"
Trevor Noah breaking down how white supremacy violates the social contract
Layla Saad speaking to Optical Allyship [remember, we're aiming for Non-Optical Allyship]
Jane Elliott challenges you and asks a very important question
Charlotte Williams speaking about racism and supporting the Black community; she raises some incredibly good points – loved the one about how quick white people are to react defensively when speaking about race and when she explained microaggressions and the importance of anti-racism
If you have any anti-racism and / or civil rights centered podcast recommendations, I'd love to hear them. I haven't listened to any of these yet but they are on my list of ones to look into and gain understanding from:
1619: A New York Times Podcast
 Momentum: A Race Forward Podcast
About Race with Reni Eddo-Lodge
What Else?
+ Stop the divide by diversifying who you follow. Bring more of the Black community into what you consume on a day to day basis so you can support them but also stay up to date on what might be an important lesson or an important issue that needs amplifying. HOWEVER … DO NOT follow in order to check a box so you feel better about yourself. BE INTENTIONAL about who you bring in to your feed. Follow them because you've taken some time to see what they're about, who they are, what they share, where they're from, where they live now, what they're passionate about, etc. I think this is really, really important but I think it needs to be done for the right reasons, as with everything you're doing in regard to anti-racism. Some suggestions include:
influencers: @chelseaolivia13 •  @candacemread • @colormecourtney • @musingsofacurvylady • @mossonyi [there are so many more, please leave any you love in the comments below!]
activists, thought leaders and beautiful Black women in fashion: @laylafsaad • @rachel.cargle • @donte.colley • @reniedodolodge • @austinchanning • @ohhappydani • @chrissyford
+ If you buy a book, make an effort to see if the author has a Patreon page or a way for you to support them financially. I'm learning that so many are offering their resources to us to learn from for free and it's the least we can do. So, whatever you spent on the book, make the same contribution to their Patreon or similar page. I realize the financial investment might be difficult and that's okay. It's just a suggestion. Maybe go halves on the book with a friend and see if you can both make a small contribution together or something.
+ Find additional ways to promote inclusion of the Black community in your day to day life. Put your thinking cap on for this one. Are their members of the Black community at work? If not, there should be. Speak up. Are there members of the Black community being included in a social media campaign? No. Refuse to work with the brand until there are. Think of ways to include more people of color in your day to day life.
+ Purchase your children dolls that don't look like them. THIS is Cecile and she comes with a book that tells her story about growing up in 1853 New Orleans.
+ Participate in Rachel Cargle's 'The Great Unlearn", a community of everyday human beings committed to curiosity for what is possible in the world. She puts together monthly self-paced syllabi that highlights different topics that aid in unlearning. Her Patreon page is HERE. She believes "in knowledge leading to action and I use this platform to both provide education and inspire meaningful action." Please leave more suggestions below! There was absolutely no way for me to make an ultimate guide on this as I am just starting my work in this, as well. We're all in this together so I look forward to seeing what you suggest.
+ Join Danielle Coke's [from @ohhappydani] 15-minute Instagram Live's this week [June 1 – June 3] centered around turning awareness into action! More information HERE
---
I hope this was a helpful starting point in your anti-racism work. I am far from an expert so please understand this is just a starting point. Let's add more suggestions in the comments. Once you've educated yourself, challenge yourself to live out what you've learned. Show your support. Keep this passion about anti-racism and don't be afraid to challenge the systems that have been held in place so firmly by our ancestors in order to truly do the work out there to be non-optical allies with and for the Black community.
And, to the Black, Indigenous, and People of Color here in the AlysonHaley.com community, I am sorry we keep failing you. You are always welcome here. The ladies on my team and I hear you, see you, and stand WITH you and look forward to doing this work so we can do so SO much better as we move forward! xo.