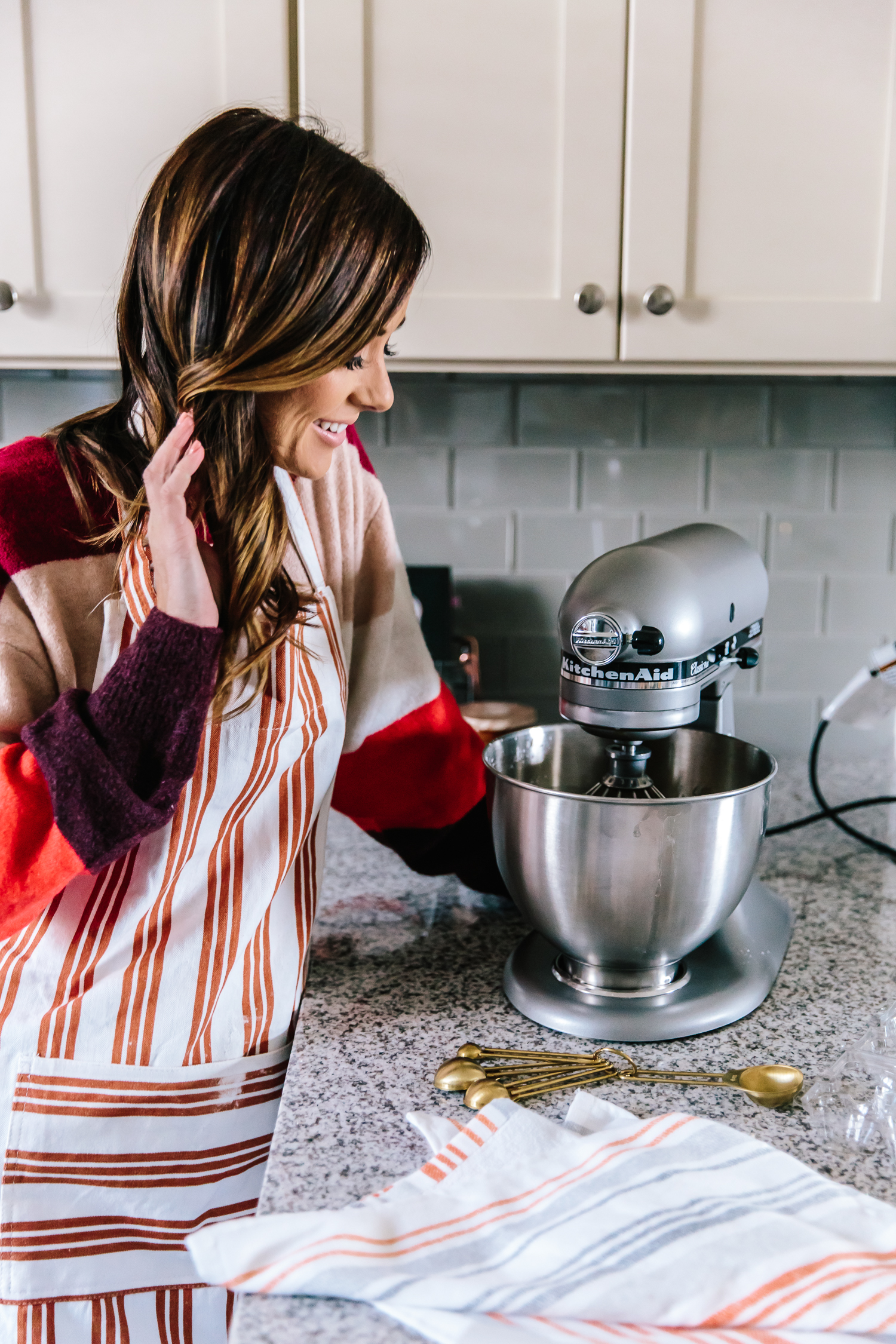 Happy Wednesday, everyone! I hope today's post all about yummy fall recipes is a nice little mid-week pick-me-up for you if you need it! Writing it made me want to go straight into the kitchen and bake something. I've shared a good bit of food content on my IG Stories in recent months so I thought it would be fun to put everything in one place on the blog for you to reference. I'd recommend saving it to Pinterest – and if you don't already follow along with me over there, definitely start now! I'm always pinning lots of recipes, home inspiration, beauty and outfits!
Anyway, on to the fall recipes!
I don't have to cook often because John has a natural knack for cooking and takes care of most meals. But, one thing that he doesn't do often is bake and I found myself really craving delicious Fall delectables that have pumpkin butter, cinnamon sugar, and chocolate in them, ha! All the good stuff! I think it's a mix of being pregnant and feeling a bit homesick.
For all of these cravings, I've turned to one source: Half Baked Harvest. What I've found is that I kind of have an unhealthy obsession with it. Tieghan's [the creator behind Half Baked Harvest] recipes make it so easy to satiate these cravings I get and this strong desire for delicious Fall-inspired desserts.
Unfortunately I haven't made all of the below recipes yet, but want to! There are just so many amazing options – it's hard to choose! Her cookbooks [Super Simple and Half Basked Harvest] would make great gifts if you have someone in your life who enjoys cooking/baking, however, her website and Instagram are full of recipes as well. Here's what I've made and other recipes I've been eyeing!
This bread was incredible. We sent our friends home with half a loaf and they said they couldn't stop eating it and finished it in one night! If you're looking for the ultimate sweet comfort food right now, this is it!
ABSOLUTE FAVE. Coffee cake lovers will go crazy for this recipe! If you feel confident enough, I think this would actually make such a nice gift that you could drop off at a friend or family member's house.
Side note: Although this is probably my favorite recipe on this list, I would skip the cream cheese part. John and I thought it was just a tad too much and not 100% necessary.
This recipe is on my list to make very soon! I have one pot of pumpkin butter left and I think this is what I'll be making with it. These look so yummy!
I shared over the weekend I've been really missing cinnamon rolls. They are a comfort food of mine as my mom used to make them for us all the time. These look incredible and I think this is what we have decided on making for breakfast on Thanksgiving Day. I might opt for no chai in the frosting as that's not a flavor I personally like but think it could definitely suit others just fine!
I haven't just been craving desserts, but also what John calls "Winter Warmers". Tieghan has some I've saved to hopefully try soon like:
HOW GOOD DOES THIS LOOK? This is the next Winter warmer on my list to try! You can never beat the broccoli cheddar combination to begin with but to add dumplings to the mix makes this recipe sound so comforting.
Chicken tortilla soup is a favorite of mine anyway but, of course, Tieghan took it to a whole new level with her recipe and I'm here for it!
This one is actually my recipe! We've made it a few times as well and I anticipate it being in heavy rotation this winter. It is so good!
I also linked a few kitchen favorites of mine in case you're in need of a good set of mixing bowls or a high-quality dutch oven!

Are ya hungry? Ha! You can't go wrong with any of these recipes, trust me! Enjoy! xo.