Hi ladies, happy Monday! The day we've all been waiting for is here – the 2021 Nordstrom Anniversary Sale is officially open to all Icon level Nordstrom cardholders!! If you're wondering what that means, I broke down the timeline of the sale and when it's open to who in my Nordstrom Sale preview post so be sure to give that a read!
Like I've said, although I'm sad to not be shopping the sale in person or even online the way I normally would, I'm still so excited to bring you all my top picks for this year's sale. It's always fun to scour through the preview to see what items y'all will be able to snag at such a great discount. This year, I think the beauty section is definitely one to pay attention to as well as the sweaters and cardigans. Every category has some must-haves though, that's for sure!
To help you ladies shop, I went through various categories and picked a handful of my favorites. To be honest, I did this when the preview first went live and there are QUITE a few more great pieces that I found in the days after. So, be sure to take a look at the graphics but also don't miss the captions underneath because I wouldn't mention anything if I didn't think it was worth taking a look at. Also, I've included items in each category that I have and love and are included again this year.
SIMPLY CLICK ON THE ITEMS ON THE GRAPHIC TO SHOP
I hope this guide to the sale is helpful and you're able to snag whatever it is you've been eyeing if you decide to shop! Also, be sure to check back
Top Sweater Picks
The sweater and cardigan category is always stacked and this year is no exception. There are so many good ones. I highly recommend that if you're looking to snag a few that you shop them early because most of them sell out pretty early.
Every year, Madewell's Kent cardigan [plus size version here] is included … it's just a different design. This year, they have a striped one like they did in 2019, which you can see here:
For those of you who have kept up with me over the past year and a half, you may notice that I wear a beige cashmere cardigan ALL. THE. TIME. I always get questions about where it's from. It is old [three years ago by Lord & Taylor] but I love it so much that, when I moved, I just couldn't bare to part with it. Okay, so what does this have to do with Nordstrom Anniversary Sale? Well, there is literally an IDENTICAL beige cashmere cardigan included in the sale that I was so excited to find! It's a little pricey, even on sale, but if you wear it as much as I have worn mine over the last three years … the price per wear will be incredibly low so, you have to remember that sometimes, with big purchases, you're playing the long game. It is well worth the money for something so soft, so warm and so versatile. It goes with everything!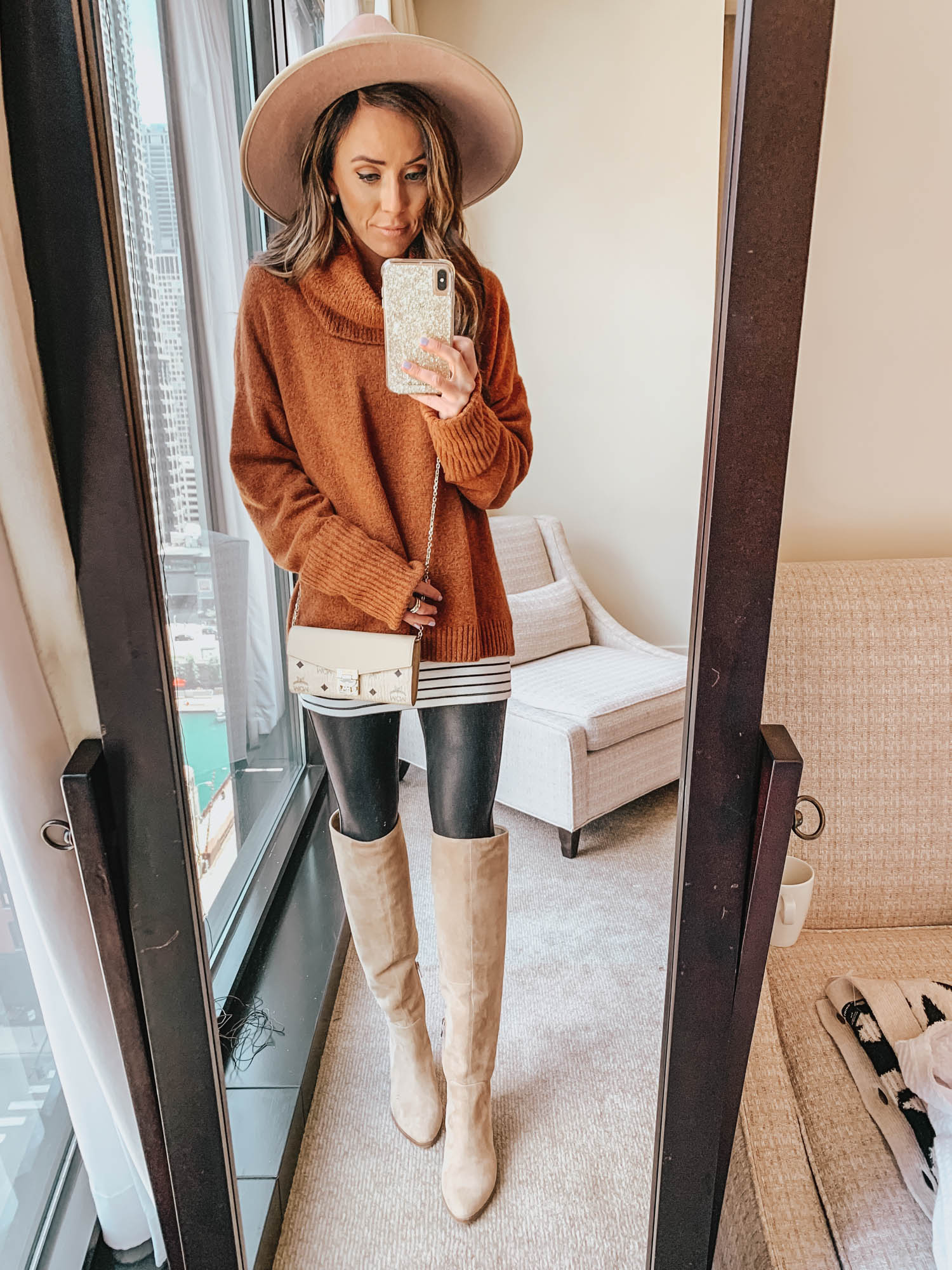 This gorgeous and cozy turtleneck sweater is also back in stock this year and comes in a few colors! It will sell out so I'd act fast if you can. The top I'm wearing under it is also included but, sadly, not in the black and white stripe. I have the black and white solid versions too and wear those a ton in the Fall and Winter. They're a great basic to have. And … so are the Spanx faux leather leggings, I won't lie. I'll link either exact or similar items to this outfit below:

Top Denim Picks
Of course, I had to round up some of my favorite denim for you girls! Lots of great pairs are included in the sale like these Good American skinnies for under $100 [similar style styled below] and this straight pair that's only $60 – these will definitely sell out! I also thought this coated pair of jeans was fun – something different that I've been wanting to try out.
SIMILAR STYLE to the ones above

My Personal Picks & Must-Haves
I thought it'd be fun this year to create a little category of my personal must-haves. These items are from multiple categories and are things I'd personally love to buy / already own! I've heard amazing things about these towels and I really need a good Chelsea boot, so definitely had to include these, which are a steal at under $60 during the sale. I chose all of these because I feel like they're practical and you will get a lot of use out of these purchases, which is what I try and aim for with my #NSALE purchases each year.

Top Loungewear Picks
Last but certainly not least we have loungewear! I know after a year like 2020 we might all be stocked up on loungewear, lol, but there are some great items included in the sale like this robe, this lounge set and so much more!
I have quite a few of these pajamas and think they're even more amazing after the only easy aspect of my breastfeeding journey. I have a couple of the nightdresses, as well. I don't have many of the short sets [love the leopard print one] so may get one or two to have. I love that they last a few years.
Also, I am just seeing that they are including my favorite Tommy John pajama / loungewear set [tank top | joggers]. I wear it all the time and have it in both navy blue and black. I wore it in navy blue last week on our big move day [John's wearing his Tommy John joggers, too, ha!]:

Top Shoe Picks
Now's the time to snag a pair of sneakers or boots if that's what your closet is needing. I'm loving these pink Adidas and cannot believe the price! Also obsessed with these booties that come in five colors. They're the perfect heel height and would go great with any jeans or midi dress / skirt.
A few years ago, Vince Camuto released these really cute booties during the sale. This year, Steve Madden have released a dupe to them and they're honestly really similar. The heel is a little different but you still get a pointed toe and V-cut on the sides. The price is so good, as well, at under $70! These will definitely sell out quick!

Top Outerwear Picks
The Nordstrom Anniversary Sale is all about getting your closet ready for Fall and Winter so they always have some great outerwear finds. I'm personally loving this double-breasted wool coat and this quilted jacket that's very similar to one I have but much more budget-friendly at under $70 during the sale.
This black faux leather moto jacket is one of my favorite Nordstrom Anniversary Sale purchases in years' past. I often feel it's 'too cool' for me but then I style it in outfits like I shared above and I'm like .. no, it's such a great essential in my wardrobe that I'm so thankful to have. It's a little small on me right now and I'm considering getting it in a bigger size this year being that it's being brought back this year. I love it and I'd hate to not have it this Fall and Winter when styling looks.
If you like moto jackets, I'd also recommend considering this one and this one.
I bought this blazer a few years ago and think it looks so sleek for work or play. There's an almost identical one included in the sale this year available HERE [plus-size available HERE] for less than $75! The white tee I'm wearing underneath is HERE, a great basic I re-buy every couple of years.

Top Activewear Picks
I was really impressed with the activewear section of the sale, so if you're in the market for leggings or a sports bra, don't sleep on any of these items because they'll sell out fast. This pair of leggings are one of my absolute favorite pairs. They are available every year just in different colors so don't miss the ones available this year. Same with this sweatshirt that you see styled below, along with the leggings!

Lots of great longline sports bras too like this one, which I feel confident will also sell out very quickly. Also, spoiler alert – I actually already have these Nike's that are included and they are SO. COMFY.

Top Beauty Picks
The beauty selection for this years' sale is probably my favorite! There are so many great items included that I could easily splurge big time! Here are some I wanted to specifically mention:
my favorite tanning mousse here | T3 curling wand | GHD straightener | smart mirror | nuface facial toning device
Something I wanted to specifically point out is you can score an amazing deal on the GHD 1 1/4 inch curling iron as well as the 1-inch styler. This is the brand I have and I LOVE it!! I'll be highlighting A LOT more from the beauty department on stories because there's just so much that is included this year that I'm excited about!
And you guys know I love Necessaire and TULA so don't miss the sets from those brands that are included in the sale, as well, because they're all products that I literally use EVERYDAY.
One of my favorite masks is by Tata Harper. Their resurfacing mask is an amazing exfoliating mask, perfect after really long days taking public transport or traveling. This year, a full size resurfacing mask is in a set with three additional mini sized masks. Your skin is left feel so fresh and so clean when you wash it off!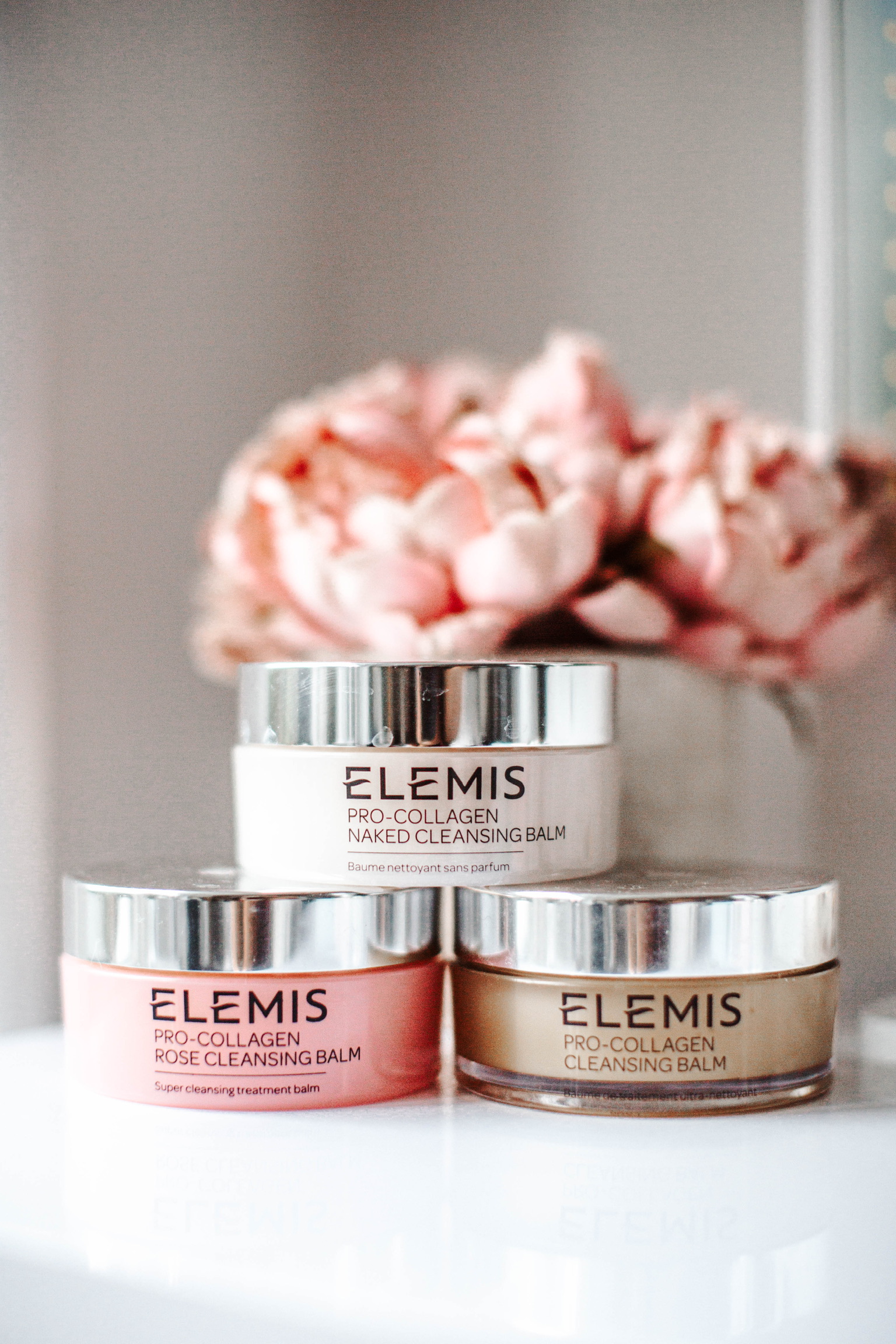 I also thought I'd shout out the JUMBO Elemis cleansing balm is included in the sale and it's such a good price. Original price is $110 and it's on sale for just under $60 so that's over 50% off!

Top Home Decor Picks
Ugh, what I would give to have a home to decorate right now, hah! I'm just still over here fantasizing and curating for you girls that are looking for good home finds. This throw pillow looks like a cozy dream and I'd absolutely grab this wine rack if I had somewhere to put it, lol.
As always, Barefoot Dreams blankets are going to go like hot cakes. They do have a few new colors to consider this year and they even have a pet bed [#tempting]. This is the one I have and love:

Top Accessories Picks
I've always been an accessories girl and love a good pair of oversized earrings or a cute blanket scarf – this one is perfect for fall! Love the neutral stripes so it can be paired with any outfit. You can also never go wrong with a simple coin necklace – snag this one for under $40! And I'm always a sucker for a Longchamp on sale – NSALE is where I've gotten both my beige and black leather totes that I truly can't find anywhere else & they're stunning. So, highly recommend the leather shoulder bag they have available this year!

Top Baby/Kid Picks
 I'm new to the baby / kids section this year but it was so cute to browse around and pick some favorites. This highchair stood out to me as a really great deal. I've considered a few things from Stokke as they're really well known here in Europe, as they're a Norwegian company. This highchair grows with your baby and is durable, environmentally friendly, and free of harmful substances. There are also some extremely adorable clothing items like this baby button-up cardigan! I got Louie a very similar one already or else I'd be considering snagging it.

And that wraps day one of the four-week-long Nordstrom Anniversary Sale! There's so much more to come on my IG Stories, so be sure to stay tuned in over there for more of my picks, deals of the day and restock notices once the sale really gets underway! Happy shopping! xo.