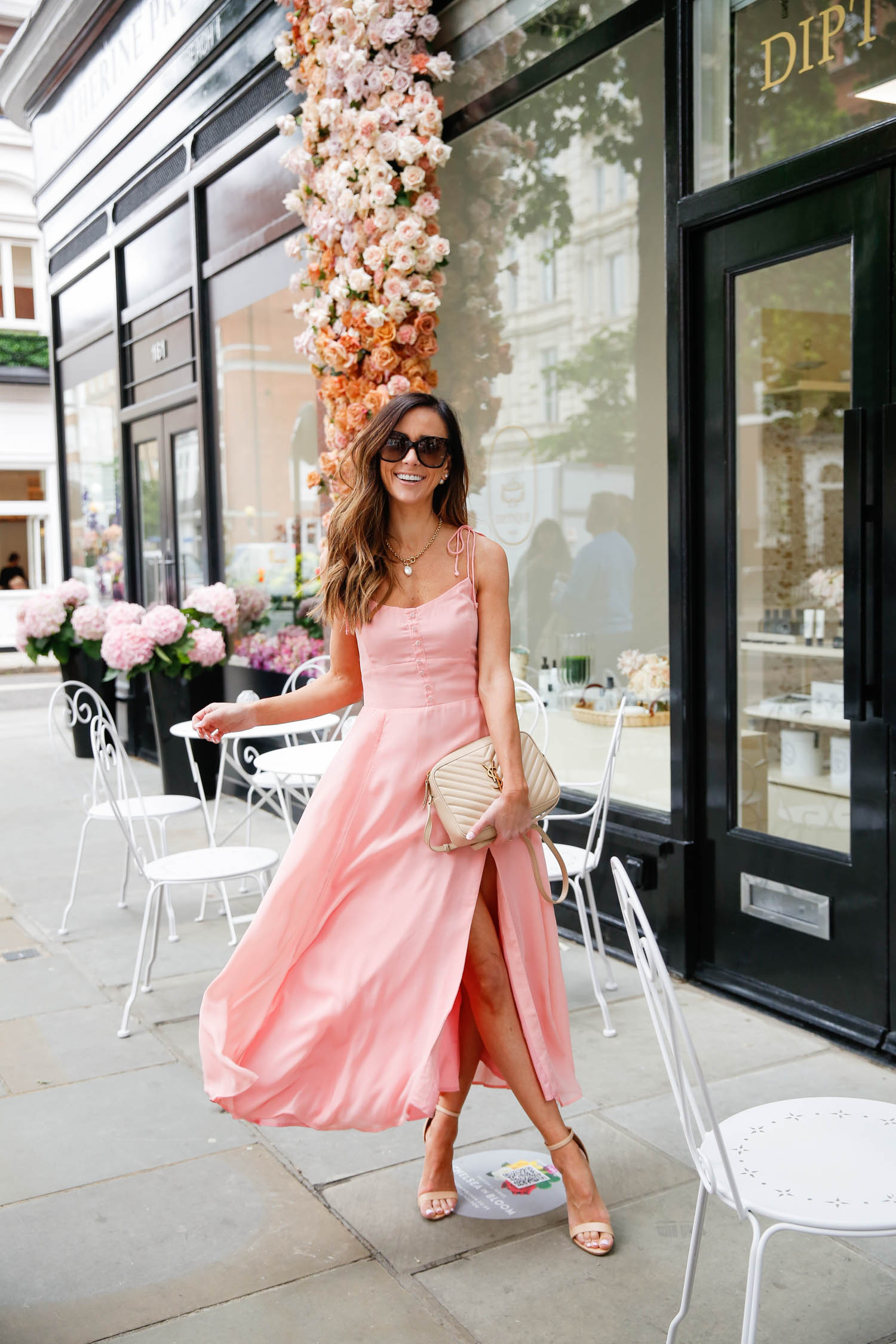 Hi friends! I'm coming to y'all with a rare weekend post to share an outfit I've had on file to share for awhile but, life has gotten in the way. I saw Abercrombie was having a generous 20% off sale most items on their site this weekend so I figured, since this dress is included, I'd finally share it with y'all! First, can we acknowledge how absolutely stunning the flower display is on the storefront behind me? These were taken during Chelsea Flower Show in London back in May [I think?] and so many of the stores in and around Sloane Square are all done up for the occasion. This one had me drooling as I absolutely love the tones of pinks, oranges and peaches. Definitely gave me some serious inspo for a future wedding one day, ha! 😉
Okay, so … this gorgeous slit-hem midi dress is an absolute dream as a Summer wedding guest dress! It is flowy and fun to move around in. It fits reasonably well – I'd go with your normal size as it fits true to size.
It's no secret I love Abercrombie and shop there quite a bit – for many of my everyday basics, like their bodysuits and jeans. And, one of my favorite purchase over the last few months has been these dresses. Here are some of the items from my recent purchases:

I shared this dress last weekend in both colors and you guys went crazy over it. And I think if I could wear one thing for the rest of my life – it'd be this dress. Enjoy this sale you guys! Let me know what you snag! And, if you're still looking for NSale content, be sure to head HERE and HERE for some things I've put together for you guys! xo.