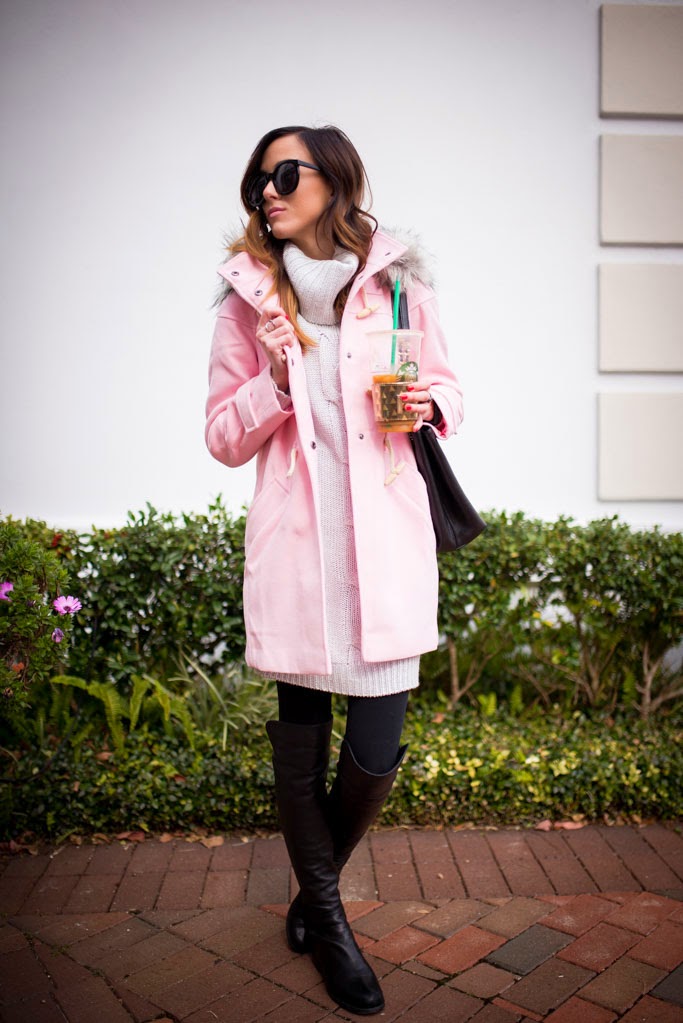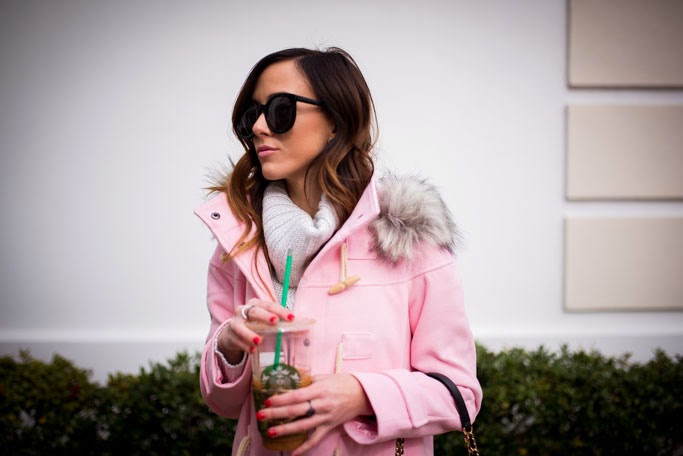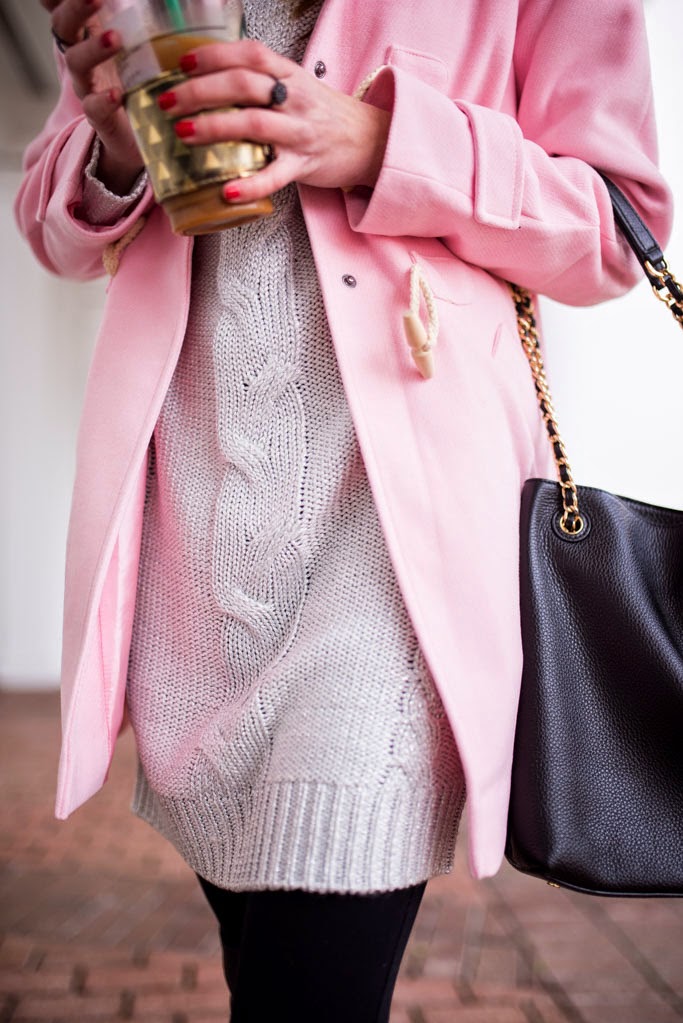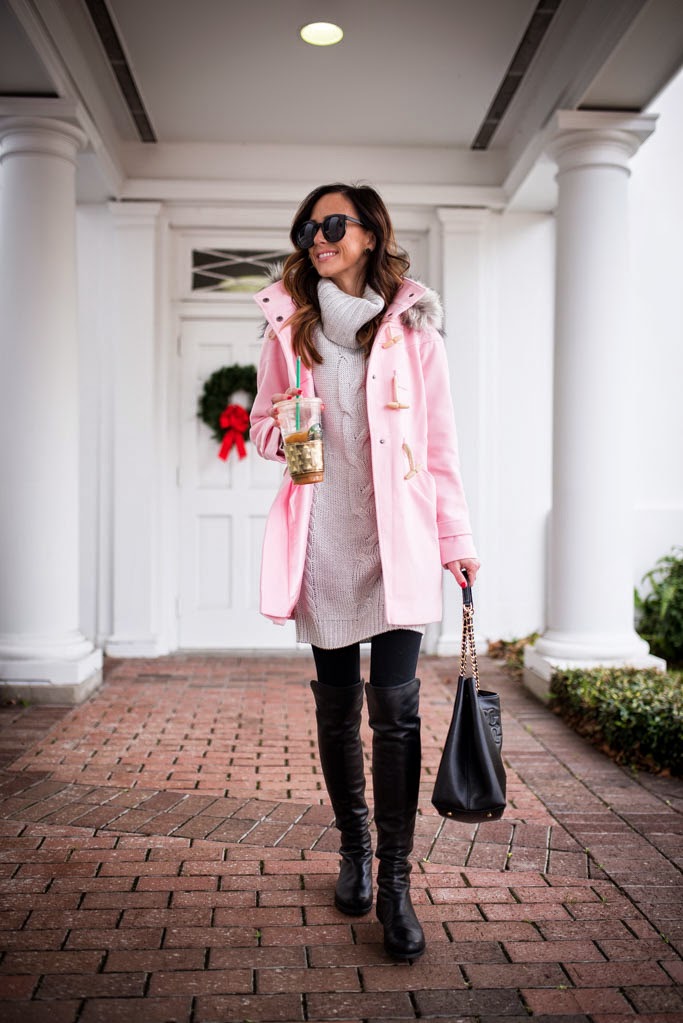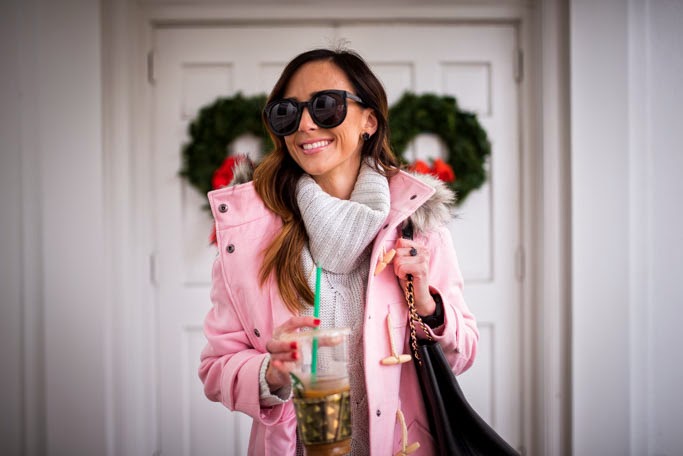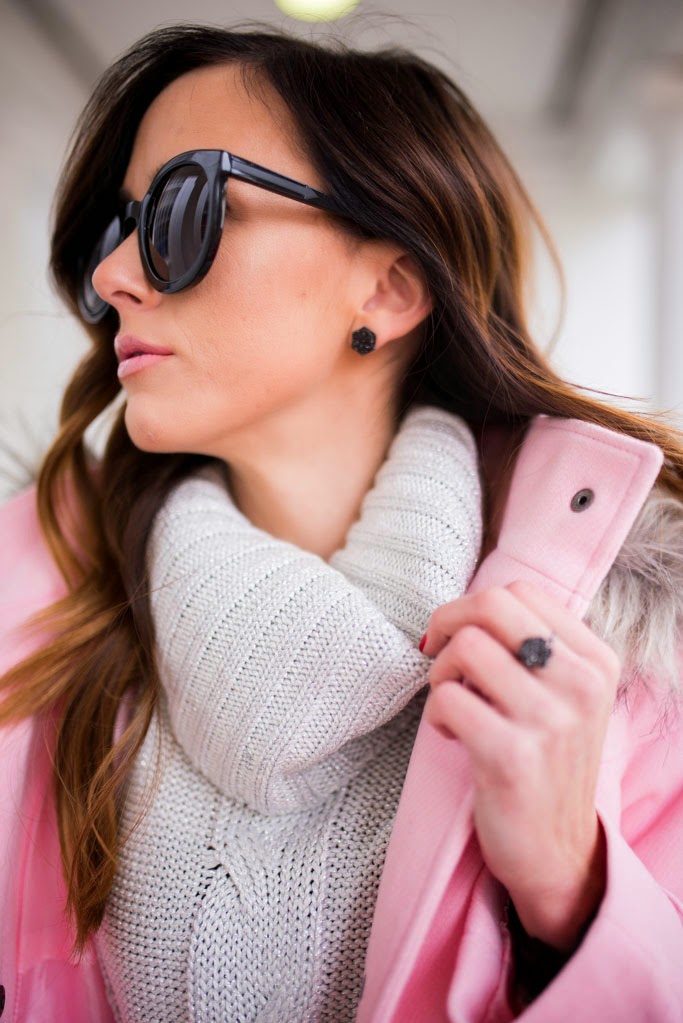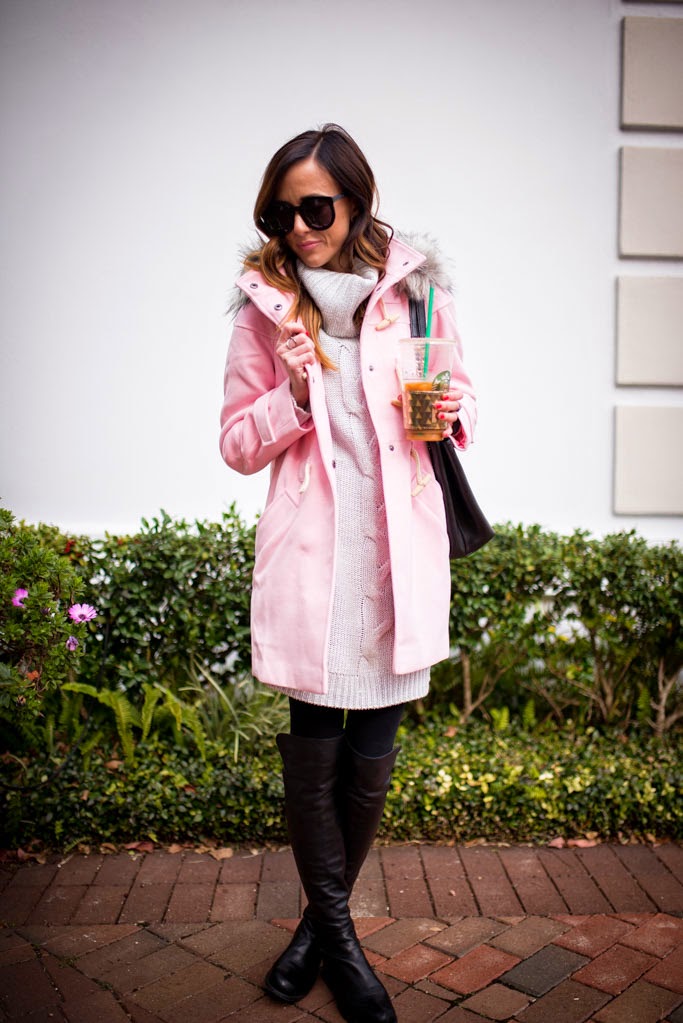 NastyGal Sweater Dress, wearing XXS [also love this one | and this one] | ASOS Petite Duffle Coat in Pink, sold out [similar & affordable | similar] | Stuart Weitzman '5050' Over-The-Knee Flat Boot [identical pair for $99!] | Tory Burch Thea Shoulder Tote | Karen Walker 'Super Duper' Sunglasses | Kendra Scott Kylie Ring c/o & Macy Earrings c/o | MAC Lipstick in 'Fleshpot' with 'Saint Germain' over it, lined with 'Stripdown' | BP. Wide Waistband Essential Leggings *on sale!
Ahhh! First post of 2015 … crazy! How was everyone's New Year's Eve and New Year's Day? I usually have to work one or the other, but totally lucked out this year and had both of them off! I went down to St. Augustine, a little city 45 minutes south of Jacksonville, with a group of friends. I'm honestly not a huge New Year's fan. I don't shy away from being social — like it doesn't give me anxiety to be socially interactive, but I do think this past year, I have chosen to not be social to focus on professional goals — but I absolutely love cozy night's in, so it always takes quite a few fun jams on full blast to get me pumped for a night out. [I'm currently loving "Uptown Funk", just in case you were wondering] But, overall, we had a blast. Our group basically took over this small little bar's dance floor and danced our way into the New Year! What did you do? I'd love to hear!
I bought this sweater dress a few weeks ago, and styled it for the blog, but honestly, after wearing it for the rest of the day after we shot this look, it was a little itchy … so I linked a few similar ones for you. If you are set on buying it, just be sure to wear a long sleeve shirt underneath it to decrease the itchiness factor. If you're still in the market for some amazing black flat boots, try these. They're identical to mine and $99! I'm going out to Colorado in a few weeks, so I've been in the market for some cold weather gear. I grabbed this cute hot pink cable knit beanie and this cozy turtleneck so far, and am looking at getting this North Face zip up jacket. [You can never have too many!] Okay, enough rambling … have a great Friday and weekend, y'all! xo.
P.S. Anyone know of any good photographers in the Breckenridge, CO area? Please email me: haley.shepherd@gmail.com! Thank you!

#stp-54a68e779f014, #stp-54a68e779f014 div, #stp-54a68e779f014 a, #stp-54a68e779f014 img, #stp-54a68e779f014 span { margin: 0; padding: 0; font-size: 0; letter-spacing: 0; line-height: 0; border: 0; box-sizing: content-box; background: transparent; box-shadow: none; word-wrap: normal; float: none; -webkit-transition: all 0 ease; -moz-transition: all 0 ease; -ms-transition: all 0 ease; -o-transition: all 0 ease; transition: all 0 ease; } #stp-54a68e779f014 { width: 100%; max-width: 683px; margin: 0 auto; position: relative; overflow: hidden; white-space: nowrap; text-align: left; } #stp-54a68e779f014.stp-no-controls { text-align: center; } #stp-54a68e779f014 .stp-control { z-index: 2; display: inline-block; width: 25px; height: 100%; position: absolute; top: 0; background: #FFF url(//assets.rewardstyle.com/images/scroller-arrows.png) no-repeat; text-indent: -99999px; overflow: hidden; direction: ltr; cursor: pointer; } #stp-54a68e779f014 .stp-left { left: 0; background-position: -26px 50%; } #stp-54a68e779f014 .stp-left.stp-hover { background-position: 0 50%; } #stp-54a68e779f014 .stp-right { right: 0; background-position: -49px 50%; } #stp-54a68e779f014 .stp-right.stp-hover { background-position: -75px 50%; } #stp-54a68e779f014 .stp-inner { width: auto; margin: 0 auto; display: inline-block; } #stp-54a68e779f014 .stp-slide { width: auto; left: 0; position: relative; white-space: nowrap; -webkit-transition: left 0.3s ease; -moz-transition: left 0.3s ease; -ms-transition: left 0.3s ease; -o-transition: left 0.3s ease; transition: left 0.3s ease; } #stp-54a68e779f014 .stp-shift { margin-left: 25px; } #stp-54a68e779f014 .stp-product { width: 100px; display: inline-block; position: relative; text-align: center; vertical-align: baseline; white-space: nowrap; } #stp-54a68e779f014 img { width: auto !important; height: auto !important; min-width: 15px !important; min-height: 15px !important; max-width: 100px !important; max-height: 120px !important; display: inline !important; vertical-align: middle !important; background: url(//assets.rewardstyle.com/images/search/350.gif) no-repeat 50% 50%; } #stp-54a68e779f014 span { display: block; width: 100%; overflow: hidden; text-overflow: ellipsis; white-space: nowrap; padding: 8px 0 2px; color:#000; font:11px/11px 'Avant Garde', Avantgarde, 'Century Gothic', CenturyGothic, 'AppleGothic', sans-serif; } #stp-54a68e779f014 .stp-help { width: 0; display: inline-block; min-height: 120px; vertical-align: middle; padding: 0; } #stp-54a68e779f014 .stp-hidden { display: none; } #stp-54a68e779f014.stp-resp .stp-product { width: 100%; } #stp-54a68e779f014.stp-resp img { width: 100% !important; height: auto !important; max-width: none !important; max-height: none !important; } #stp-54a68e779f014.stp-resp .stp-help { min-height: 0; }
With love & sequins,
Haley
"Try to learn to breathe deeply, really taste the food when you eat, and when you sleep, really to sleep. Try as much as possible to be wholly alive with all your might, and when you laugh, laugh like hell. And when you get angry, get good and angry. You will be dead soon enough."
Ernest Hemingway
PHOTO CREDIT | Miguel Emmanuelli Photography