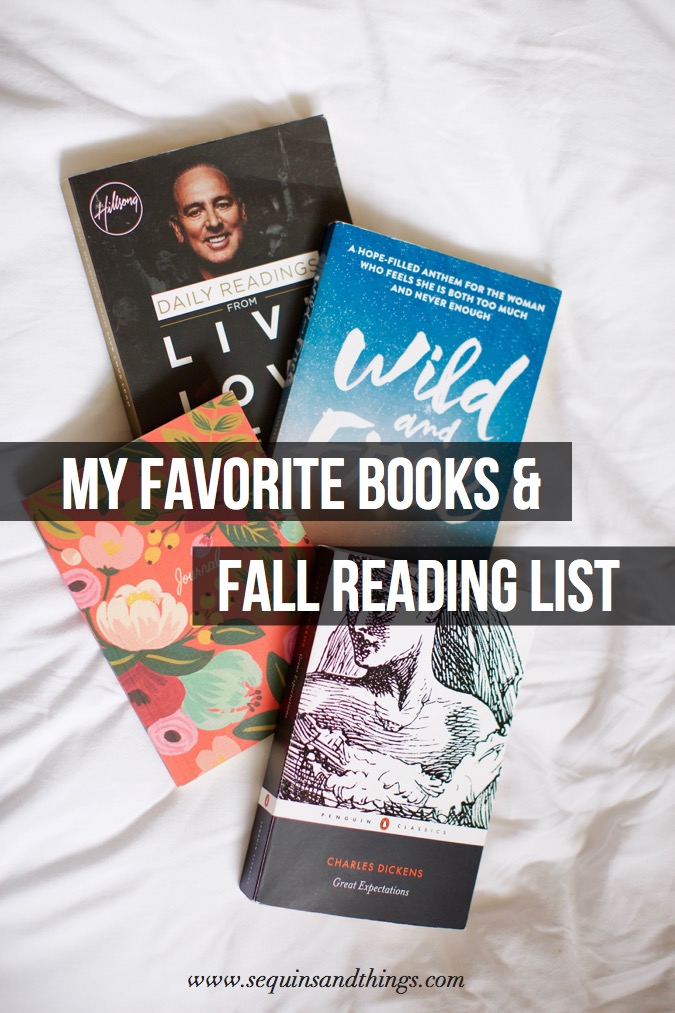 Last week, during the Snapchat Q&A, there was a question asked about what my favorite Christian / inspirational books are. I gave some of them on there but a lot of you asked me to put them in a post. I apologize it's taken me some time to get it together. As you'll find, under currently reading, I'm trying to be better about not always saying an immediate yes and stopping all things to do a post for the blog. I had a friend in town and wanted to spend that time with her being that a friend coming to London is rare.
I absolutely love to read, and I used to share books with y'all a lot in year's past, I believe. I kind of got out of it because I let myself work too much and continuously choose work over rest and relaxing. Over the past few months, I've really wrestled with how to adequately manage the blog and a personal life and my own personal hobbies and well-being. One of the things I told myself I want to be better about, and get back into, is reading. If you knew me, personally, you'd know that behind the scenes, I'm stressed a lot. My email inbox is always overflowing. I read them and them tell myself I'll get back to them because I know each one will take 30 minutes and I need to other things right this second. There are photoshoots to be planned and executed. There are collaborations to negotiate and deadlines to meet. There are packages to unpack and boxes to break down and take to the trash. There are errands to run, knick knacks to buy for shoots, etc. I got to a point where the blog ran me. In the book I'm reading, the author points out that we have the authority to say no and the responsibility to say no. Because when we're constantly saying yes to work, we're saying no to so many other things that our soul needs and yearns for. Mine yearns for rest and relaxation. I love to hustle but I need that recharge.
So, today, I've mentioned a few of the reads that I read last year that I love, the book I'm currently reading, and the books that are currently on my reading list! I just my replacement Kindle in the mail yesterday [the first one I got was defected, and then the style was backordered for a few weeks .. ha, of course, right?] and am excited to spend my trips on the tube reading and recharging. 🙂 Be sure to leave me any book recommendations in the comment section below! xo.

I cannot recommend these books enough. Love Does, Jesus Is ___ and Life Is ___ all made me laugh but also made me think as it taught me about who I belong to and who I should be living for and how to truly live this life to the fullest. I really want to read Love Does again. It's probably my favorite. I heard the author, Bob Goff, speak in Chicago last year and that man is something special. If every Christian just 'got it' the way he does, our world would be seriously changed but it is so crazy all of the ways he has made it brighter with his determination and pure love for life.
I read The Shack a few years ago, before my Mom passed away, and the story is essentially about a man who wrestles with his faith after losing his daughter, and how he begins to believe in our good and gracious Father again. It's incredibly written, and if you've ever been unsure about who God is and the role of God, the Holy Spirit and Jesus … the book describes in such a beautiful way. I absolutely loved it!
Scary Close and Daring Greatly kind of go hand in hand. The first is a page turner by Donald Miller, who struggled with wanting to be completely known by people. He struggled with vulnerability to the point that he went to a camp for counseling to dig up and discover why that was the case for so many years. Brene Brown is wonder woman, in my opinion. She has spent years and years researching and studying the power of vulnerability. I first heard of her about four years ago when I watched her TED Talk and was fascinated. It's 20-minutes so grab some popcorn but it's worth it! So, she wrote Daring Greatly to talk a lot more about what can happen when we resist fear and embrace vulnerability. She's done a lot of research on shame, so she talks about what she's uncovered in that area, as well! It might not be everyone's cup of tea but I found it to be interesting. I was a Psychology minor in college so I just like that kind of stuff and I think it could change us humans if we embrace the information she's uncovered. If we allow ourselves to connect with people through openness, honesty and resisting shame, I think we could feel so much more full.
I am currently reading a book that, page after page, tugs at my heart. I'm constantly saying, in my head, 'Me too, Shauna. Me too.' It's called Present Over Perfect by Shauna Niequist.
I absolutely love my job, running this blog. I'm passionate about it. I have fun doing it. I do it because I love it but, more than that, I do it for you. I love being able to give you inspiration through an outfit post on the blog or Instagram and interact with you on Snapchat and Twitter. I couldn't do this without you, so I'm thankful for the opportunity to have an audience that wants to go to the blog on a daily basis and, in turn, wants to talk and engage with me. However, running a successful blog by producing consistent, quality content, always engaging with your audience when they ask you questions and constantly sharing the information that your readers are asking of you is extremely time consuming. It's no one's fault. It just  is what it is. And, I don't want it any other way. Again … let me stress: I love everything about running this blog, even the amount of time that it takes to run it but, I've felt a little stretched thin over the past few months. By constantly saying 'yes' to working a 70-90+ hour week on the blog as much as I have in the past, I am robbing myself of an experiential paycheck. I'm robbing myself of having strong relationships with my friends, family and boyfriend and robbing myself of the ability to live offline. And reading this book has made me feel less alone, and less afraid to continue living the way I have recently … which is to put work on the back burner sometimes. I'm not a lazy person. I love to work, so saying no to the blog is hard for me sometimes. And, I also know there is absolutely no way that I am the only woman out there to be feeling the same pressure to be everything to everyone. It's a pressure we create ourselves because we can't say no. We want to say yes to everything. I want to say yes to exploring London on a weekday instead of doing the fifth blog post for the week. I want to say yes to adventuring on the weekends. I want to say yes to friends visiting. I want to say yes to multiple dinners out at new restaurants every week. Do we do this for validation? Do we do it because we don't have a strong enough will power to be honest about what would be too much? Whatever the reason, the reality is … it's not healthy behavior to engage in all the time. We have to set boundaries and this book is, essentially, about how Shauna, a very well known author and speaker, overcame the same feelings and struggles about being an 'all-in', 'yes' girl. It's so good and I think that lots of women are in the same boat these days. There are more and more women entrepreneurs than ever before, it seems – 'girl-bosses', if you will – and I think we should be able to go after our dreams but I don't think that we need to work in overdrive week after week after week. Anyway, I haven't finished reading it yet. But, I am loving it so far! Here are a few of my favorites that I've highlighted:
"Loving one's work is a gift. And loving one's work makes it really easy to neglect other parts of life."
—
"You may know that yes is an important word for me. Maybe you've seen my yes sweatshirt, my yes earrings, my yes tote bag, my yes tattoo. I'm not kidding about any of those things. Yes matters to me on a deep level – saying a broad and brave yes to this beautiful world, to love and challenge and hard laughter and dancing and trying and failing. Yes is totally my jam. 
But you can't have yes without no. Another way to say it: if you're not careful with your yeses, you start to say no to some very important things without even realizing it. In my rampant yes-yes-yesing, I said no, without intending to, to rest, to peace, to roundedness, to listening, to deep and slow connection, built over years instead of moments.
All my yeses brought me to a shallow way of living – an exhausting, frantic lifestyle that actually ended up having little resemblance to that deep, brave yes I was searching for."
—
"But we're the ones who keep putting up the chairs.
If I work in such a way that I don't have enough energy to give to my marriage, I need to take down some chairs. If I say yes to so many work things that my kids only get tired mommy, I need to take down some chairs.
I know I've let my work win sometimes. I know I've gotten the math wrong, sometimes unwittingly, believing I could fit in more than I could. There have been times I've hidden behind my work, because work is easier to control than a hard conversation with someone you love.
There's part of the challenge of stewarding a calling for all of us: you get it wrong sometimes. And part of stewarding a calling is sometimes taking down some chairs. We have more authority, and therefore, more responsibility than we think. We decide where the time goes. There's so much freedom in that, and so much responsibility."

This is such a long list because I haven't read in a long time, like I said, so I have a lot of catching up to do. I definitely don't expect to read all of these but I thought I'd share all of them because I have heard great things about each one.
I also really want to read The Magnolia Story by Chip & Joanna Gaines because …. well, I'm obsessed with her and I want to know more about her story. I've seen this, though, and I'm intrigued to know more.
What are you reading? What's on your reading list?
Thanks for stopping by today, y'all! xo.