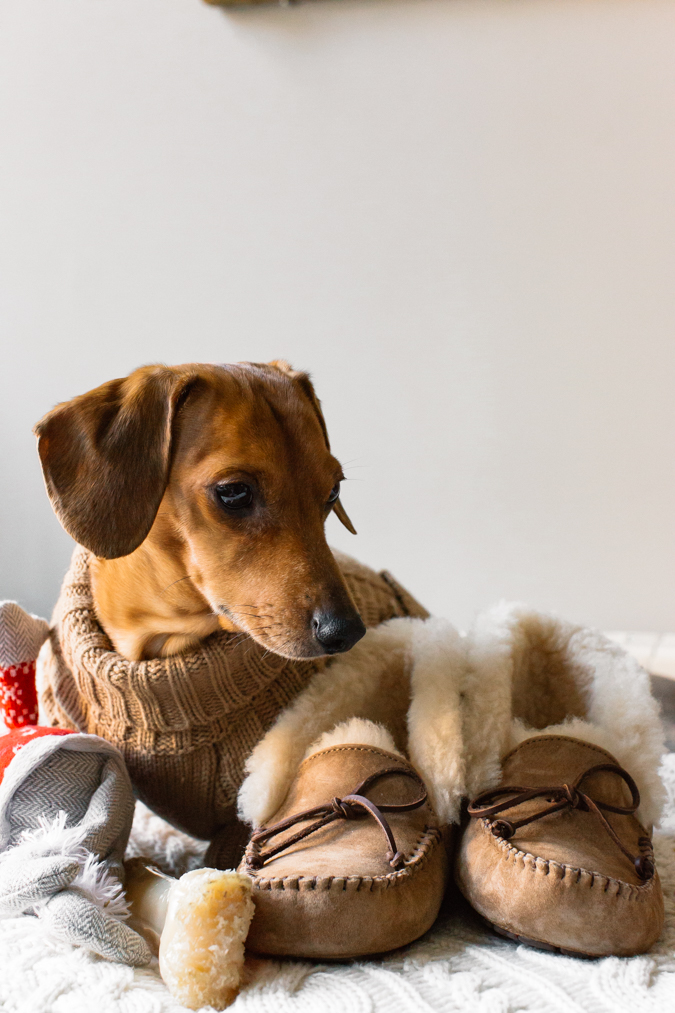 The most festive month of the year, arguably, is upon us. Tomorrow is the first day of December. I'm in shock. I really can't believe but, regardless, I'm excited! If you don't love this time of year … you need to go check into the hospital to see if you have a heart. While my excitement is at an all-time high, I thought I'd use it as a catalyst to put together a list of my top 10 favorite things about the month of December. Here. We. Go!
FESTIVE PAJAMAS: I wouldn't say I'm ranking my favorite things about this month, but I would say this one is pretty close to being accurate. I tend to go a little overboard when it comes to festive pajamas during this time of year. They're all so cute and I irrationally tell myself that I'll be wearing pajamas all day everyday the week of Christmas so I MUST buy all of the ones I've put in my cart. I've done much better this year. I've currently only purchased the cute pajama set that I'm wearing in these photos. But you can find some of the ones I have my eye on below, including a few robes:

STARBUCKS HOT CHOCOLATE: I am not much of a hot drink drinker. If I had a choice, it'd be iced coffee all day, every day. This preference has had to make an adjustment since I arrived in London because they don't brew drip coffee here and thus don't do iced drip coffees. But, if there is one hot drink I do love, it's Starbucks' hot chocolate. I don't know why – it just tastes the best, in my opinion. I have had some issues with Wifi lately and Starbucks' Wifi seems to be the best in my little neighborhood, so I've been getting hot chocolate almost every day. It's gotten me so excited for the holiday season!
If you love brewing hot chocolate at home, and cozying up on the couch with a hot mug and a Christmas movie, here are a few festive holiday ones for ya:

WRITING CHRISTMAS CARDS: Sending and receiving Christmas cards is always one of my favorite things about this time of year. My love language is words so, no matter the season, if you send me a handwritten card, it will literally make my heart melt instantly. But, Christmas cards, specifically are super fun, in my opinion, because it makes you reflect back on the year when you see your friends with their new spouse or their new baby in this year's photo compared to last year. Mine is usually just a simple card with a hand written message inside but, Whitney and I thought it would be fun to get decked out in ugly Christmas sweaters and go get our photo taken with Santa! We better get a move on with this venture because we're both running out of time! I only have two weeks left, but it would be so fun and silly! Even if we aren't able to make it happen, you can see I've already purchased cards from a store here in London [that I love to pop into, Scribbler] that reflect where I'm at in life at the moment. So, I'm excited to send those out. I need to get a move on – they really should be sent out this first week of December!

FAMILY TIME: Normally, I have the luxury of seeing my family whenever I want because I live where I grew up. My family lives a very short 15 minute drive from me. I've always kind of yearned to say I'm 'going home for the holidays' because that's really never been my situation. Even when I lived in Colorado, my family came to me for Christmas. So, this year, I am extra excited about all the family time because I haven't seen them since the beginning of August. I know the minute I see Francie and my Dad I will cry. I am super independent and I love London, so I really haven't been homesick since I've been here, but there is just something about my family that makes me melt. I turn to mush and I have a hard time calming myself down, ha! It'll be nice to hear what they have been up to, play games together, watch Christmas movies and just enjoy their company. I can't wait!
GETTING THE HOUSE READY FOR CHRISTMAS: If there has been one thing that I have missed about home lately, it's been decorating my home for Christmas! I am constantly double-tapping my friends Instagram photos of their beautifully decorated trees, couches, mantles, desks, etc. and I am hoping that Nordstrom still has some really cute home decor items for me to order when I get back! Here are a few things I have my eye on:

LOUNGING NEXT TO A FIRE: Florida doesn't get too chilly – ever – but my family, over the last few years, has been venturing out west to Colorado to enjoy their Winter wonderland. We're going somewhere different this year and I'm super excited about it! My Dad emailed me the listing for our condo and I told him that I call dibs on spot on the couch next to the fireplace. It's one of my favorite things to cozy up in my pajamas, with a chunky knit blanket, warm socks, a mug of hot chocolate and a good book or my favorite Christmas movie. I. CANNOT. WAIT!
GIVING BACK: This season is ALL about giving, but I think a lot of us get caught up in purchasing presents for our loved ones that we forget there are TONS of amazing causes out there that need gifts, as well. Yesterday was Giving Tuesday and it really challenged me to think about what causes I am passionate about. Some of y'all know that I give to my church regularly because I am SO thankful for all that God has given me. It only makes sense that I give part of what He has given me to support all the things that He has put on the hearts of the men and women of my church.
However, in addition to that, I realized that I have a soft spot for companies that train and develop service dogs for the men and women in our country that desperately need them to live independently. Yesterday, on Snapchat, I shared a little clip of a blind woman and her service dog on the tube and it was so heartwarming. It was so clear how much they loved each other and, y'all … the tube is difficult to navigate WITHOUT A DISABILITY. The fact that this sweet pup has been trained to help this woman, who can't help that she's blind, navigate the tube and live a more normal life made me SO HAPPY for her. It made me so happy that those companies exist. So, last night, I made donations to America's VetDogs and Guiding Eyes For The Blind.
Another cause that I love and support is VH1's Save The Music. It's frustrating to me that music education, in addition to art and the like, is considered less important than the general academic subjects. Everyone is born with different strengths and its unfortunate that those of us who are a little bit more right brained are jipped of the opportunity to excel in the areas where we would shine the brightest. While I think having a good basis of knowledge in math, science, history, etc is important, I think it's just as important for those students who are a little more artistically inclined feel like they have an area at school in which they feel they excel at. VH1's Save The Music is a non-profit organization that is committed to keeping music programs, specifically, in schools. If you'd like to donate to their movement, be sure to go HERE.
Another way I plan on giving during this holiday season actually came about last night when I was talking to Whitney. We didn't know where to go to get our picture taken with Santa for our Christmas card I mentioned above, so I googled it and this ad popped up about a Santa Run 4 Cancer. We thought it would be so fun to run for charity … while dressed up like Santa! Ha! I haven't run in a LONG TIME but I ran a 10K a few years ago, so I think I'll be alright. The race is this weekend and I'd like to ask you to help me raise some money for it! If you didn't donate to a cause for Giving Tuesday, maybe do this as a way to give to a good cause! My goal isn't anything extravagant, but it'll still do good for people who really need it! To donate and sponsor me in this race, go HERE and thank you to anyone who is kind enough to make one! 🙂
COZY HOUSE SLIPPERS: I saw these house slippers literally two months ago and was like I'll wait until I get home to buy them for the holidays but, when it started getting really cold here I was like 'yeah, okay I can't wait!' Hah! They are SO WARM! I wear them in the mornings and at night to take Fish outside and, you know, people hate on UGG's, but they really do know how to make REALLY WARM shoes! If you wear half-sizes, be sure to get one size up if you snag these! Nordstrom has an amazing selection of house slippers at different price points this year:

CELEBRATING THE REASON FOR THE SEASON: As a Christian, I really have such a soft spot for the Christmas holiday. My favorite Christmas song is O Holy Night because it is all about the real reason for the season. Its lyrics say it all –
Long lay the world in sin and error pining
'til He appeared and the soul felt its worth
A thrill of Hope
The weary world rejoices
For yonder breaks
A new and glorious morn
Fall on your knees
O, hear the angels' voices
O, night divine
O, night when Christ was born
O, night divine
O, night divine
I love the italicized parts, especially. Our soul felt its worth AFTER He appeared. Without him, we often feel hopeless. We live in a weary world. I think we have all felt that at one point or another this year, in particular.
My favorite part, though, is 'O night divine'. It's repeated multiple times throughout the song and it got me thinking about the word divine. There are many definitions of the word, one of them being 'extremely good; unusually lovely'. God knew we couldn't help ourselves. He knew that no matter how good we try to be on our own, we'll end up exhausted and defeated. He knew we needed Him to stand in the gap for us, and that we needed Jesus for that. Jesus fulfilled the ultimate promise and paid the ultimate price … for all of us. I surely don't deserve that, so what an extremely good and unusually lovely gift it was for all of us to receive on that Christmas night from our Heavenly Father. It is the gift I am personally always thankful for during this time of year, but easy to forget during the hustle and bustle so I thought I'd just start the month off with a small reminder 🙂
**PLEASE NOTE: Everyone is entitled to their beliefs. Me and you. So, if this is not your belief … that is totally fine. I have nothing against your belief whatsoever, and I'm stating mine to start any kind of debate. This blog is my space to share myself with you, and my faith is a big part of myself. It is never my intention to preach to you or persuade you to believe what I believe. It is my hope that this will not deter you from coming back here, either.
CHRISTMAS MOVIES: Has anyone else started watching their favorites yet? Whitney and I watched Home Alone last week and I watched Love, Actually last night. I am trying to limit myself to one a night and not over do it but, I mean, come on … who gets tired of Christmas movies, anyway? I guess there's no harm in watching more than one. Which one is your favorite?
So, those are my 10 favorite things about the upcoming month of December!
What are yours??
xo.