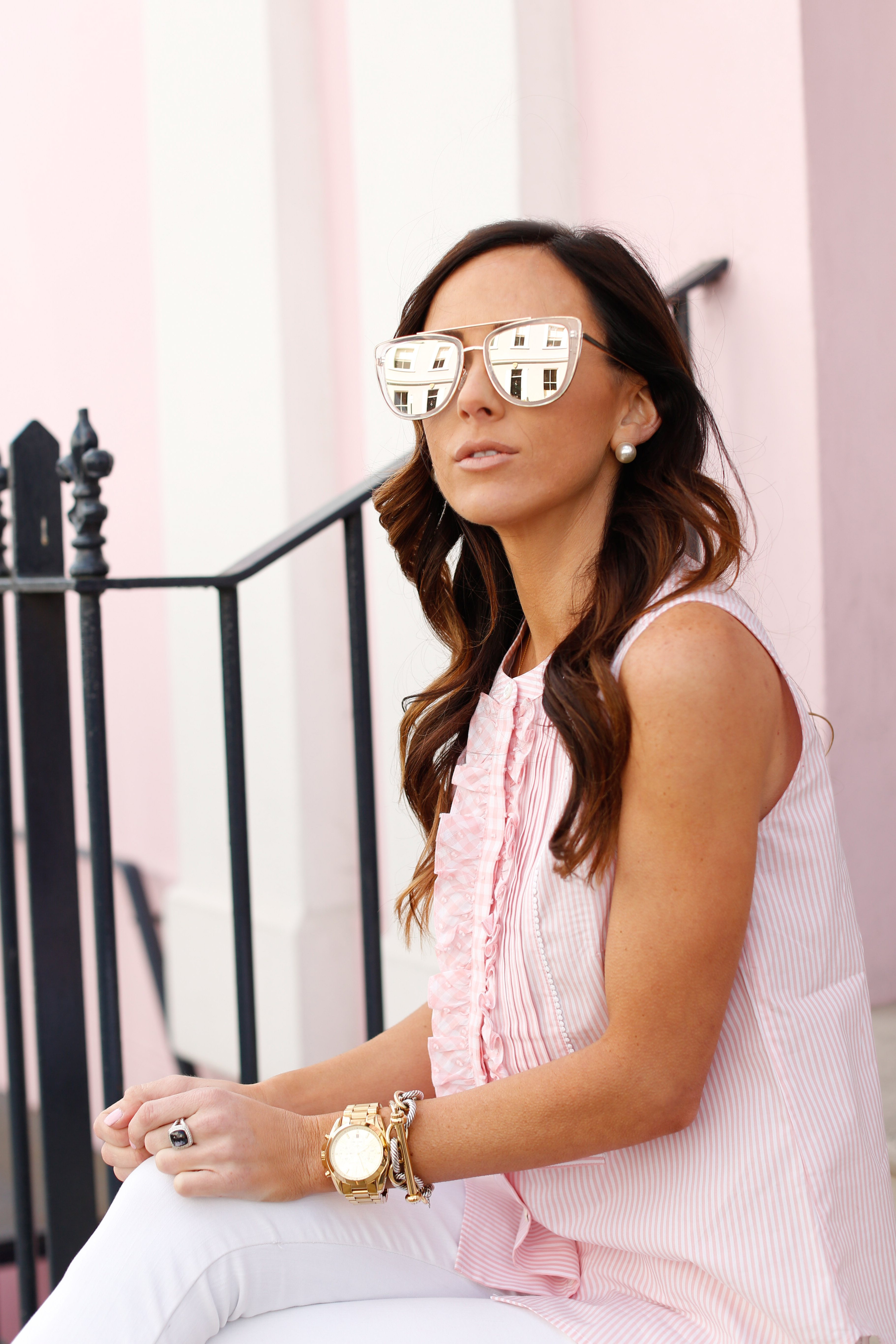 Hey there, lovelies!
I couldn't hang in London for a few days without scoping out a cute place to get some outfit photos taken. I just love crisp button-ups, no matter whether they're sleeveless or have sleeves. I think they have an air of sophistication about them, like you're ready to slay the day … you have it all together and you can do this! And, if they're pink, well … I love them even more because it's my favorite color, right behind blue … so you can imagine why I scooped up this pink top I'm wearing! 😉 Victoria and I were going to shoot in Notting Hill for this outfit but felt like maybe we should venture in to a different neighborhood that you don't see as often. This is in Holland Park, just around the corner from a cute little section of the neighborhood with a bunch of tucked away shops. This house definitely sticks out amongst the rest, and I love it for that. Shamelessly be you, you beautiful pink house! I couldn't resist it as the backdrop for this outfit. I absolutely love when there's no plan for a backdrop of an outfit and then we happen to stumble upon the most perfect one! Hope you like them as much as I do. It was so fun to be back to shooting withVictoria, shooting together and gabbing throughout the whole thing, again. I love sharing what she captures with you. She always encapsulates what I have in my head and that's such a special thing, in my opinion. It's rare. And, it'll be even more fun to have her helping me capture travel content on this trip with me.
Question for y'all, though …
Do you like travel content? Do you want to see more of it? I know you follow me mostly for style, because it's always been the heaviest load of content this blog carries, but I enjoy traveling so much and love to see new places and experience new cultures, and would love to share that aspect of my life and interest that I personally possess with you, but it's honestly a little discouraging when I don't see y'all engage in the content as much on Instagram, and such. It's all fine and good. I want to continue to post it and hopefully it'll bring in an audience that appreciates and wants to consume my travel content. I don't expect everyone that follows me to like everything I post but …you, as a reader of mine, mean a lot to me so I would like to know your thoughts.
My Bermuda guide will be up next week, if you've been waiting for that one!
Anyway … we've enjoyed exploring the French Riviera so far! Nice can be done in, essentially a day, so today we are heading somewhere close by that you may have heard of … head to my Insta-stories or Snapchat to find out where! By the time this goes live, I'll likely already be there … or close to it … because of the time difference!
Have a great day, y'all, and thanks for stopping by! xo.