One of my favorite things about women is that we are all so different and unique in our own way. Some of us love makeup and getting that perfect winged eyeliner down pat, some of us are experts at finding the best flight deals and want to see the world more than anything, some of us know all things about stocks and Star Wars, and some of us love camping and drinking beer … and, some of us, like all of the above! I love that we're all different. In Proverbs 27:17, the Bible says 'As iron sharpens iron, so one person sharpens another' and I believe that we can all learn a lot and become sharper in areas that someone else is already as sharp as they come. One of my personal goals as a human being, and I guess as a woman, as well, is to be a kind, open-minded and well-rounded individual. I don't know it all and just because I have a college degree in Nursing, a style blog and I've travelled a little bit does NOT mean that I know it all about everything. I want to continue to learn and know more … about a lot of things, not just what I'm passionate about!
I love that this blog allows me to help you and sharpen you in different ways throughout the year. Last year, many of you gravitated – heavily – to my Neutral Shoe Review. My eyes popped out my head when I saw how much traffic the post got so it was clear to me that that's one area that you look to me to help you with … and I am so flattered by that because I think, more than handbags and beauty products, I am always drawn by a pair of shoes. They're so hard for me to resist when my mind goes to what outfits I could see myself styling with them. So, after realizing this about y'all, I told myself that I needed to continue do these shoe round-up's for you each major season [Fall/Winter & Spring/Summer] to sharpen your knowledge on which shoes are worth bringing in to your wardrobe!
I wanted to get this Spring / Summer Round-up of shoes to you a little earlier than now – these photos have been in my Dropbox waiting to be put into a post for three weeks – but, you know, things have been busy with travel and all, hah! Plus, I've had a lot of other great content to share lately – all of which I hope you've enjoyed!
Today, I'm going to share my insight into the shoes I've purchased this Spring and have been wearing … or look forward to wearing more when I get home! It's kind of like the Neutral Shoe Review from last year but a little different … and A LOT MORE SHOES. It seems my sickness [love, obsession, weakness, whatever you want to call it] is getting worse!
I'll tell you some thoughts about each one and then I'll give it a rating between 1-5.
1 = do not buy! warning, warning!
5 = obsessed! you need them in your closet!
Here we go!
If I could choose a ride-or-die pair of shoes, these would with-a-doubt be in my top three. Not only do these shoes come in any and every color you can think of, but they are seriously the most comfortable pair of flats that are PERFECT for travel. I have them in Light Oak, French Grey and just recently purchased the Retro Pink color. I cannot sing their praises enough. You'll definitely be seeing me wear the heck outta these while I'm doing quite a bit of traveling this Spring and Summer. They do stretch out a bit after a lot of wear but I still get my normal shoe size.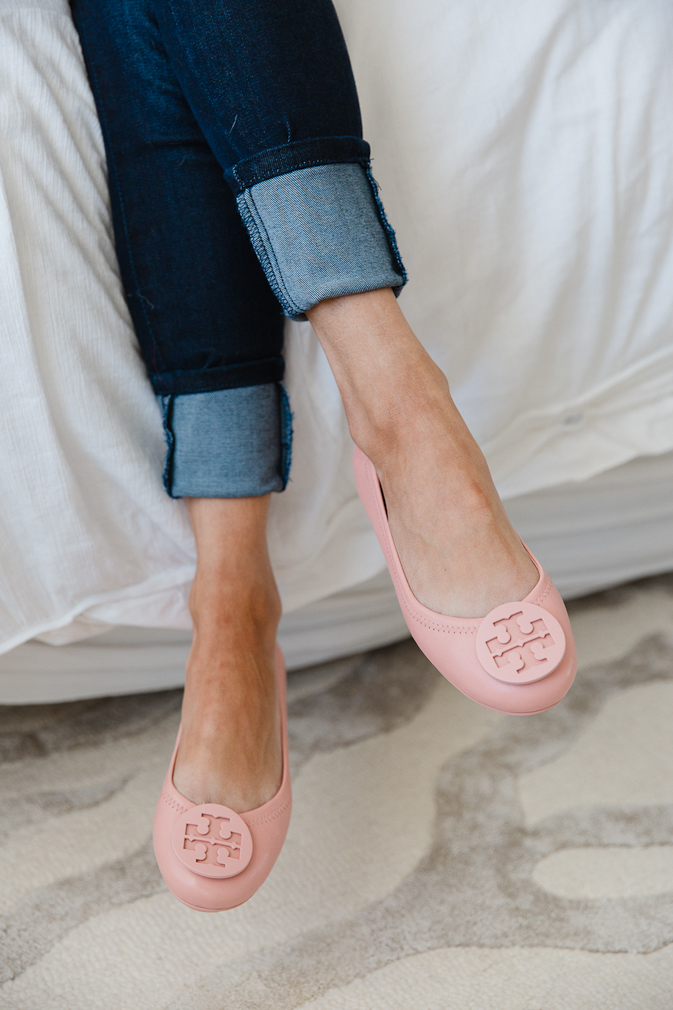 Rating: 5/5
These are another staple shoe in my collection that is a little expensive for what it is but worth it in the long run because of how much wear you will get out of them. I just tossed my 'Sand Patent' pair after three years only because Chips got a hold of them. They have seen the world and could have surely gone another year or so but it was time for me to venture to a new pair. I decided on the 'Makeup' color and I was shocked at how much more 'pink' they are than they look in the product photos on Nordstrom's website. These run true to size and do take a little breaking in just because the logo on the top of your foot needs to assimilate a little. Thankfully, it doesn't take but a week or so.
Rating: 5/5
These flats could, really, just not be more precious. I absolutely adore the detail. The only thing is I don't wear them as much as I probably should. They can be worn with a lot but I think I always just opt for a quick slip-on sandal more often than not. They run true to size if you're completely sold on them but, if you're on the fence, and unsure if you'll wear them a lot … I'd pass because they're a little pricey.
Rating: 4/5
I loooove these sandals. I have the Lagos gladiator style sandals but just wanted something similar that I could easily slide on and these are IT! They do take a bit of breaking in. The leather strap that goes over the bridge of my foot needs to stretch but, once it does, they're super comfortable! I'll be wearing them around Greece a lot!
Rating: 4/5
Okay, these are just beyond. They're SO fun, almost show-stopping! I really, really like them but, I've found that slides scare me, hah! They can easily slip off if you are walking too quick and I seriously almost fell down my apartments' concrete stairs running down them after Chips one day [he is like Speedy Gonzalez when he knows he gets to go outside for a walk] because they were loose on my feet. So, I'd say buy them if you particularly love slides, consider yourself to be especially girly and don't have any likelihood of being dragged around by a pup ???? They are super super cute!
Rating: 3/5
JEFFREY CAMPBELL CUT-OUT WEDGES
If I could choose a pair of heels [wedges included] that were the easiest to walk in with a major comfort factor, it would 100% – without a doubt – be these! You've likely seen them a million times over the last couple of years because they had a really similar pair out that launched back in 2015, I believe, and you saw them on almost every blogger. These are really not much different than those and, since I had the initial pair and they had been through the ringer, I decided to get her sister pair ???? These are such a gem of a shoe, truly! Highly recommend! They run true to size and they do take about a week or so to grow accustomed to. The leather will stretch. Promise!
Rating: 5/5
MADEWELL TIE-UP GLADIATOR SANDALS
I purchased these a couple of months ago because they seemed like a great summer shoe for only $60. I don't know about you but sometimes I get tired of wearing the same shoes over and over again in the summer so, I felt like these would be a good options when I wanted to switch things up a bit. And, honestly, sometimes I like to channel my inner bohemian princess and thought these would be a great option to wear with those outfits. They're comfortable and the ties stay tied, which is important to me, especially because these are a shoe I'd likely wear with a dress and who wants to continuously be bending over to tie a shoe every so often … in a dress. These run true to size!
Rating: 3/5
BP. BROWN / ORANGE / BLUE SLIDES
I thought the colors in these sandals were so fun but it was the price that really sealed the deal! They're only $50 and add such a fun pop to any cute Spring or Summer outfit. Again, slides are tricky so just be careful when you choose to wear them. They run true to size.
Rating: 4/5
Y'all have seen me style these quite a bit since I purchased the beige and gray pair last year. I love their classic silhouette. It allows them to go with more, in my opinion. They are comfortable for events where you have to be on your feet for 3-5 hours, but I wouldn't do a TON of walking in them. They're not the worst in terms of comfort but your feet WILL hurt after awhile. They run true to size.
Rating: 4/5
Stylistically, I'm obsessed with these sandals. They caught my attention immediately when I saw them in this color. I knew I'd wear them a lot in the Spring and Summer and, even though they were pretty pricey for a pair of sandals, I just felt right about getting them for that reason. I've worn them on my trip here in Europe and they haven't given me a bit of trouble. They are well made and you will be able to wear them for years. They run true to size.
I realize the price is pretty steep so HERE is an identical pair that are under $35!
Rating: 4/5
I am utterly obsessed with these beautiful wedges. They are so seriously my dream wedge! I bought them in cognac back in February and, when I saw that they made them in blue, as well, I just had a weak moment and bought those, too! [I've been wearing A LOT of blue lately – before my trip – so I knew I'd wear them a ton and I have already!] I really do love them but, I am sad to report that I do trip in them quite a bit .. hah! I think I just need to wear them more so I can get used to how I need to walk while wearing them and I'm not completely sure that everyone would trip.  I will take off a little bit in the rating for it but, not much. They're great quality, the cutest style and run true to size.
Rating: 4/5
SAM EDELMAN PINK POINTED-TOE WRAP-UP FLATS
My friend, Kristin, from Suburban Faux Pas wore these in yellow with an adorable outfit in Palm Beach not too long ago and I just thought they were so cute! I delighted to see that they also come in pink, which could add a fun pop of color to a future outfit. They run true to size and the taffeta material makes the ankle tie really comfortable but, I've yet to wear them and I've had them for almost a month. I think I've often opted to wear my Chloe wedges or something else instead. So, these might not get as much wear as I anticipated. Sometimes I can be a bit impulsive when it comes to shoes so, although these have so many positive attributes … I might say pass if you don't think you'll wear them a lot.
Rating: 3/5
I absolutely love these sandals. They are so adorable and lightweight, a great pair to wear to a summer wedding or a night out with that special someone. They're not to be worn for long periods of time … what heels are? … but they are comfortable enough to wear for a few hours. These run true to size!
Rating: 5/5
I really like these sandals because they're a little different than what you see everyone else wear. But, after wearing them in Bermuda, I was a little turned off about wearing them because they weren't very comfortable. That top knot on the sandal dug into my foot too much and I realized after walking around in them that I probably should have gotten a half size up. I didn't realize when I put them on initially that they were small so, go half size up if you want to try them!
Rating: 3/5
So, what about you? Are you a handbag hoarder? A shoe lover? Or, a makeup junkie?
Do a round-up and review of your go-to buys and leave it as a link in the comment section for us to check out!
Thanks for stopping by, ladies! Appreciate you so much! xo.