Hey there, friends!
Y'all may have noticed that, since returning from London in December, that I have stayed put in Jacksonville to catch up and get reorganized at home after my roommate of two years moved out of our apartment. It's been nice to be home for awhile but I started getting the itch to travel again around the time the opportunity to venture over to Bermuda came up! I knew Bermuda was an island with beautiful beaches but I didn't really know how charming this little island is. In my experience, when you go on a tropical getaway, it is likely that the only thing that is 'beautiful', by our standards, is the beach and the resort you're staying at. That is NOT the case when it comes to Bermuda and I can't recommend you consider a getaway there more!
I decided to invite my photographer friend, Kaylee, to go on this trip with me. Her and I went to high school together and, as evidence by this post that she shot for the blog, she is extremely talented. We flew up to Atlanta from Jacksonville, which is the shortest flight ever, and then took an almost three hour flight over to Bermuda, which went by super fast!
We knew we were going to love this little island when we saw that the airport was pink and blue, the water was neon turquoise, our hotel was nicknamed "The Pink Palace" and everyone we met was friendly and happy.
Today, I'm going to share more about where we stayed, where we ate and where we played during our three day stay in Bermuda!
Kaylee and I stayed at the beautiful Hamilton Princess Hotel, also known as the 'Pink Palace'. It is literally every girly girl's dream hotel in terms of exteriors. It is centrally located on the island, in Bermuda's capitol city of Hamilton, making it equidistant to any other part of the island you're wanting to explore. It is a short 20-minute drive almost anywhere!
Upon our arrival, we were greeted by the friendliest staff members and escorted up to our rooms. Both rooms were large with two full-size beds, a beautiful bathroom, spacious closet area and a balcony with a view of the courtyard and water. They also came with access to the Gold Lounge, which is a quiet little haven where club level guests can enjoy a full breakfast, cocktails anytime throughout the day, small snacks and afternoon tea.
[FUN FACT: Bermuda is a British colony so their afternoon tea was super legit AND you can find Union Jacks and red phone booths sporadically placed throughout the island!]
One morning, we went over to grab breakfast and decided to fill up multiple plates to the brim and head back to our rooms to enjoy breakfast from one of our balconies. I don't know about you … but I love slow, relaxing weekend mornings! They're the best way to start the day!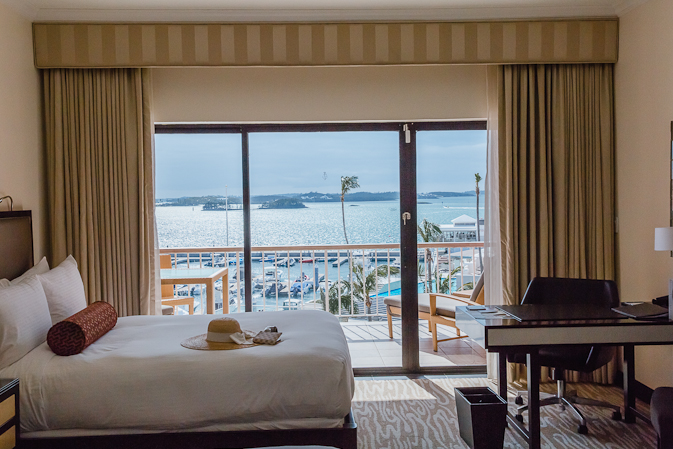 HAT | CAMERA | PASSPORT COVER
Kaylee and I loved how attentive, sweet and happy all of the staff members were. We would hear them singing in the hallways and knew us by name by the end of our first day there.
DRESS | SHOES | BRALETTE | HAT | TOTE
[FUN FACT: Bermuda is the birthplace of Bermuda shorts and you'll certainly see men wear them around the island. It's amazing! Hah!]
I also really loved how the Hamilton Princess had colorful and funky art pieces adorning the walls! When I first walked in and saw multiple Queen Elizabeth II's by Andy Warhol on the wall behind the front desk counter … I was like … Okay, I love this place!
These were my absolute favorite, though:
The Hamilton Princess also has the most beautiful infinity pool with palm trees on each side. How amazing is this? Being that we went to Bermuda in March, we did experience some cooler-than-we-had-hoped-for temperatures so we enjoyed the hot tub they have next to the pool, as well!
MAXI DRESS | BATHING SUIT TOP | BATHING SUIT BOTTOMS | TOTE
Overall, we found that the Hamilton Princess has so much to offer its guests and we are confident you'll have an amazing stay, just as we did!
• FRONT STREET: Front Street is a short walk from the Hamilton Princess filled with shops and restaurants! We really enjoyed walking around the area. Every store is a different color and they even have the original Bermuda shorts store! Hah! 🙂
• ST. GEORGE: St. George is a little town at the northern tip of Bermuda. It was the first settlement on the island of Bermuda and the original capitol, as well. It was a 25-minute taxi ride from our hotel and was certainly worth the trip! It was an extremely quiet little town on the day we went. I couldn't tell if it was always like that or not. Surely not during high season! It didn't keep us from enjoying ourselves though. Every building is a different bright color and is a gold mine for color-loving Instagrammers! Don't miss grabbing a cafe latte at CV Cafe! It was SO SO good!
WHITE DRESS POST | ST. GEORGE POST
• TOBACCO BAY: This little spot was said to be a 'can't miss' from a local that Kaylee and I chatted with so we made sure to scoot over there after we were done exploring St. George, since it wasn't far. Our taxi driver was kind enough to drive us there, let us check it out and snap a few photos, then drove us back to the hotel. A lot of taxi drivers are happy to oblige to this. I will say … the person we talked to was right! This spot is SO AMAZING! If I lived in Bermuda, I'd be there as often as I could in the summer! It has a little beach around one side of it so there's plenty of room to set up for the day. There's a restaurant and bar right there, as well!
• BEACH CLUB: As I mentioned, the Hamilton Princess has a beautiful infinity pool and hot tub on location for its guests to enjoy. However, they don't have a beach front at the hotel itself so, instead, they have a cove with a private beach, restaurant, bar and paddleboard rentals for Hamilton Princess guests only. They have plenty of beach chairs and a few hammocks in the water for your most ideal cool down sesh! 🙂
• HOTEL SPA: Kaylee and I had the opportunity to enjoy massages one of our last mornings and it was such a nice end to our trip because we had been hustling around the island trying to explore and experience as much as we could! As much as we loved our stay, we had a lot to squeeze in to three days, hah! Highly, HIGHLY recommend some time at the spa! It was LOVELY!
• HORSESHOE BAY: Bermuda is known for beautiful beaches, especially one in particular! Horseshoe Bay, on Bermuda's South Shore, is always ranked in the most beautiful beaches category by Conde Nast Traveler with its pink sand and expansive horseshoe shape! It was quite the trek to get down to it. Our taxi driver said that the typical entrance was under construction so he dropped us off at a trail that would take us down. It did definitely get us there but there were multiple trails connected to it with no signs so we had moments of hesitation and confusion but …. WE MADE IT and it certainly lived up to the hype and reputation!
You can take a taxi, like we did, or you can take bus #7 from the Hamilton Bus Station.
You can find more photos from Horseshoe Bay HERE!
• WARWICK LONG BEACH: Immediately after we dropping off our suitcases, we said we wanted to go somewhere to catch the sunset because it was the only night that had a 0% chance of rain. We didn't know exactly what beach to go to so we asked one of the friendly doorman at the hotel. He said his favorite beach to enjoy the sunset is Warwick Long Beach. It was about a 20-minute ride and absolutely stunning! It was probably my second favorite after Tobacco Bay!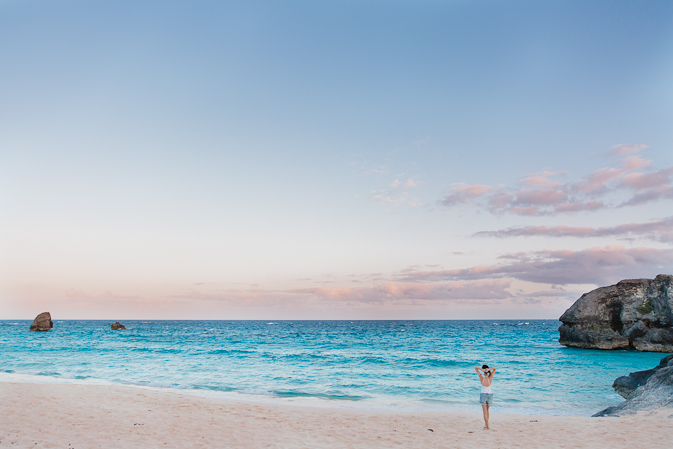 More photos from Warwick Long Beach can be found in THIS post.
• ELBOW BEACH: This beach will make you feel like you are walking into a Pinterest photo. Its palm trees made me feel really short, as well! Ha! There are quite a few restaurants surrounding Elbow Beach if you're looking for a beach to lounge at for a good part of the day but not have to venture far to fulfill your lunch time cravings!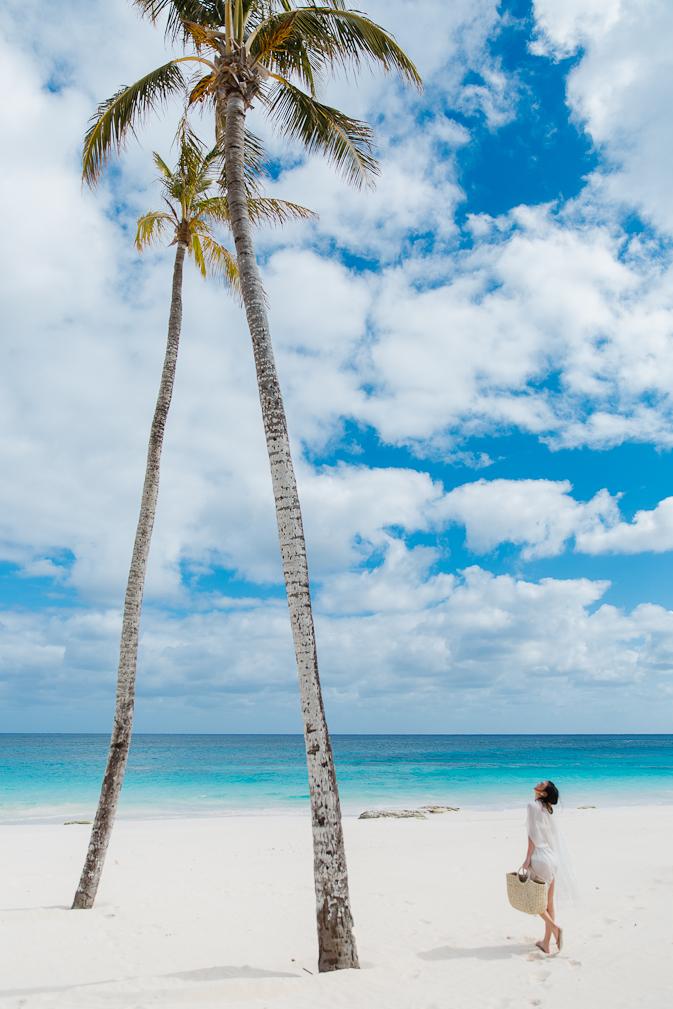 • CRYSTAL CAVES: This spot was on our list because it looked really cool based on photos but we said that we would try and see all the beaches we want to see and then, if it rains one day or if we have time, we will stop by Crystal Caves. It's a short 10-minute drive from the hotel and supposedly has an AMAZING ice cream shop right next to it called Bailey's Ice Cream.
• WATER ACTIVITIES: Since Kaylee and I went in March, the water was extremely chilly! I would have loved to have paddle boarded, snorkeled or rented jet-ski's but … I'll definitely be sure to do that during a future trip! All of those activities are available for guests through different vendors throughout the island. Be sure to talk to the friendly staff members at the Hamilton Princess to help you find the best vendor for what you're looking to do!
Unfortunately, my recommendations are a little limited in this area as Kaylee and I often opted for room service at the end of our long days of shooting and exploring. However, we didn't come up completely empty for you guys!
DEVIL'S ISLE: Kaylee and I's trip crossed paths with my friends Marissa and Kendall, who were also staying at the Hamilton Princess. We all decided to check out a local restaurant right off of Front Street, a short walk from the hotel. This place had an adorable aesthetic. I honestly don't remember what we got but I do remember that we were all so full and happy when we left! I highly recommend you check it out one night!
VILLAGE PANTRY: Marissa & Kendall both RAVED about this place. They had tried it out earlier in the day and found out about Devil's Isle, where we were eating for dinner, from the people that work there! They're sister restaurants, I believe.
MARCUS: This restaurant is located on the hotel property and open for most of the year but always during high season [April – October]. We made sure to make a reservation the first afternoon we arrived as we were told it is always busy! Thankfully, we were able to secure a spot the second night we were in town! Try the Shrimp & Grits! They were delicious!
HAMILTON PRINCESS ROOM SERVICE: I'm not going to lie. I am a lover of a good night in with a movie and room service when I'm traveling, especially if I've already ventured in to town for a few nights. So, our last two nights Kaylee and I opted for room service and have no regrets! It was a little pricey, as it normally is.
BAILEY'S ICE CREAM: This place is supposedly AMAZING. We didn't make it there but couldn't let y'all miss out just because we did! Check it out!
• You can't rent a car in Bermuda. There isn't enough space on the island. The residents are allowed one car per household.
• Uber doesn't exist in Bermuda. Download HITCH which is a reliable taxi app that is reliable and used frequently on the island!
• If your trip somewhere is short, taxi drivers don't mind waiting for you to spend some time in the area you want to be dropped off at and then take you to the next spot. You have to pay them, obviously, but it's pretty reasonable.
• Exchange Rate: 1 Bermudan Dollar = 1 US Dollar
• Tipping Etiquette: 10-15%
• Official language on the island is English and citizens of the US, UK and Canada do not need a VISA to visit the island. You do need a valid passport and return ticket, however!
Hope this travel guide was helpful! Let me know if you have questions I can help you with!