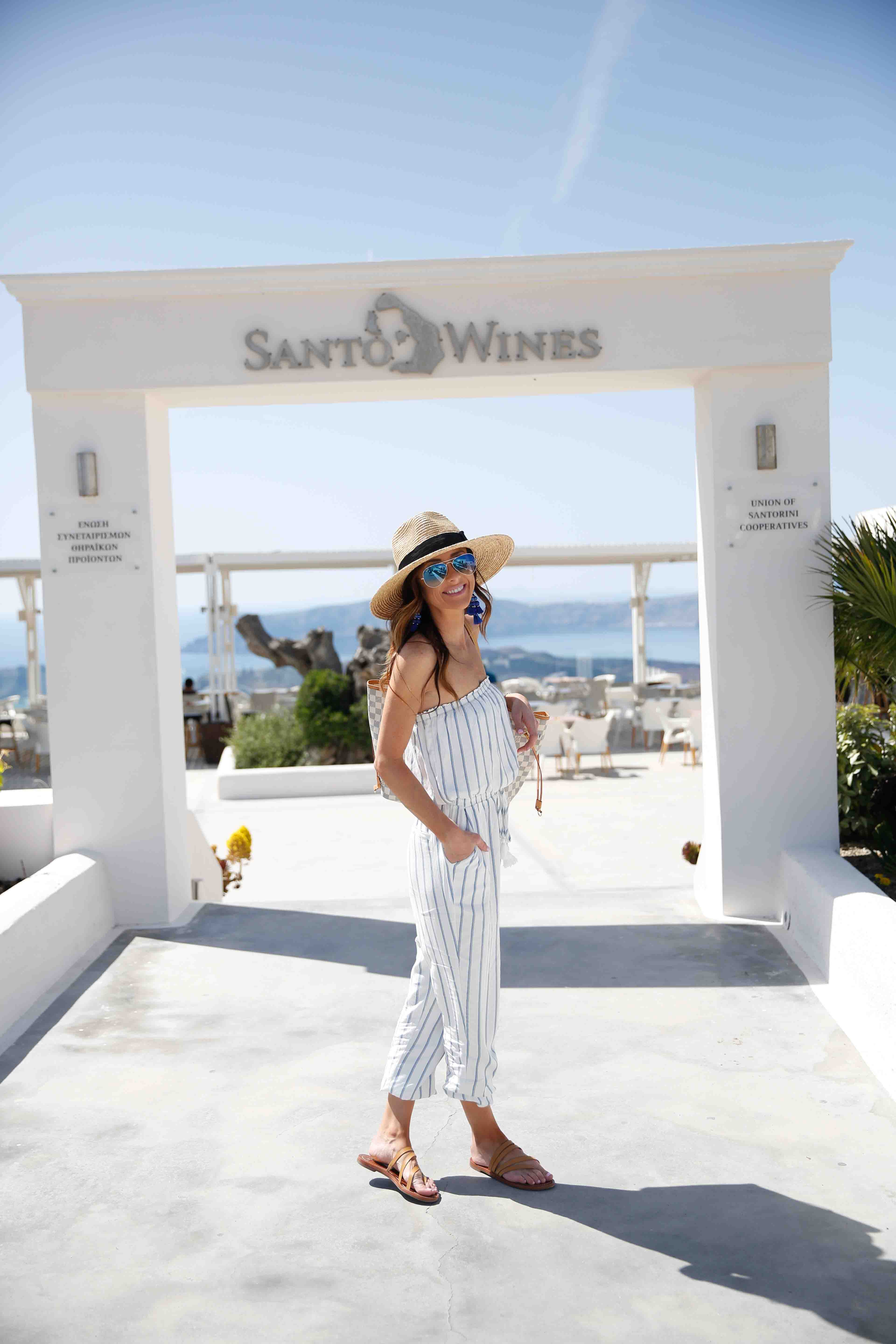 Hey there!
One of my favorite things to do when I travel is to ask you to weigh in on what I should do and where I should go! This was one of those places so many of who have been to Santorini told me Victoria and I HAD to go …. Santo Winery in Pyrgos. And, with this one, you were right on! We really enjoyed it. Many of you said it's an amazing spot for sunset and, while I'm sure it is, we really enjoyed the tranquility of going in the early to mid-afternoon. There weren't many people around and it just started buzzing right as we were leaving. The receptionist and manager at our hotel, SunRocks Santorini, that it is a great winery but is a little more commercialized. There were quite a few tour buses that were the cause of the influx of people we saw come in as we left, so I'm assuming that's what they were hinting at. However, the space is very large, with so many areas to sit and enjoy the wine that I can't imagine it gets OVERLY crowded. It's located a little off the beaten path, as well, just below the highest point on the island, so it's not like it's right on the outside of Oia, so despite the increase in popularity, I think it's still a good spot to try no matter what time you're opting to go!
We enjoyed a flight of 12 wines plus cheese and olives for 36 Euro! It's easy to share between two people making it a really good deal!
HEADS UP: Right now, 36 Euro equals just under $40.
We knew it was going to be a little toasty on this particular afternoon so I opted for this white and blue striped jumpsuit! I do apologize that it is now sold out but will keep an eye out to see if it does come back in stock. This is the struggle with travel content. Items that I purchase for the trip are done so three weeks in advance by the end of the trip, which creates a risk for the items I save for the end of the trip being out of stock or low in stock by the time it's shared with you. I do hope you'll bookmark this post for inspiration though! Lightweight jumpers are amazing for summer travel! Anything lightweight, light in color and doesn't cling to you is the way to go!
I'm also LOVING these earrings. Speaking of jewelry … stock up on some cute statement jewelry for summer HERE and enjoy up to 30% off with code SAVE30. I unpacked these the other day when I got home and can't WAIT to wear them!
Stay tuned for more from Santorini tomorrow on the blog …. I'll be sharing what we found when we went back to explore Pyrgos! It's SUCH a cute little quintessentially Greek city. Can't wait to share! Thanks for stopping by today! xo.