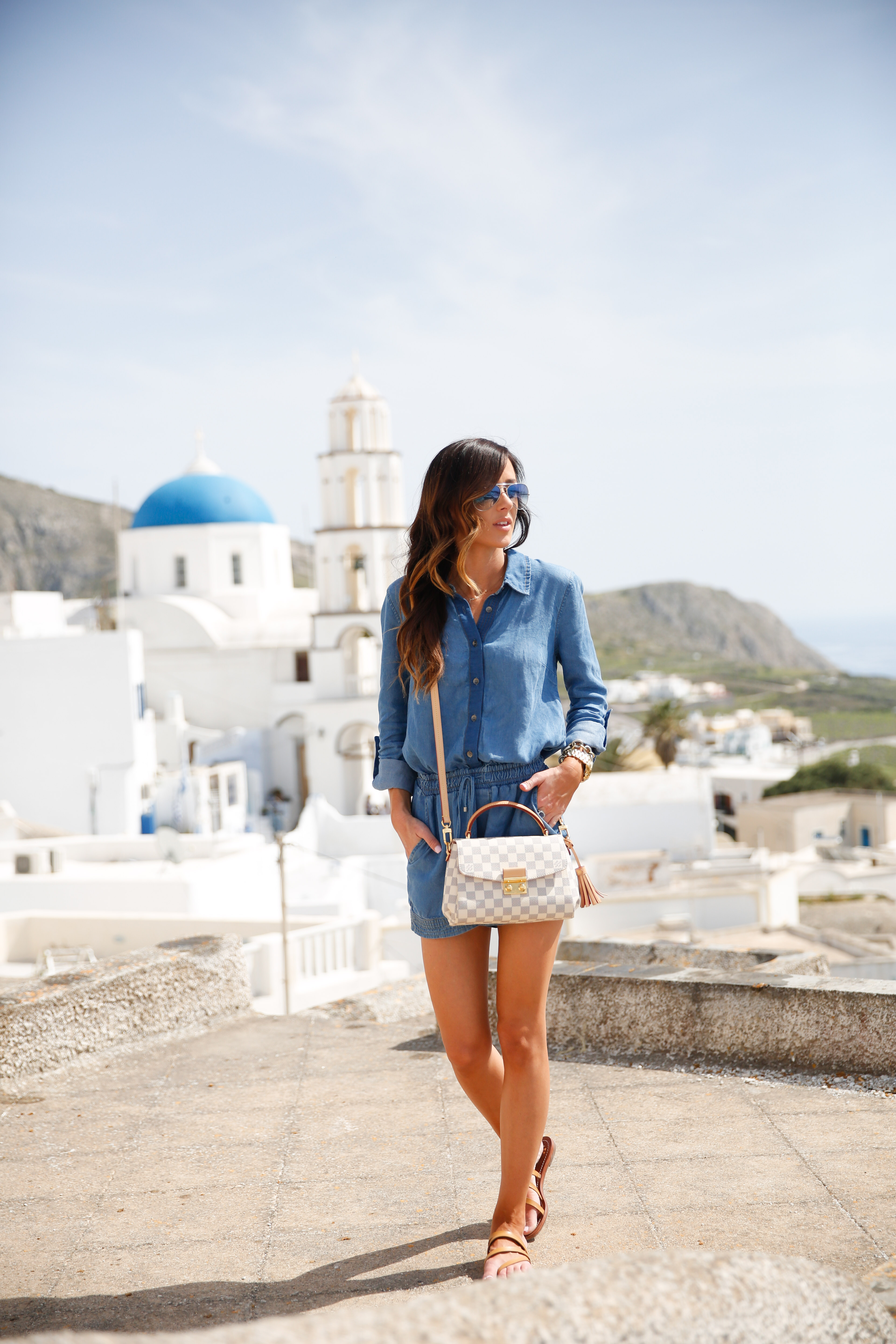 Hey there, friends!
While Victoria and I were in Santorini, we decided we wanted to do some things that were a little different than what we had seen in travel guides we read. We were told that Pyrgos is a really charming village that not many tourists venture to. We had just gone to Santo Winery the day before [did you catch yesterday's post?], which is right on the outskirts of the town, so we were somewhat familiar of it! We took a taxi over and spent a few hours just walking around and checking it out.
Pyrgos is the highest point of Santorini and, while there aren't MANY sites to see, it is a very adorable town and Victoria and I really enjoyed our walk through. We got a little lost but ended up at the top of Pyrgos with an AMAZING view! After Pyrgos, we ventured over to Vlychada Beach, a black sand beach that has these crazy cliffs behind it that look 'out of this world'. It's actually also called Moon Beach, which totally makes sense! Tune in to tomorrow's post … I'll be sharing more of what it looks like!
This denim romper was a perfect match for exploring Pyrgos. It was a little chilly in the morning but definitely warmed up in the afternoon so it gave me everything I needed in terms of long sleeves and shorts. It also fit me really well which, as a petite girl, I was really excited about! It's currently marked down! I'm wearing an XS! Runs true to size!
Hope you've had a great week so far! I've been busy but went over to Ponte Vedra yesterday for the kick off of The Players Championship Golf Tournament. There was a Military Appreciation Ceremony with a small concert by Sam Hunt! It was so fun to walk around, see all the golfers warming up, enjoy the concert and honor our service men and women! I looooove to travel and often wish I lived abroad but the ceremony really reminded me just how much I love the United States. We wouldn't be able to enjoy our freedom without them! If you or any of your loved ones are in the military, no matter the branch or position, I hope you know I am thankful for your service and sacrifice! Enjoy your day, guys! xo.