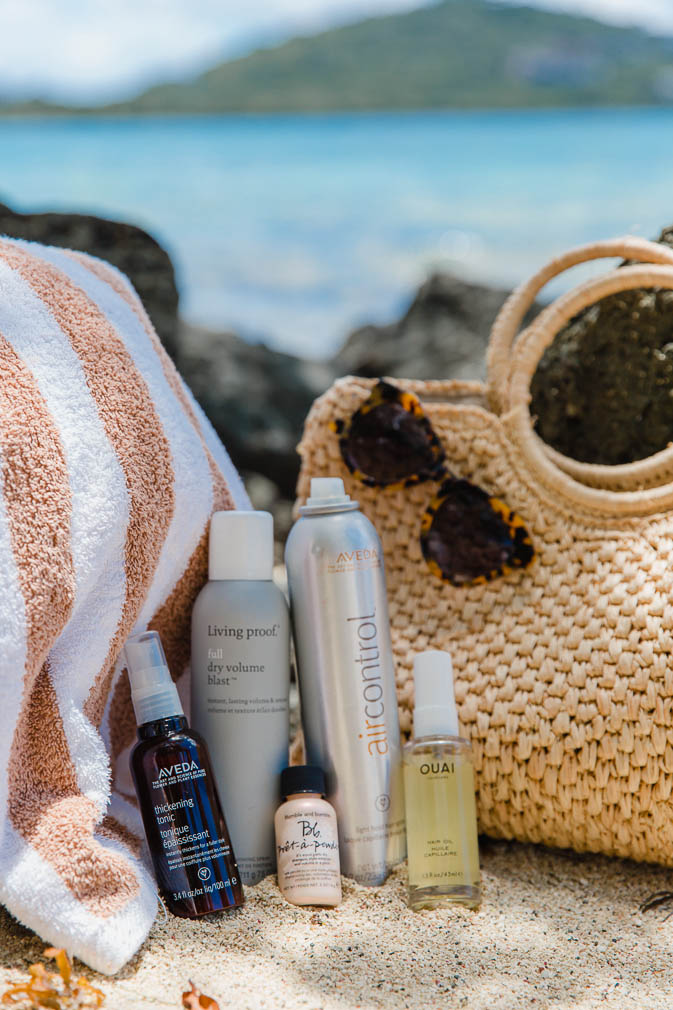 That perfectly imperfect tasseled beach hair … is it possible to achieve?
I see so many #hairgoals photos on Instagram from digital influencers in these Pinterest-worthy tropical paradises around the world with perfectly curled hair and it bamboozles me. How is it possible? How are they exempt from the effects of frizz, humidity and wind that are so quick to come in and destroy my perfectly styled coif the SECOND I open my door and hit the humid, summer air. I was just in St. Thomas and, half of the time, I questioned why I even took the time to curl mine. I had the same thoughts when I visited Tulum, Mexico last year. The humidity there is on another level!
So, after multiple experiences like that it makes me wonder if I'll ever have that #hairgoals that those girls are and, you know what? That's completely fine. It looks great on them but I kind of like the imperfect and messy lions' mane mine turns into after refusing to wash it for 6 days and the wind makes it dance. If you're down with the opposite of perfection, I'll give you a real girls guide to some great summer hair products!
Today, I'll be talking about the 5 products featured in the photos above because those are the ones I brought with me to St. Thomas and use regularly. There are also a few others that I'll be speaking on, as well, being that these 5 aren't the end-all-be-all and there are a few that I've loved historically that I've just recently ran out of.
Okay, now let's talk about the five summer hair products that I've been LOVING lately that I feel like you need in your life! NOTE: There are other products you probably need in your summer hair care routine to provide additional moisture to maintain healthier hair after all the sun exposure we'll be experiencing. I chose products that have moreso helped me style my hair to achieve that tousled, messy beachy waves for summer! 
Here we go!
** These are in order of when I apply them to my hair when I'm getting ready **
AVEDA THICKENING TONIC:
This is the product I spray at my roots right after getting out of the shower, prior to blowdrying. I've used it for years because I have really thin hair that just kind of lays limp unless I dirty it up a bit. So, I spray it all over at the root and I massage it in then get to blowdrying with a round brush! I've found it helps add a little bit of grit to my root which aids in helping the other products I use work better and, ultimately, help to achieve the best overall look.
OUAI HAIR OIL 
I heard about this product from my dear friend, Katey, who raved about how amazing it was and how it helped tame flyaways and frizz. I started using it a couple of weeks ago and I absolutely agree. Prior to using the product, I felt like I was the flyaway queen. My hair does what it wants so, I've loved using this product because I have seen some really significant improvement in that department. I will say, though, if it's really windy out … this product won't keep your flyaways down. I didn't want to mislead you and make it seem like in ALL situations it works well. 🙂 The biggest reason why I included this product in this list is because I've noticed that the ends of my hair are also staying really healthy looking and strong despite sun exposure, the use of heat tools, etc. I get split ends really easily in the summer so this is a positive change! NOTE: I typically apply this to my wet hair prior to blowdrying but you can also apply it when its dry.
BUMBLE AND BUMBLE PRET-A-POWDER
I've tried quite a few dry shampoo's in my day and I came across this product while I was, essentially, looking for one that wasn't another large canned product. I needed something smaller for travel so, I purchased this prior to my latest trip over to Italy and LOVED it. It's takes up NO space at all and does an amazing job absorbing the oil that your body naturally produces on your scalp at the root of your hair! To apply, I just section off my hair in different areas and apply the powder to my roots and work it in with my hands. [ PRO TIP: Wash your hands before so that you don't add extra oil for the product to absorb. ] It also adds volume to your hair so, after I've worked it in, I'll take a teasing brush and back comb at the root in the areas that I want added volume. It does such a great job giving my fine hair a little bit of 'oomph', especially when I've been in hot and humid environment all day long. On the other hand, if you use this product in the morning to style your hair before the pool or the beach, it helps to resist the affect of humidity on your hair.
LIVING PROOF FULL DRY VOLUME BLAST:
So, I use the Bumble and Bumble Prêt-a-Powder to give my hair the 'oomph' at the root and then I use this Living Proof Full Dry Volume Blast Spray as a way to get the same affect through the rest of my hair. I spray it all over and kind of 'mess up' my hair with my free hand as I'm spraying. This adds a lot of texture to your hair and helps achieve that 'imperfect' look that just works for summer. One of my favorite thing about this product, though, is how good it smells! Highly recommend! I also really love the infamous Oribe Texturizing Spray. That's what I've used for years but … I am always trying new products and haven't quit the Living Proof Full Dry Volume Blast Spray for three months now, so it deserves this spot over Oribe because that says a lot considering if I like something but don't LOVE it … I just go back to my ride-or-die.
AVEDA AIR CONTROL HAIR SPRAY
This product has been in my hair must-have mix for YEARS. I fell in love with it when I was a regular at an Aveda salon in college. I use this product after the Living Proof Full Dry Volume Blast spray as a way to seal the deal, essentially. I've gotten the volume through a few products and then I spray it with Air Control to get it to stay. It does a great job of providing a long-lasting light hold on my curls while also maintaining my hairs ability to move. I don't like sticky hairspray, and I'm also a little sensitive to the strong smells hairsprays' can have, so this one is gem because it doesn't make my hair sticky and it smells amazing. It also has zero impact on the environment, which makes me feel good about using it, as well! 🙂
Being a client at that Aveda salon opened my eyes to some other products I love to use during the summer months, as well. I highlighted one other one in this list of my five must-have's but I also really like their 'Sun Care' Protective Hair Spray to spray on my hair when I'm outside in the sun all day. However, I typically only use that if I know that I have time [and energy] to wash it later because it does make your hair sticky, which is why I didn't include it in this list. I did see the other day that they now have [and maybe it's been out for awhile, I've just never noticed!] a 'Sun Care' Hair & Body Cleanser, that removes chlorine and salt from your hair and body after being outside in the sun at the pool or beach. Pretty nifty! I'd love to try it!
To close, I thought I'd  are some basic questions I get pretty frequently that I'll get out of the way for anyone who may want to know:
What shampoo and conditioner do you use?
I honestly have such a wide assortment of shampoos and conditioners and I do amazing job of cheating on all of my options, but it's because I love them all. But, I'd say the one I use most frequently is Aveda Color Conserve Shampoo & Conditioner. 
How can you go 5-6 days without washing your hair?
Honestly, washing my hair is one of my least favorite things in the world so I've always considered myself pretty lucky because it takes my hair about 3 days before it starts to get oily so, with the introduction of dry shampoo, it's made it easier to use that to extend the length of time between washes. 
What's your favorite dry shampoo?
THIS is my favorite dry shampoo right now. I feel like I'm always discovering new ones I like. 
Can you do a hair tutorial? 
I did one last year that is literally not much different than what I do to curl my hair now. Check it out HERE!
What hair dryer do you use?
What curling wand do you use?
I use THIS curling wand by T3. View the video tutorial of how I do my hair with it HERE.
I hope this was helpful and opens your eyes to some great new products I've been using lately! Everything is available at one of my favorite online retailers, Nordstrom. Their beauty department is unmatched and I love that they have such an extensive selection of hair care products! No matter what your hair needs, you are bound to find something that will work wonders on it there. And, as always, they offer free shipping and returns so if it doesn't work to your satisfaction, just send it back!
Please let me know if you have any questions! Also, if you're looking for something to wear for 4th of July and missed my post with lots of options at different price points, be sure to check it out HERE! Have a great day, guys! Thanks for stopping by! xo.