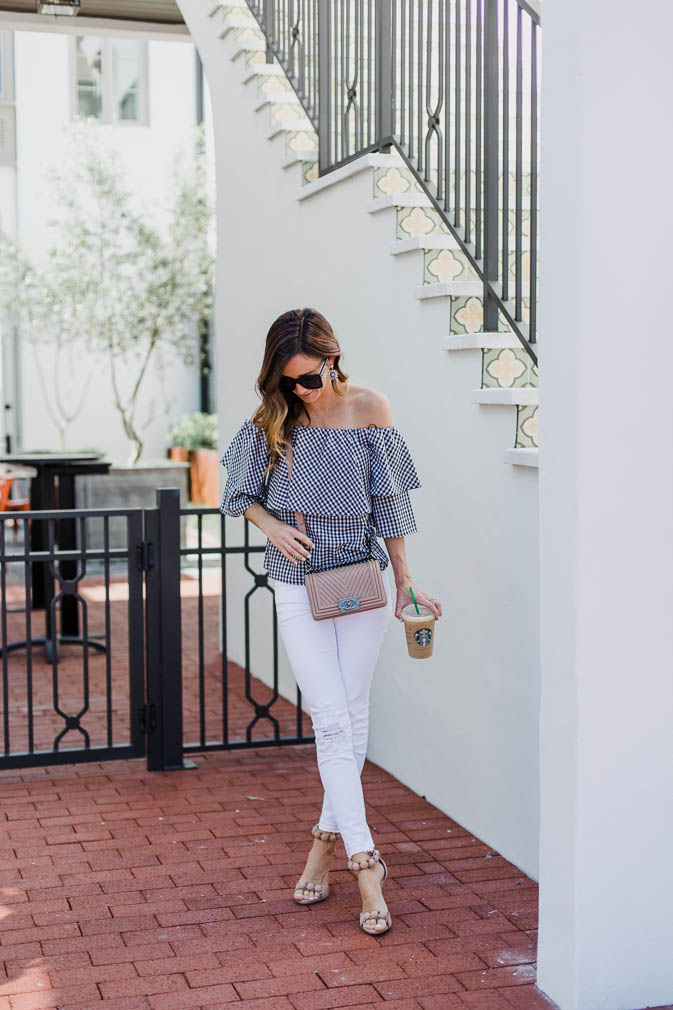 It always seems to me that summer is the time of year, more than any other season, where the latest trends are on full display and everyone embraces them wholeheartedly! One of the most obvious trends this year is gingham. It's everywhere! I purchased this off-the-shoulder black and white gingham top, seen in today's post, and also couldn't resist this adorable pink gingham crop top and skirt combo! I've seen this white and blue gingham dress styled adorably on social media. It would be perfect for 4th of July coming up or any other fun summer get together!
If you're into the gingham trend, like myself, here are some fun gingham options to incorporate into your summer wardrobe:

I am also seriously crushing on my newest nude suede sandals! They're an amazing dupe of a designer style that normally retails for upwards of $1400. So, these are a little pricey for sandals but considerably cheaper compared to the designer option.
Last night, I went into Miss Fix-It mode. I'm still having the 'reloading' issue when I view my blog posts on mobile so I FINALLY fixed the issue and I'm so sorry it took so long. There are some blog posts from the last few weeks that I need to go back through and fix [it has to do with the images] but will get to fixing that later today. I fixed yesterday's post and Friday's post so hang tight on the others! I also fixed my email issue. If you've tried to email me through the CONTACT page in the last couple of weeks, while I was away in Italy, I do apologize but I likely did NOT receive it nor was I able to retrieve any that were sent during the time it was down. I'm very sorry but look forward to receiving any emails you wish to resend. 🙂
I'm off to shoot some campaigns today with Kaylee and then get back to sitting down and writing more posts. I am really wanting to get all my travel diaries completed, posted and shared by the time I leave for my St. Thomas trip next week! That's quite a venture considering I'm very talkative and an over-sharer but .. hey, a girl can dream! Wish me luck! Thanks for stopping by today, y'all! I know my content has been travel-focused lately but I do hope that you are still inspired by my style when I'm 'on the road' so-to-speak. Would love any and all feedback on that! I'm open to anything constructive! Love y'all! Have a great day! xo.