Hey there, friends!
Victoria and I did a lot of meandering while we were on our trip back in late April / early May. We shot practical travel outfits that I wore while meandering [see here and here], but we also took advantage of quiet mornings to shoot some other cute outfits [like the outfit in today's post and this one] that you probably wouldn't want to wear while exploring a new place. Some of these backdrops are just so beautiful [and certainly nonexistent where I live and typically shoot] so I wanted to be sure to capture a mix of both types of content – the realistic and the aspirational.
PINK TOPS UNDER $50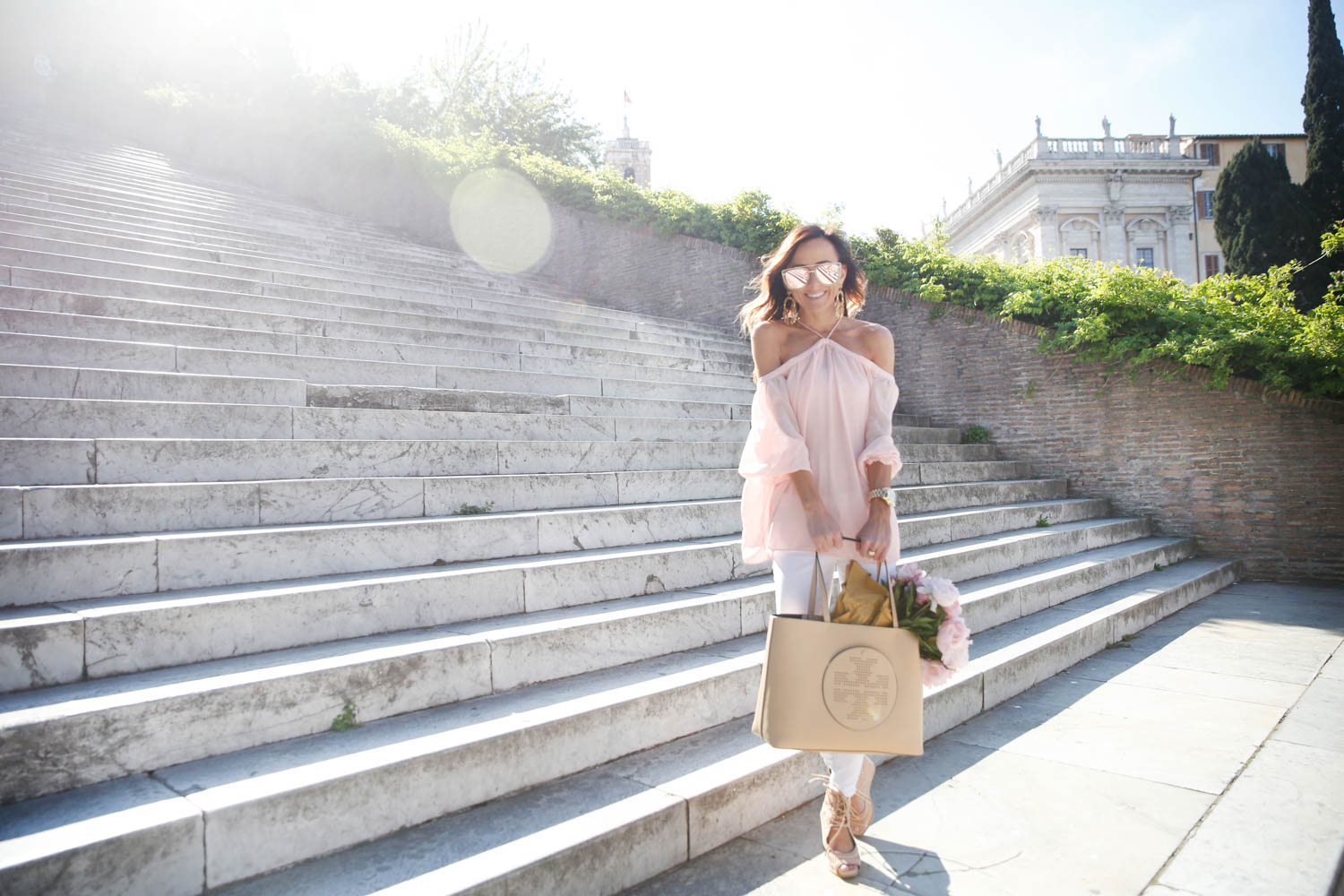 In Rome, I love the grandeur of Piazza Venezia and knew I wanted to shoot one of the not-so-realistic-for-travel outfits there. We knew that, like the Trevi Fountain, we needed to get out there early in the morning to avoid crowds. However, the morning we went out there, we saw this huge ceremony going on right in front of it. Low and behold … it was an Italian holiday, hah! Piazza Venezia is, essentially, the center of Rome, which is the capital of Italy, so it was closed to the public during the ceremony for about an hour. The ceremony was really cool to watch, though … to see another country celebrate and honors its history. Victoria had gone up to the top of the Piazza another morning, while I was getting ready, and I can't wait to share those photos with you in the Rome Travel Diary because they're BEAUTIFUL.
After we finished watching a good bit of the ceremony, we decided to venture over to the side of it to snap these photos before it got really busy out. Sure enough, after we finished, we walked down the stairs and there were two big tour groups of children and teenagers coming up so we, literally, finished just in time. So, I promise, the Rome you see in my photos IS the same Rome that is crazy busy every single day. I'm sure those of you who have been to Rome or Florence are like WHERE ARE ALL THE PEOPLE IN YOUR PHOTOS. Hahah! I promise – there were tons of people when we were there … we just shot really early or we were able to find spots where the people weren't in the line of the camera.
Anyway … this pink top is surprisingly still in stock, less than $100 [this one is a bit of a splurge] and is actually available in more colors than it was when I first purchased it back in the beginning of April. I'm wearing a little strapless bralette underneath because it is a bit sheer, as you can see in some of the photos. My exact Tory Burch bag is a little hard to find .. but I found it HERE for you. I'm really loving her new stuff. I've pulled a few favorites here:

I hope y'all have had a great week so far! My assistant, Justine, is working for me full-time now and I couldn't be more excited! We spent the last couple of days talking through different processes and upcoming projects. I think it's going to help me out immensely to have her around more consistently throughout the workday and have more of a set structure throughout the week. I hope to be able to share more tips on productivity and app's that help us get stuff done on the back-end. Let me know if that is something that interests you. I've also been working on a potential post about how I edit my Instagram photos, so let me know if that's something that would be of interest to you guys, as well! Alright, well, I'm off to tackle the day. Justine's dog, Woogie, and Chips are going to their puppy play place today. Chips doesn't usually do well without Fish there with him but Woogie and Chips have SO MUCH fun together and they have the same energy level so fingers crossed he does okay. I want to be able to have one day a week where it's just Fish and I so Fish still feels like he gets solid one-on-one time with me. 🙂
Make it a great day, y'all! Thanks for stopping by! xo.