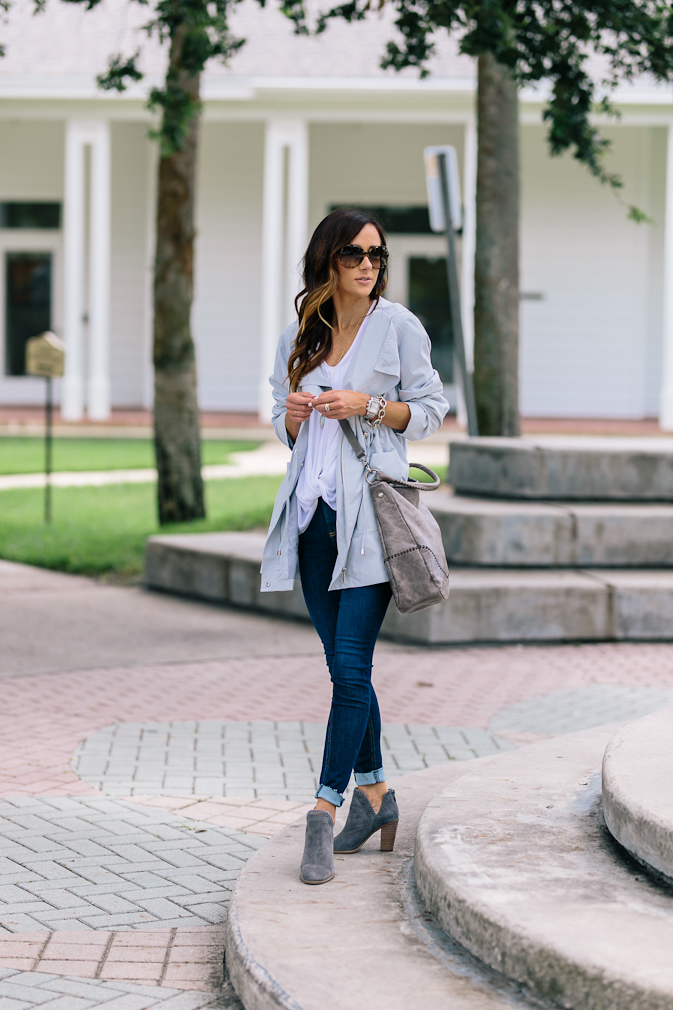 Hey there, lovelies! Happy Happy Fridayyyy and Happy Happy Nordstrom Anniversary Sale Day!!! If you're wondering if the items you really wanted during Early Access but saw that they sold out were restocked …. head HERE for a full list of popular items that were restocked!
I thought I'd share some more outfit inspiration from items I purchased from the sale. I purchased this Caslon rain jacket the first day of the sale and I couldn't be happier with it. It's super lightweight and a super stylish rain jacket. I love the big patch pocket detail and the large hood. It comes in regular and petite sizing. I recommend opting for a petite size if you are under 5'4. I'm wearing an XS Petite for reference and I'm 5'3. These gray booties are one of my favorite purchases from the sale. I reviewed them fully in THIS post. And, if you're looking for a high-quality leather satchel handbag, that can also be used as a cross body, look no further! You will love the one you see in these photos. The leather is so soft and buttery! Shop it HERE.
Here are some other favorites from the sale!


Check out ALL of my coverage from the sale on my Nordstrom Anniversary Sale page HERE.
I hope y'all make out like bandits after you're done shopping today!! Enjoy!! xo.