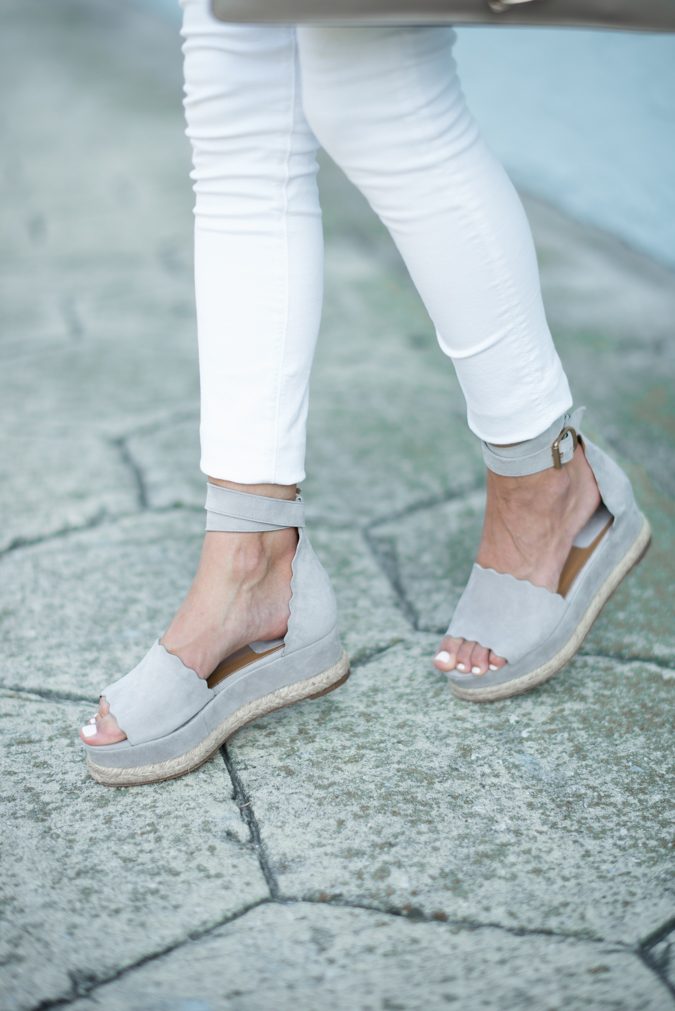 Hiii there! Is it just me or is it hard to comprehend that it's Thursday?? I am scooting down to St. Augustine, which is about a 45-minute drive south of Jacksonville Beach, this weekend to check out a new hotel that just opened a few months ago! I'm so excited because I actually came across it back in March and it looked really cool … and, I always love a little getaway to St. Augustine. It's the oldest city in the country and it's adorably charming. So, I can't wait to show y'all around BUT … I feel like I only have tomorrow to get SO much work done and it's stressing me out just a little! :\ BUT … oh well, it is what it is.
I unpacked a few boxes before I left for my trip to Atlanta last week and totally forgot I had ordered these beautiful espadrille platform sandals! I used to wear this Chloe Faye handbag all of the time last Summer, Fall and Winter because [1] I'm obsessed with it and [2] I had gray sandals and boots to wear with it that matched! But, I've struggled to find sandals that are a good similar or complimentary color to go with the bag this season … until I found these. I did hesitate a little at first. Truth is, initially, I wasn't TOO keen on the platform style. I wanted more of heeled wedge, like these Chloe wedges [remember this post?], but that style doesn't come in this gorgeous gray color. So, since I love the color so much … I decided to just suck it up and try to learn to love this style. They may grow on me! We'll see! I definitely think they're a cute alternative to my favorite heeled wedges for those of you who may not passionately love the super tall ones like I do! 😉 Hey, you can always expect honesty around here, guys!
>> The off-the-shoulder top in today's post is currently on major sale! It's less than $50 and all sizes are available! <<
Also … can we just take a second and acknowledge how great these photos are? It's always nice to get back to my roots and shoot with good ol' Miguel Emmanuelli! I sure do love my old friend! He's doing big things and I'm so proud of him. If you've followed me for a long time, you likely remember seeing Mig's name at the bottom of every S&T post but, if you're new around here … Miguel was the my go-to guy for photos from the very beginning of S&T. He & I essentially grew our businesses at the same time, which has been a really cool experience for both of us. Anyway, now that I am going to be slowing down on traveling for a couple of months, I'm sure you'll be seeing him around here more! Yay! 🙂
>> If you watched my Get Ready With Me IG story on Saturday, but never shopped any of the products, you can find them all HERE! <<
Alright, I'm off to get y'all ALL the Nordstrom Anniversary Sale information that y'all need because this time next week … is the launch of the best sale of the year! I want y'all to be as prepared as possible! By the time you read this … the page will be set up so go HERE to find out what it is, what you can expect, what you need to know, the items I'll be shopping for and the items I'd recommend you shop for first!
Thanks for stopping by today, lovelies! xo.