My favorite cashmere sweater is so lightweight and I love this color! It's a perfect top for crossing over into the cooler months.


This is such an easy dress to style up or down for any occasion. It comes in black too!


These jeans are on sale right now for under $50!


This cardigan is a little pricey, but is worth it if you're still looking for a chunky, oversized knit cardigan to add to your fall wardrobe!


I've always had trouble keeping up with planners, but this one is actually a perfect fit for me! Definitely check it out if you're starting to plan your 2018!


This is one of my favorite all-purpose totes I bought this month! It's so cute with so many outfits and comes in three different colors!


I love the idea of shaking up the traditional 'fall colors' this season! Why not pink and purple? Check out my post on that here!


This peplum tee is under $40 and comes in multiple colors!


These mules come in two colors and I have both. So much YES to crushed velvet!! I'm seriously contemplating getting them in the burgundy color.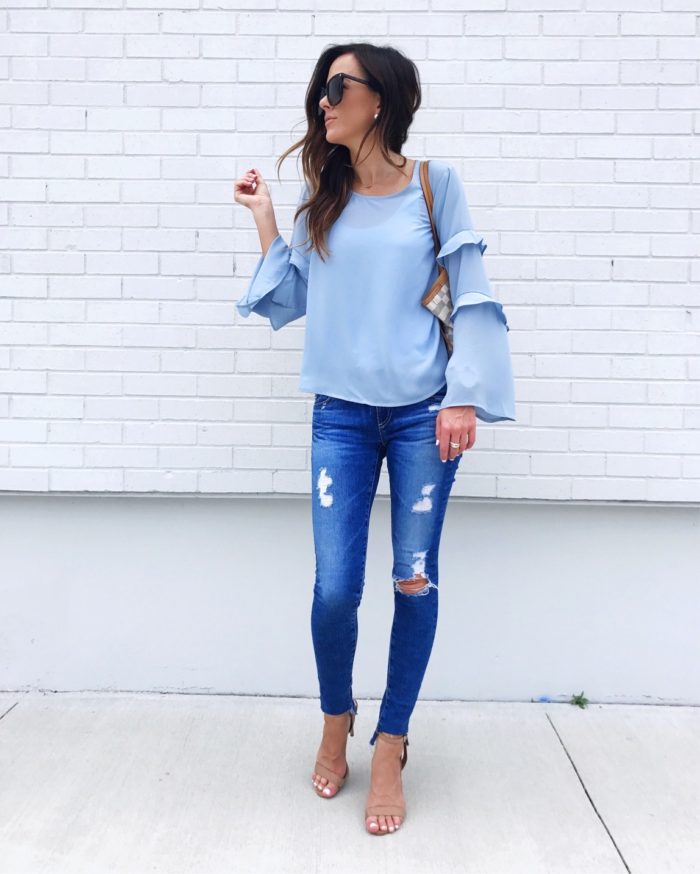 This top is under $25 right now! I can't believe it! Such a steal.


This blue top is such a bold color in person and the fabric feels so soft! Love! Also, it's important to mention … these booties are under $70 right now! They run true to size.


The colors in these sneakers are so bright and fun! You mayyyyy be seeing them on the blog next week!


How cute is the pearl detail on these shorts?


You can never go wrong with a little bit brighter lip!


I'm so excited that this dress now comes in some new colors!


The price on this little beach dress is amazing!


My weekend uniform. I love this cozy look!


I loved this casual look for a night in #Miami a few weeks ago!


This cardigan sold out so fast at one retailer, but it's still in stock here!


Loved this poolside look from Miami! Everything is under $60!


I'm not usually a fan of yellow, but I couldn't pass up this pleated beauty! More photos in THIS post.


This is such a pulled-together look, appropriate for the work day and into cocktail hour!


Love this easy romper for a weekend brunch!


We saw the hottest days all summer this month, so these shorts arrived just at the right time! So cute and lightweight!
Re-posting the information below in case you missed Monday's post!
• TO HELP BABIES & MOMS: Diapers are not provided by disaster relief agencies. The Texas Diaper Bank is in need of cash and diaper donations to provide emergency diaper kits to the families that are being displaces due to Hurricane Harvey. Designate your donation to 'disaster relief'! Donate HERE.
• TO HELP THE HOMELESS: The Houston Homeless Coalition is exploring disaster relief funding that can be used specifically for homeless and displaced formerly homeless individuals to get them back into housing. They encourage you to consider donating to one of their many partners to help these individuals at this time. Partners list HERE.
• TO HELP THE DISPLACED: You can donate to the American Red Cross and the Hurricane Harvey Relief Fund. You can submit an easy $10 donation to the American Red Cross by texting HARVEY to 90999. These two funds will be helping to recover people from their homes and providing emergency supplies to those in need. Read more about what the American Red Cross does specifically HERE. You can also donate to the Salvation Army, who are on the ground to provide physical, emotional and spiritual care to survivors and relief workers.
• TO HELP ANIMALS: There are quite a few places you can make donations to to help all the fur babies. Austin Pets Alive! has been providing relief to shelters directly effected by Hurricane Harvey. You wouldn't believe some of the photos of all these scared babies in cages at rescue shelters. Some rescue shelters in Houston were told they didn't need to evacuate and then they opened up the dams in the surrounding areas and it caused fast flooding, on top of the rain that was continuing to fall, to those who were thought to not be affected. So, these smaller rescues are working to get their rescues to other animal rescue facilities, like Austin Pets Alive!, that aren't in the direct line! Another one that I found is Dallas Dog RRR and they are welcoming displaced animals and providing medical care as well as food / supplies. They need funding in order to be able to provide these babies with the care they need. Please consider helping! See my latest Instagram post to see how sad these babies are!
Austin Pets Alive! needs donations in the form of cat litter [clumping preferred], Martingale collars[medium], tarps, dog treats [chew toys / rawhides, treat logs, peanut butter and Milk Bones for Kongs. As you can imagine, these pups are SO stressed!
• Keep an ear out when the local news is on to see where you can donate locally as I know there are a lot of donation drives going on right now!
In addition to these, please continue to pray. The people of Houston have a loooong road ahead of them. Think about it this way – If your house flooded, would you have the money to rebuild your home? If the answer is no, please please consider giving even just a little bit.
If there are any other ways we can help, please leave a comment below! xo.
Thanks so much for stopping by! xo.