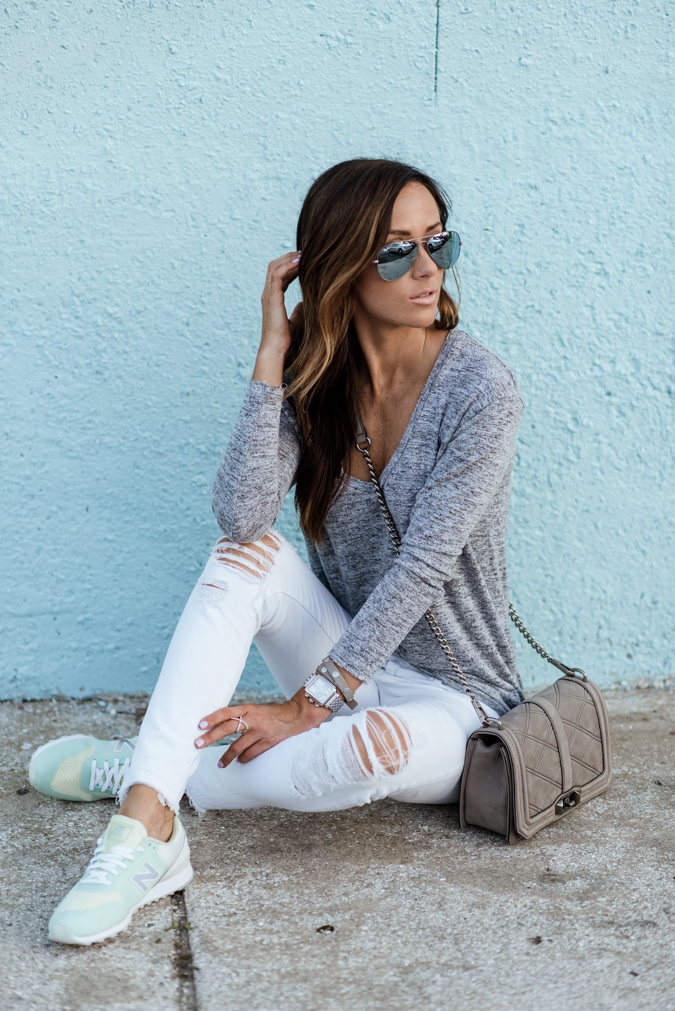 Hey there!
Gosh, y'all … this week has been a whirlwind! I swear I feel like I didn't have ONE day where I sat down to do office stuff. There were so many other things that had my attention this week. I went down to Tampa to see Ed Sheeran with my two best friends so I technically took Tuesday afternoon and Wednesday completely off work, which is so needed sometimes. I finished up some packing that needed to get done on Monday and today. I got my Fantasy Football team all drafted last night. I did my walk through my new new town house. Chips has been gone at his pet sitters' since Tuesday and I've been missing him immensely. Thankfully I have Fish with me until we get him back next week. I hate when they're apart but, Lord knows unpacking after this move would take twice as much time if Chips was helping me – because we all know he'd definitely be getting himself into boxes to 'help'.
But, I have to say … Hurricane Harvey was on my mind a lot. I watched the news a lot. I cried quite a few times. Houston is only a tiny bit smaller than Jacksonville, and both are MASSIVE cities land-mass wise, so to think that suburbs SO far away from the coast got almost 50 inches of water just blew my mind. I love on an island in between the ocean and the intercostal so had Harvey come our way instead … I would have been displaced like so many in Houston. We're technically below sea level so there would be no coming back here for me and to think about what I would do with TWO dogs when I'm just one human being … I just can't even go there. You know the boys are my world. My heart just goes out to everyone feeling uncomfortable, hurting, frustrated, and endlessly craving their home, their own clean clothes and their animals who always gave endless unconditional love. If you're in Houston and you've been a part of the relief effort, bless you. I know you're not doing it for praise but seriously … if you're a firefighters, boat driver and human and animal rescuers, nurse, doctor, social worker and neighbor getting out there to help your fellow neighbors … y'all are superheroes with invisible capes. I wish I could hug you all!
If you're unsure of where to donate … here are some places, I've personally felt led to donate to that I know are safe and secure:
AMERICAN RED CROSS – you can text HARVEY to 90999 to donate $10
AUSTIN PETS ALIVE! – they also have an Amazon wishlist for anyone wanting to supply them with things they need
UNDIES FOR EVERYONE – we all take clean underwear for granted; imagine not having that for days! Donate underwear packs to NRG Stadium, where they are sheltering thousands of displaced Houstonians, by checking out their Amazon Wishlist.
There's been a lot of donation scammers arise out of this tragedy, which is just terrible that people out there think that's an appropriate action to take, so be sure to read this great New York Times article with a full list of LEGIT places to donate and what to be aware of when it comes to scammers.
HOUSTONIANS – My cousin, Josh's wife, Rebecca, told me that Kingwood United Methodist Church is opening its doors for childcare today through Monday 8:30-4:00 and Noon to 4pm on Sunday after services for those who are in need of childcare so that you can focus on next steps. Sign up for childcare HERE.
Let's all try and do a little bit! We'll all need to keep remembering this isn't going to be over for Houston for awhile, too.
Okay, anyone REALLY excited about football season kicking off this weekend?? I am!!! I got my Fantasy team all set up last night which has truly amplified my excitement. I've never played Fantasy Football … I know, I'm super late to the game but, better late than never! Today is the big move! I'll try and share a little bit on IG stories so be sure to catch me over there at some point today 🙂 I'll be spending the weekend getting everything unpacked and organized. I hope I keep up the productivity momentum. Does unpacking exhaust anyone else? Packing is easy to me … unpacking is not. I'm like should silverware go HERE ….. orrrr HERE. I always feel like there's a lot of pressure and it's only me so I'm not sure why it matters … it's not like my decisions affect anyone else but I always doubt that my decision is a sensible one, I guess?
Anyway, this outfit has some easy, casual basics! This top was a favorite of mine last year that I saw was restocked for this year. I have it in gray and black. I really liked the colors in these New Balances. They're super comfortable and run true to size!
Thanks for stopping by today! Have a great holiday weekend! xo.