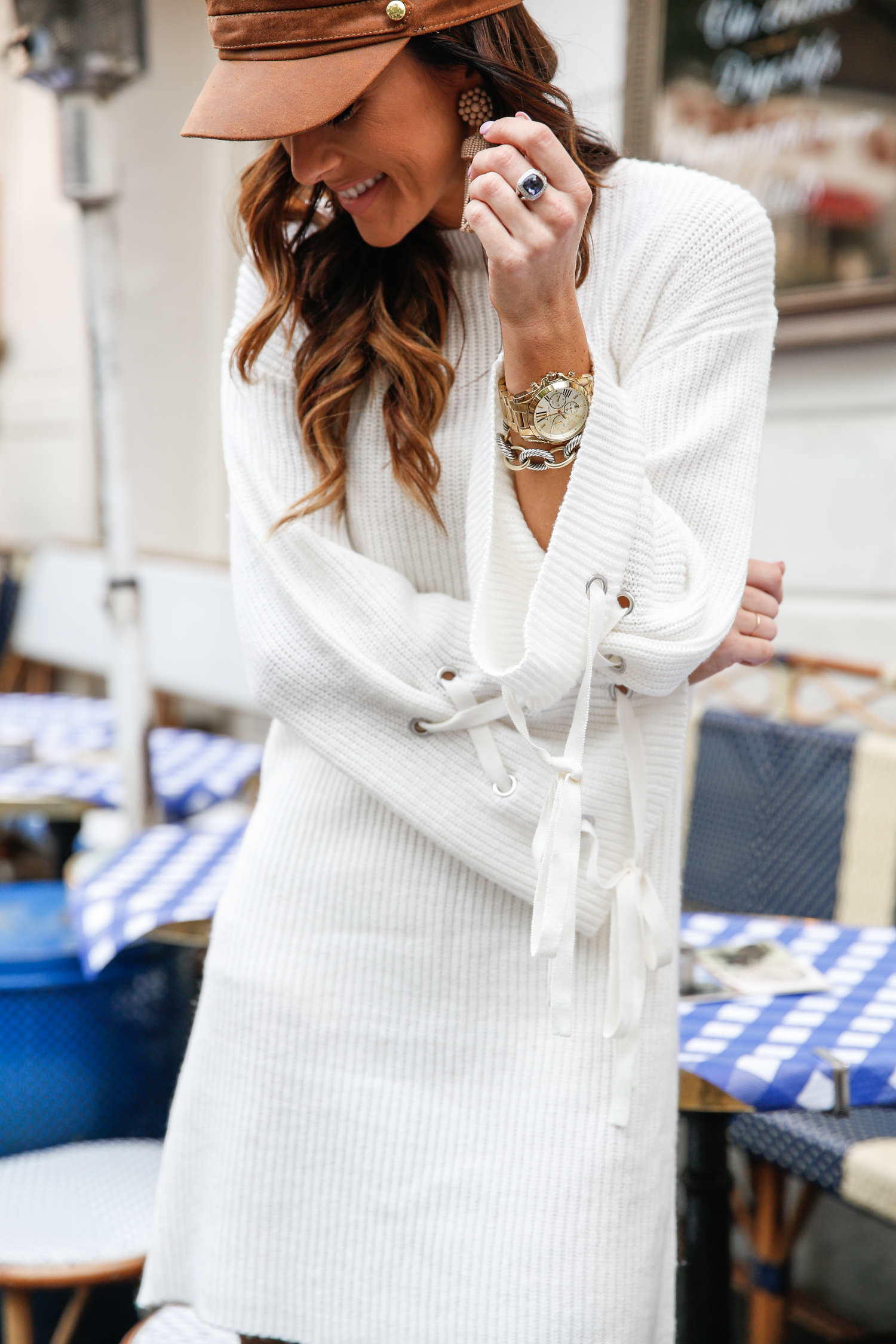 The Fall in Paris is an absolute dream! Forget going in the Summer! Definitely delay as much as you can if that was your original plan because it is so beautiful this time of year! It's also not AS crowded 🙂
If there's one thing you will be sure to do in Paris, no matter what neighborhoods you venture to, it'll be embracing the laissez faire lifestyle by enjoying a meal or a pick-me-up cafe au lait at one of their many outdoor cafes. It's one of my favorite things to do in Paris … the coffee may not be very good here but it's fun to just people watch after walking around the beautiful gardens throughout the city, meandering through famous museums, etc. It's the best way to kick up when you need to! 🙂
Victoria and I ventured out to the Montmartre neighborhood, which is a little bit of a trek from the city centre but totally worth it when you set your eyes on the Sacre Couer Cathedral. It's absolutely stunning. After shooting a look for an upcoming holiday post near the Cathedral, I changed into this really comfortable sweater dress to wear for the rest of the day.
SWEATER DRESS & BOOT DETAILS: It runs a little big. I'd definitely recommend going one size down. [I didn't realize this until after I had already packed it and put it on – whoops!] I'm SO bummed these over-the-knee boots sold out before I could post them. I guess that's how it goes sometimes. THESE are the most similar I could find that are also a really good deal at UNDER $100!
Victoria and I took a seat at this adorable cafe to enjoy a couple of coffee's before doing a full walk around the neighborhood. Montmartre is full of local artists and delicious restaurants. It has a certain charm that can certainly not be denied. We loved it so much we went back twice, hah! I'll be sharing more in the Paris travel guide in a couple of weeks but if you're planning a trip … definitely work it in to your itinerary!
I've been a little quiet on Instastories lately and it's just because we've been going from one place to another rather quickly because everything is so small. I also didn't want to steal Victoria for THAT much longer after our Paris trip so we're kind of doing a whirlwind last few stops. But, we made it to our final destination on our French road trip last night and I'm always so sad when these trips come to a close. They're so fun … seeing new places, experiencing new things, and spending time with one of my best friends … but, all good things must come to an end! I'm excited to spend a couple more nights in London before heading home at the end of the week! I can't wait to see my sweet babies! Don't think I haven't missed them like crazy 🙂 Thanks for stopping by today! xo.