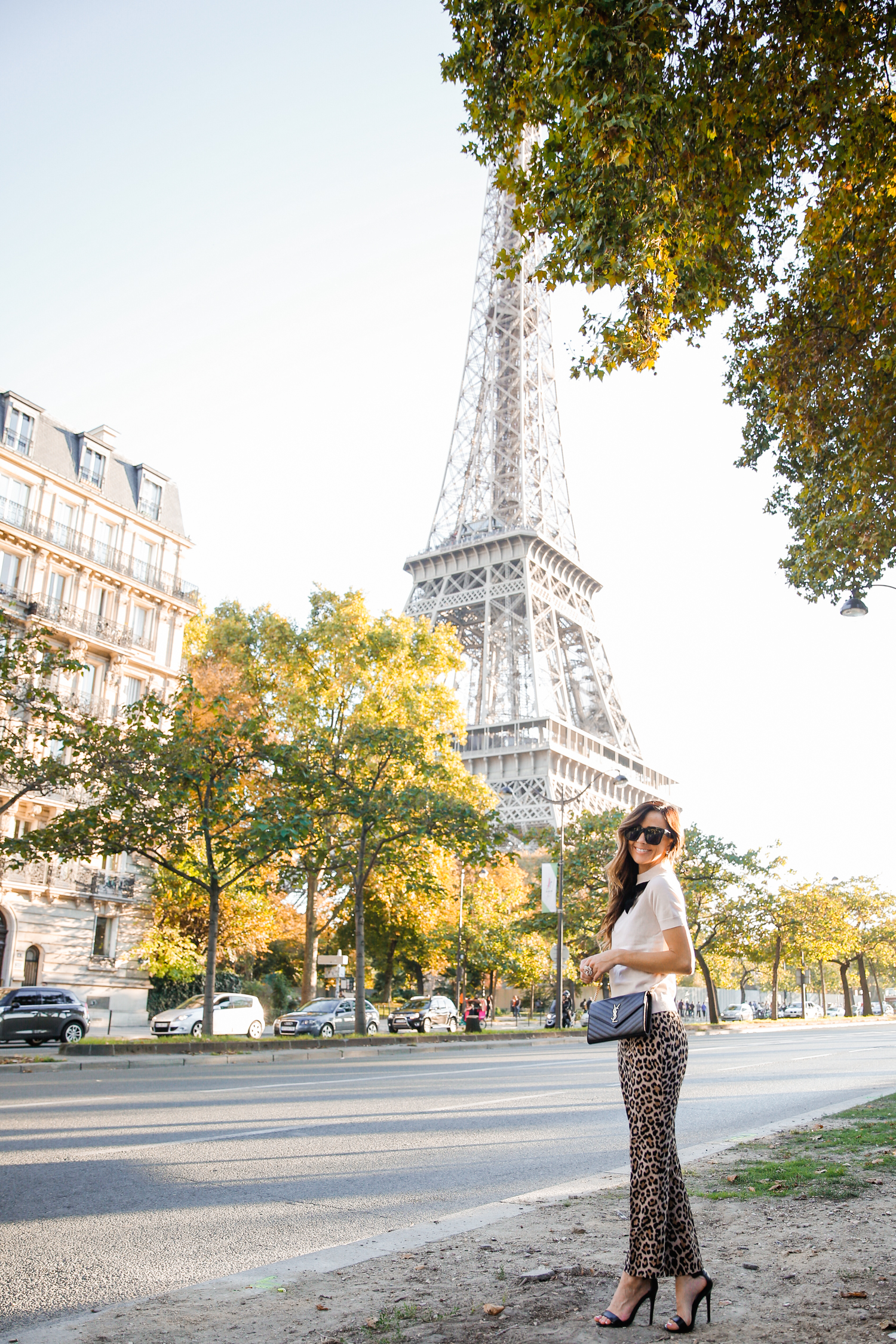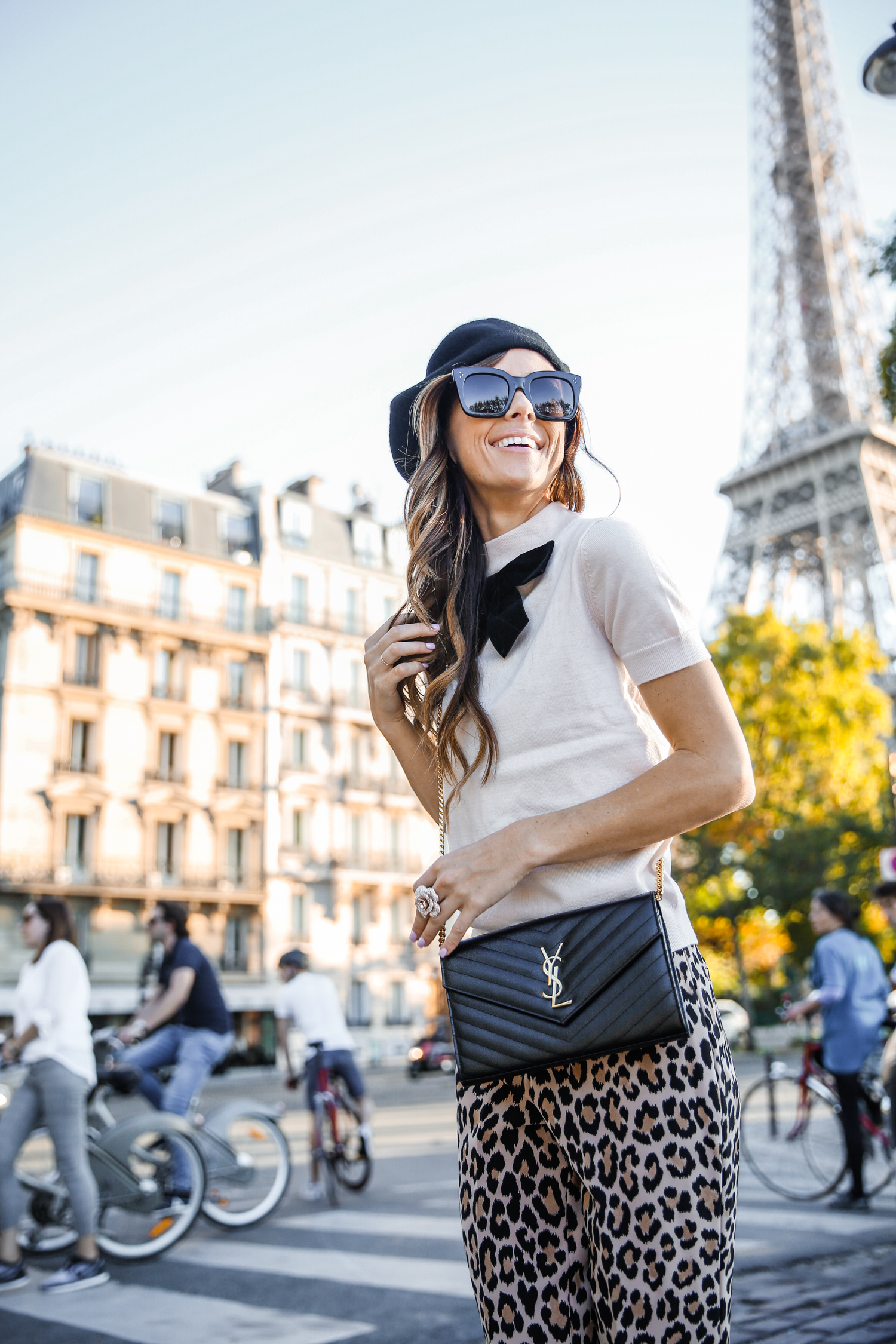 Hey there, friends! Happy Thursday!
In most of the outfit posts that I've shared from my recent trip to France, I've kept it pretty casual as it's the style I typically embrace when I'm on my feet all day exploring. However, when I go on these long trips, I always to squeeze a few outfits in to my suitcase that are completely inspired by the destination I'm heading to … and this trip was no different! Kate Spade New York is one of those brands that screams romantic, chic and classic … just like Paris! They were kind enough to gift me a few items from their recent leopard line and all of them embodied a cool, chic Parisian feel to them! I knew I just had to sport them all at some point during my trip, even if it was just for happy hour cocktails and dinner!
See the other Kate Spade outfit post from Paris HERE.
As a long time lover of all things leopard, and the occasional bold statement, I was immediately drawn to these trousers. I got them in the mail the morning I packed for my trip so, with a lot to get done prior to, I just threw them in my suitcase without trying them on. They fit me in the waist [I'm wearing a 00, which is my normal size] but I think the overall fit, especially in the legs, is a little bigger than I personally prefer. I'm also petite, standing 5'3, and feel like these hit a little too low on the leg, as I feel like they're supposed to be a little more cropped. I'll be honest. It's always a little frustrating to invest MORE money into an already expensive garment so, if you're slim, like me, I may pass on these pants. I'd really like to see Kate Spade expand their sizing options in the near future. It's much needed. But, I digress. If you're confident you'll fill these trousers out better than me, I think they're a SUPER fun option for this Fall and Winter season! They're great quality so, even though the price is steep, I do think they'll last you a long time.
This top, though … is my jam! Excuse the wrinkles you see in some of the photos …. not all AirBNB's have irons! If you happened to see how small ours was on my Insta-stories then, you guessed right, ours did NOT have one, haha! Plus, I can only pack so many travel size containers of different products and Tide Wrinkle Release got left at home this time. ** face palm ** But, anyway, back to the top … it's a soft sweater like material and really comfortable. The velvet bow detail is what sold me on it though. It's such an adorable and lady like touch. However, the price on this product is incredibly steep for what it is. Sure, it's cute and the quality is great but it's not worth what it costs, in my opinion.
As always, I'm thankful for gifted product and the brands that support S&T but I will always be honest about my take on pricing, opinions on where brands can improve and the truth about quality and fit of the products I'm personally familiar with. 
Here are some similar products to the outfit that I'm wearing in today's post as well as some Kate Spade products that are moderately priced and have caught my attention. Except the piece of art – I included that because I'm obsessed and am adding it to my Christmas List to send to Santa my Dad. He'll laugh at me and throw the list into the flames of his grill but, hey … it's worth a shot, right? 😉 Have a great day, lovelies! Thanks for stopping by! xo.