Do you ever look back at photos when you travel and just wish you could teleport back? That's how I feel when I look at these photos. This little town of Rouffach was so quaint and quiet. Victoria and I had the pleasure of staying at Chateau d'Isenbourg, which sits above the town on a small mountain and gives you this stunning view. All of the towns her and I visited are located in the Alsace region in Eastern France were along the Alsatian Wine Route, except for one, and, as you can see, we caught the vines at the peak of their beautiful yellow color!
After driving down from Colmar and checking in, I changed into this cozy outfit to explore the property. I've worn these jeans and these booties a million times but don't miss this super soft zip-up vest! It comes in two colors and it was SO much softer than I thought it would be. I couldn't stop running my hands over it. It'd be a great option for Thanksgiving Day! This high / low tunic is a must-have staple for this time of year. It comes in SO many colors as well as regular & petite sizing. The best part is that it's made of cashmere & wool and is currently 30% off, putting the price just under $100! It's SUCH a good deal!
Victoria and I were so in love with the vine branch leaves. The vineyards go on forever so, we couldn't help but get out of the car on multiple occasions to snap some pics: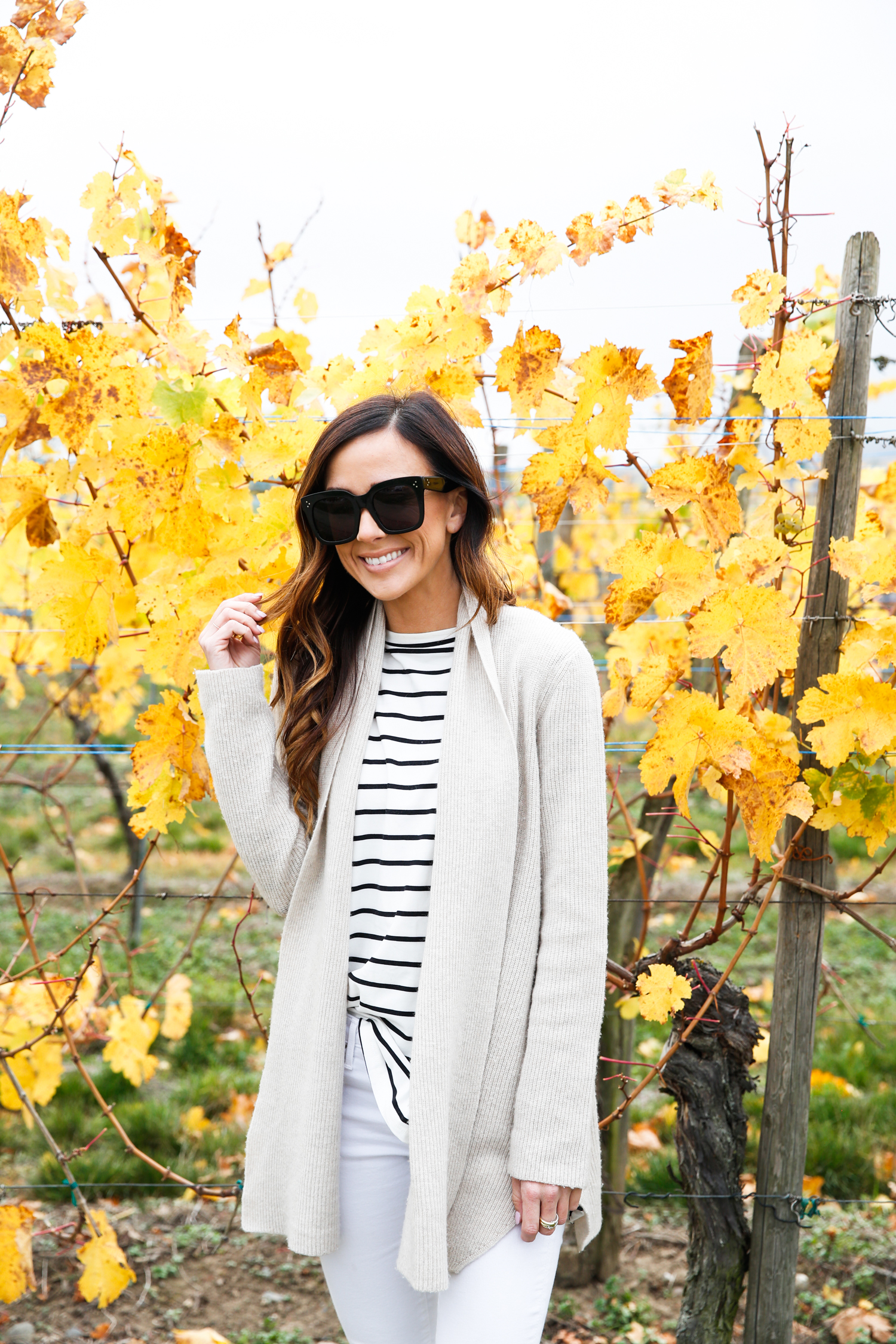 This was before we checked in to the Chateau D'Isenbourg, just outside of Colmar, and we didn't know if we'd be seeing more of them.

And, this was the morning we left for Eguisheim before driving through Switzerland to get to Annecy. Every glass of wine we enjoyed in Strasbourg, Colmar, Eguisheim and Rouffach was so tasty. We didn't want to bid it au revoir but had to eventually 🙂 I'll do a post on these towns along the Alsatian Wine Route at some point for anyone who might be interested in venturing out there one day!

Hope y'all are having a great week so far! Thanks for stopping by today! xo.