Hey there, friends!
Back in September, I took a little trip up to New England to see my friend and fellow blogger, Marissa. Her and I met through blogging and have spent time together in New York City, London, Cancun and Amsterdam but, since becoming such good friends, we decided to try and plan trips to our own respective parts of the world this year! Back in January, Marissa came down to enjoy a little staycations with me in Amelia Island, which is 45-minutes north of my little beach town. During our trip, she said I had to make it up to Connecticut in the Fall. So, with hopes of cool temperatures and early Fall foliage, we made plans at the end of September to enjoy a little staycation at the Grace Mayflower Inn & Spa, located in an adorable and quaint town just under an hour outside of the city Marissa lives in.
After taking in the charm of New England over the course of this weekend, I was almost mad at myself for taking this long to explore it! I had only ever been to New York City and I think we all know that that's not what the rest of this part of the country looks like. As we drove up to Washington, Connecticut, I was enamored by the the charm and historic character present in all of the homes and small towns we passed through. For me, I had only ever seen them in movies and TV shows like 'Gilmore Girls'.
Marissa and I enjoyed cool mornings, loads of sunshine, friendly staff and comfortable beds to sink into every night while staying at the Grace Mayflower. Their world renowned spa made a huge impression on us. Not only is the relaxation room the coziest room you'll ever walk into, their masseuses and therapists are top notch at what they do and extremely professional. We both booked a second treatment after our first, if that says anything! We also enjoyed the most delicious meal on our first night in The Mayflower Dining Room.
Here are a few snaps from our weekend stay!
outfit details
pajamas are currently 40% off with code happy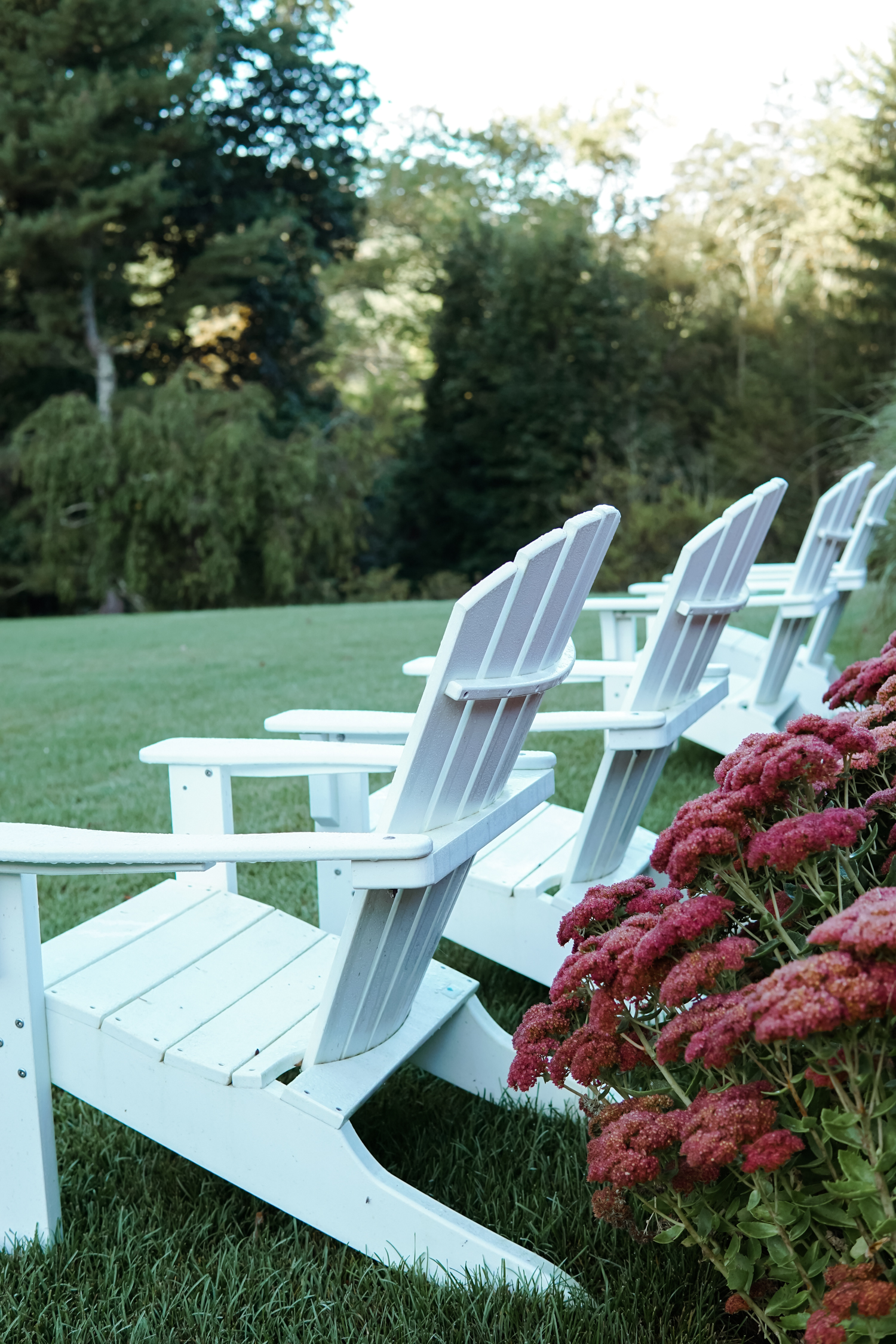 Marissa and I enjoyed breakfast outside on the beautiful dining terrace [off the back of the main building] every morning, which overlooks one of the two beautiful gardens that the property has. Aren't those flowers gorgeous? This is really just a beautiful place for anyone who needs a weekend to themselves to unplug, unwind and just relax! The little town that Grace Mayflower sits in is so quiet and removed from the hustle and bustle. You seriously feel removed from the rest of the world and, I don't know about you, but I really need that from time to time. It's a big part of why I enjoyed my stay so much.
This tree definitely wanted to be the first one to show off this year! The leaves almost looked purple. I swear it's not edited to look like that! It was so beautiful!
outfit details

lip color: menace
This is the entryway when you walk into the main doors of the Inn. We were greeted by a sweet bellman upon our arrival who was so kind and insistent on taking our bags to our respective rooms. Everyone we came across was extremely friendly, helpful and professional. The property has one main building, which houses the lobby, a formal living room, a large dining room, a dining terrace, a cozy bar area, and small rooms that was extremely inviting with their plush couches and cozy fires. I also found an old library. Swoon!
outfit details

lip color: menace
Upon our arrival, we had a chilled bottle of wine waiting for us as well as a fruit & cheese plate. I'm not sure if the staff at Grace Mayflower knew that this is the quickest way to my heart, but regardless, it was a very sweet welcome! I was especially taken with the elegant Victorian interior decor pieces. My mom would have died over my room! She always made mention of how much she LOVED this style of home decor when her & I would pop into an antique shop growing up. Travel always has a way of reminding me of her 🙂
Grace Mayflower Inn & Spa sits on a beautifully lush green property with multiple buildings spread across, each of which house a few rooms and suites. It's nice the way it's all spread out. Walking through the property each morning was one of my favorite parts of the trip because it was just so quiet and peaceful. Marissa and I were the early birds, as it's usually one of the best times to snap photos from a lighting perspective and it also doesn't distract or bother other guests trying to enjoy themselves.
outfit details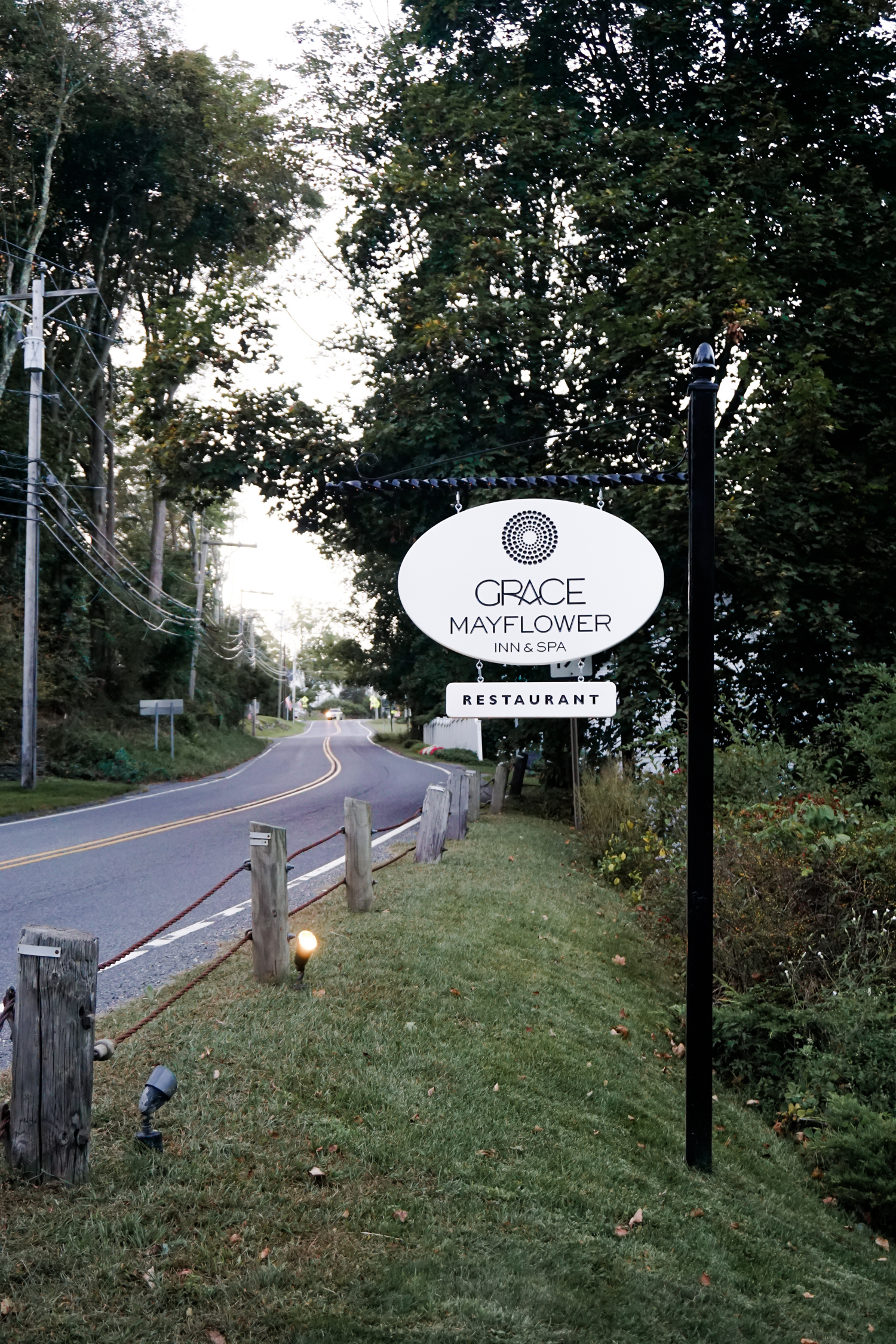 outfit details

outfit details

On our first day, Marissa and I enjoyed the sound healing treatment, which was new to both of us! To be honest, I was so relaxed during it that I fell asleep. We were so in love with the spa that we both booked a massage for the next day, which was the best decision I had made in a long time. I didn't realize how much stress tension I had packed in my back muscles. I really needed that worked out and my masseuse did an amazing job at that! Afterwards, I ordered a yummy chicken caesar salad then read for a little while in one of their cozy chairs. The blankets were on another level soft! They're on sale in the gift shop and I'm still so mad at myself for not buying one for myself to enjoy at home.
I wore this the first night to dinner at The Dining Room. I got the filet with potatoes and greens and I still have dreams about how good that meal was!
outfit details

lip color: scarlet empress
Isn't The Dining Room dreamy? I love the glass and gold candle holders and their small flower arrangements on each table.
Marissa and I made a little stop on the way home in a neighboring town and took some snaps. It's just further proof that if you haven't ventured up to this part of the country … you need to consider it! Look how adorable this stoop is!
outfit details

Marissa and I couldn't get over what a quiet, peaceful and relaxing weekend we had at the Grace Mayflower Inn & Spa. Of course, as a blogger, we did work and take photos to share but, overall, we truly felt recharged upon leaving. It was such a nice little Fall weekend escape and my deepest and sincerest thank you's to the Grace Mayflower Inn & Spa for a wonderful stay and experience! I don't think we realized how much we needed a weekend like the one we had at your beautiful property. I definitely want to come back some day! xo.