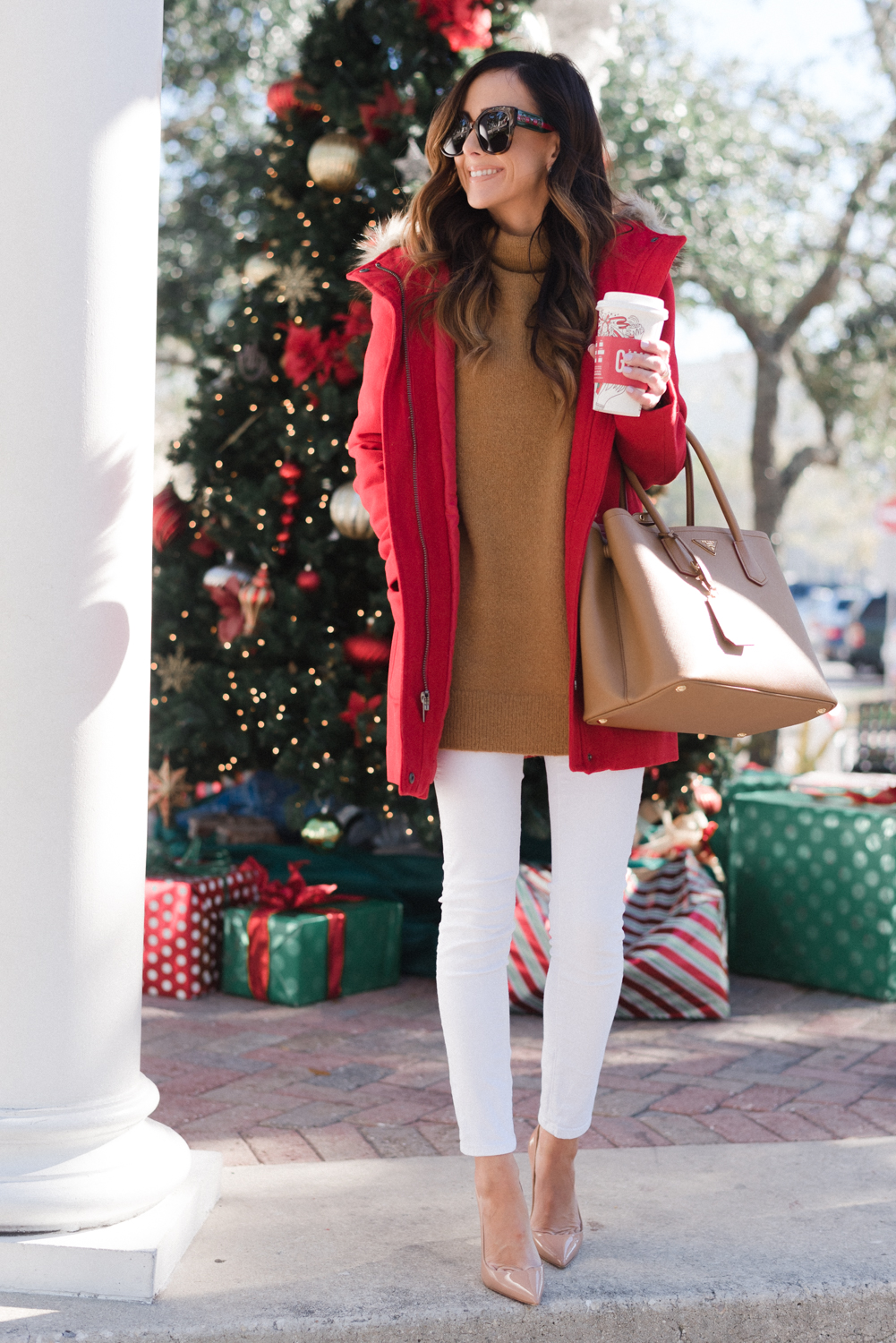 Hey there, friends! Happy Monday!
Can you believe we have ONE WEEK until Christmas? It seriously blows my mind that we'll be saying goodbye to 2017 soon. This time of year is so beautiful and bittersweet. Being that you don't have much time left, I thought I'd start this week with some Christmas Eve dinner or Christmas Day outfit inspiration. Of course, what you wear is totally dependent on what you have planned for the day and what your family normally does. We don't usually follow a certain tradition because we're not always in the same place. A couple of years ago, we were in Breckenridge and were on the slopes all day. Last year, we were in a cabin in North Carolina and spent the day in our pajamas playing cards and watching Christmas movies. So, I know I won't be helping everyone with this outfit idea but I figured something easy and comfortable would be the best way to go, that also might help the most people.
I scored this red duffle coat during Black Friday when it was 50% off and … I'm excited to share that it still is with a lot of size options available. It is absolutely perfect for the holiday season and is the only cute red coat I can find right now! My cognac tunic has some sizes missing but it also comes in purple and black if those suit your style better. I'm wearing an XXS and it falls below my waist and hipline so it'd be great to wear with leggings! I purchased my Christian Louboutin pumps a couple of years ago. I pull them out for special occasions but, I will say, they're tough to wear for a long period of time. Personally, I highly recommend this alternative pair that I wear much more frequently and are just as dressy. You can see how I styled them in this Instagram post and this one.
If you're still looking for some gift ideas, be sure to head over to the GIFT GUIDES page and I'll be sharing a gift guide each day this week until the 21st  to help you guys get those last minute purchases made for friends and family! Today's gift guide can be found HERE and it's for the LUXE LOVER in your life! 🙂 Thanks for stopping by! xo.