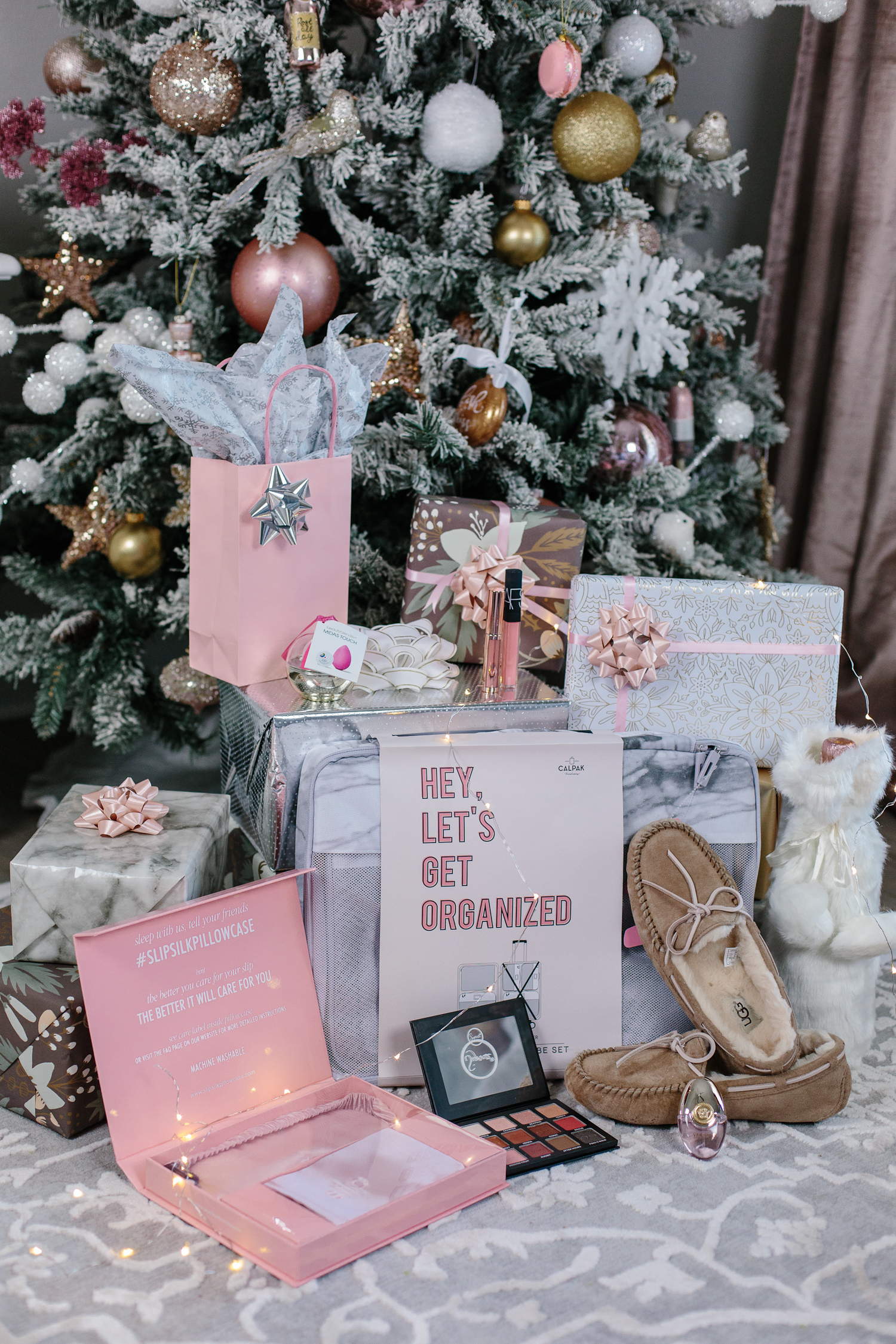 Hey there, lovelies!
So, by now, you should have your shopping pretty much done [although, I've totally been that girl rushing around on Christmas Eve in the past trying to finish up so, if that's you, God speed! You got this!] and only have wrapping left to do! Wrapping is always the funnest part for me, personally, as I feel like it's a really fun way to express your creativity through your wrapping paper and bow / ribbon combinations. Is anyone else with me on this one? Hah! It always takes way longer than I expect it to but when I see the end result … I just have this victorious feeling! Hah!
I did a much better job of buying gifts throughout the season this year for my friends and family. I bought most of the gifts I'm giving to my girlfriends' from Nordstrom. As y'all are probably well aware, it's one of my favorite retailers because it's essentially a one-stop-shop for anything and everything that you could need … ever … but especially for holiday gift buying! Here's a list of my favorite gifts I got my girlfriends this year:
SIGMA FLAT KABUKI BRUSH: This has been one of my favorite beauty buys this year. It applies my foundation so flawlessly and what girl wouldn't want that?
MADEWELL ROLLED NECK SWEATER: I bought this sweater in two colors and wore them in Canada. They're just a great staple to have in your closet and were super warm so thought they would be good for a couple of my girlfriends who live in colder places.
CALPAK 5-PIECE PACKING CUBE SET: So, honestly, I bought this for myself, hahha! I travel quite a bit, which you know if you've followed me for awhile! And, I'm meticulously NEAT when I pack even though there's no method to the madness and I don't separate things by types of garments. I just find a place where something will fit and that thing goes there hah! But, when I get to my destination and go to find something in particular, it makes it really difficult because I don't know where I packed one sweater vs. another. So, I thought these would be a great way to help me stay a little more organized. I have a friend who travels a lot for work, as well, so I got her a set, too. I will let you know how these work out as I am about to go on another trip in a few days and will be testing these out!
SIGMA WARM NEUTRALS PALETTE: I recently started using this palette and am now obsessed! The colors are great for every skin tone , and the formula is highly pigmented and easy to blend.
WINE BOTTLE HOLDER + THEIR FAVORITE BOTTLE OF WINE: I tend to bring a bottle of wine or bubbly to gift a hostess friend who is having everyone over! To dress it up, I always buy some of these cute wine bottle bags to gift it to them in!
BEAUTY BLENDER: Who couldn't find use for another beauty blender in their makeup drawer? These things are so handy and is a can't lose gift for any of your girlfriends!
THEIR FAVORITE PERFUME: If a large bottle of their favorite fragrance isn't in your budget, I think opting for a travel size version is the best way to go! I have a few friends that share my love for Versace Bright Crystal so I gifted them those this year!
Some of these you can STILL get before Christmas Eve! Check the website for more details!
I hope you had an easy shopping experience when it came to the gifts you purchased on Nordstrom's website this year. I know I did and I'm so excited to spoil my girls! Happy Holidays, ladies! Obviously, we'll all be spending much needed time with family over the weekend but, afterwards, be sure to head back here to check in as I'll be sharing some more outfit inspiration, my holiday home decor and the gifts I'm most thankful for this year! xo.