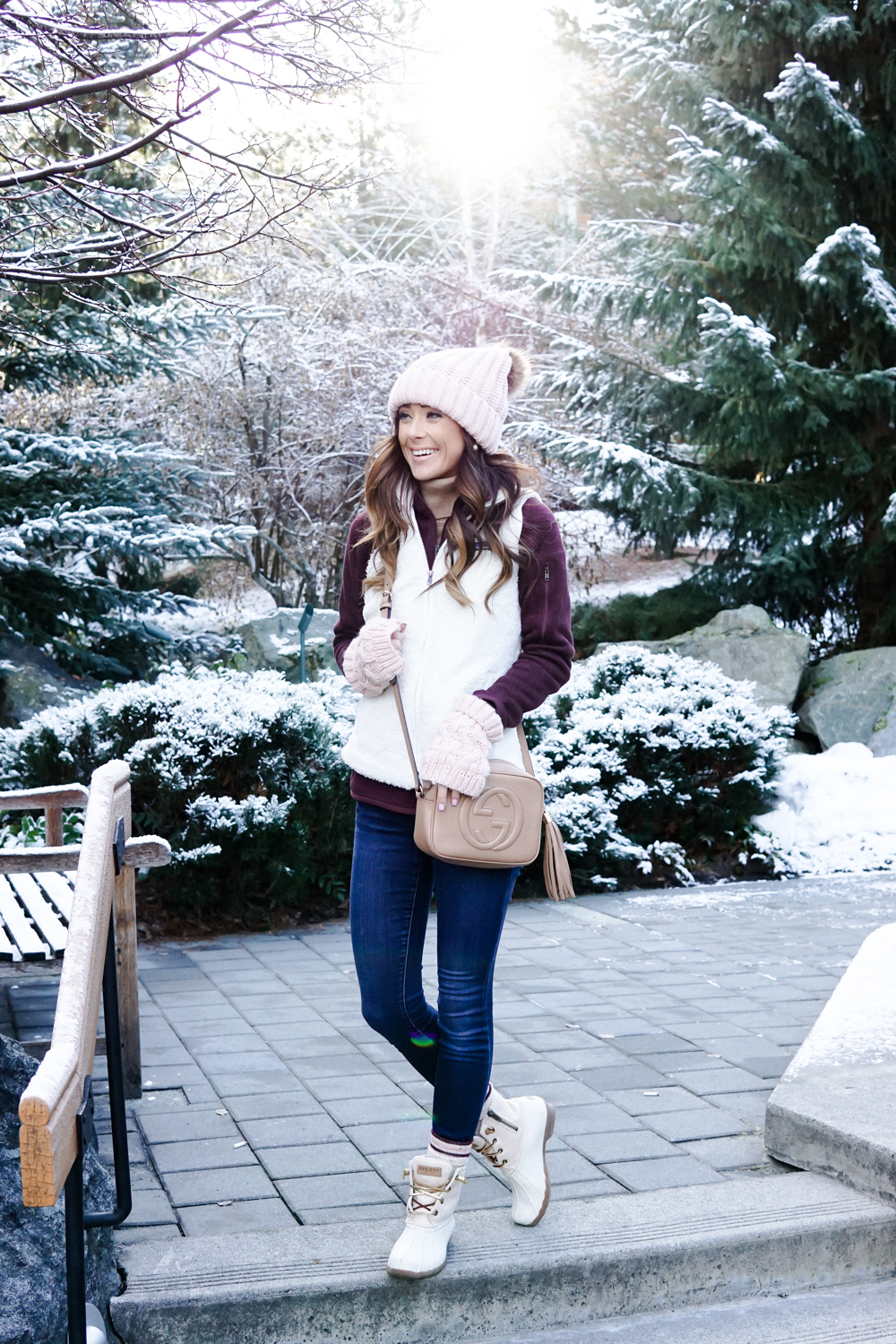 Hey there, lovelies! It feels good to be back to regularly scheduled programming over here! I love traveling but I get a little frustrated that it can get in the way of my ability to get blog posts up to you as regularly as I normally do. Last week was a little hectic so I apologize for only getting a couple posts up! Hopefully the experiences I had in Canada can help you with some future travels. I'm excited to share more with you soon!
Canada was absolutely freezing but, since I feel like I've showcased quite a few coats on Instagram and the blog lately, I felt like I should maybe give y'all a closer look at an outfit that I wore UNDER my coat one day. Warm layers are KEY in these wintery destinations and, aside from the warm base layer, I chose a thin wool-based turtleneck, a Patagonia pullover and a fuzzy vest to add some fun dimension and added warmth to the look, as well! I love how many retailers are offering pink gloves and beanies this year. I even found some socks from Abercrombie & Fitch during the Black Friday madness that had pink stripes on them [wish they were still in stock, but HERE is a similar pair that was restocked!]. Anyway, I stayed pretty warm in this outfit, especially with a coat on, so if you're needing to add some layers to your wardrobe … these are some good ones!
I have a busy day today with a shoot in the morning and meetings in the afternoon! I am hoping to finish up a few more gift guides this week, as Christmas is coming quickly! I am almost done with the Gift Guide for the Guys in your life and will also work on one for stocking stuffer ideas, gifts for the homebody and coffee lover in your life so stay tuned for those!
GIVEAWAY WINNER >> Congrats to Madison Bennett! You've won a $500 Visa Gift Card! Thank you so much for following along on the @liketoknow.it app! Be sure to email me your email address and actual address so that we can get you your gift card as quickly as possible!
Today is another big sale day, similar to Black Friday and Cyber Monday called Green Monday! Here are some sales that I'm seeing and will update this throughout the day:
POTTERY BARN: 20% off orders under $1000 + 25% off orders over $1000 with code SNOWMAN
LOFT: 40% off your purchase with code NEWNOW
J.CREW: 30% off full-priced styles + 40% off full-priced styles over $200 with code HOLIDAYFUN
WEST ELM: Buy more, save more! Enjoy 20-30% off with code WAYMORE
SPLENDID: 25% off site-wide with code GIFTON
TARGET: Save $20 on every $100 you spend, no code needed
GOODNIGHT MACAROON: 30% off everything with code XMAS30
GAP: 45% off your order with code MERRY
BANANA REPUBLIC: 40% off your order with code BRMONDAY
ABERCROMBIE & FITCH: All coats and sweatshirts 50-70% off online only, no code needed
EXPRESS: 40% off everything + free shipping, no code needed
ANTHROPOLOGIE: 30% off kitchen and dining, no code needed
Thanks so much for stopping by today, loves! Appreciate it! Have a wonderful start to your week! xo.