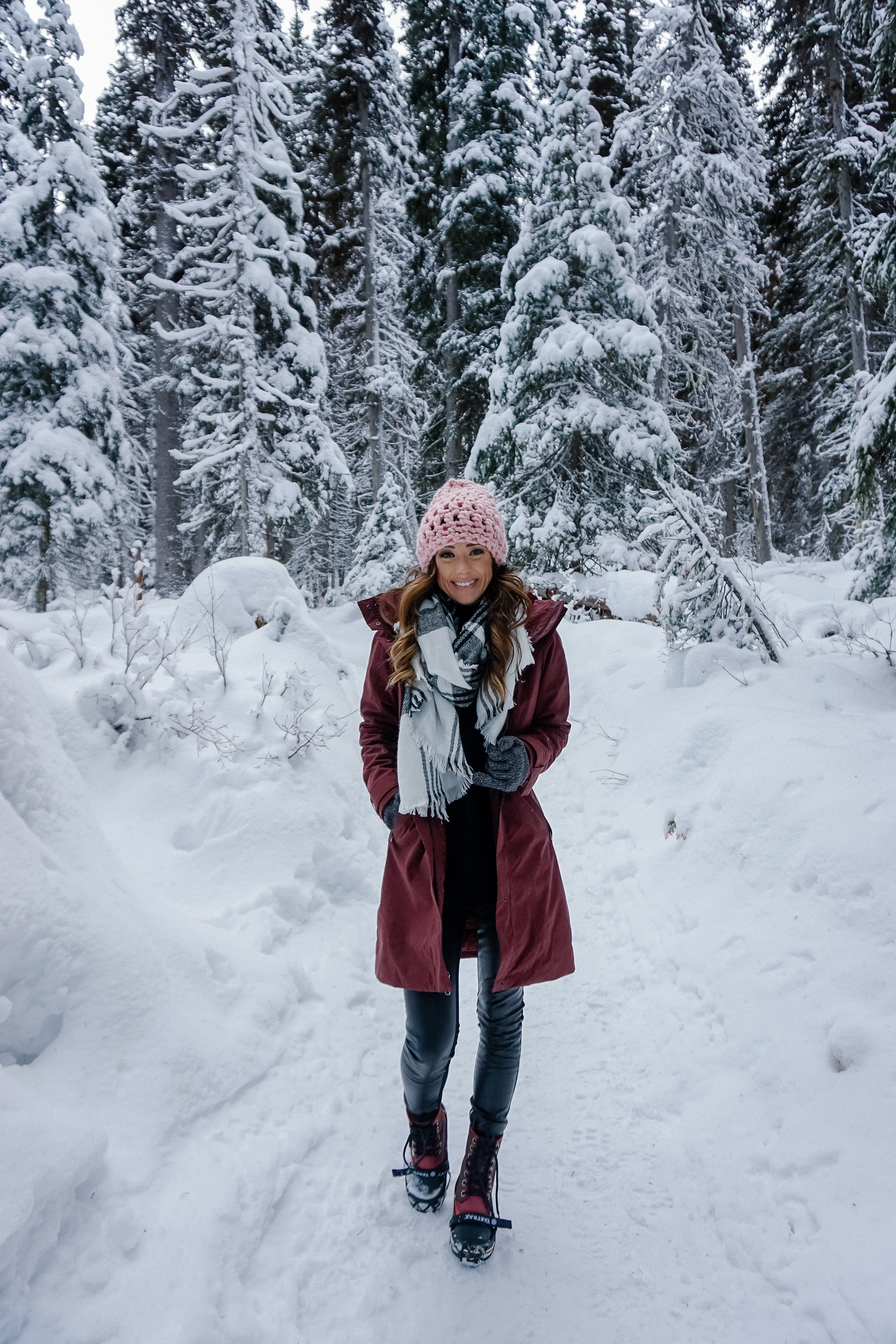 Hey there, lovelies!
Sorry for the lack of posts this week! I've been expending all my energy here in Canada and have let myself just take a little [much-needed] break from the computer! The last two days have been an absolute blast, between dog sledding and snowmobiling! I highly recommend both if you ever find yourself in Whistler. Stay tuned for more details in my upcoming Canada travel diary!
While I've been here in Canada, I've gotten tons of questions on what kind of gear I pack for trips like this. I know I may not seem like the outdoorsy-type or the go-to gal for what you need to pack for a winter adventure, especially being that I am from and still currently live in Florida, but … 'you can't judge a book by it's cover' because I actually tick both boxes! While I may not do a lot of outdoor sports in Florida, I have been skiing since I was 13 and it's probably the only sport that I'd consider myself pretty good at. Being that I have a long history of ski trips, and a year of living in Colorado, under my belt … I actually have a lot of knowledge on how to pack smart for any super cold winter-y trip that you may have on your horizon. I thought I would use todays' post to share some insight into the main things I'd recommend you not leave home without!
First, I'll say … if you're packing for a SKI trip soon … this post may help a little bit but I encourage you to head to THIS post, instead, because that post was written with that specific sport in mind and the items I'm sharing in this post are more for just being warm in a super cold climate … which could be helpful, too, but that post solely covers what you need to stay warm on the mountain all day!
• A WATER-RESISTANT JACKET: It's safe to say that not all winter coats are created equal so it's important that you are smart when choosing one to wear on your trip. If you're going somewhere cold but it's unlikely that it will snow, I would say you're safe to get a down puffer coat, like THIS ONE I wore yesterday in my Instagram stories and in my Instagram post.  These jackets are insulated to keep you super warm and it's good to base the thickness of your jacket on how hot or cold you naturally get on a day to day basis. I tend to get puffier jackets because I'm always cold. Also, read reviews before purchasing and look at what the jacket is actually made of to ensure it will actually be warm! If you know that you're definitely going to be in the midst of snow, I cannot recommend a water-resistant jacket enough! An insulated puffer coat will keep you warm but it will NOT keep you dry so having a water-resistant shell on your coat is always helpful. I recently purchased the Patagonia Vosque 3-in-1 Parka from Backcountry, one of my favorite places to buy everything I need for these types of trips, and wore it hiking last week when we were in Lake Louise and the other day when we were snowmobiling. [These photos were taken during our hike. It was absolutely beautiful!] The great thing about this parka is that it's actually three jackets in one! It has an insulated inner layer that you can unzip from the water-resistant shell to wear on its own if you just need warmth for the day; you can wear the shell by itself on a rainy Spring day or wear it all zipped together for those snowy, wet & cold days! I love the length of it, as well. I didn't pack my ski pants on this trip so it definitely gave my legs the warmth they needed! Overall, I love the versatility of this jacket and can't recommend it enough! It comes in a few different colors and it runs true to size, if you're also looking at getting that one for yourself.
• WINTER BOOTS: Your hands and your feet are the first things to get cold out there and I'd bet your feet come before your hands being that they're so close to the cold, wet ground. A good pair of winter boots is key, as well as good socks but we'll get into that in a minute! So, the big thing you want out of your winter boots is water-resistance. I usually opt for a pair that are up to my ankles, at least, if not higher. You also want the boot to be really snug around your leg. Why? Because if you step in a huge pile of snow, you want it to either not reach the top of your boot and, if it does, you want it to not be able to get into your boot. To be honest, the only winter boots that I go for are Sorel's. That's not to say there aren't other great ones out there but, stylistically, they're always the ones that catch my eye and are made really, really well. I bought these before my Canada trip, and I definitely ordered the wrong size because my original pair of Sorel's ran big, so I ordered a half size down but now they run true to size so GET YOUR NORMAL SIZE. You will have room for socks. However, I do love the colors of mine. They're not as bright red as I thought they'd be. They match my jacket perfectly!
Here are some other Sorel favorites of mine:

A couple more things about winter boots. So, walking around town in your Sorel's will be great, however, in my experience, I've found that my feet get EXTREMELY cold while wearing them during long activities in the snow like snowmobiling. I wore my Sorel's dogsledding yesterday and my feet felt so numb at the end and it's because that boot doesn't provide ANY insulation and, even with the best socks, your feet will still get cold. It seems that insulated boots that are also waterproof are better for activities like that and, most of the time, those boots are extremely hideous and HUGE but they have always kept my feet warm during those activities. When we went snowmobiling the other day, they provided different shoes and it made the experience even more enjoyable because I didn't think about being cold ONCE. So, I've been planning another trip for the end of this month that will carry over into the beginning part of the new year and I'm thinking it's going to be even colder than Canada so I have THESE in my Backcountry shopping cart right now because, honestly, cold feet is one of my least favorite things so I'm determined to find something that will keep my feet not only dry, but warm, too! I'll keep you posted!
• WARM BASE LAYERS: In addition to jackets and shoes, which seem obvious, warm base layers are always key to staying warm, which might not be so obvious! Your base layer is your first layer of insulation, and is technically a second skin. It helps to regulate your body temperature by moving moisture / perspiration away from you, keeping you warm, dry and happy out there! Base layers are made of either Merino wool or synthetic fibers, both of which do essentially the same thing. Your base layer should fit well and be a solid foundation to build upon. You'll want to buy an upper body base layer and lower body base layer. I wear an old Arc'teryx base layer top, but this one is similar, and I havethese Smartwool bottoms [in gray and black] as the base layer for my legs. I've accumulated a few pairs over the years and those seem to do the best job!
Here are some great base layer tops:

Here are some great base layer bottoms:

• GOOD QUALITY SOCKS: Good socks are essential, but you're normal socks will NOT do. Cotton is a HUGE no-no when it comes to dressing for this sport. It does not repel moisture, so steer clear! I personally love Smartwool socks. Here are great options below:

• MITTENS VS. GLOVES: So I've always preferred gloves over mittens. I want to be able to use my fingers if need be and mittens are for children, in my mind. But, actually, I've found that my hands are ALWAYS warmer in mittens than in gloves because mittens are a big insulated pouch over your hands that traps the heat inside. On my last ski trip, I lost one of my gloves on the slopes so one of the guys in the ski rental shop suggested THESE mittens. I was not happy about the price but I found out that they were WORTH every penny. I put a hand warmer in each of those and my hands felt 10x better out there! It was amazing! This trip I opted for these wool gloves and they were fine for a bit. They're made of great material but, honestly, if you're going to be doing lots of outdoor activities, you really do want mittens!

Some other items that would be helpful to pack on your trip are a thick cashmere scarf, hand  & feet warmers, moisturizing hand cream, moisturizing body cream, moisturizing lip balm with SPF and things to keep your head and ears warm!

I hope this post was helpful for anyone heading somewhere snowy and beautiful this Winter! It might seem miserable for people who aren't used to it but, if you go prepared, I promise, the majesty of some of these places will instantly change your mind! Have a great day, friends! Thanks for stopping by! xo.