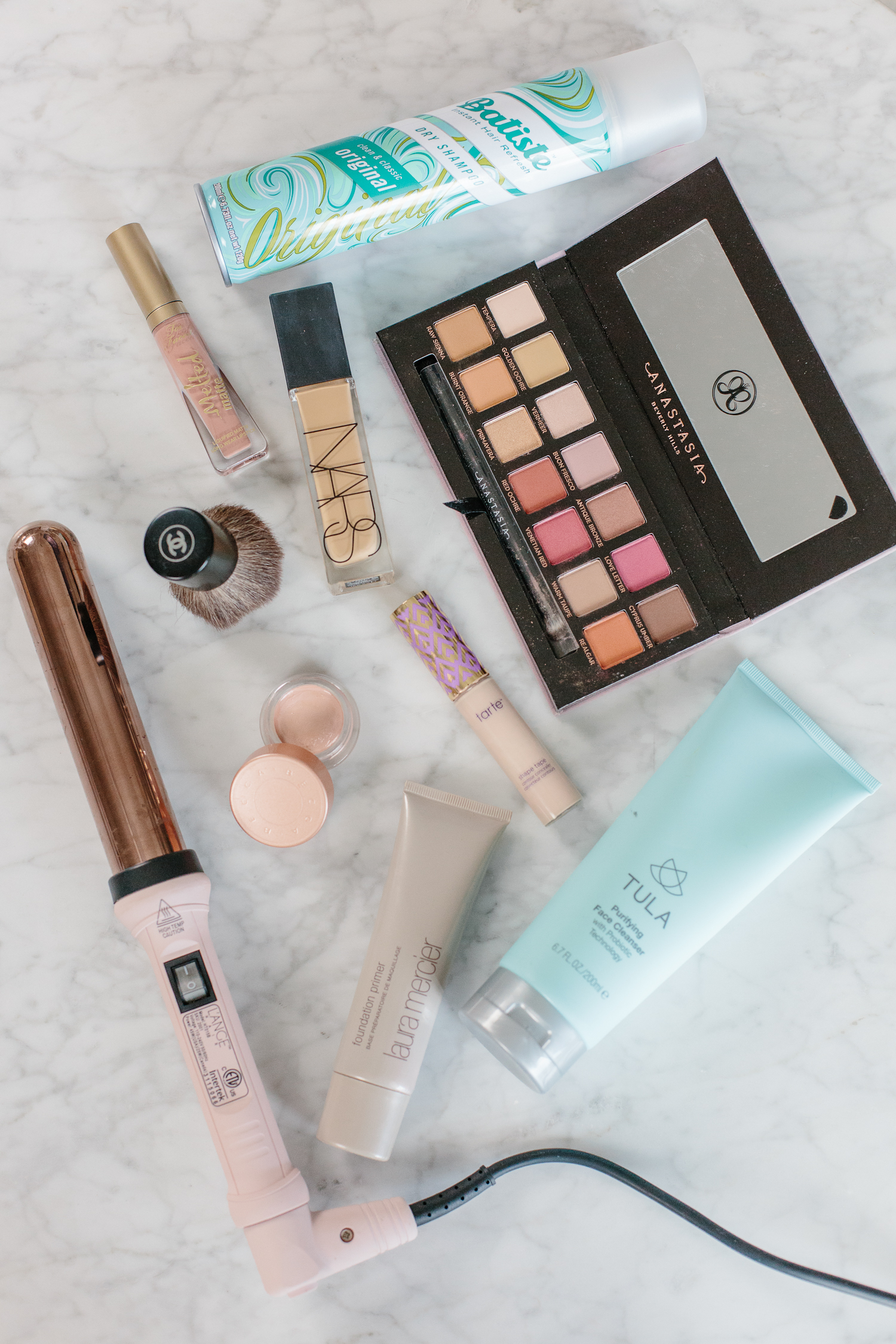 Hi there friends! It is truly hard to believe that we will be bidding goodbye to 2017 and welcoming the new year! I always get excited for this time of year. Who doesn't love a good reboot? It's a great time to look back and appreciate the happiness and great successes the year brought you as well as analyze your mistakes and setbacks in order to strategize how to make this year better, to make you better.
So many of you ask me on a daily basis about beauty products I'm loving and / or wearing so I thought a fun way to reflect back on the year that might resonate with y'all is to share my TEN favorite beauty products that got me through the year! Some of them I discovered prior to 2017 but stayed a holy grail product for me but most are new finds this year that I grew to love and use mostly everyday! Hope this helps you find some new products you might find useful!
ANASTASIA BEVERLY HILLS 'MODERN RENAISSANCE' EYESHADOW PALETTE – What initially drew me to this eyeshadow palette was  the adorable packaging. I love the lavender casing and the variety of cool and warm colors. I'm typically more drawn to warm colors but felt like it was time for me to get outside of my comfort zone and play with some DIFFERENT colors and see what I can come up with.
It was only after I received the palette and started experimenting with the colors that I began to realize just how good this palette was. The formula is highly pigmented so you only need a tiny bit of product. This also means your palette will last a long time because you're only using a little bit at a time. This formula is also super easy to pack and blend. It's SO impressive, honestly! I'm the furthest thing from a makeup artist but I truly want to pat myself on the back sometimes when I'm done using this palette because it looks so good – but, really, it's the people who make it that deserve all the credit They did a great job with this palette. It wasn't the one I grabbed the MOST this year but it was the one that impressed me the most when I used it!
The eyeshadow combination I'm wearing in todays' photos were a mix of the colors in this palette!
L'ANGE CURLING WAND– When my T3 wand died a few months ago, I was on a mission to find a wand that performed as well as the T3 does [before it dies] but isn't nearly as expensive. I most certainly found that in my new L'ange Ondule Titanium 1 1/4" Curling Wand. It heats up so quick and does an exceptional job curling my hair. If you missed it, I did a 'how to' hair tutorial on Facebook a few months back showcasing how I use the wand to achieve my everyday curls. Check it out HERE:
Be sure to follow SEQUINS & THINGS for updates!
My curling wand is currently sold out. The team at L'ange was excited to share that it WILL be restocked soon but, for now, I definitely recommend you take a look at the similar wand called the LUSTRÉ. It has an adjustable temperature control, a cool tip at the end for safety [I've DEFINITELY burned myself with my Ondule before!] and an automatic shut-off feature! So, it gives you a lot in addition to just doing a kickass job at curling your hair!
HEADS UP – The discount I talked about in my video is still valid but it's 50% off now!! So click on THIS link and do your shopping and the discount will be taken for you. If it doesn't, for whatever reason, the code is PRESENTS ????
CHANEL KABUKI BLENDING BRUSH – This is one of those products that you don't know you need until you get it, use it, see how well it works and then you wonder how you ever did your makeup without it. If you're a contour and highlight kind of gal, like myself whenever I do feel like putting on makeup, you create some pretty harsh lines with your bronzer and blush, especially. It's really important that everything blends nicely so you don't look like a clown and I've found this brush to be THE magic trick to ensure that you look blended and beautiful once you're done with your makeup! Blending in my makeup by running this brush in circular motions around my entire face is usually my last step before using setting spray. Please let me know if you want me to show you in an Instagram Story. I'd be happy to, if you're more visual! This product is, obviously, a little pricey so save for it but, I promise, it'll be worth it in the end!
LAURA MERCIER FOUNDATION PRIMER – Honestly, after trying a few different 'all-the-rage' primers and not seeing the results I expected, I started to believe that primers were just a gimmick, a product or idea that manufacturers try and make you believe you need, not really for your benefit but theirs. But, after months of seeing this product mentioned on social media and hearing how great it is, I finally decided to give foundation primer ONE. LAST. TRY.
For those who may not know – a foundation primer is a product that you apply after you've washed and moisturized your face. Its purpose is to act as a buffer to outside elements and helps your foundation stay in place throughout the day. It gives it something to stick to, so to speak.
After using this product for a week, I noticed that my makeup seems to stay in place much better throughout the day. In the late afternoon, my makeup looks much like it did when I first put it on. To be fair, I don't think my makeup is usually a mess at the end of the day – whether I wear the primer or not – but I do think it actually does keep it from smudging MUCH better than the other primers I have used in the past.
NARS NATURAL RADIANCE LONGWEAR MATTE FOUNDATION – I'm always open to finding new foundations that are available but, for the last year, I've used the same one because … well, I've been balancing a lot of travel and a new puppy and a move to a new home this year so, homegirl just hasn't had time to look into new foundations, hah! But, when NARS sends you their new line of foundation with little samples of every color imaginable [Please know this is not me bragging … this is me being like … wait … the NARS team knows who I am? What. Amazing.] … you give it a whirl! So, I did and y'all … you know how they have powder foundation? Well, this is a liquid that, when applied, FEELS like you just put powder on your face because of how light it feels. I love that! What I love even more, though, is the fact that it doesn't have LIGHT coverage. It's medium to full coverage with a semi-matte finish. Most full coverage foundations that are even remotely matte are THICK and feel almost heavy on your face. It also looks like you're wearing a mask and this foundation seriously looks so smooth and natural. Highly recommend!
BECCA UNDER EYE BRIGHTENING CORRECTOR – This stuff is magic. It makes you look like you've slept for 10 hours when you know for a fact it was only 4! You dab it on underneath your eyes, where those pesky dark circles live, after you apply your foundation and before you apply your concealer and it literally just brightens up that area and that orange tone negates the purple color that lives within the dark circles under your eyes. Crazy, huh? I just got it during the big Sephora VIB sale and it was by far my favorite purchase! It makes me look bright eyed and bushy tailed! ????
TARTE DOUBLE DUTY BEAUTY SHAPE TAPE CONTOUR CONCEALER – Since we're talking about brightening our under eyes, I felt like this was the perfect time to bring up …. probably my favorite product I discovered in 2017. Now, it's been mentioned – I'm sure – in a bajillion blogs but I'm new to this product so for me, I was like WOW, where has this thing been my whole life? Okay so … let me start by saying … I use two concealers. The first one I apply is the same color as my natural skin tone and it evens out my skin tone even more after applying the BECCA Under Eye Brightening Corrector. The second one is used to brighten up my under eye by using a much lighter color and I want it to STAY bright under there. I don't want it to soak in and just dissipate almost, which is what I felt like most concealers were doing when I would use them for brightening so, I decided to try this one and the formula is just …. everythingggg! It's thick, matte, blends well and STAYS. PUT. Of course you still need to set it with powder after applying but … literally stays put all day. I'm so obsessed with how good it is and can't recommend it enough!
COLOR I USE: FAIR
BATISTE DRY SHAMPOO – If you've followed me for awhile, you know that my least favorite thing on my beauty regimen to do list is wash my hair. I literally despise it and do my best to avert it for as long as I can. I usually end up caving at day 6 but I want to properly credit this amazing product for helping to support my aversion as well as it does. It clears up oil almost instantly, does NOT leave powdery residue on your fingers after you rub it into your roots [ew, this is one of my pet peeves] and leaves your hair feeling like day-after-shampoo-hair rather than day-4-without-washing-your hair-hair. I've given A LOT of dry shampoos a try over the past few years and this is always the one that I go back to. Most clear up the oil but leave my roots feeling thick and heavy. I want my dry shampoo to make me forget that I need to wash my hair and I've found that most make me want to wash my hair … which is hard to do. So, since I've never paid proper homage to this product – even though it isn't a 2017 discovery – I thought I'd include it because it is definitely a great buy!
HEADS UP: I've used the ones for whatever color your hair is and, personally, I prefer the Original. All day, everyday!
TULA FACE WASH – I guess maybe I shouldn't have included this product because I didn't technically discover it this year, however, it is one of my mainstays that I think are worth mentioning because they never do you wrong. Those holy grail products do deserve a call out from time to time and this facial cleanser is definitely my ride-or-die! It's leaves my skin looking fresh and new, washing away all of the grime left behind from the busy day. TULA products are also, historically, filled with probiotics, which are extremely good for your skin integrity, strengthening it and filling it with nutrients that it needs to produce healthy collagen. The only time I didn't use this was right after my laser procedures that I had this year. You can read all about that and why I used another facial cleanser during that time HERE.
SALE ALERT | Enjoy 20% off TULA products with code SEQUINS20
My daily skincare routine post is HERE. I'll be doing another one of these posts at the end of January / early February to give y'all all of my skincare routine updates!
TOO FACED MELTED MATTE LIQUIFIED LONG WEAR MATTE LIPSTICK IN 'CHILD STAR' – I could NOT be more obsessed with this liquid matte lip color formula. It dries quickly and dries without making your lips feel like they just turned into raisins … #praise! That's the worst! It feels weightless, like there's nothing there but air. The color I usually wear is called "Child Star" and is the most beautiful nude color. It's a nude that doesn't look pink or too brown. It's just nude and it doesn't wash you out, either. [Well, I guess I can't speak for everyone but … I don't think it makes me look washed out so, I'll just say that] I typically pair it with MAC's "Stripdown" lip liner and NARS' lip gloss 'Turkish Delight'. It's been my go to combo more often than not this year! Super easy, pretty and neutral … and goes with most things I wear!
And that does it for my favorites from 2017! I hope y'all enjoyed this post! Now, you share what beauty products YOU found and loved! I want to try some new things! 🙂 xo.