PHOTO #1 – Paris, France [original post HERE] | PHOTO #2 – Florence, Italy [original post HERE] | PHOTO #3 Annecy, France [original post HERE] | PHOTO #4 – London, England [original post HERE] | PHOTO #5 – Horseshoe Bay, Bermuda [original post HERE] | PHOTO #6 Firostefani, Santorini, Greece [original post HERE] | PHOTO #7 – Nice, France [original post HERE] | PHOTO #8 – Nice, France [original post HERE] | PHOTO #9 – Eguisheim, France [outfit details HERE] | PHOTO #10 – Florence, Italy [original post HERE] | PHOTO #11 – Colmar, France [original post HERE] | PHOTO #12 – St. Thomas, USVI [original post HERE] | PHOTO #13 – Florence, Italy [original post HERE]  | PHOTO #14 – Rome, Italy [original post HERE] | PHOTO #15 – Emerald Lake, Alberta, Canada [outfit details HERE]
Wow.
Pulling all of these photos has made me just in awe of the world. It's been SO fun to be out in it as much as I have been this year! Despite the exhaustion that traveling can cause, it simply lights my soul on fire! I absolutely love exploring new places and learning about other cultures. I am blown away at the fact that I spent 97 days traveling this year, which is a record! I have NEVER traveled that much or been away from home that many days in a row [aside from living in London last year but I considered London my home at that time because Fish was with me; home is wherever my dogs are, hah!]. I do think travel will continue to be a big part of my life this year but I'd be lying if I said it did leave me feeling extremely exhausted this year as I was also keeping the style aspect of the blog afloat, in addition to adding home decor and lifestyle content in whenever I could. There are still so many places I want to see and explore so … I say it'll be less but we'll just have to wait and see how it plays out. Fish and Chips are my babies and I miss them a lot when I'm gone so I'll likely have big chunks of time between trips like I did this year, but maybe not do as many long trips as I did this year. We'll see!
One of my biggest motivations for bringing more travel content to the blog and my social media channels is the fact that experiences are the only things you can buy that make you richer. When you think back on your year, your mind is naturally going to go to "that one time we went …." or "that weekend in …". Experiences are what fill up your cup, am I right? They're what make life sweet. I feel like the same is true for travel. It's an opportunity to experience a new way of life, culture and people who are more like you than you would ever believe! I love being able to inspire you through my style and make you feel more confident getting dressed in the morning but, are you really going to view buying a particular pair of jeans as a highlight to your year? No. I would hope you're not that shallow.
Personally, living in London last year inspired me to want to inspire y'all in a much more life-giving and fulfilling way, in a way that makes you feel like you're making the most out of this life! I want to encourage you to get out there and see the world! Choose a place and work toward planning a trip there! If that's not something you can feasibly do right now, then just do your best to make sure that you're doing what you can to invest in experiences! Don't look at how often I travel as a goal … just make it a goal to invest in experiences, no matter where that is and how long it takes you! Looking and feeling good in what you put on your body is a great thing but don't make that your mission in life. It's not about what's on the outside. Haven't we been told that since we were little? Work on what will make you better on the inside and that are life-giving. For me, that means nurturing my relationship with the Lord and experiencing new places with people I love.
Thank you for engaging in my travel content this year. I know a good majority of you follow me for style inspiration so I appreciate you supporting me and letting me explore new verticals to create within and share!
THIS YEARS TRAVEL RECAP
40 destinations in 7 countries on 2 continents
40 flights
50,070 miles flown
4 cars rented
2,182 miles driven
5 trains ridden
5,313 train miles ridden
2 bags lost then returned [not too shabby!]
FAVORITE PLACES
Bermuda was one of those pleasant surprises. Honestly, I didn't even know where Bermuda was when I booked my ticket to go there with my photographer friend, Kaylee, earlier this year. I thought it was in the Caribbean but, surprisingly enough, it's about 600 miles off the coast of North Carolina.
We stayed at the the Hamilton Princess Hotel & Beach Club and had the dreamiest view and experience!
It was a little chilly in March but it was sunny everyday so, once the sun came out, it wasn't so bad! However, I'd recommend coming between April – June or September!
There was COLOR everywhere we went! Every house is a different bright color like orange, turquoise, pink, etc! It was so cool to see a culture of people embrace color the way the Bermudians do!
Exploring it's many world famous beaches, like Horseshoe Bay and its pink sand pictured above, was certainly a highlight but I just loved meeting the local Bermudian's, who were always so happy and kind! For more on my trip to Bermuda, be sure to check out the Bermuda Travel Diary!
BERMUDA BLOG POSTS:
Long White Dress in Tobacco Bay
One Piece Bathing Suit in Bermuda
Burano has had my attention for awhile now as a place I wanted to see for myself thanks to Pinterest. It's a tiny island that is a short 40-minute ferry ride from Venice, Italy and it is SO colorful! It was so fun walking around and seeing just how many different colored homes there are. Check out my Quick Colorful Guide to Burano to find out why their houses are so colorful 🙂
BURANO BLOG POSTS:
The Packing List: Rome, Florence, Venice
Blue Stripes in Beautiful Burano
HEADS UP | The pink loafers I'm wearing in these photos can be found in ALL sizes HERE. I haven't been able to find them all year so lucky you! 🙂
Being able to experience Positano, a true travel bucket list location, for the first time with my best friend, Kristan, and our Mom's was really special to me. I travel quite a bit for work, with the aim to capture it and share it with you guys, which I love but does take a lot of focused attention. So, to not put SO much focus on getting 'all the best photos' and rushing around to experience as much as possible was kind of nice to just focus on ensuring that your loved ones were happy and got to do all the things they wanted to do on their well-deserved time off. We had a week there together and we did as much as we could, took our time, soaked it all in and enjoyed the time together.
Italy is my favorite country to explore and this little area did not disappoint! We went in late May and the weather was absolutely perfect! We had the best time chartering a boat one day and exploring neighboring islands off the Amalfi Coast, eating loads of authentic Italian dishes and enjoying their beautiful beaches! I hope to go back again one day because it truly IS magical!
NO BLOG POSTS FROM AMALFI COAST
[y'all know there are still some travel diaries that I owe y'all and this is area of the world is one of them! stay tuned!]
My white two-piece bathing suit details can be found HERE.
My halter dress details can be found HERE
So, I had actually never heard of Procida before my trip to Sorrento and Amalfi Coast this year. I was in the area for almost three weeks because I went for my friend, Sarah Kate's wedding, and then my best friend and our Mom's came over for a little vacation! During the first half of my trip, when I was with Sarah Kate and her family, she told me about this adorable colorful island called Procida and how she knew it'd be right up my alley! Since my best friend and our stepmom's wanted to do a boat day, I suggested we hop around to a few islands, including Procida, and they were all for it! So, we went and … Sarah Kate was right! How cute is this place? There's not TOO much to do there, I will say. We were only there for a couple of hours but I found it to be so happy and charming. Can you tell a theme for the kind of places I gravitate to at this point? Hah!
NO BLOG POSTS FROM PROCIDA
but the outfit I'm wearing can be found HERE
Okay, so Santorini is as dreamy as it seems! The people are hilarious and fun. The food is fresh and delicious. The hotel we stayed at [see travel diary] was accommodating and had spectacular views. We could not have asked for a better experience! It was probably my favorite place that I went to this year that I had NEVER been before … which was one of the criteria for this list. I had done Rome and Florence last year … and y'all know I love London but I wanted this list to be the places I went to for the first time and blew me away. DEFINITELY plan a trip to Santorini if you can make it work! It's quite the trek to get here but … well worth it!
SANTORINI BLOG POSTS
The Packing List: Santorini, Greece
Exploring Pyrgos in Denim Romper
Gray Maxi Under $100 at Vlychada Beach
White & Blue Jumpsuit at Santo Winery
Blue Maxi Under $100 in Santorini
FAVORITE EXPERIENCES
• Early morning walk through Rome to experience the Trevi Fountain with less than 10 other people – If you've ever been to Rome, and seen the Trevi Fountain in person, then you are well aware of the crowds that surround and stick to this fountain like bees to honey during the day. This may sound strange but I had wanted to see the Trevi Fountain in person since I saw the Lizzy McGuire Movie, years ago, when I was in high school, so seeing it for the first time on my first trip to Rome last September was pretty surreal and incredible. Like … I cried. Haha! But I am not one for crowds so I didn't really enjoy it, to be honest. I'm a pretty calm person and I like serenity and no fuss. So, I told myself that if I ever came back. I was going to get up EARLY and just come sit and enjoy it. Listen to the water and just bask in the beauty of what's in front of me. So, Victoria and I added Rome into our itinerary for our April trip and that's what we did one morning. [She's a trooper. Honestly, neither of us are morning people but we knew this would be worth it!] It was one of my favorite travel experiences of the year by far! We shared the small piazza with, maybe, 8 other people. Yes, 8. It was glorious! Highly recommend if you're over the crowds / don't like crowds, in general, and want to enjoy these big cities in a quiet way.
More photos from our early morning at the Trevi Fountain HERE.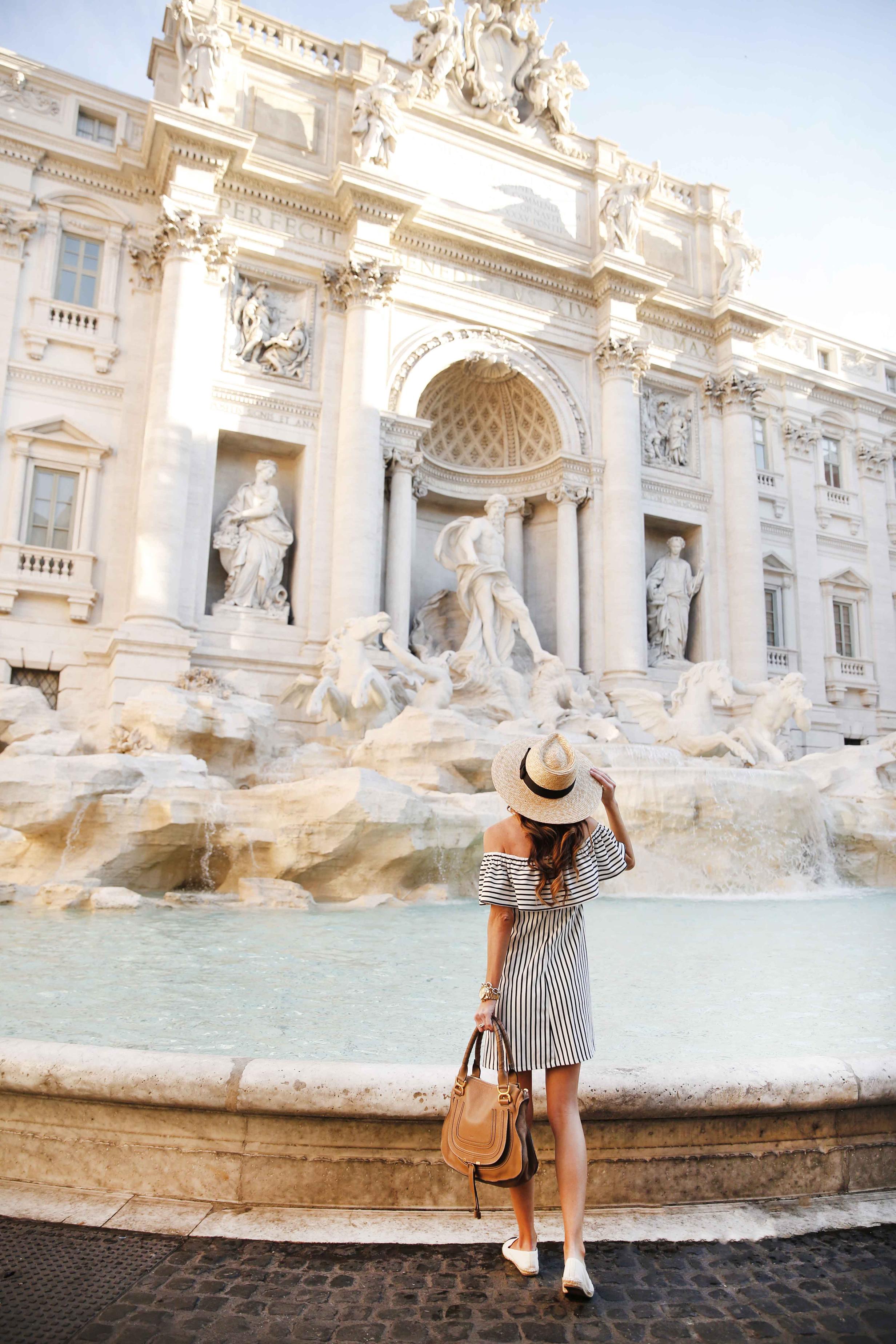 • Listening to the rocks fall over on to each other as the waves wash over them at the beach in Nice, France: Victoria and I got up early one morning to venture down to the beach before the crowds. It was so beautiful and peaceful. We went in April so it was still cool in the morning but the heat from the sun told you it was going to turn into a scorcher. The rocks are not the most comfortable to walk on but I wanted to get as close to the water as I could without getting in. So, I walked along the shore with my shoes on and just listened to the water. Victoria was off doing her own thing, something I love about traveling with her. We're both really independent and, although we LOVE our time together, we also are keen on just enjoying places in our own way. It was such a beautiful day and I started thinking how I wish I had a book to read right there by the water and a thought hit me … why are you always looking for things to distract you from what's in front of you? I felt God was screaming 'LOOK AT THIS. LOOK AT WHAT'S IN FRONT OF YOU. And you want to read a book?' Of course, he's loving so he wouldn't scream 😉 But I do think it was His way of encouraging me to be present and enjoy the moment for what it is and to be happy with what you have and what you don't. It made me a little ashamed that I've fallen victim to this digital age which has encouraged distraction and disconnection. So, I sat and I took everything in in those moments that I sat there and, to this day, I can still hear the sound of the rocks clanking against each other as the waves rolled ashore. It was probably one of the most relaxing mornings I had all year. I think we all need to sit without anything but what's in front of us more often. This morning, in particular, showed me that if we did, we'd have more experiences and memories to look back on that will actually mean something.
You can listen to the rocks for yourself HERE. This is from my Snapchat.
Full blog post with outfit details HERE
• Dog sledding in Whistler, Canada – If you've followed me for any length of time, I'm sure you've gathered my love for dogs, most especially mine, but others', too! So, when Whitney and I went snowmobiling in Whistler earlier this month and learned they also offered dog sledding, we both looked at each other with the same look in our eye. Before long, we were booked for the following day! It was one of my favorite experiences of the year because it was incredible seeing dogs do a job that they just clearly LOVE to do. These dogs love the snow and love to run. Some of them would hop up and down because they were just so excited to get going! We had cuties running next to us on their own, that weren't in a harness to pull, because they just wanted to come along. The experience just brought me so much joy and it looked like the dogs were happy to have us along on one of their rides. My wish for all of you is that you find jobs that make you as happy as these babies and you do it with as much passion and joy!
• Gondola ride along the canals in Venice – This is just one of those bucket list items that just so cool to finally experience in real life. Venice is unlike anywhere I've ever been. It almost feels like you're on a movie set or a ride at Universal Studios because it just didn't seem real. Look how beautiful the view was at the end of our ride!
• Unexpected drive through Switzerland to get to another area of France + the most delicious fondue meal in Lausanne – Victoria and I drove from Strasbourg, France down through the Alsace region of France, which borders Germany. Our last stop on our road trip, however, was going to be Annecy which is much further South and our route on Google Maps took us through Switzerland, which is just below Germany. I was stoked because I had never been to Switzerland before and, in the Fall, I just had a feeling it was going to be a BEAUTIFUL drive. And, I don't want to toot my own horn or anything but I was right. I wish I could say I had a lot of beautiful Fall foliage photos to show you but, because the drive was going to be a long one, and we had got a late start on the road because we were enamored with how charming Eguisheim [a little town in France] is, we really just wanted to try and get as far as we could before dark. We made it to Lake Geneva, which indicated we were almost there, and we decided to stop in Lausanne for gas and a quick bite. A friend of Victoria has a brother who is studying in Lausanne and he gave us the most amazing dinner recommendation. It's a place called Cafe de L'eveche in Old Town Lausanne. Victoria and I shared a gouda and swiss fondue to start and then we each had a main that was to-die-for! Mine was shrimp risotto and y'all … it was better than any risotto I've ever had in Italy. It was so rich and creamy! So, this made my top 5 experiences this year because it was completely unexpected. The drive was gorgeous and the food was so good. I was a happy girl after three hours in Switzerland! Definitely have to come back!
Don't mind that my eyes are closed! I just think it's a cute / funny photo of Victoria and I … a little behind-the-scenes peek at our adventures. She always does an incredible job shooting for the blog, whether it's fashion or travel related. She's also the silliest and sweetest human on the planet and I'm so thankful to have her along on these trips with me! 🙂
You can see a couple of snaps from dinner that I never shared on IG stories HERE and HERE.
You can see little bits of the view and a funny video of me driving through a narrow tunnel HERE and HERE.
• Received a free ticket to see Hamilton in London from a complete stranger – Okay, so I was going to stop at five but, last night, I had one of my favorite experiences of 2017. Seeing Hamilton in London was probably the ONLY thing I had on my list of things I realllly wanted to do while we were here. I am perfectly content walking around and popping into shops and eating at new restaurants. I can do that the whole trip and have a great time but, since the London production of Hamilton opened last week, it was definitely on my mind of things that I'd like to happen if at all possible. So, last night, I asked Whit if she would mind if we could pop over to the theater just to see what ticket availability looked like. The guy at the box office said they JUST sold their last two tickets for the evening and he didn't have anything available on the one night in January that we'll be here before we head back. Whitney has seen it in Chicago so I know she would like to see it but was also a little indifferent but I left feeling so bummed. We went and grabbed a pint and we started talking and, even though I had moved on from my blues, Whit suggested we just go back by one more time before the show starts just to see.  We asked a lady if we could get in to speak to the box office guy again and she was like 'actually if you're looking for tickets to purchase for tonight's show, your best bet would be to wait in the return line around the corner'. Essentially, this line is for anyone who doesn't have a ticket who wants to buy any tickets that become available before the show begins from people who don't want their ticket anymore. So, we're waiting and it's COLD. The wind is howling and the hand warmers in my pockets and the thought of seeing this show in London are the only two things keeping me from being like … forget it! This could be a really long story but essentially …. 20 minutes before the show, Whitney and I still have three people in front of us [it was 14 at one point] … this guy comes out with FIVE tickets at £200 a piece and asks if anyone needs tickets and we're like uhhh we all do so he tells the ticket lady to just give them to the next five people FOR FREE. Like … what? How is this even happening? Whit and I had to sit separately but my ticket was front row, on the second level, CENTER! I was like God, you are truly showing off right now! I had the best time … even if I sat next to strangers. It was the best, most unexpected gift ever! 🙂
2017 has been such a fun year in regard to travel. I have every intention of doing a style related 2017 wrap up post but it's pending due to my current travels! So, stay tuned for that … that and my New Years Resolutions will likely just hit the blog a little after the New Year, whenever I can get them both done 🙂
Happy New Year everyone! Thank you for all of the support you've given me this year! I am so thankful for you! Truly! 
Special thanks to Kaylee Labor and Victoria Metaxas for your friendship and for traveling with me on trips and projects this year! Couldn't have done it without you! xo.