Between the clear blue glacial lake and the stunning snow-capped peaks of the Julian Alps, it's easy to see why people would want to come to Bled, Slovenia for a romantic getaway or some rest and relaxation. But when you insert an iconic church nestled perfectly on the tiny island located in the middle of the lake and an 11th century castle situated at almost clinging to the top of a 350 foot cliff, you've elevated this place to fairytale status! The best part is … for as many times as I've seen this place on Pinterest over the last few years … it's just as stunning in person, if not more! Although my time there was short, I'm excited to share what I can tell you about this little alpine village.
Let's start with how long I was in Bled so you have a better gauge as to how much you can expect from this travel diary in regard to recommendations:
LENGTH OF STAY: Less than 24 hour
This was the shortest stop on the road trip I took from Eastern Europe with my friend, Whitney, starting in Budapest, and making our way into Central Europe by venturing to Lake Bled, then up to Salzburg, Austria and ending at Neuschwanstein Castle in Germany, and flying back to London [our international hub] from Munich. We did this in a week so we had to do them all fairly quickly but, the one that warranted being the quickest stop was Lake Bled so here we go! 🙂
Whitney and I hadn't booked a place to stay for Lake Bled until, quite literally, the day before we drove to Bled. We looked on Priceline to see what was available and if there were any last-minute deals. The location of Villa Istra captured our attention initially but we loved that it also seemed very quaint and cozy. It was a little pricer than we would normally want to pay but with the deal we found, and consider the fact that we were splitting it so we reasoned it was pretty affordable when we thought of it that way. For so many reasons, we are really glad that we did!
Located on the south side of the lake, Villa Istra is a family owned boutique hotel suitable for couples, families and groups with many rooming options. Whit and I stayed in the Penthouse Honeymoon Suite, but we didn't care! You could tell it had been renovated within the last few years and, while it wasn't overly swanky or fancy, it was comfortable, nonetheless. We loved having so much room with an up and downstairs area and we had beautiful lake and mountain views. We caught the most beautiful pink sunrise on our only morning in Bled. We slept long and well the night before. No, really, we had been gogogo for so many days at this point, getting as much into our few days in each place as possible, that Whitney and I hit a wall at the same time when we got to Bled. We went to bed at 7:00PM and woke up at 5:00AM, ha!
A few things are worth nothing about Villa Istra:
• We were greeted by a sweet Slovenian man, Frenk, who owns Villa Istra and cooks their guests breakfast every morning.
• There are lots of stairs and no lift so be aware of that if you packed too much … like I always do!
• Free parking is available for guests although the parking lot is veryyyy tiny!
• It's a short drive / walk into town or anywhere that you'd want to go in Bled.
Villa Istra isn't the nicest place you could stay in Bled but it is a comfortable and clean one with hospitable staff and located perfectly outside of the main town area, leaving you with a peaceful and quiet experience.
DROVE UP TO BLED CASTLE
Said to be the oldest castle in Slovenia, first mentioned in a donation deed in 1011, Bled Castle clings to a cliff almost 350 feet up and overlooks the stunning Lake Bled, island and all!
** unfortunately all outfit details are sold out at this time except THESE leggings, THESE fleece-lined leggings underneath and THESE sneakers **
Bled Castle is a popular tourist attraction in Slovenia. You'll have to pay €3 for parking and a small entrance fee of €11. I definitely think the view is the best part!
WALKED THE FOOT PATH SURROUNDING THE LAKE
There's a wooden footpath along the lake that you can walk at a leisurely pace in under two hours. We could only opt for a short walk along the west side of the lake which, thankfully had the best vantage point. I'm confident in assuming that is the dreamiest part of the walk, especially for photographers because you can get the island with the Church of the Assumption of Mary and Bled Castle in the distance behind it.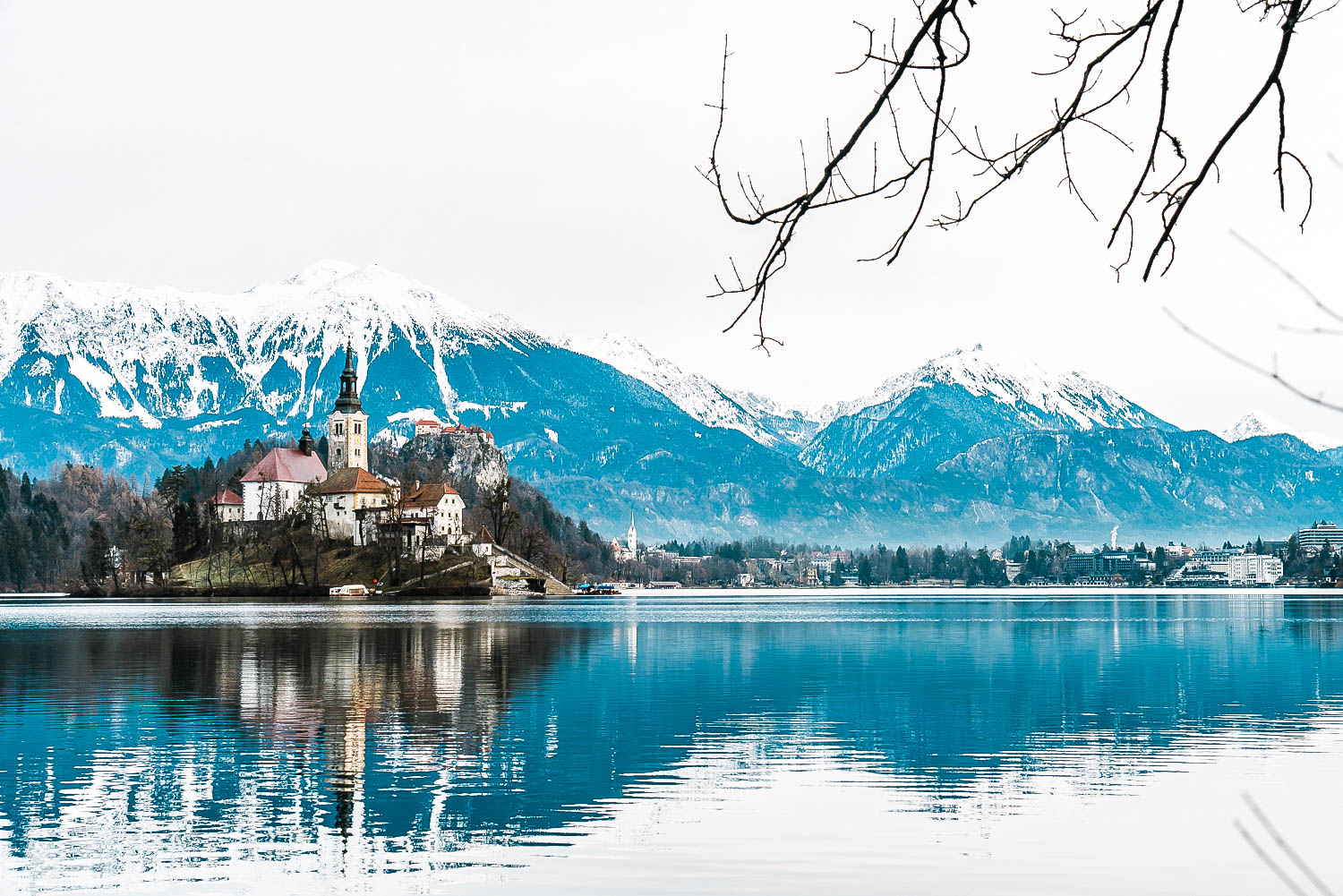 We were leaving for Salzburg on this particular morning, after our hike up the Ojstrica Trail, so I'm in comfortable travel clothes in this photo – because we literally took it as we were about to leave town … our car on the side of the road and everything – but, I can assure you … it was freezing! You definitely need to bundle up if you in the Winter, like we did on our hike!
WISHED WE COULD TAKE A BOAT TO THE CHURCH
With a lake as beautiful as Lake Bled, I'm sure it won't come as much of a shock to you that it is one of the worlds' most renowned rowing centers having hosted many national rowing events like the World Rowing Masters Regatta in 2017 and the World Rowing Cup in 2010 and 2015. But, you don't have to be a pro to get out on the lake! There are some small hotels that rent out row boats during the day to allow you to piddle around the lake or head over to the Church of the Assumption of Mary. Ask your hotel concierge for more information on where to rent these boats!
We wished we had had time to take one of these out and around the lake!
HIKED UP THE OJSTRICA TRAIL [ON OJSTRICA HILL] TO GET THE BEST VIEW
One of the greatest discoveries we made when prepping for our stop in Bled was that there were even better vantage points than just the one at Castle Hill. We didn't have a lot of time here, as I mentioned, so we had to opt for an early morning wake-up call to venture up to one that rises above the western shore of the lake before needing to hit the road for Salzburg. So, we put Ojstrica Trail into our GPS and did just that!
This hill itself is over 2,000 feet high but the trail is not overly difficult, however, it does have its challenges. The start to the trail is hard to find. I recommend putting the trail in your GPS and going to park at the parking lot just north of the entrance. You'll see that the trail head is marked but it's a small sign. Start there but beware that it's not a super clear one the entire way up. It can also be pretty steep in some places so proceed with caution and wear proper footwear if it's been raining or snowing.
To be honest, Whitney and I had difficulties getting to the top. We thought we were on a clear trail but our GPS kept telling us we were going the wrong way. We likely would have kept hiking up if we had all day to get there if our initially trail wasn't the right one. Regardless, we found the tree stump and this view and figured it was a pretty good one to sit and take in for a few minutes. If you do continue on the trail [and I hope you would], you'll know you're at the top when you see a bench and you have a clear view of the lake. There are no trees in front of you.
The hike was quite the feat. I'm not going to lie. It got my heart pumping and blood churning. Needless to say, I enjoyed a large and hearty breakfast after this!
Some other things that you could do during your time in Bled ]that we weren't able to get to] are:
• Visit the Church of the Assumption of Mary on the island in the middle of Lake Bled – The church as it stands in its current form has been around since the 17th century but there has actually been a church on the island since the 9th century. It has a grand 99-step Baroque staircase, built in 1655, along the South side of the island that leads up to the church. There's a small fee [€6 for adults; €1 for children] to enter the clocktower at the church. To get there, you can either rent a rowboat or take a Pletna boat, which is similar to a covered gondola that can take a good number of people. Be sure to ask your hotel concierge for more information about this but I believe that the Pletna departs frequently throughout the day and allows you to meander through the church grounds for 30-minutes. It costs approximately €12 for a ticket on the Pletna and €15-20 to rent a boat for an hour.
• Visit the Vintgar Gorge – Guys, just take a look at the Pinterest search I just did on this place after reading up on it! It is absolutely stunning and, if I had gone in the summer and had a few more days to explore, this would have definitely have been ticked off my list! The emerald green water within the gorge and the waterfall just look to die for! The wooden walkways along and across the river have made it all the more popular!
[source]
We arrived in Lake Bled after lunch one day, stayed the night then left around 10:00am the next day so we only ate out at one restaurant. Our breakfast was provided for us at our hotel, and it was delicious!
This little restaurant is nestled on the shores of Lake Bled, just a short walk fromVilla Istra, and serves traditional Slovenian fare with an emphasis on meat and fresh seafood dishes. It was recommended to us by the Frenk, the man who runs the hotel. I enjoyed a tuna dish and the most delicious chocolate banana desert! Our waiter was attentive and was always there to tend to our needs. He also spoke really good English, which was great for us! And wine-o's! They have an extensive wine list with wine local to Slovenia and beyond! We were really impressed, overall!
And that about does it for this recap of my short trip to Lake Bled, Slovenia! It has been a destination on my bucket list after discovering it on Pinterest back in 2012/2013 and I never, ever would have dreamed that I'd go one day. I was pinching myself while I was there. It was so picturesque and serene. I highly recommend it as a day or two-day trip if you are planning a trip in or around Slovenia sometime!
As always, please leave any questions in the comments section below and I'd be happy to get back to those soon! xo.