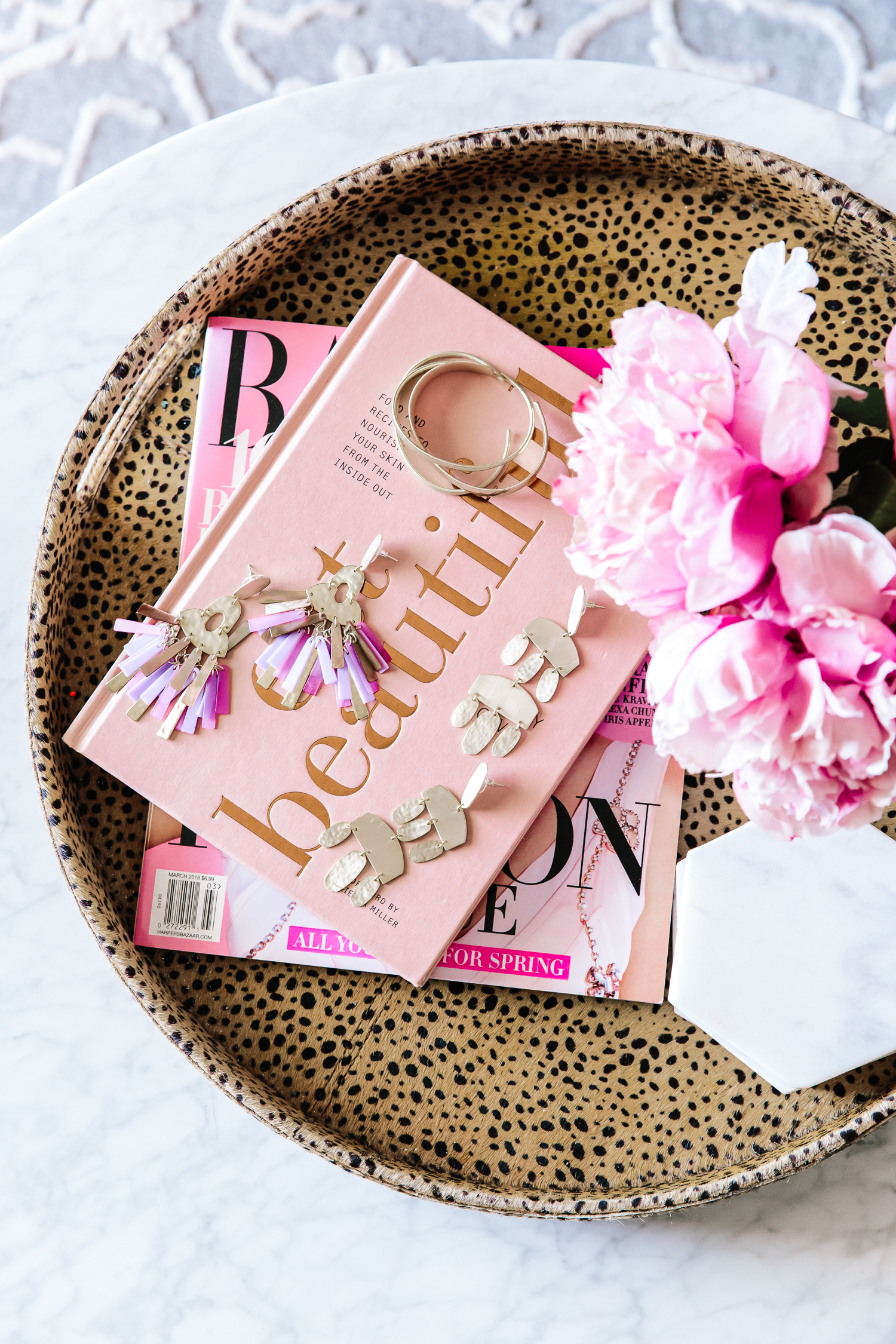 After a dreary Winter, Spring is THE best time of year for a little refresh! It is so fun to start infusing bright new pieces into your wardrobe and bright blooms around your home! As I was thinking about what areas of my wardrobe needed a refresh, my jewelry selection immediately came to mind. I feel like I always wear the same pieces, and y'all may notice that I have my few main staples and I don't venture outside of that very often. When the Kendra Scott Spring Collection launched last month, I was immediately smitten and knew that it was going to allow me to achieve the refresh I was looking for!
In what ways did I want to refresh my jewelry selection? Let me tell ya!
Every Spring and Summer, I like to have a good pair of statement gold earrings. These are the best compliment to my bright pieces, especially hot pink, papaya, and orange. I put myself on the wait list for this amazing pair of gold earrings but, then I found these that I think are just as cute and achieve the same goal.
I have always had an affinity for bangles but my wrists are pretty tiny so finding bangles that fit has always been a challenge. I was excited to see that the new Kendra Scott Spring Collection has a bangle set that is adjustable. They come in gold, silver and rose gold to fit everyone's personal style. My friend, Kaylee, was over the other day checking out my new Kendra Scott pieces and she said these bangles were the one piece from the collection that she couldn't wait to get for herself! They're so cute and I think they compliment almost any outfit!
I always love to incorporate statement pieces that have a pop of color to compliment the colors within my outfit. For example, I love wearing turquoise this time of year! If we went back through the Sequins & Things archives, it would be hard to miss my affinity for this color. It compliments so many colors so well like light pink, white, mustard, orange, beige and burgundy. I decided to purchase this pair of turquoise earrings from the Kendra Scott Spring Collection and I can't wait to style them over the course of the next few months. As seen above, I also snagged these beauties which will elevate looks with colors like violet, orange and light green.
Something I really love about all of the pieces that I have from the Kendra Scott Spring Collection is that ALL of them are so lightweight. In terms of earrings, you will not ever feel like they're pulling on your earlobes. The pink, brown and purple statement necklace featured above is so beautiful and doesn't pull on my neck at all! Of course, this is important for comfort but, for me, this is really important for travel. I can't bring a lot of jewelry with me and what I do choose to bring really does need to [1] not take up a lot of space and [2] be really lightweight so, I'm pretty confident in assuming you'll be seeing me style some Kendra Scott pieces on my upcoming trips!
So, if you're looking to expand or refresh your jewelry selection this Spring, be sure to take a look at the Kendra Scott Spring Collection! To take a quick look at what the collection includes, here are some of my favorites:

Have you purchased anything from the collection yet? Let me know which piece you've purchased or which one you have your eye on!
Thanks for stopping by today, lovelies! xo.