Benvenuti a Roma!
Rome was such a dream to visit. I've been there twice now, so I hope you find this post really helpful if you're planning a visit! In this post, you'll find some fun facts about Rome, where we stayed, what we did, what I wore, and where we ate with the hope that it'll help you plan your future travels!
• There are public water fountains all throughout the city. Rome supplies its fresh drinking water from ancient aqueducts.
• Many churches, including St. Peter's Basilica and the Sistine Chapel, require shoulders and knees to be covered before entering. Some smaller churches may not turn you away but, out of respect for where you are the culture, you should do everything you can to follow this request / rule, especially within Vatican City.
• Every night, about €3,000 is swept up from the bottom of the Trevi Fountain. The money is donated to Caritas, a Catholic charity, which uses the money to provide services for needy families in Rome.
• The Romans can be thanked for inventing concrete. They used it to create many structures such as the Pantheon, the Colosseum and the Roman Forum.
• We can also thank ancient Romans for the concept of shopping malls. They built the first-ever shopping mall between 107 to 110 AD. Mercati di Traiano, "The Trajan's Market" was on multiple levels and sold a wide range of goods and groceries.
• Modern Rome has 280 fountains and more than 900 churches.
• Ancient Romans were VERY superstitious and feared anything to do with the left, which is why their word for 'left' was 'sinister', giving us the word's modern meaning.
• The month of January is named after the Roman god of beginnings, Janus, who has two faces – one looking back to the old year, and one looking forward to the new one.
What to pack for a trip to Rome is tough! It definitely depends on the month you're going. The first time I went, it was Labor Day Weekend so the very last weekend in August / first weekend in September. And, it was H O T! Last year, I went in April and the mornings were REALLY chilly but, during the day, when the sun was out, it was absolutely perfect! No matter what time of year you go, I'd recommend good walking shoes, like APL sneakers, a lightweight midi dress, a wide-brim hat and a tote bag with a zipper.
Be sure to check out THIS post and THIS post to help you pack! You can find a list of all of the outfits I wore in Rome in the Italy Travel Guide.
Choosing where to stay in a city such as Rome can be overwhelming. For the two previous trips I have taken to Rome, I chose to stay in apartments. The first time I went, I rented an apartment 15-20 minutes outside of the city that belongs to a friend of a friend. It was perfectly fine but, the way to go is to stay as central as you can. It's inevitable that Rome will leave you both mesmerized and exhausted so it's important to conserve energy where you can. I found to be a bit of a nuisance, not to mention stressful, to have to figure out transportation into and out of the city each day. This is just my personal experience and opinion, though!
Last Spring, Victoria and I stayed at THIS three bedroom, three bathroom apartment via One Fine Stay, a luxury apartment rental service with properties all over the world! What makes them a little different than most rental companies is that each of the properties listed onOne Fine Stay's website has been personally inspected for quality by their staff. This was my first time renting an apartment of theirs and it did not disappoint!
Here are some of the pro's and con's from our experience:
PROS
• The location of this apartment was probably what I loved the most about it. It could not have been more ideal. We were a 3-minute walk to Piazza Venezia, a 10-minute walk to the Colosseum and a 10-minute walk in a different direction to the Fontana di Trevi. 
For anyone who has never been to Rome, here is the Piazza it is close to:
• One Fine Stay supplied us with a pre-paid cell phone with local service that we could carry with us throughout the day to make local calls and utilize local app's like It Taxi, where you can order a taxi from wherever you are, like Uber. This is super helpful in case there are any emergencies or you need to easily get in contact with a member of staff at One Fine Stay. Although we didn't have any issues, it was a comfort to us knowing we wouldn't have any problems getting in contact with someone in case we needed it.
• A member of One Fine Stay's team welcomes you in person to your apartment and a team member is available 24/7! Our team member was kind, funny and extremely helpful.
• Victoria and I loved how spacious this apartment was! We had had a busy trip by the time we got to Rome and it was so nice to each have our own rooms and sprawl out in our own large comfy bed! We slept SO good in Rome!
CONS
• The decor in this particular apartment is extremely expensive. It was always a little unnerving walking around. I'm clumsy from time to time, especially in a place I'm not completely familiar with. This didn't completely ruin our stay by any means but it was a little bit of a negative having to watch our step more than normal.
OTHER NOTES
• PARKING: There is no mention of parking on the listing for our apartment we stayed in but members of the One Fine Stay team could certainly answer this question for you if you are brave enough to rent a car while in Rome!
• COST: One Fine Stay offers apartments at a variety of price points. They have listings as low as $100 a night and as high as $5,000 a night so whatever your budget is, you should surely take a look at your options on their website! Our apartment is approximately $510/night, but it can sleep five people so if you're going with a group of four or five and you split it, that's $102-$128/night, which is cheaper than most hotels. If you're looking for something even cheaper, but just as nice, I just found this adorable apartment for $350/night near one of my favorite squares, Piazza Navona. It sleeps four people with two bedrooms and two bathrooms. So, don't look at the one we stayed in and think there aren't options for everyone because I promise there are! 🙂
• WIFI: Wifi is available and works great in this apartment.
• LOCATION: Rome is divided up into Rione's, or districts. Our apartment is located in Rione I, an area offering a collection of art galleries and wine bars to the young tourists visiting the Eternal City.
• AGE RESTRICTION: The home allows babies but not children or toddlers due to the number of precious and expensive worldly art pieces located throughout. The lead guest must be at least 25 years of age to book this apartment.
• AMENITIES:
– This home has air-conditioning in the sitting room, all bedrooms and kitchen.
– There is a full kitchen with a coffee machine, kettle, dishwasher, oven and microwave. The bathrooms include towels, toiletries and hairdryer. There's also a television, ironing board & iron, as well as a washing machine.
• HEAD'S UP:
– There is a staircase leading up to the apartment, which is on the second floor up of the building . No elevator is available. Thankfully, our One Fine Stay team member kindly helped us with our luggage.
– When you arrive, the One Fine Stay team member who will welcome you to the apartment will request the lead guests' photo I.D. and secure a €1,000 hold on a credit or debit card that will be released after you check out and the team is able to confirm the apartment has not sustained any damages. This is for all rentals.
– All homes in Rome have a limit on the amount of power that can be used at one time (3 KW). Using too many appliances at the same time can cause a short-circuit. This is for all rentals.
Behind London and Paris, Rome is the third most popular destination in the European Union and draws an average of 7-10 million visitors a year. With tourism being such a large part of the economy in Rome, you will find many Italians speak English, although it's not safe to assume everyone will. It's common travel courtesy to try and know a few phrases in the primary language of the country you're visiting! Here are the ones that would be good for you to know when venturing to Rome!
Grazie – Thank you
Prego – You're welcome! or Please, come in!
Mi scusi – Excuse me/pardon me
Non parlo molto bene italiano – I don't speak Italian very well
Parla inglese? – Do you speak English?
Potrei vedere il menu? – May I see the menu?
Quanto costa? – How much is this?
Mi porti a questo indirizzo, por favore – Take me to this address, please
Mi chiamo Haley! – My name is Haley!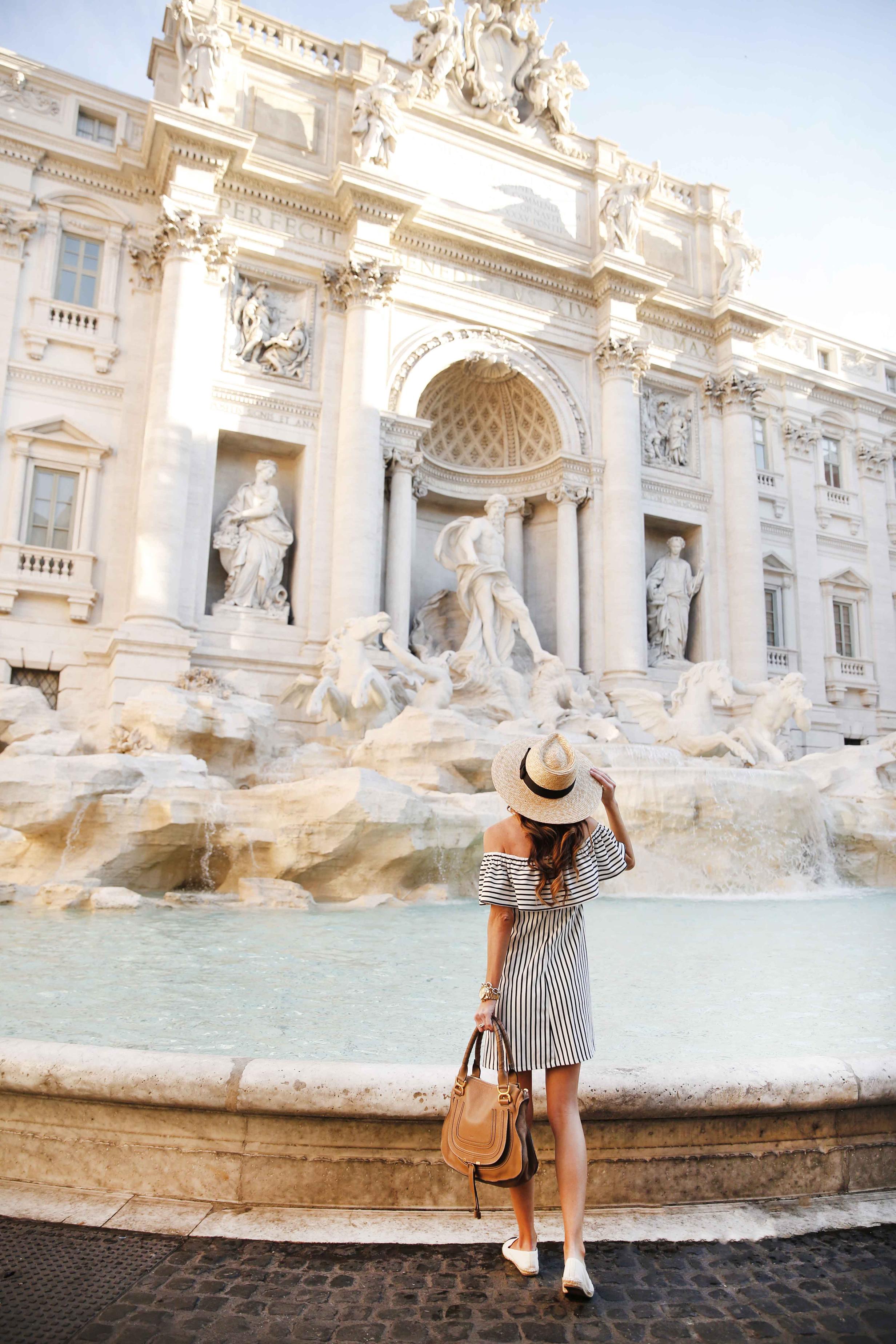 It could also be helpful to know the following 'places' you may need to refer to when speaking with locals:
Metropolitana: Subway
Treno: Train
Macchina: Car. Also known as auto
Autobus: Bus
Aeroporto: Airport
Taxi: Taxi
Ristorante: Restaurant
Albergo: Hotel
Banca: Bank
[Be sure to ask for a bancomat if you're looking for an ATM]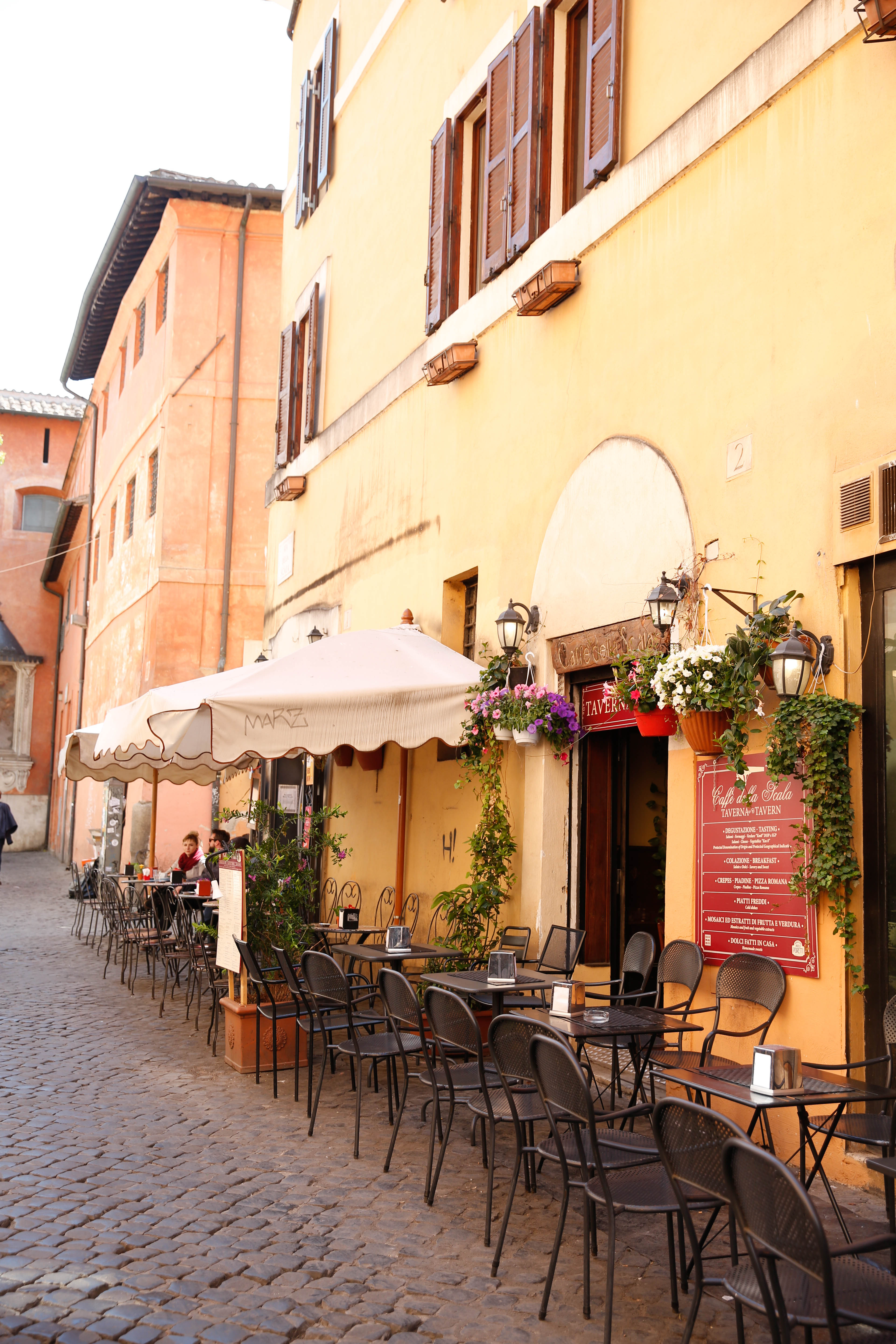 While you may think that since you're in Italy, every restaurant is going to be delicious. Sadly, this is not the case, especially in and around the most popular tourist spots. Although it's impossible to know exactly where you're going to be when your stomach pangs start raging, but it is important to do at least SOME research before your trip to make sure you're hitting up the best, if not 'decently good', Italian eats. Now, I have only been to Rome twice and both of those trips were pretty short so I am in no way the know all, be all when it comes to restaurants in Rome. I can only share my personal experience so some will be good reviews and others not so much. Be sure to do a little more research to get a little more insight as these don't span across the entire city.
Here we go!
OSTERIA DA ZI UMBERTO [Trastevere] – Victoria and I sat down at a table outside for lunch here one day. It was so nice to enjoy a meal away from the hustle and bustle of the city center and recharge after spending the morning walking around. Get the cacio e pepe! It will not disappoint!
Piazza di S. Giovanni della Malva, 14
TAVERNA TRILUSSA [Trastevere] – My ex-boyfriend, Ben, and I tried this spot after we got a bunch of recommendations for it back in 2016. I was a little nervous, if I'm being honest. You'll know if you're in a traditional Italian restaurant if there isn't any English translation and the dishes aren't the ones you're used to seeing here in the States. All I can do is encourage you to just order something you think you might like because, in my experience, it's ALWAYS good. That's what happened at this place. I don't even remember what I got because I wasn't taking notes on that trip but I do remember that Ben and I left extremely full and happy with the recommendation! Highly, highly recommend! Call ahead if you can!
Via del Politeama, 23/25
DAR POETA [Trastevere] – While I was in Rome, I asked for suggestions on where to eat on Snapchat and got quite a few recommendations for Dar Poeta, a popular pizza spot in the Trastevere neighborhood just outside of the city centre and down the road from Vatican City. I would say that it is good but I didn't feel like it lived up to the hype that pushed us to check it out! I don't see a spot on their website to reserve a table so try and call ahead because there will inevitably be a wait, especially for dinner. I'd also encourage you to potentially try this hotspot for lunch, instead, maybe after your morning tour of the Vatican.
Vicolo del Bologna, 45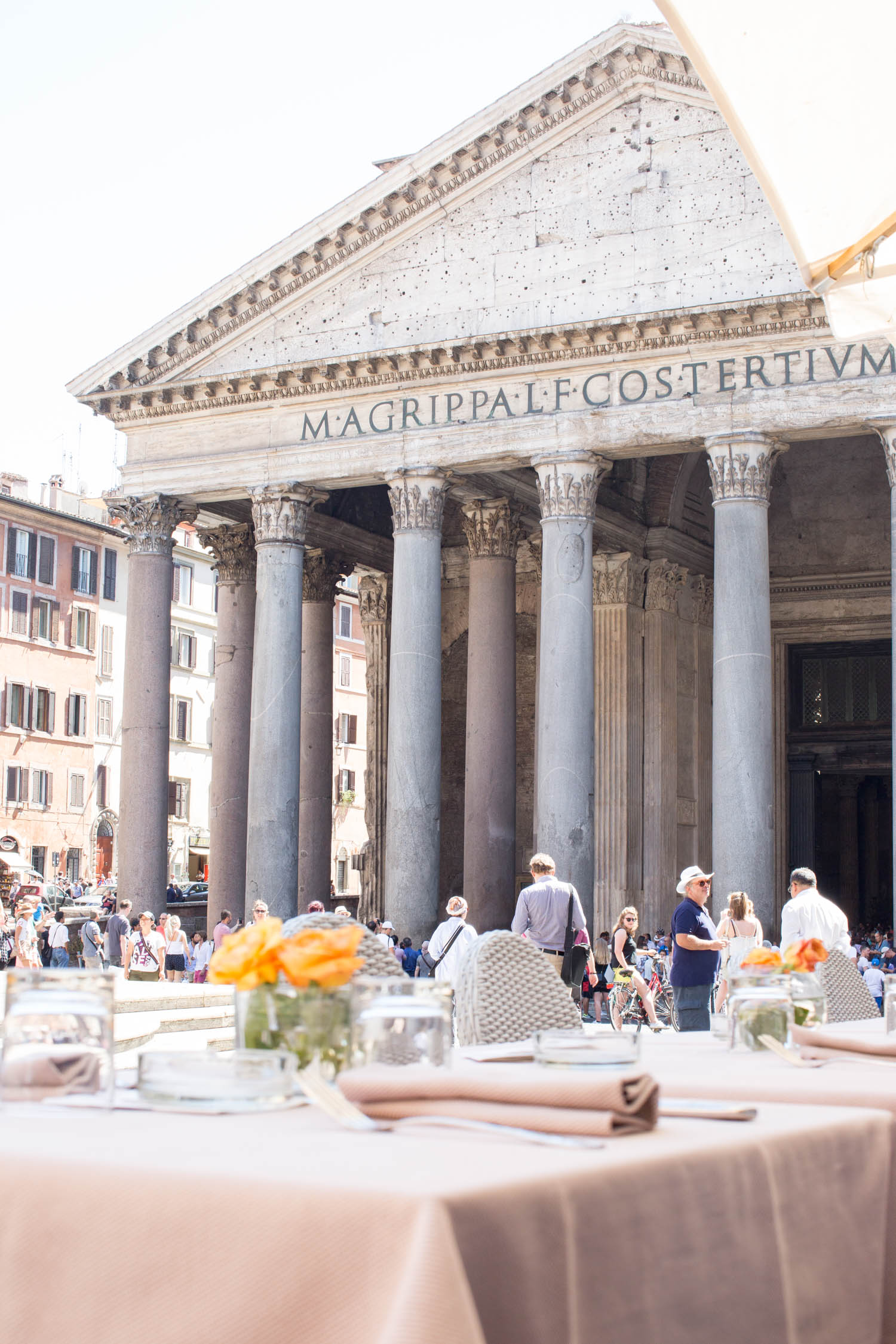 DI RIENZO [near Pantheon] – This little spot is in a charming piazza with a stunning view of the Pantheon. Truth be told, my ex-boyfriend and I only stopped here for an afternoon pick-me-up in the form of a cappuccino but … I posted the above photo in an old Friday Five one time and my friend, Whitney, texted me freaking out because I guess she makes it a point to stop here for a meal every time she's in Rome because it's so good! SO … I felt like it was worth mentioning … seems like if you stop to rest your feet and take in the view and a cappuccino or indulge in a full meal, you won't leave disappointed! 🙂
Piazza della Rotonda, 8/9 
LE LANTERNE [near Trevi Fountain] – Okay, so this spot …. is interesting. I've eaten here twice. Ben and I stopped here for lunch one day and we were both happy with what we got. I got fettuccini with prawns and pesto. I believe Ben got a pasta dish with bolognese. However, when Victoria and I went last Spring, we were both very disappointed with our meals. I got the risotto and it was, essentially, regular rice with a sauce. True risotto is thick and creamy. This was not and I couldn't believe that an establishment in Italy got it so wrong. So, proceed with caution on this one!
Via della Pilotta, 21A
TRATTORIA CECIO [near Roma Termini, the train station] – Victoria and I made sure to leave our flat with enough time to grab some lunch on our way out of Rome. We decided to pack our bags and head to Roma Termini and just stop in a place nearby. Lugging your luggage around is obviously not fun so we asked our taxi driver to drop us near a place that might be good. Thankfully, the place he chose was excellent. Trattoria Cecio offers traditional Italian fare and had the best house white wine I have ever had! Try the lasagne here! It's excellent. Oh, and ask for Tonino. He's so fun to talk to!
Via Principe Amedeo, 104
Rome is the city with the largest number of monuments in the world, so it's hard to ever experience boredom as well as fit everything in to one trip. It's important to make a list of your absolute must's and go from there! I'd say a 4-5 day trip is the perfect amount of time to feel like you got around to 'enough', so-to-speak.
Here are some things that I have done during my time in Rome that I personally enjoyed!
• TAKE A TOUR OF THE VATICAN & SISTINE CHAPEL SANS THE CROWDS: During my first trip to Rome, my ex-boyfriend and I booked tickets to tour the Vatican and Sistine Chapel. I'm not big on crowds or lines so I coaxed him into agreeing to a 7:45AM tour with an Exclusive Early Access Ticket through TickItaly! They are €55.00 and I'd argue that it is well-worth the little extra to be the first one's in!
Also, introverts … beware! It's a 4 hour tour so, you will likely be exhausted mentally afterwards! Ben and I went for pizza and wine afterwards and I wanted to take a nap so badly – and we probably could have and been fine if we hadn't been staying so far out of the city enter – but kept trucking along because … that's what you do when you're on a quick trip to Rome!
I didn't take many photos but here is one from inside St. Peter's Basilica!
• CAUGHT THE SUNSET AT THE TOP OF THE SPANISH STEPS: I'm not going to lie … I love a good big city vantage point, especially at sunset. A few readers had mentioned one of the best places to catch the sunset is at the top of the Spanish Steps, but the trick is to climb the stairs on the Trinita dei Monti for an even better view! I took a few photos during my first trip in 2016 from this point and never edited them until now [because editing photos in Lightroom always intimidated me] but, I decided to tackle my fear and just give editing a go! Here is one of them:
• MADE A WISH AT THE TREVI FOUNTAIN: The Trevi Fountain is arguably one of the most beautiful fountains in the world and one of the things you absolutely MUST see during your visit. I can promise you it is even more stunning in person. I suggest seeing it both during the day and at night because both experiences are quite different and don't forget to make a wish! Toss the coin over your left shoulder with your back to the fountain to ensure your wish will come true.
Beware … this fountain draws quite the crowd and the piazza it sits in is quite small so I have another suggestion for this particular destination within Rome coming up next!
• GOT UP BEFORE SUNRISE TO EXPERIENCE THE TREVI FOUNTAIN BEFORE THE CITY WAKES UP: If you've ever been to Rome, and have had the opportunity to take in the beauty of the Trevi Fountain in person, then you are well aware of the crowds that surround and stick to it like bees to honey during the day. This may sound strange but I had wanted to see the Trevi Fountain in person since I saw the Lizzie McGuire Movie, years ago when I was in high school, so seeing it for the first time on my first trip to Rome in August of 2016 was pretty surreal and incredible. Like … I cried. Haha! But I am not one for crowds so I didn't really enjoy it, to be honest. I'm a pretty calm person and I like serenity and no fuss. So, I told myself that if I ever came back. I was going to get up EARLY and just come sit and enjoy it. I wanted to listen to the water and just bask in the beauty of what's in front of me. So, Victoria and I added Rome into our itinerary for our April trip and that's what we did one morning. She's such a trooper. Honestly, neither of us are morning people but we knew this would be worth it! It's one of her favorite spots in Rome, a swell. It was one of my favorite travel experiences of 2017! We shared the small piazza with, maybe, 8 other people. Yes, 8. We snapped some photos and then sat and enjoyed it for maybe about 10-minutes then went and got a latte and croissant! It was glorious and such a great start to the day! Highly recommend if you're over the crowds / don't like crowds, in general, and want to enjoy these big cities in a quiet way.
I wish I had taken a photo of what it looks like during the day but, to give you a little bit of context … my ex-boyfriend tried to take some photos in front of the fountain the year before. We had gone in the morning but I think it was around 9:30 and there were a considerable number of people around making it extremely difficult to get me and the fountain and no one else. The photo to the right, here, is the best we could do!
And, yes, I realize the fountain isn't even in it. Hah! That's the point. If you want 'epic' photos of you and the fountain, you have to go early.
• WALK ENDLESSLY AROUND THE CITY: Allowing yourself to stumble upon open markets with flower and vegetable vendors, like Campo di Fiore, expansive piazzas, like Piazza Navona, and stunning structures that will stop you in your tracks, like the Pantheon is one of the best ways to see and get to know the city. Remember, Rome wasn't built in a day and you can't see it in a day either. So, give yourself plenty of time to explore things outside of your 'planned' agenda.
• EAT AS MUCH GELATO AS YOU WANT: Hey … when in Rome! Don't feel bad about taking advantage of where you're at! 🙂 I've popped into a few different gelato shops during my two trips to Rome but Don Nino was the one that left the best impression on me. It's near Pantheon so don't miss it if you find yourself craving something sweet while you're in the area! They have so many flavors and the staff is really sweet! I tend to always get mixed berry and mascarpone, such a delicious combination! [Address: Via dei Pastini, 134]
• TAKE A WALK THROUGH THE COLOSSEUM AND ROMAN FORUM WHILE LISTENING TO THE AUDIO TOUR: The day after my ex and I did the Vatican and Sistine Chapel tour, we had purchased tickets for the Colosseum and Roman Forum audio tour through TickItaly for €23.50. That was in 2016 so I'm not sure what the price is now.
The Colosseum is arguably one of the most iconic structures in all of Europe so it would be a shame to miss it! The audio tour makes it super easy to hear the incredible history as you walk through to each vantage point. It was crazy to me that something this massive was built without the use of modern technology. If you've ever seen it for yourself, you surely know what I mean.
The Roman Forum was the center of Ancient Rome's public life, where public speeches, elections, and criminal trials. The central marketplace was there, as well. It's definitely in ruin but definitely a must see!
Also, try and catch the Colosseum at night! Like the Trevi Fountain, it carries even more majesty after dark!
Honestly, I was only able to scratch the surface of all the things there are to do in Rome.
• I would have loved to have spent more time in Vatican City, the papal enclave within the city of Rome, and climb the cupola of St. Peter's Basilica because I've heard the view is absolutely amazing.
• I wouldn't mind sitting out in St. Peter's Square on Sunday's at noon when the Pope, if he's in town, appears at the second window from the right of the Apostolic Palace, to pray the Angelus and blesses the crowd in the Square. I may not be Catholic but I think it'd be a unique experience to have.
• For Christians, I'd recommend stopping at Mamertine Prison. This is where Peter and Paul were imprisoned in the Bible, and where it is believed Peter was held before he was executed on Vatican Hill. It is said they were tied to a column, which can still be seen today, which is where they converted their guards to Christianity. I did stop by there on my last trip and it was closed on Sunday but, do try to go inside if you're there during the week and have interest!
I'll add more things to do that I didn't get to in the next few weeks!

• DESTINATION HIGH SEASON: The busiest season for Rome is July through early September. The best months to travel to Rome, or Italy in general, is April to June and mid-September through October. This is when the weather is more comfortable and the crowds aren't as intense! I went in April of 2017 and I truly believe it's the best time to see Europe! I went to Rome in August of 2016 and it was so uncomfortable!
• TAXI PAYMENT: Be sure to have cash on hand before getting in! They do not usually accept credit or debit cards.
• TIPPING: Add 10% to your overall bill!
• LANGUAGE: There are quite a few Italians in large cities, like Florence and Rome, that know a good bit of English but, out of respect, you should always do your best to communicate in basic Italian. They'll know you're English-speaking but they'll at least respect that you tried. Google Translate is a great tool to help you with pronunciation while you're prepping for your trip! 🙂
• TRANSPORTATION: We took the Leonardo Express train, powered by Trenitalia, from the Rome Airport to Roma Termini, the main train station in Rome. It cost 14 Euro and took 30 minutes. From there, we took an Uber to our apartment. It cost 15 Euro and took 15 minutes. From Rome, we booked a train via .italo from Roma Termini to Firenze Santa Maria Novella, the train station in Florence. Rail Europe is also a great resource when trying to schedule trains not only in and around Italy, but Europe, as well!
– Things to know about taking trains: In Europe, a lot of people are used to weaving through crowds because they're likely from a busy place. With that said, don't expect the train station to be a place brimming with courtesy. For example – Victoria and I were getting on the train. One of us was on the train in the doorway receiving the luggage as the other one was outside of the train handing the luggage over. With no regard for the process we were in the middle of and the fact that we were less than a minute away from being done, a girl insisted on squeezing herself through the door regardless. These are the moments that I have to be very conscious of my actions and what comes out of my mouth. Being raised in the South, in America, I'm used to people being courteous of one another whether that is knowing you can get yourself situated without someone breathing down your neck or will even offer you their assistance to speed the process along. This does NOT typically happen in most places throughout Europe and, as a traveler, it's my responsibility to remember that neither way of going about things is right or wrong. Is it nice to be in the midst of a courteous human being? Yes. But should I expect it no matter where I am in the world? Absolutely not. Did I think it was a bit rude of her? Sure. But, the best thing to do in another country is just leave it alone, do what you need to do, and find your seat.
• GOOD TO KNOW:
– Don't be afraid to be a little assertive when you need something from your server at a restaurant. In Italy, and most of Europe, they want you to enjoy your experience and the company you are with at their restaurant. They don't want you to feel rushed or like they're trying to get you to leave by coming to check on you every few minutes and bringing you your check after they clear your table. After they serve you your wine and main course, they will likely leave you alone for a long time. Make sure you have everything you need or you'll be waiting for awhile to flag them down. If you're ready to go when they take your plates, be sure to let the server know you're ready for the check, otherwise, they'll assume you will visit with each other while your meal is digesting.
– Be aware of pick-pocketers! Personally, in Rome, I will only ever carry a bag that can be zipped up or is a latched satchel bag that can't be easily accessed by anyone else. When we were shooting outfits and I wasn't able to, I was always hyper-vigilant about keeping my eye out for people who may have their eye on us.
– Taking photos in Rome is a little frustrating, especially in places like the Colosseum, Spanish Steps and the Trevi Fountain. There is always someone who will shamelessly step in to your shot RIGHT when you're about to get that 'nailed it' shot. Be patient if you want a specific shot and just know that the photos you see online aren't always what the actual place is like. Many of you asked me how I got my Trevi Fountain photos without anyone in them and I promise it is possible but, you have to go at first light. We were there in mid-April and at 8:00am it was already too late because the light gets high enough to blow out the top of it in photos. We went around 7:00/7:15am and there were some people there – maybe four groups of 2 or 3 people – and you just have to get what you can based on where those few people are. Thankfully, because there aren't many people, usually you can easily work your way around each other. I'd recommend doing this for ANY monument that you want as few people as possible in the photos.
– To go coffee in Italy does not exist. You always drink your coffee at the cafe, whether you're at the bar or at a table. No 'to go' cups.
– Caffe Latte's are a morning drink so just know you may get an odd look if that's what you order after your lunch.
– In Italy, you have the bar and the table setting / service. Most of the time, restaurants will charge a little more for whatever you order if you sit down. For example, at the bar of one cafe … our coffee's would have been 2.50 Euro but, since we sat down they added a 3.50 charge. It's not usually that ridiculous of an up-charge but just know that if you're bill seems a little pricey … and you're sitting … that's why. Typically, according to Victoria, it's around 1 Euro for an espresso or macchiato and 2 Euro for cappuccino or caffe latte at the bar. Always check the menu before you order at your seat!  
– In Italy, salad comes at the end of the meal because it's a great digestive meal and Italians are big on digestion.
– Many businesses close during the mid-afternoon hours for their midday 'riposo'.
– Italy is a part of the Schengen Zone so, if you're coming into it from another country within the Schengen Zone … you won't get your passport stamped, unfortunately. I didn't even see a place to ask them to, to be honest. I was really bummed.
–  In Europe, the first floor is actually the first floor up from the ground floor, which we consider the 'second' floor. So, keep that in mind so you can mentally prepare yourself for carrying luggage up stairs if you see on listings that the apartment is on the 'first' floor. Again, the 'first' floor is really what we would consider 'second' floor.
• WHO SHOULD VISIT THIS DESTINATION: Rome is a destination full of history and easily appeals to anyone who loves art, architecture and fashion. It's a romantic city with lots to see and amazing restaurants to enjoy!
Well … I think that about does it! If you have any questions or any other suggestions to add, please leave them in the comments below!! I would love to go back to Rome one day. There is still so many things I want to see and do, in addition to restaurants and rooftops I want to check out. I'd love to hear what you did during your trip so be sure to leave a comment below! 🙂
Hope this post was helpful for anyone who is out there planning their Rome trip! Please be sure to check out my International Packing Must-Have's post as well as the packing list I curated for anyone heading to Italy in the summer!
Thanks for stopping by! xo.