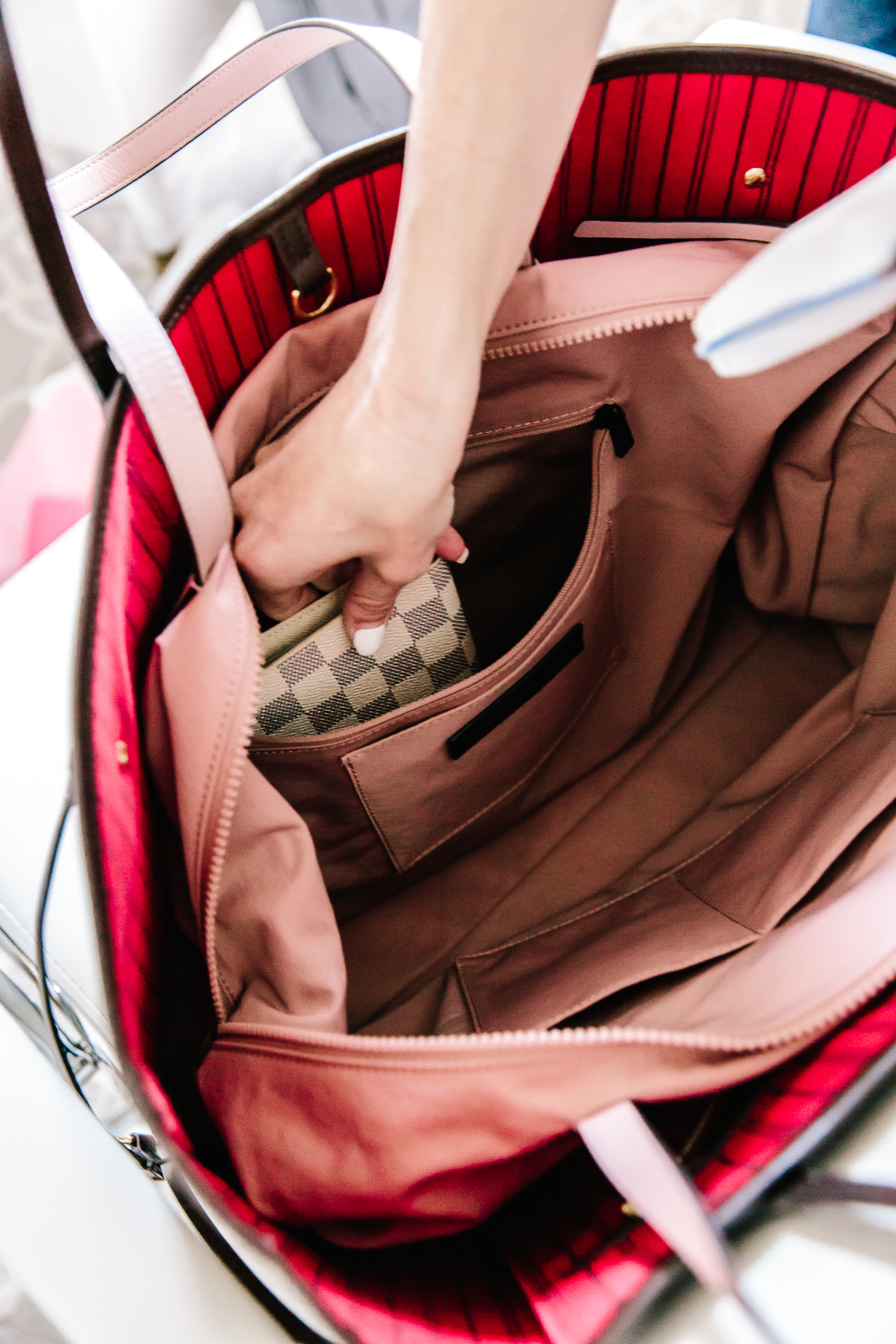 Hi there, lovelies!
Over the past couple of years, as I've traveled more and more, I've received quite a bit of insight on best travel practices. Every time I pack up to go somewhere, I get quite a few questions and interest in me sharing what I packed in my carry-on. I've attempted to share the list and tips on my IG stories a few times but I'm always just making it to my flight gate as they're boarding so I haven't been able to. However, I thought it would make the perfect post leading up to the Spring and Summer travel season.
My list is pretty comprehensive and I have quite a few handy tips to share but keep in mind you can add to or take out whatever is on my list that is unnecessary for you! Due to my line of work, I always travel with my laptop, external hard drive and my camera cards but that might not be necessary for you!
So, here we go! As I pack for my trip across the pond today, here is what I'll be packing. The first thing that is worth mentioning, and the first thing I grab to start the packing process, is ….
Tote bags are a travel girls' best friend!
To be honest, the only reason why I haven't sold the Louis Vuitton Neverfull GM Tote that I own is because of how useful it is for packing everything I need when I travel internationally.
Something that I do that has posed to be extremely helpful on return trips is to layer tote bags so that, if you do some shopping on your trip, you have a place to store them as most people don't give themselves extra space in their checked bag. Or, if you get up to the flight counter and your checked bags are too heavy, you have this bag to use to transfer some of the weight to it. That will, of course, only be helpful if you do not have a small rolling carry-on in addition to the tote bag.
Personally, I like for the tote that will be located inside the Neverfull GM to have a zipper on it as maintain a sense of security for items that you absolutely do NOT want to have stolen like your passport, wallet, boarding passes, phone and / or any tech device.
I have been using this Rebecca Minkoff Nylon Tote on my last couple of trips and I'm extremely happy with it! It has a lot of pockets to hide valuables and allow for extra storage. This may sound weird or a bit menial but I also think the zipper is extremely easy to zip and unzip. I absolutely love it!
Invest in pouches and utilize interior zipper compartments for storage.
Before I start packing the bigger items into my tote, I grab the smaller pouches that can easily get lost among those bigger items and store them into the inside zip pocket. I mentioned in my travel bags post that pouches are the best way, that I have found, to stay organized! You can find a lot of pouch options in that post! Here's what I store in the two I'm holding above:
This small white pouch carries two pairs of headphones and a travel size tampon. Hey, just being honest! It's good to always have one on ya, ladies!
This little cloud pouch has currency for the location that I'm going to. So, for England and Italy, I have pounds and Euro's. I don't think you HAVE to have this or currency for your destination ahead of time but, since I have been quite a bit over the past few years, I always tend to come home with coins so I just store them in there so I have them while I'm there if I need them. They're easier to store there, I've found.
I also always store my passport in a zipped pouch, whether it's in the inside pocket of the tote or a large pouch. It's much more secure when it's not visible to the people around you! You HAVE to do what you can to keep this document as safe and secure as possible! The last thing you're going to want to do on your trip is find the nearest U.S. embassy to get a temporary replacement.
Next up … all things tech!
After storing those smaller items, I pack my laptop case.
I absolutely love my laptop case. It's so spacious and offers me a lot of compartments to store items in. It is old but here and here are a couple of similar ones.
In the laptop case, I store my laptop, power cord, external hard drive, portable phone charger, and protective case with my camera cards in it. I also always carry whatever world travel adaptor I need from this kit, which is compatible with my laptop. The box tells you what you need for each area of the world. At night, I typically hook up my laptop to the wall outlet with this adaptor then use a USB cord to plug my phone into and everything gets charged over night. Then, I have purchased a separate adaptor for the U.K. and Europe to plug my external charging battery into overnight. I actually got my U.K. one at the Apple Store in Covent Garden but the ones I linked for Europe are the ones I have and they work great!
The reason why I pack these in my carry on is because I've found that sometimes, especially if I fly Virgin Atlantic, they will have U.K. plugs and you have to ask them for an adaptor. This isn't a big deal but I'd rather just have what I need and not bother the staff onboard.
One last thing I squeeze into my laptop case is my Power Trip pouch, which holds a couple of those adaptors, two USB cords and one camera cord that charges my camera as well as my external phone battery.
If I am traveling domestically, I bring a Wifi hotspot with me, powered by AT&T. It doesn't work internationally so I leave it home for those trips abroad and just hope for the best!
Next up! Toiletry items …
Next, I pack some toiletry items in my main white pouch that I shared in my travel bags post. I feel like this pouch would be a similar size, plus it's super cute!
I pack Wet Ones because … the airport and planes are really disgusting places … let's be honest! I pack my contact case, an extra pair of contacts, a small bottle of contact solution, lip balm with SPF, makeup removing wipes, and my card case!
Like my passport, I also keep my card case somewhere secure. I also make sure I store them separately that way, if someone does happen to get in to my bag, they can't easily find both of them.
In an effort to prevent packing one big bulky pouch, I use multiple for my toiletries. I also make it a point to keep what I bring to travel size items. If I don't do my nighttime routine at the airport before boarding my flight, I will take my makeup off at my seat, then grab this black pouch to do the rest of my routine in the bathroom.
In the black cosmetic pouch, which is currently out of stock, I pack lavender scented hand cream, TULA face wash, TULA moisturizer, TULA eye cream, a second contact case [because I'm neurotic about forgetting one], lavender spray, a hair clip and hydrating eye gels. I also pack a travel sized tooth brush and toothpaste, which aren't pictured because I pack them at the bottom of that pouch so those went in first when we were shooting.
You can get a duo of the TULA moisturizer and eye cream HERE.
You could use a pouch like this for these items, if you're looking for an alternative option! Here is the most similar pouch to the one I use that I could find.
One thing I do to combat jet lag is to set my time clock to that of my destination when I leave Jacksonville. So, if I'm heading to London, and I'm not leaving New York or Atlanta until 9:00pm, it's already 2:00AM in London. This means that when I get on that flight, I need to get changed and get comfortable as quickly as possible! Sometimes I even change before I get on the flight. I also try and eat dinner, as well, and I just tell the flight attendant to not worry about me eating dinner. Taking care of these two items ahead of your flight will allow you to get into the mindset of 'bedtime'.
If you need to take something to fall asleep, I suggest waiting until you are about 30 minutes into your flight to ensure there is no need to head back to the airport in which you came for whatever reason! I use a lavender spray that I spray on my wrists and my pillowcase. I found this lavender spray that also acts as a hand sanitizer! I haven't used it so I can't vouch for it but I thought that was pretty handy and it's gotten great reviews!
Last, but not least …
I always pack a pair of cozy socks to put on after I change for the night. There's nothing worse than cold feet when you're trying to get a couple of hours of sleep before you get to your destination, where you need to hit the ground running! Set yourself up for success by bringing socks in your carry on!
The last thing I bring that I haven't mentioned, and that I actually could not find prior to shooting this post for you guys, is a sleep mask! This is the one I have and I'm really hoping I can find it today before I have to leave because it really does help me block out other travelers' reading lights.
Okay, that about does it! Outside of totes, I do sometimes also pack a small rolling carry on. For that carry on, I pack my camera, charger, and my more expensive shoes or handbags. I also pack deodorant in there so that, if I feel like I need a little refresh, I have that in there! I like to have it as a just in case item!
What do you bring that I might have missed? I'd love to hear it! xo.