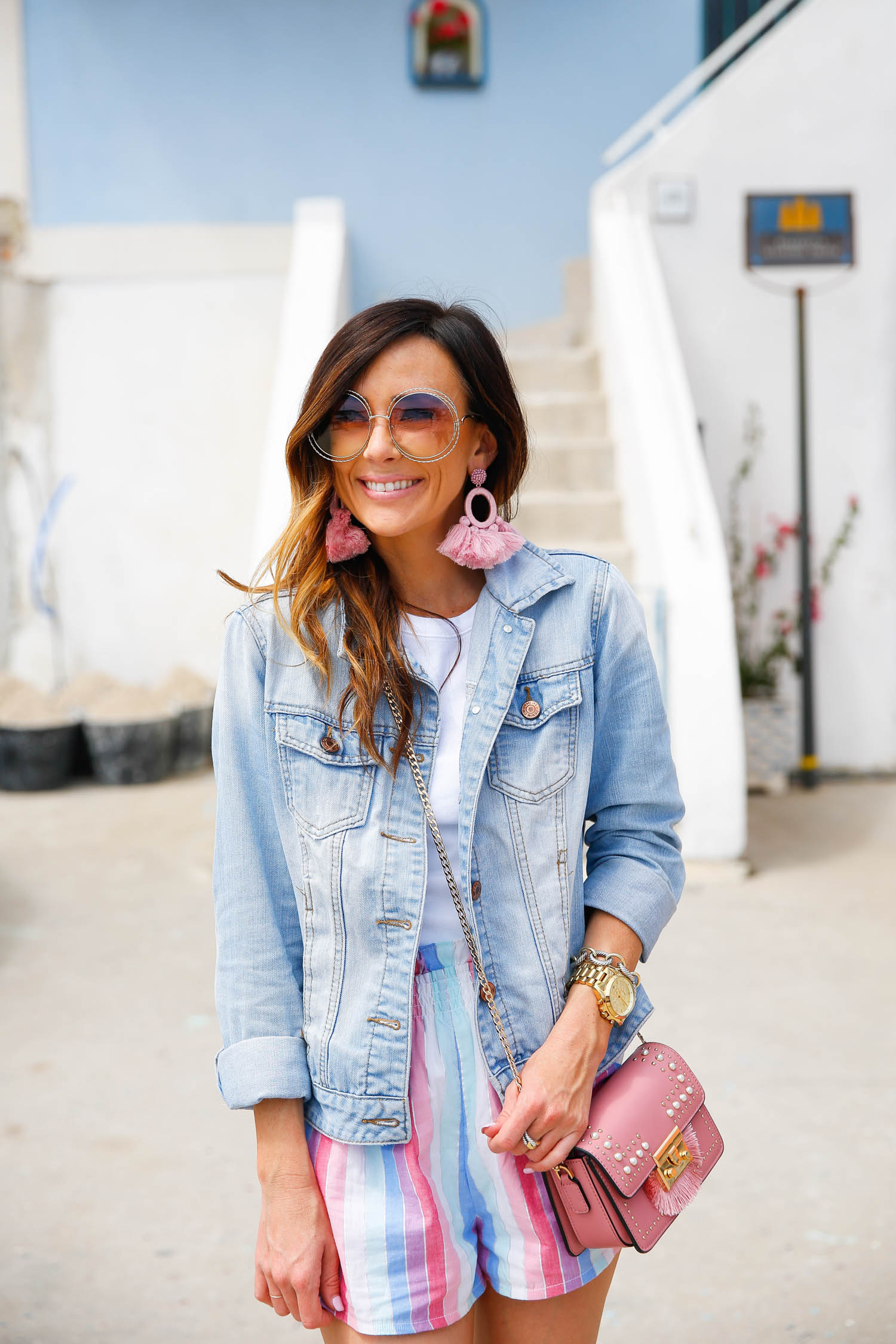 Hey there, friends!
Before heading to Italy, I had purchased these adorable striped shorts that are made up of all of my favorite colors. I thought they were the perfect pair to wear during Victoria and I's day trip to Procida, which is a small island off the coast of Naples. I'll share more about how to get there and why I love it in an upcoming blog post but one thing that you can easily take away from todays' post about Procida is how colorful it is! I literally cannot wait to share more about this place because it's absolutely stunning but … baby steps, Haley. Baby steps! Ha!
Anyway, these shorts … I'm wearing an XXS so I'd recommend going one size down from your normal. They are thin but have a liner underneath, which is good. With paper bag shorts, I personally love to wear form fitting tops. This J.Crew perfect tee is my favorite for Spring and Summer! I'm wearing an XXS in that top, as well, but I also have an XS. There isn't much difference. It just depends on how tight you want it to fit. I decided to pair these pink statement earrings with this outfit to compliment the shorts and threw on Victoria's denim jacket! She wasn't wearing it on this day and I liked that it was an oversized fit on me compared to the one I brought with me on the trip. Unfortunately, neither of our jackets are available anymore but I found a few similar ones that are affordable and have quite a few sizes available:

I just bought this one to test it out for myself so, I will let you know how it fits when I get it in the mail! It's under $40 and I love the fit & wash so I think, out of the three, it's the best!
Also, today is the last day of the Baublebar sale I mentioned on Instagram over the weekend. The more you buy, the more you save and you can receive up to 30% off your purchase! More information can be found on their website but here are some of the ones I have been wearing lately or that I personally love:

You'll be seeing these earring styled in an upcoming post that I'm so excited to share! They're a great pair to wear to a Spring or Summer wedding!
I'll keep my eyes peeled for some dupes of my Chloe sunnies. I bought them in Positano, completely unexpectedly, when Victoria and I were shopping around as it was pouring outside, ha! I was nervous about them at first because I don't feel completely comfortable in round glasses. I don't think they look good on me like big square or cat-eye sunnies, but I just really, really liked them and kind of wanted something different. What do you think?
Anyway, thanks for stopping by today, y'all! Also, be sure to check out my Instagram and catch up on any posts you may have missed! As always, your engagement on Instagram means so much to me and helps me know what y'all want to see and don't want to see. Thanks, y'all! Appreciate you!! Have a good day! xo.