Hi there, friends!
Over the weekend, you made your preference known! You wanted me to cover the best basics included in the Nordstrom Anniversary Sale. A couple of weeks ago, I talked about the importance of investing in quality basics [remember this post?] but, while I do think investing in basics is important, the reality is … you may need those more affordable options to hold you over until you're able to put your money toward those higher quality options. Now is the time to stock up, ladies! There are so many great basics included in this years' sale so don't wait because everything is going fast!
Sale Price: $17.90 | After Sale: $25.00
Normally, I would make y'all wait a little bit … you know, try and build up some suspense … but this is my favorite basic included in the sale. I have always loved a nice fitted long-sleeve crew neck tee. It looks so clean and nice underneath cardigans or tucked in to a pair of paper bag shorts. I ended up getting white, black, and the navy / white stripe. What color did you / are you going to get?
FITS: True to size | WEARING: XS
See how I styled this cutie below + there is more outfit inspiration HERE.
Sale Price: $11.90 | After Sale Price: $17.00
This is the most affordable basic available during this years' Nordstrom Anniversary Sale. It comes in quite a few color combinations and options. I got a couple of sizes in the white and the black and white stripe options. You can see me wearing both of those in the photos below. I'm wearing an XS in the white. As you can see, it is very loose-fitting so keep that in mind when you're picking out which size works for you. In the black and white stripe top, I'm wearing a Medium for a more over-sized fit, which is preferable for travel days or super casual days. I love how affordable this one is. It makes it easy for you to stock up on a couple of the same color if you know you'll be wearing them frequently! What color are you going to get?
FITS: Oversized | RUNS: Big | WEARING: XS / M
Sale Price: $45.90 | After Sale: $69.00
This is one of my favorite cardigans included in the sale. We all need a cardigan that we can layer over basic tee's and under heavier outerwear. I love every single color that this cardigan comes in like rust, light pink and this beautiful beige. I feel like all of them can be worn over and over again. I got a few colors and opted for an XXS because it runs a little big. Be sure to go one size down from your normal.
RUNS: Big | WEARING: XXS
Sale Price: $49.90 | After Sale Price: $79.00
As y'all have seen in many of my style-centered blog posts from years' past [remember this post from London?], a utility jacket is an absolute MUST in any gal's wardrobe. If you're in need of a new one or haven't found a favorite yet, give this one a try! It's not the softest one I've ever had but, honestly, that's a utility jacket for ya! They aren't always super soft. This one runs a little big. I have to return it because it's a little too oversized on me. In the photo below, I am wearing my normal size, which is XS.
FIT: Big | WEARING: XS
Full outfit details linked in THIS post.
Sale Price: $19.90 | After Sale Price: $29.00
This long sleeve crewneck tee has been one of my wardrobe staples over a year now! I absolutely love them! I have a few different colors. Of course, when I saw these were a part of the sale, I went to go pull my white one of out my closet and it is nowhere to be found. My guess is I left it somewhere in Italy without realizing it because I know I brought it on that trip with me, ha! Anyway, if you're wondering what is different about this tee compared to the first long-sleeve tee I featured. This one is a thinner material and fits a little looser, but not big. I styled it in an outfit post last year during the sale. You can see a preview of it below! I am also sharing one of the looks I styled in THIS post with the black and white option that I snagged during this years' sale, where I sized up to a medium.
FIT: Slightly loose | WEARING: XS & M | RUNS: True to size
Full outfit details here.
Full outfit details in THIS post.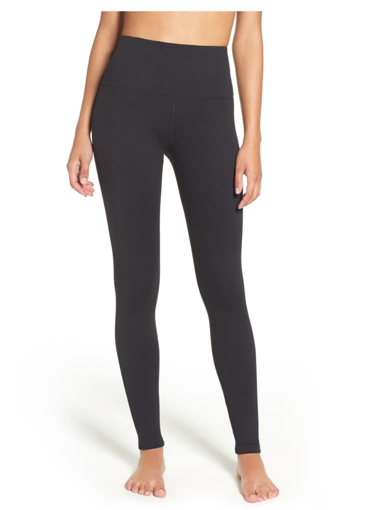 Sale Price: $35.90 | After Sale Price: $54.90
I have owned a couple of pairs of these leggings for a few years now and they are consistently my go to on chilly mornings when I'm in a bit of a rush. Throwing an oversized basic tee and a chunky knit tunic sweater are often times one of my go-to outfits during the Fall and Winter months. They are form fitting but I've been able to squeeze thermal leggings underneath these before to add a bit of warmth. They aren't thin but they don't have the thermal technology built in the material to keep you super, super warm! These are also great for working out, as well!
RUNS: Big | WEARING: XXS
In an effort to not go back three years for images of me wearing these leggings in black, I pulled some images of me wearing them in a fun purple color they had available a year and a half ago! I have styled them on Instagram many times but I feel like these images really show you the quality of the leggings better than those photos. These are such a good value for under $50!
Sale Price: $17.90 | After Sale Price: $25.00
I wore this top the other day in both black and white stripe and white [two different days] and had so many of you ask me what this top was, where I got it, etc. Y'all … this top is probably the most worn item in my wardrobe. While the BP. basic tee is $5.00 less, I feel like this one fits more comfortable. It's still loose-fitting but it doesn't provide the risk of it falling off of your shoulder or being too low in the chest area like the other one does, if that's not the style you're going for / not comfortable with. This one is more 'appropriate' and comfortable. I can't recommend it enough. It comes in a ton of colors, too! I am sharing some outfit inspiration below in the white option and black & white stripe option. Full details can be found in THIS post.
RUNS: True to size | FIT: Slightly loose | WEARING: XS
What basics did I miss? I didn't want to overwhelm you with too many. These are my favorite basics from the Nordstrom Anniversary Sale. I didn't want to recommend denim or a pair of shoes that I don't personally own. I like to be able to speak to the quality of an item so I know whether or not I truly recommend it! All of these items are tried and true and …  they're all under $50! Happy Shopping, ladies! Don't forget to check my IG stories to enter a fun giveaway! It ends later this afternoon. xo.