Just a short 45-minute drive south on Highway US 1 from my hometown of Jacksonville, Florida is a charming hidden gem situated neatly along the shores of the Matanzas River. You've likely never heard of this place but it actually holds heavy historical significance! The ultra-Southern and Spanish-influenced St. Augustine, Florida was founded in 1565 by the Spanish, making it our nation's oldest city! When you are walking around on its centuries-old cobblestone streets, you will instantly feel like you are either in Europe or Old Florida, depending on which street you're on! It's a charming escape for anyone wanting to take a vacation but can't justify taking the journey abroad right now, most especially for those of you located in the South.
Last Summer, my best friend Kristan and I ventured down to St. Augustine for a little weekend getaway! Today, I'm excited to finally share where we stayed, some of our favorite places to eat and what to do if you are looking at potentially making a trip! While my 'Weekend In Review' posts typically just chronicle the timeline of the weekend, as well as divulge outfit details, this post will be a little more thorough as I've been to St. Augustine many times so it'll look a little more like a travel diary. Lucky you! 🙂
Where To Stay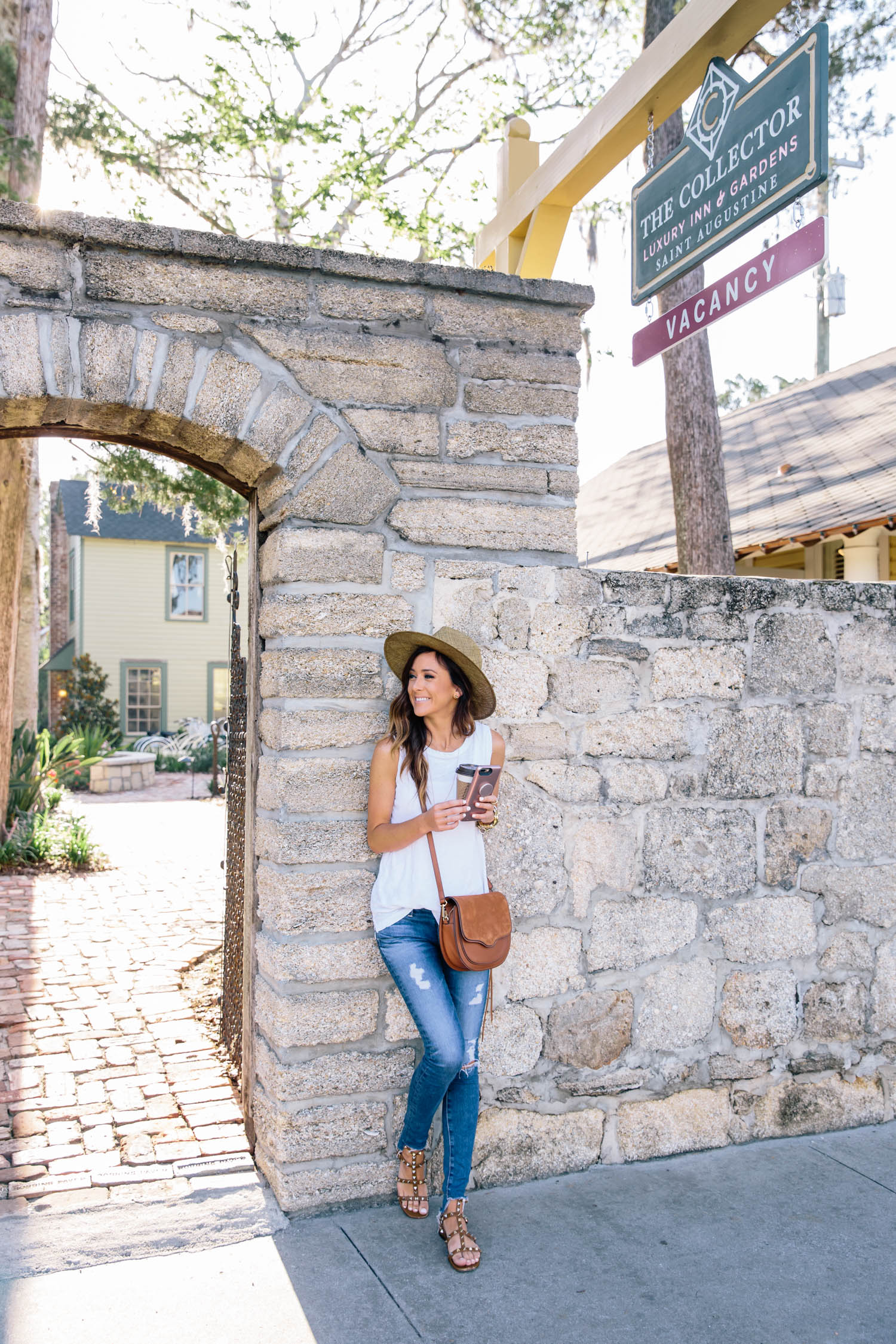 THE COLLECTOR LUXURY INN & GARDENS
Set on an entire block a quick 5-minute walk from the main square of St. Augustine, The Collector Luxury Inn & Gardens is comprised of nine 18th century homes that were recently restored from what was Dow Museum of Historic Homes. Opting to stay here is a truly immersive experience with the entire property uniquely tellings its guests centuries old tales with beautiful modern touches. Part contemporary hotel, part friendly B&B, The Collector offers its guests the best of both worlds. It's a one-of-a-kind setting where guests get to savor the simple pleasures such bespoke guest rooms and suites tucked in to the nine historic houses, European continental breakfasts, live music in a lovingly restored amphitheater, and rocking chairs on most of the terraces throughout the property.
Kristan and I stayed in a beautiful Aviles Room and couldn't have had a more comfortable experience. As you walk into the room, you are greeted by the calming cool colors within the drapery, bedding and wall color, encouraging you to come and enjoy your stay. More than that, the staff couldn't have been more friendly, accommodating and knowledgable about their hotel and the city of St. Augustine. The people of St. Augustine take any restorative project very seriously, as they do the conservation of the city. Knowing this, it was truly heartwarming to hear all that was done to ensure the original buildings on this block were saved for the enjoyment and experience of The Collectors' guests.

Some other things I enjoyed about staying at The Collector was how quiet and secluded you felt, truly allowing you to relax, yet how close it is to all that there is to do in the city. They also have WiFi, turn down service, bikes available to guests, a heated pool, daily afternoon and late night happy hour, as well as valet service & parking. I also love meeting people when I'm traveling, even if it's somewhere as close as St. Augustine, so I love the communal fire pits with chairs and The Well Bar just a few feet away for easy access to refills on sangria or champagne!
To book your reservation, click HERE!
Where To Eat
The Floridian is a St. Augustine staple through and through. The owners, Jeff and Genie McNally, aim to create and serve traditional Southern comfort food dishes that will please the "omnivores, herbivores and locavores" alike as well as a casual and comfortable environment for them to be enjoyed. They are also dedicated to supporting and working with local growers and producers to honor the importance of sustainable cuisine. While the menu changes seasonally, fresh and delicious meals are served daily. Highly recommend! Call ahead for a reservation.
The Ice Plant Bar is a newer establishment in St. Augustine and has garnered quite a bit of attention and rightfully so. Whether you are stopping in for a bite to eat or a carefully curated cocktail, or both, you will walk away knowing that the idea behind the Ice Plant Bar is to 'mix exceptional local ingredients in precise measurements to create perfect and unique flavor profiles'. I mean, they use three different types of ice for crying out loud! I promise you will love this place. No reservation needed. It's first come, first serve and it's a very large space – as it used to be an actual ice plant so, there's that – so, you should have no problem getting in!
Juniper Market is a cute little spot that is perfect for a healthy lunch or quick afternoon coffee to give you a little extra pep in your step! They offer prepared food, baked goods, beer, wine, espresso and a beautiful sitting space for you to work a little bit or just sit and enjoy.

They also have a space for local artists to sell their art.
This little spot is typically only known by people who have lived in St. Augustine for a long time or frequent the area often. My stepmom introduced this place to our family and absolutely LOVE. IT. now! If you are with people who want different types of cuisine, this is a great place to take them to! I promise. Everything is delicious!
Harry's Seafood is an old St. Augustine favorite of mine. They offer New Orleans inspired dishes, all of which are delicious, and I always recommend sitting outside. The lush greenery and string lights adorning the space add a beautiful and romantic feel to your experience.
The Kookaburra is such a good little breakfast spot right in the city center. It's really tiny inside and well known among locals, so much so that they've opened three additional locations throughout the St. Augustine area since the original opened in 2012. Kristan and I both enjoyed one of their little breakfast quiches, which were incredible.
O.C. White's is another St. Augustine staple just off the main square in a spot that creates a little fork in the road and overlooks the Bridge of Lions and intercostal waterway. With countless fresh seafood options on the menu, and charming indoor and outdoor seating options, you are bound to enjoy your experience here, most especially when there's live music outside. It's a great place for couples and families alike!
Catch 27 is a fresh catch restaurant located in the heart of St. Augustine. All of the seafood is caught from the waters of the nations' 27th state and everything is cooked from scratch with seasonal ingredients and local produce. My family and I enjoyed a meal here recently and can't recommend this spot enough! It was delicious!
A locally owned Spanish restaurant for over 11o years, The Columbia is one of St. Augustine's most popular restaurants. I've personally never been but I've never met anyone who didn't enjoy their meal and experience here. This location is not the original, located in Ybor City and has been frequented by the likes of George Clooney, Babe Ruth, Steven Tyler, etc., but is clearly held to the same high standards. I would recommend calling ahead to make a reservation!
Prohibition Kitchen is a relatively new gastropub and lounge. Sadly, we didn't make it there last Summer or on my most recent trip down a few months ago but I have heard great things! It's known for its boozy milkshakes and yummy dinner and creative cocktail menus so definitely be sure to stop in for either a meal or drinks!
What To Do
RENT BIKES
Remember I mentioned that the The Collector offers bikes to its guests free of charge? Yeah! Take full advantage! It's such an easy way to breeze through the city and probably a cooler option than walking on those hot summer days!
If you have a large group with some people who maybe can't walk for long periods of time, I also have experience in renting a golf cart from St. Augustine Bike Rentals. So, you can rent one from there if that fits your needs and / or if you're not staying at The Collector and want to rent bikes.
TAKE A TOUR
You're in the nations' oldest city so you know there are a plethora of tours you can choose from to learn about St. Augustines' history. My first tour of the city was in 4th grade, I believe, and we did the little Hop-On Hop-Off Trolley Tour and, while I don't usually love those kinds of tours as I've gotten older, I honestly think they are always the best ones to start with because they offer the best general historical knowledge. Plus, they're pretty cheap and don't take up a huge chunk of your day.
Next, I'd recommend touring the Castillo de San Marcos, the oldest masonry fort in the continental United States and the oldest structure in St. Augustine. It was built to protect Spain's claims in the New World. On the backside of it, there's a large green lawn. If you are staying in St. Augustine for a week or so, I'd recommend taking dinner to go one evening and setting up a picnic here because, I truly believe some of the best sunsets can be seen in St. Augustine overlooking the water. I remember one 4th of July I did this with some friends and it was so beautiful!

The Lightner Museum is one of the most stunning buildings in St. Augustine. Housed in the former Alcazar Hotel built in 1888 by Henry Morrison Flagler, whom St. Augustine's Flagler College is named, the Lightner Museum houses art collections purchased by Otto C. Lightner during the Great Depression from Chicago millionaires' mansions when they were going up for auction or sold for tax purposes. The aim of the museum is 'to preserve, maintain, research and interpret the collections for the educational benefit of the visiting public'. If you are interested in art and art history, I'd recommend going on a specialty tour with one of the museum volunteers and experts. The Lightner Museum is also a highly sought after wedding venue in the area so, even if you're not interested in a tour, it's a beautiful building worth walking through. Kaylee and I shot an outfit there back in 2o13 when I first launched Sequins & Things. Are y'all ready for this? Huge throwback HERE.
Justine told me that another great spot to take a tour is the St. Augustine Distillery, a new locally founded and community owned distillery aiming to concoct the highest quality distilled small batch spirits to the community. I've never been here or taken the tour but she said it's really cool and super interesting! While I don't typically drink hard liquor, it's on my list of things to do during my next weekend in St. Augustine, for sure! And, ladies, it could be a nice little treat for the husband after a long shopping trip down St. George Street! Ha!
I'd also recommend going on a ghost tour! St. Augustine is the oldest city in the country and much of what you see now was built on Spanish soldier graves so there have been ghost sightings all throughout the city. Do I believe this? I'm really not sure but I think it makes for a really fun evening listening to the old wives tales. They also have companies that do them while also stopping in local watering holes! I've done a few of these over the years so I don't remember each of the companies I've done them through but, I do know that Aviles Street is supposedly the most haunted street and there is a ghost tour company that is on the left hand side of the street that I have done it through before and they are really good.
FIND A GOOD VIEW
I love the view from the second story of A1A Ale Works, which is just next to O.C. White's Seafood. They have a balcony you can walk out on to when you come up the stairs. You can see the St. Augustine lighthouse, one of my favorite landmarks of the city, and is a great place to grab a cocktail and enjoy the sunset. I wish I had a photo from here. Next time I'm down there, I will snag one and put it in here for  y'all!
I'd also recommend heading to the St. Augustine Lighthouse and Maritime Museum one evening, if possible, to enjoy the sunset from the top! Kristan and I did this last year and, while it was very rushed, as they were closing for an event, it was really cool to do again, as I hadn't been up there since I was about 8 years old! However, be warned … there is no elevator and there are A LOT of steps! I think the morning is a beautiful time to do this, as well, as the sun is shining ON the city of St. Augustine versus behind it at that time.
Also, if you love all of that ghost tour stuff, be sure to ask the staff at the lighthouse the story of the little girls who haunt it!
HEAD TO THE BEACH
I mean … you're in Florida and it's hot and humid here for about ten months out of the year so why not! I'd suggest Vilano, St. Augustine or Crescent Beach! All of them are pretty quiet compared to the beaches close to me like Jacksonville, Neptune and Atlantic Beaches. Grab a book and go … just don't forget your sunscreen!
ENJOY A COCKTAIL
There are so many things to enjoy about St. Augustine. It's food and drink scene is one of them! Here are some of my favorite places to grab a cocktail:
The Well Bar is The Collector's very own personal watering hole and, I must say, it quickly stole my heart after having spent time there with Kristan as well as my family on a separate evening about a month prior to my stay. I've tried many of their carefully crafted cocktails [thanks to my friends and family for allowing me to mooch on their drinks, ha!] and they are all delicious! The inside of The Well Bar is small and intimate, as it is located in what once was St. Augustines' first two-car garage, but if you prefer something more open, there are tables just outside and chairs you can take your drinks to surrounding a fire pit. Aside from delicious drinks and curating one of the best charcuterie boards I've ever had, The Well Bar is open and available to anyone! You do not have to be a hotel guest!
I honestly cannot believe that I have not experienced San Sebastian Winery's greatness yet. So many of my friends have raved about this place so I have to recommend it although, I haven't personally gone myself. One day! It's always good to save things so that you always have an excuse to come back, right?
This is one of my favorite little bars in St. Augustine. I love sitting outside on the second floor as you are literally in the midst of the hustle and bustle of this little city, which does draw a crowd on the weekends, for sure! They have the most delicious sangria and obviously turn into a piano bar during their busiest evenings!
Some other noteworthy bars in St. Augustine are Dos Gatos, The Ice Plant [as previously mentioned], Prohibition Kitchen [as previously mentioned], and Odd Birds Bar.
SHOP ON ST. GEORGE STREET
St. George Street is the most popular street in the city so I would recommend doing this early in the morning and on a weekday, if possible. There are lots of little locally owned shops with art, jewelry, and clothing available for purchase!
CATCH A CONCERT
If you're a music lover, I'd recommend taking a look at St. Augustine Amphitheater's website to see if anyone is playing that strikes your fancy. I have seen quite a few great concerts here like O.A.R., Ben Rector and NEEDTOBREATHE. A great thing about this venue is that, due to noise ordinances, the concerts have to be over by 10:00pm so you still have time to go grab a cocktail or something afterwards!
COOL DOWN WITH HYPPO POPS
This little spot, The Hyppo, is a huge hit so, be sure to stop in, especially in the Spring and Summer! Their popsicles are a great way to cool down in the sweltering heat!
OTHER IDEAS
When I was little, my parents took us to The Alligator Farm a few times. I know some people are very passionately against animals being held in captivity so, to each their own, but if you are visiting with kids, it might be something fun for them!
Weekend In Review
FRIDAY
Kristan and I drove down to St. Augustine after work on Friday. First things first, we had the car valeted free-of-charge at The Collector Luxury Inn & Gardens and we proceeded to check-in for our weekend stay. We were spoiled right off the bat with a tour of the property, learning the in's and out's of how the property came to be what it is today as well as its history. We got changed into something casual, as St. Augustine is a super laid-back little town, and decided to walk over to The Ice Plant for dinner and drinks. Neither of us had ever been there before but it definitely lived up to the hype that we had heard from a lot of our friends! Next, we headed to an old favorite of ours, Sangria's, for a nightcap. Kristan and I are such grandma's, especially on Friday's! We headed back to the hotel and melted into the bed at The Collector.
SATURDAY
Summer mornings in the South are one of my favorite things so I woke up early and ventured down to the main house at The Collector, where they serve breakfast, and poured myself a cup of coffee. Then, I walked back to our little house and cozied myself up in one of the veranda's rocking chairs. It's rare that I let myself just sit still and take in the empty moments, that are actually full of so much peace.
After awhile, I changed into something a little more appropriate to tackle the hot Summer day ahead and Kristan and I headed over to eat some breakfast. The Collector offers quite the spread and we took full advantage! After filling up for the day, we grabbed bottles of water and walked down St. George Street and over to the fort. We didn't really have a plan, which was kind of nice. We ended up walking down to where Juniper Market is and, after meandering through some of the shops that are in that area [Highly recommend! They're all so cute!], we stopped in for lunch!
After lunch, we headed back to The Collector for a little refresh! It also rained for a bit so we had some downtime that we didn't expect. After just taking some time to re-energize, as the Summer heat tends to take a toll of your energy down here, if I'm honest, we ventured over to The Well Bar and decided to try a couple of cocktails and the charcuterie board. Then, we decided to hop on the bikes that The Collector has to offer its guests and biked around for awhile!
We cleaned ourselves up for dinner at The Floridian but, instead of grabbing a pre-dinner drink somewhere, we decided to try and catch the sunset from the top of the St. Augustine Lighthouse. Neither of us had been since we were in elementary school – Kristan and I both grew up in Jacksonville – so we figured it could be a fun little outing! Well, needless to say, we did not recount there being as many steps as there are to get to the top, ha! We definitely worked off all of our meals between that and the bike ride! The views were worth it though! We made it to The Floridian right on time and were seated immediately. Everyone there is so friendly. I got the shrimp & grits and it was gone in an instant after I had worked up such a large appetite from our busy afternoon!
To end the day, we ventured over to Dos Gatos for one last cocktail. Thankfully, all of these cocktails were spread out so it didn't feel like too much. There are so many great spots to drink in St. Augustine so you have to be careful, ha!
Kristan and I likely started talking about what we could be watching on Netflix and headed back to The Collector after that!
SUNDAY
Sadly, our weekend in St. Augustine was winding down so Kristan and I packed up and decided to try somewhere new that we had heard about for breakfast. It's called Kookaburra Coffee. I'm almost glad that there isn't one in Jacksonville Beach or Atlantic Beach, where I live, or I'd be frequenting it quite a bit! Their breakfast quiches are SO SO good! Next, we took our coffees to go and meandered around for a little while before packing up the car to head back to our little beach towns. It's always so nice to walk around places that you usually experience in the height of its busyness when it's calm and quiet, before the world wakes up. I highly recommend you do the same!
We were sad to say goodbye to The Collector and St. Augustine but, thankfully, we know this will not be our last visit! There is so much to do for new visitors as there's a lot for y'all to see and do! Our weekend was a relaxing one since we've done a lot of those things and I truly can't recommend this little city for either a little vacation or weekend getaway!
I just have a couple more notes to make before wrapping up!
Heads Up!
• Parking in St. Augustine is nearly impossible, especially on weekends, unless you get down there early. This is due to the restrictions the city has placed on construction and conservation of the city. I would highly recommend you pay close attention to what the hotel you're looking at offers in regard to parking as to avoid a potential headache in a new place you've never been. You don't want that to be your first experience in St. Augustine! If your hotel doesn't offer free parking, be sure to pay attention to the parking lot stipulations. You may need to pay at a meter.
• The great thing about St. Augustine is that most of the city is very walkable. Unless you venture over to the beach, Gypsy Cab Company, the St. Augustine Lighthouse & Maritime Museum or the Alligator Farm, you likely won't need to move your car!
---
I think that about does it for my little Travel Diary / Weekend In Review for St. Augustine! I want to thank the St. Augustine Visitor and Convention Bureau for coordinating some of the experiences we had last Summer. We appreciate your time and hospitality. For the heck of it, I thought it'd be fun to share some old blog posts that were shot in St. Augustine HERE, HERE, HERE, HERE and HERE. Please leave any questions about the area in the comments below and I will do my best to get back to them in a timely fashion! Thanks for stopping by! xo.