Hi friends!
As I have shared on Instagram Stories, my cruelty-free makeup journey has begun and, while I still have a lot to learn, I have a feeling it will only continue to open my eyes and help shape me into an even more conscious consumer in the long run, which can only positively impact my life and, hopefully, my future family's life, as well. Today, I'm so excited to share some of the makeup brands that I have discovered are cruelty free. When I made the decision to only purchase, and thus support, brands that hold the health and wellness of animals as a brand standard, I was really intimidated. A lot of the suggestions I was receiving were makeup brands I had never used, let alone heard of, and thought I was going to have to replace an overwhelming majority of my everyday makeup routine. However, after scouring the internet for the most reliable answers to my questions about each brand, I was pleasantly surprised to find that so many brands I was very familiar with and already using are, in fact, cruelty free.
At the end of today's post, I will answer a few questions y'all left me on IG stories yesterday. But, first, let me share the makeup product brands that I love [so far] that are cruelty free! NOTE: You will see that a lot of the products in the photos are not 'picture perfect' because I actually do use them and we just gotta keep it real over here, y'all!
Tarte
Tarte is a brand that I have only just started using over the past year or so, I believe. It's hard to miss all the rave reviews of their Shape Tape concealer and I can promise you that it lives up to the hype. Since falling in love with that product, I have discovered that their 12-color eyeshadow palettes [specifically this one, this one and this one – all of which are in the GLAMbox above] are also a really good investment. They have a wide range of colors and they all blend out really nicely. I've recently started using their blushes, as most of my blushes are by MAC and they are not cruelty free, are highly pigmented and also blend well. I have the colors 'Risque' and 'Exposed'.

I also shared how I started using their bronzer not too long ago in THIS beauty post from earlier this Summer.
Smashbox
To be honest, Smashbox was one of the makeup brands that I was legitimately terrified to look up the cruelty-free status on because I love their Studio Skin 15-Hour Liquid Foundation so much. It has been my go to for almost two years now after I got really tired of feeling like I was wearing concrete on my face with the Estée Lauder Double Wear, which is not cruelty free. Thankfully, Smashbox is cruelty-free as well as vegan. Although I haven't fully made the switch to cruelty-free and vegan products yet, it's comforting to know the ingredients in the product are also clean.
I've been trying out their contour and highlight palette for the past couple of months and really like it. Some other Smashbox products I've been a long time fan of are their BB cream with SPF and their gel eyeliner glides on like a dream. I love these mini eyeshadow palettes for travel, as well!

Urban Decay
Urban Decay is a brand that I've known about being cruelty-free for a long time thanks to my friend, Kathleen Barnes of Carrie Bradshaw Lied, who used to work there years ago. When she was telling me about her experience as an employee, you could tell it was a good one and that she was taken care of. It made me respect the brand even more and made me happy to be a consumer that used their products and thus supported their business. You can tell they are a company run by people who care about people and animals alike and that is a company that I totally want to give my full support to.
Personally, I use quite a few Urban Decay  products like their waterproof concealer [underneath Tarte's Shape Tape concealer; see why I use two concealers in THIS post], their NAKED eyeshadow palettes [my favorites being this one, this one and this one], their lip pencils [so easy to apply!] and their Vice lipsticks.
FOR A VIDEO TUTORIAL USING THE NAKED HEAT PALETTE, HEAD HERE!

People also rave about their setting sprays and eyeshadow primers!
Makeup Revolution
So, you may notice that I have featured some Makeup Revolution products in some of the images you see in this post. Since taking these photos, I've found that there are conflicting reports about the status of Makeup Revolution. But their website states that they are proudly cruelty-free.
I am going to be reaching out to Makeup Revolution directly in the next couple of weeks to see if they reply directly to my queries, which is what I want to do for future posts instead of relying on other sites – as much as I do trust that the ones I utilize are reliable. I just think it's always best to hear things from the horse's mouth.
This brand was supposed to be #12 but, since I was unsure about their status when I had first posted this blog post, I decided to add an additional one, Sigma Beauty, to make up for it! I'll list that one in the next batch of brands below 🙂
Model + Co
Model + Co is a company that I am newly familiar with thanks to a collaboration I was presented with by Nordstrom a couple of months' ago. I'm so flattered that they trusted me to try out the new product line that Model + Co launched at Nordstrom as I had never heard of their makeup brand before and I was pleasantly surprised by how much I loved them. I use their liquid eyeliner every single day and love to dip into this eyeshadow palette a couple of times a week to create a fresh, glowy Summertime look!
I also loved their liquid lip colors that light up when you open them. The side of the tube has a mirror to make application effortless and easy to do whether it's day or night! They're also currently included in the Nordstrom Anniversary Sale. Don't wait, though. It ends on Sunday night! Personally, I'm grabbing the 'Iconic Red' color.

Sigma Beauty
Sigma Beauty got my attention about three years ago when I discovered their genius brush-cleaning sink mat. Since then, I have discovered that their line of brushes is quite extensive and have started using Sigma for a majority of my brush needs. There are only a few that I need to switch over now and am planning on sharing more about my favorite brushes from Sigma later this year! I firmly believe the makeup brushes you use have everything to do with how seamless your overall makeup look turns out. They are such a worthy investment so be sure to take a look at some of my favorite brushes from Sigma:

Becca
Becca is another brand that I am newly familiar with and, while I haven't tried a bunch of their products, I live by one of them in particular and am confident they have other great ones! Their under-eye brightening corrector is seriously life-changing! If you don't get a lot of sleep throughout the week, whether it be from a demanding job or from being a Momma, I highly recommend you apply this under your concealer during your quick morning makeup routine. I realize that Mom's don't always have that luxury but, it's just a suggestion for when you do have time! It'll make you look like you got 8-hours of sleep the night before! Promise! I also have their luminous blush in 'Snapdragon'. It's bold and shimmery, perfect for Summer!
Here is the link to the under-eye corrector and links to a few other products I've heard great things about that I want to try: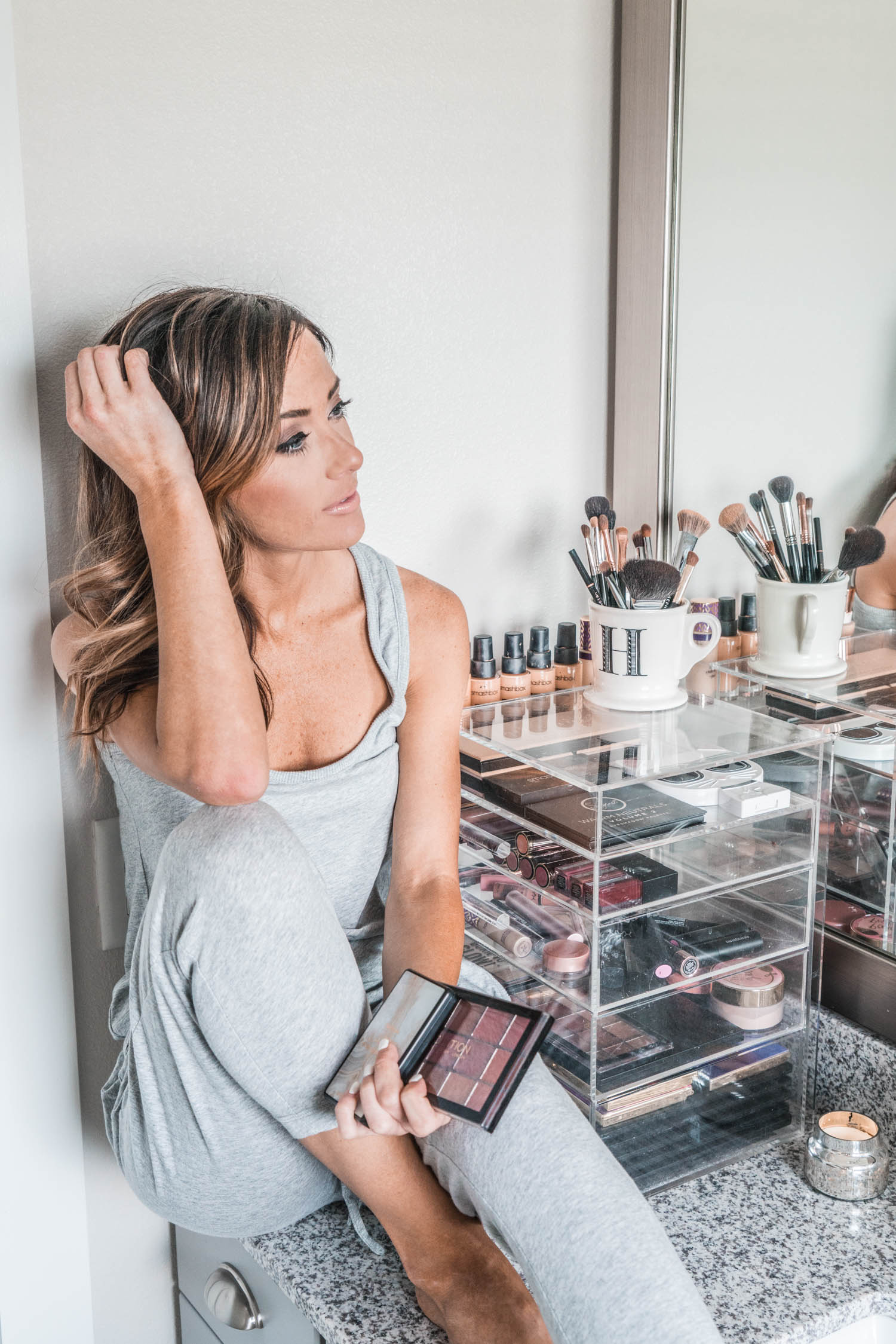 Charlotte Tilbury
Charlotte Tilbury has gained quite a bit of popularity among beauty influencers over the last few years but I have only just recently tried a few of their products and have since become a fan myself. I use their Magic Foundation when it's been awhile since I've gotten a spray tan and apply the Flawless Filter underneath my Studio Skin 15-Hour Liquid Foundation [which matches the color that I have in the Flawless Filter better than the Magic Foundation]. However, I don't apply it all over nor do I use it daily. I simply apply it above my cheeks because, although it is multi-purpose, I use it specifically as a highlight. Their Magic Foundation is great because it's full coverage but feels almost weightless.
Here are some of the other products I love by Charlotte Tilbury:

I just put this lipstick into my cart in the color 'Kim K.W'. Y'all know I love my nude lip colors and this looks like such a good one! Will report back on stories next week when it comes in! Oh, and this, too! Fingers crossed it actually works!
NYX
I have been a long-time lover of the ever affordable and always impressive drug-store makeup brand, NYX. I was so happy to see that they are cruelty-free. My favorite product of theirs is [easily] Butter Gloss. I have gone through and replaced 'Fortune Cookie', 'Éclair', and 'Créme Brulee' multiple times. Those are my ride-or-die! Their Lip Lingerie Liquid Lipstick is also great for all of my fellow nude lip color lovers! Speaking of lips, I used to use MAC's lip pencil in 'Stripdown' religiously. It was the best nude lip liner that I had found. However, now I use 'Nude' by NYX as I found out MAC is not cruelty free. Here are some others that I love by NYX:

I've gotten a lot of questions about a nude lip color I've been wearing a lot lately. It's by NYX and it's called 'Shy'!
Also, the setting powder I've been using for the last couple of years is sadly not cruelty-free so I think I'm going to try this NYX setting powder, as it's gotten some decent reviews and is under $10. Let me know if you use it / have used it and your thoughts in the comments! I'm also open to other suggestions, as well, but please make sure it's a cruelty free option.
Anastasia Beverly Hills
Anastasia Beverly Hills is another great brand that I was happy to see is cruelty-free as I use their products daily and am a long-time fan. Their contour kit is one of my holy grail products, although I've been loving using Smashbox's new one, and their eyeshadow palettes are seriously unreal. The Modern Renaissance and the new Soft Glam eyeshadow palette are the two that I dip into most often. They are highly pigmented shades that are super easy to blend. I reviewed the Modern Renaissance palette in THIS post from late last year. I have also – sadly – had to switch back to using the 'Brow Wiz' eyebrow pencil as the one I was using, by Benefit [and LOVED!], is not cruelty-free. It's a great pencil but I liked the Benefit one better, if I'm honest. I also really enjoy these lip glosses. I wear the shade 'Undressed' quite a bit!

Too Faced
Too Faced got my attention when I decided to try their 'Better Than Sex' mascara about a year and a half ago. I've been hooked on trying their products ever since and have become a fan of their 'Peach Perfect' highlighting powder, their Melted Matte Lipstick in 'Child Star' and Liquified Longwear Lipstick in 'Sugar'. I love that they're also cruelty-free! I added a couple of other products that I want to try by Too Faced in the widget below:

Morphe
To say I am utterly obsessed with Morphe and their eyeshadow palettes would be an absolute and complete understatement. I think they are one of the most fairly priced and highest quality beauty products out right now. Their large palettes have 35 colors and cost only $23.00! Please tell me why you wouldn't want to try these! They are – seriously – the reason why I really have no business purchasing ANY of the other eyeshadow palettes that I have shared so far in this post but, y'all … we all have those things that you just can't help but indulge in. Eyeshadow palettes are clearly my weakness. I truly love these in particular. They were essentially all I used when I lived in London. The diversity in shades and how beautiful they apply to your skin is truly unmatched.

Since a lot of my blushes are MAC or NARS, and neither of those brands are cruelty-free, I have decided to purchase this blush palette and this blush palette by Morphe. They give you eight shades and only cost $20. They spoil us, let me tell ya! I'll share more on those palettes when they come in the mail!
Bare Minerals
Bare Minerals is a makeup and beauty brand that believe they should be providing you with products that are full of clean, natural ingredients and free of anything harmful. For that reason, I am so excited to continue using their all over powder in 'Warmth' when I want to add a little more depth to my contour or apply one of their creamy and buttery lipsticks or lip glosses, like their Gen Nude® Patent Lip Lacquer in Life Goals, which is what I'm wearing in this post. I recently purchased their new Gen Nude® Eyeshadow Palettes in the Latte combination and am excited to try it soon!

And, there ya have it … twelve cruelty-free beauty brands that I highly recommend and personally use daily! Now, I'm going to answer a few of the questions that you had surrounding cruelty-free beauty products. There were quite a few and sadly I won't be able to get to all of them but I will certainly add the ones I missed to the Ask Alyson Haley pool of questions so be sure to subscribe in order to gain additional insight there!
For anyone new around here, Ask Alyson Haley is a weekly newsletter that goes out each Wednesday morning. It gives me an opportunity to get back to the questions that you send me via DM and email and distribute the answers to a larger group of people than just the person who asked! It's one of my favorite pieces of content that I get to put together for you guys. I love and appreciate y'all so much and while I can't get back to everyone individually, the newsletter is my way of slowly but surely giving y'all those answers you're looking for from me, whether it's how tall I am or how I feel about being single. I answer at least five questions every week but try to throw in an addition 2-3 if I have the time. Sign up for the newsletter HERE!
Okay, now on to those questions …
What peaked your interest in cruelty free products?
Honestly, there wasn't anything in particular that happened or that moved me to look into this. I think I have just noticed the little bunny signage in stores, indicating that the brand is cruelty-free, and have thought 'oh wow, I love that' and I just looked at Fish & Chips one day and just felt moved to be a better ambassador for animals. I hate the thought that animals have to die so that I know whether or not a product is safe to use when there are other ways of testing new products.
Where is your go-to spot online for clear answers on what is cruelty-free?
There are four places that I have found that I trust and have become my go-to's:
While I would love to get the verification of all of these brands myself, my team and I are simply at our max with other projects so I am thankful to no end that these four companies, in particular, are so passionate about finding those answers. I've also been impressed by how frequently they update their sites with the latest information.
If it's sold in a country that requires testing, like China, is it cruelty free still?
No.
Does cruelty-free mean the same thing as 'not tested on animals'?
Yes. Cruelty-free means 'manufactured or developed by methods that do not involve experimentation on animals'.
Do those products tend to expire faster than chemical filled products?
Honestly, I do not know the answer to this but will look into it soon.
What are your thoughts about using products with carmine?
I didn't know anything about carmine until I read this question and, honestly, it's quite disgusting to think that that is used in products. Thank you for bringing it to my attention and I will be sure to be more aware of Natural Red 4 and what that means.
If you're not aware of what carmine is, either, check out THIS article.
Did you stop using all products that do animal testing?
Deciding that you want to only use products that are cruelty-free is a valiant one but I also think it's one that some can't commit to overnight. It takes time to research all of the brands you use and find alternative ones that are cruelty free. I have definitely been researching the products I use in my everyday makeup routine and have made note of the brands that are NOT cruelty free. With this new information, I am actively trying to find alternatives to the products that are not cruelty free while I finish using what I have left of them. When it comes to products I have a lot of, like lipsticks and individual eye shadows, I have set the ones from brands that aren't cruelty free aside and will be either donating them, throwing them away [if they are REALLY used] or letting my friends pick through them. In short, I am transitioning out of using products that test on animals and will eventually only use makeup products that do not test on animals.
In the long run, I know that I will also be transitioning out of household products and other items that test on animals, as well, but it's hard to just STOP it all at once. It takes time so I'm starting with makeup and will eventually dedicate time to looking into other types of products. I hope that makes sense.
Where do you start?
It was easiest for me to start with my makeup products and just Google 'is BRAND [fill in the blank] cruelty free' and then going from there, making mental notes along the way. CrueltyFreeKitty.com is great because of how her site is set up. Each brand has a dedicated page and it tells you clearly if it's cruelty free or not and additional information, as well.
What are some staple brands that surprised you by NOT being cruelty-free?
Laura Mercier, MAC, NARS, L'Oreal, Lancôme, Estée Lauder, Bobbi Brown, Maybelline and so many more!
Do you have a list of brands that are cruelty free?
I have this list of 12 makeup brands so far, ha! I haven't done nearly the amount of research that CrueltyFreeKitty.com has done so if any of the brands you use are NOT on my list and you're wondering if they're cruelty-free, I highly recommend you check on her site. She has lots of lists!
Have you found a foundation with good coverage?
Yes, I shared my favorite cruelty-free foundations under the Smashbox and Charlotte Tilbury section of this blog post.
What cream do you use instead of Pond's? Have you found any cruelty-free makeup wipes that you like?
I haven't found any makeup wipes that I like and I'm not sure I am going to continue the search. There are actually a BUNCH of articles out there sharing all the reasons why you shouldn't use them.
However, I am so happy to share that I now have TWO things that work great for taking off my makeup that are cruelty free! Last week, on IG stories, I shared that I have been loving the Elemis Pro-Collagen Cleansing Balm for taking off my makeup. It is really penetrates your makeup and wipes off so easily. It also smells amazing and is an extremely clean product. A lot of y'all had shared the Makeup Eraser towel with me a couple weeks prior and I was really intrigued so, I got one and have been trying it this week! I love that all I have to do is use warm water to take off my makeup then wash it at the end of the week and re-use it! The original is HERE but there's a set of two that is included in the Nordstrom Anniversary Sale.
Best cruelty-free waterproof mascara?
My favorite mascara, Better Than Sex by Too Faced, is available in a waterproof version.
Mom on a budget! Any quality, budget-friendly drugstore recommendations? 
Sadly, so many drugstore beauty brands test on animals but NYX is one that I use all the time and is featured in today's post. Wet n Wild is another one that I like. I use their Ultimate Brow Highlighter on my waterline almost everyday. Also, Morphe is another one I'd recommend you look at. I wouldn't consider it a drug-store brand really but your money goes A LONG way with their eyeshadow and blush palettes and they are goooood, girl!
Alright! That is it! I hope y'all found this to be helpful! If you want more beauty content, specifically in the MAKEUP department, definitely check out THIS page! Thanks for stopping by today, lovelies! xo.
If you want to bookmark this post to reference later on, be sure to pin the following image to one of you Pinterest boards: