Say Hello To Curaçao!
I'm excited to share my little trip down to the beautiful island of Curaçao, one of the Caribbean's best kept secrets, earlier this Summer with you guys! It is one of the islands that make up the ABC islands, along with Aruba and Bonaire. These neighbors are the three western most islands of the Leeward Antilles in the Caribbean Sea that lie just north of the coast of Venezuela. Curaçao is a Dutch Caribbean island that is still owned by the Netherlands but is independently run. The country is, however, still reliant on the Dutch for international military affairs.
The island is popular amongst divers as there are expansive coral reefs but is appealing in other ways, as well. The colorful capital of Willemstad offers unique colonial architecture that makes the Dutch influence inevitably easy to see. Curaçao is also home to the only moving pontoon bridge, called the Queen Emma Bridge, in the world. It might not be the most popular destination in the Caribbean but I almost think that gives it even more appeal. You can truly get away and relax if you want to but there are things to do if you're looking for that kind of vacation!
Where To Stay
My friend, Lauren, and I had the pleasure of staying at Santa Barbara Beach & Golf Resort in Curaçao. It is located 40 minutes from the airport on the Southeast side of the island.
We were greeted by a wide open, breezy lobby and warm salty air, inviting you to hurry and get settled in so you can start enjoying your vacation. The staff couldn't have been friendlier as they checked us in and escorted us to our room, where we quickly found a plate full of the most delicious treats. In addition to the aforementioned delectables, we feasted our eyes on a spacious, clean room that looked out over a small bay full of crystal clear light blue water. It's Santa Barbara's own little beach!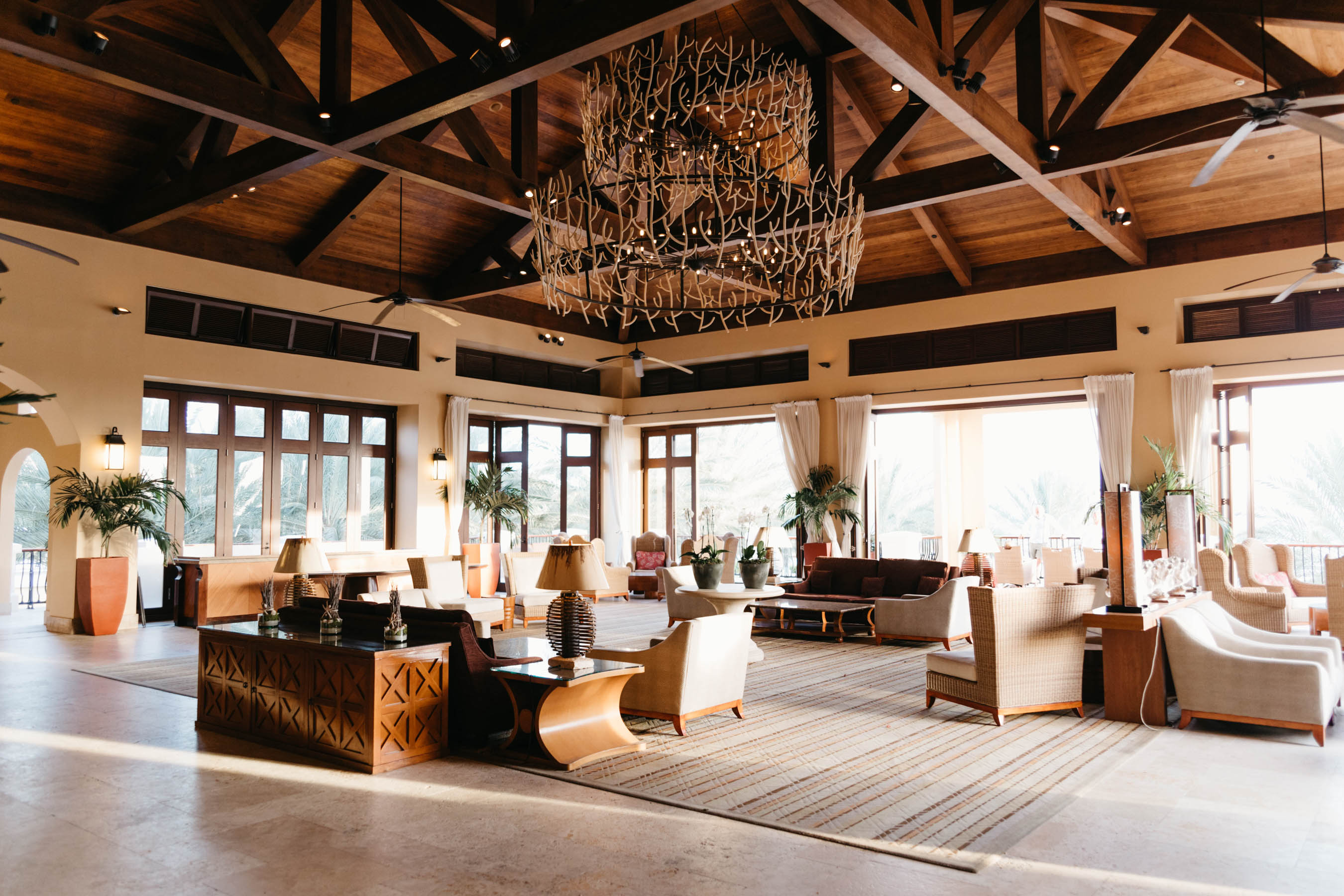 See! Told you! Look at this water!
The barge behind me makes for the perfect blockade between swimmers and boats, which I think is genius for families staying here with their small children. You can see kayaks behind me, which are available to rent for hotel guests.
Santa Barbara Beach & Golf Resort has so much to offer its guests, although one of the things I love about it is that you can do a bunch of stuff or you can literally just relax and do nothing! They have a private beach, as I've already mentioned, set with lounge chairs, towels and a small hut where you can order a water or a cocktail. There are quite a few pools with an outdoor restaurant, Splash. They have staff members at the restaurant that walk around the pool areas asking if you'd like to order anything. The service is exceptional! Ladies, if your man loves golf, set him up with a tee time! The golf course on their property was voted the #1 Caribbean golf course by USA Today readers and the views from some of the greens look pretty amazing! While he's out there, you can enjoy a relaxing morning or afternoon at the spa or get a workout in in the gym!

WANT TO BOOK?
If you're looking to book a vacation, Santa Barbara Beach & Golf Resort is offering AlysonHaley.com readers a fourth night FREE when you book three nights! Simply book through this link to receive the offer!
Where To Eat
SHORE AT SANTA BARBARA RESORT
Shore is Curaçao's leading authentic Caribbean fine dining experience and it's located at the resort I stayed at, Santa Barbara Beach & Golf Resort. Lauren and I ate here on our first night at the resort and had such a hard time choosing our main dishes. We were tempted by so many options that sounded delicious! The gorgeous view from our table didn't really help us focus on making a decision, either, but the staff was so patient with us between taking in the view and chatting away!
What we ordered: I ordered the rack of lamb and Lauren ordered the steak. I don't think either of us spoke a word while we ate. We were too busy devouring everything. It was SO good! We both enjoyed a glass of wine with our dinner but went back another afternoon to grab a cocktail before heading into town for our dinner reservation. The bar staff is so inventive! They curated a cocktail JUST for me based on flavors that I like. I wish I had made a note of what was in this but I promise, they will whip you up something you like if you ask them to!

Don't forget to make a reservation! HEADS UP: They're closed on Tuesdays.
KOME
Kome might not be for everyone because when you walk in, compared to the other restaurants on the island that we tried, you will feel like you are back in America. It's large, multi-level and just has a very modern American atmosphere and feel to it. I do encourage you to stay, though, because this was actually my favorite spot we at. Lauren and I went on a Wednesday, when they have an extensive tapas menu. Be careful and don't order too many things, although you will be tempted, because you will get full fast! We had to tell them to cancel our blackened fish tacos order because we were stuffed!
What we ordered: truffled risotto & grana padano cheese, chicken and waffles, chicken sliders, pork belly sliders, charcuterie board – all of which were delicious! Personally, the chicken and waffles were the best I've ever had and, being a Southern woman who has had her fair share of chicken and waffles, that should say something!
MOSA
Mosa is owned by an island local with Lebanese descent. He was so kind and really fun and interesting to talk to. They offer a tapas menu. Like KOME, you should be careful what you order as the tapas are quite large. You should only get two to three plates per person.
What we ordered: Lauren and I shared the carrot and saffron hummus to start. It was good but not my favorite. Lauren got the flank steak and said it was really good. I got the octopus, which I thought was good. It has squid ink on it, which isn't something I personally love, but I could barely taste it. Thankfully. We both ordered our own chocolate moelleux for dessert, which we both highly recommend. It was delicious!
SERAFINA
Serafina is an Italian restaurant that is owned by an Italian who was raised in both Rome and Curaçao. It has a very charming atmosphere with an open courtyard, string lights hung throughout and very friendly staff. The food was delicious. Highly recommend this spot! It was also highly recommended by a lot of readers who have visited the island before!
What we ordered: I don't recall what Lauren got but I got the spaghetti with clams, which isn't surprising if you read my Positano Food Diary, ha!
BIJBLAUW
Bijblauw was where Lauren and I went for lunch on the day we explored the capital city of Willemstad. We were dying over the aesthetic and decor. It is located on the water just outside of the main city center, offering anyone who needs to find a little sanctuary from the crowds the perfect oasis they are looking for. Here are some snaps we took before indulging in some food:
What we ordered: Lauren couldn't fight her urge for the grilled cheese and, if I had noticed that was on the menu, I might have been in the same boat. She was said it was bomb. I opted for the Tuna Tokyo Salad, which was fresh and exceptional. They also offer refreshing cocktails, like the one below!
Here are my outfit details if you're curious:

Where To Play
EXPLORE WILLEMSTAD
Lauren and I were graciously shown around the city by the Curaçao Tourism Board and educated on the islands' history. It was really fun riding around in this little tuk-tuk for the morning and learning so many interesting things! I loved hearing about some of the things that you will hear locals say like 'Bonbini', which means 'Welcome!' or 'Good comings!' and 'Dushi', which means 'sweetheart' or 'babe', but it can be used to describe good things in life, like food. As I mentioned in the beginning of this post, the island of Curaçao is owned by the Netherlands but is self-governed. Their governor is appointed by the Dutch King or Queen for a 6-year term. They're current governor is the first ever woman governor on the island of Curaçao, which is so awesome!
As we were riding around, it was hard not to notice the colorful buildings but also the artwork on a lot of the buildings. Our tour guide told us that they allow local artists use some of the abandoned buildings outside walls as a canvas to express themselves. It was fun to see all the different ones!
A huge thank you to the Curaçao Tourist Board for showing us around the beautiful city of Willemstad!
HEAD WEST
If you're feeling adventurous, I'd recommend rented a car and taking a drive over to the west side of the island, where there are expansive natural beaches. They are all stunning. Some of the ones that were recommended to us were Kleine Knip, Playa Lagun, Grote Knip, Cas Abao Beach and Playa Porto Marie. Beware, the drive isn't a very scenic one. It's actually pretty rough and over an hour from the Santa Barbara Resort. So, I'd get an early start if you want to make the most of the time you have over there considering how long it takes to make the trek. Also, there's not a lot over there so do your research ahead of time, asking locals which ones have food options. I'm pretty sure we stopped and grabbed sandwiches from a local grocer.
Here are some snaps from the day we drove west:
GO DIVING
If diving is your thing, this island is chock-full of amazing dive locations. Personally, diving isn't something I am certified or interested in doing but we saw lots of people in scuba gear at a lot of the beaches on the West side of the island. I would encourage you to do some research ahead of time but, if diving is your thing … I'd say do NOT miss an opportunity to dive down to some the reefs off the coast of the island!
TAKE IT EASY
Honestly, you're on a beautiful island surrounded by gorgeous water and you're likely staying at a resort that has everything you could possibly need to survive the day if all you wanted to do was sit in the same chair outside for 12 hours so, girlfriend … if you didn't want to do a damn thing in Curaçao, I totally wouldn't blame and / or judge you!
Channel this island pig … sleep, lounge and give no eff's doing it!
Curaçao Outfits
I've featured a few of the outfits that I wore during my time in Curaçao throughout this post to help you on the 'what to wear' front, but here are the rest and a closer look at some!
DINNER AT SHORE –
I wore this outfit for our dinner at Shore the first night we were in Curaçao! It was supposed to be an outfit shared on the blog but, for whatever reason, it never made it! While some of the items might not be available, at least it can serve as some inspiration for what to wear on your trip, if you decide to go! For Shore, I'd definitely recommend dressing up a little more than you would for other restaurants I recommended you check out!


LAST NIGHT IN CURAÇAO –
While you might want to dress up for dinner at Shore, any other restaurant you venture to won't care what you show up in! This is what I wore the last night on the island for dinner at Kome. I also featured it in THIS blog post.
NIGHT OUT IN WILLEMSTAD –
I am not much of a go-er out-er when I travel. But, I do love to dress up from time to time. So, I dressed up for one of the nights we ventured into Willemstad for dinner. We made sure to head out a little earlier than we had on other nights so we could walk around without all of the cruise ship tourists and catch the sunset from the Queen Emma Pontoon Bridge. It was stunning. I love this little strip of colorful buildings. I think it's my favorite little bit on the island!


I got tons of questions about this dress! Can you believe it's still fully in stock and on sale for $80!
VENTURE TO PLAYA PORTO MARIE –
This was literally the windiest day ever so it was hard to choose which photos to share hah but here we go!


Know Before You Go
• LANGUAGE: The official languages are Dutch, Papiamentu and English. Papiamentu is the original language of Curaçao but is commonly spoken through all of the ABC islands. It is a multi-faceted Creole language based on Portuguese, Spanish, Dutch, and several African dialects.
• CURRENCY: Netherlands Antillean guilder! Bank cards are accepted most everywhere. Check with your particular credit card company to inquire about international transaction fees. Always make sure to have cash on hand for taxi's. Usually, a taxi driver is open to finding an ATM for you to get money out, if need be. I got money out at the airport.
• TRANSPORTATION: We used taxi's to get to and from our resort and Willemstad for dinners. Prices were pretty reasonable. It cost about $40-50 to get from the airport to our resort, which was a 40-minute drive. For the day that we drove to the West side of the island, we rented a car, which was more reasonable than a cab would have been. We used Boric, which was the car-rental company at our hotel.
• TIPPING: Restaurants typically add a 8-15% service charge to your bill. You should tip taxi drivers 20% on top of the fare!
• WHO SHOULD VISIT CURAÇAO: Anyone who loves impeccably clear beaches, unique and blended cultural experiences and colorful destinations! Curaçao was a fun little getaway!
• GOOD TO KNOW: Curaçao is common cruise stop so venturing into Willemstad during the day can be crowded.
• BEST TIME TO VISIT: The best time to visit Curaçao is May through October, which is technically considered low season. There are considerably less people on the island. Airfare and accommodation prices are much cheaper during this time. We went in May and experienced this. It felt like no one was at our resort, which I personally loved and truly allows you to unwind and relax. It was hot but not unbearable!
• DID YOU KNOW? 
– Curaçao was discovered by the Spanish in 1499. The Dutch came in 1634. Although they are independent from the Netherlands now, they still rely on the Dutch for assistance with their military and international affairs.
– All of the buildings in Curaçao were made out of coral stone. You will see that they are all very colorful and the colors were inspired by a governor who had terrible eye problems. They were all white at first and it was incredible painful and difficult for him to be outside in the midst of all of these white buildings so he encouraged everyone to paint their buildings whatever color they wanted to.
– Unfortunately, though, the buildings and their color are a lot to maintain as the coral stone has no way of releasing certain gases so it ends up bubbling up under the plaster and the paint. The people of Curaçao re-plaster and repaint their buildings every few years to keep them from looking really disheveled.
Overall, Curaçao was a fun little four-day escape for my friend Lauren and I! We had a great time exploring the island and unwinding a little bit. Her and I both run ourselves a little too hard into the ground sometimes so we both were saying how nice it was  to stay somewhere like Santa Barbara Beach & Golf Resort, where we were encouraged to just take it easy and let them serve us! I highly recommend y'all consider it for your next getaway! And, don't forget, if you book through this link you'll receive your fourth night free when you book a three-night stay! xo.