Hey there, friends! Today, I am sharing the Fall decor updates I made to my living room and a couple of small spaces in my kitchen. Next week, I'll be sharing my beautiful place settings for the Fall season. I didn't want this post to be too photo heavy and long so I decided to hold off on that until next week. It's killing me because that might be my favorite part of the update but I promise, the wait will be worth it! I hope this post provides you with some much needed inspiration for your Fall decor! Let's get started!
TV Console
You might remember that I used to have a much shorter, white TV console, featured in this post and this post. I absolutely loved that console and it worked perfectly in my old apartment. However, in my new townhouse, it was much too short on this wall when I had my television mounted. In order to make decorating a little easier, and make the space look less empty, I needed less space between the TV and the console so I searched and searched and fell in love with this beautiful buffet. It fits the space perfectly and also provides me with quite a bit of extra storage space for books, decorative objects from other seasons, games, and movies. It's a little pricey, which is to be expected for quality furniture but, oddly enough, it is always discounted so keep an eye out if you're considering it, especially with the holidays approaching!

To fill the gap between the top of the console and the bottom of my TV, I decided to add items that are different heights. My friend, Vonna, who helped me decorate the space, found these lanterns that we filled with these adorable velvet pumpkins. Adding texture and personal accents is the next step. We stacked a few coffee table books and used one of these wood servers behind the pretty garland [that we found at Hobby Lobby; similar] to provide different levels of elevation throughout the spread and topped them with picture frames [more here] and these signs that display words you'll be hearing throughout the Fall season like 'grateful' and 'thankful'.
What do you think?
I almost changed out the chairs that I have on either side of my console [to something like this] because I felt like these [similar here, although they aren't as cool as my chairs] might seem too 'cool-toned' for this new space with all of the warmth that I'm adding with the rust-colored curtains and other elements. However, I went against it because my couch is the same cool-toned gray, which is also seen in my rug. Making changing to your space can get expensive so you have to try and make it work so that you don't burn a hole in your credit card, ha! I also have gray bar stool chairs so I think mixing cool and warm-toned elements to the room just became part of the mixed aesthetic of the decor.
Underneath the chairs, I wanted to place baskets, however, I was having trouble finding baskets that were the height and the width that I needed so I decided to use these really cute metal and copper bins to hold items like Fish & Chips' toys, replacement candles and blankets for guests.
Entryway Console
This little space is one of my favorites. It's what you see right when you walk up the flight of stairs to the main living room level of my home. The mirrored console is from Home Goods but I linked some similar options at the end of the post for you guys!

I always think it's important to add a lamp to console tables to add some cozy lighting to your space at night. Mine is from Home Goods but I found an almost identical one that comes in a couple of different color options here. I love that a lamp provides you with an opportunity to turn on a light right when you walk into the space. To incorporate some new warm elements to this part of the room, as I did throughout the rest of the space, I lined up some of the books that I had stored in my buffet and used this little copper and silver TREATS bin that I found at Home Goods to keep them standing next to the lamp. I always like to add a living element to spaces, as well, so this beautiful arrangement by my friends at Marble & Pine was the perfect addition as well as a cute little white pumpkin! You can't beat those little guys as the perfect Fall decor accent!
So many of y'all asked about the digital clock you see here and, sadly, it's just the clock I was given as a part of my home security system through xfinity so it's unavailable but I do love that it is sleek and looks cute on this console.
Also, I'm obsessed with my new wall clock, which I later set to the correct time! Ha! It's a great buy for only $35!
Couch Area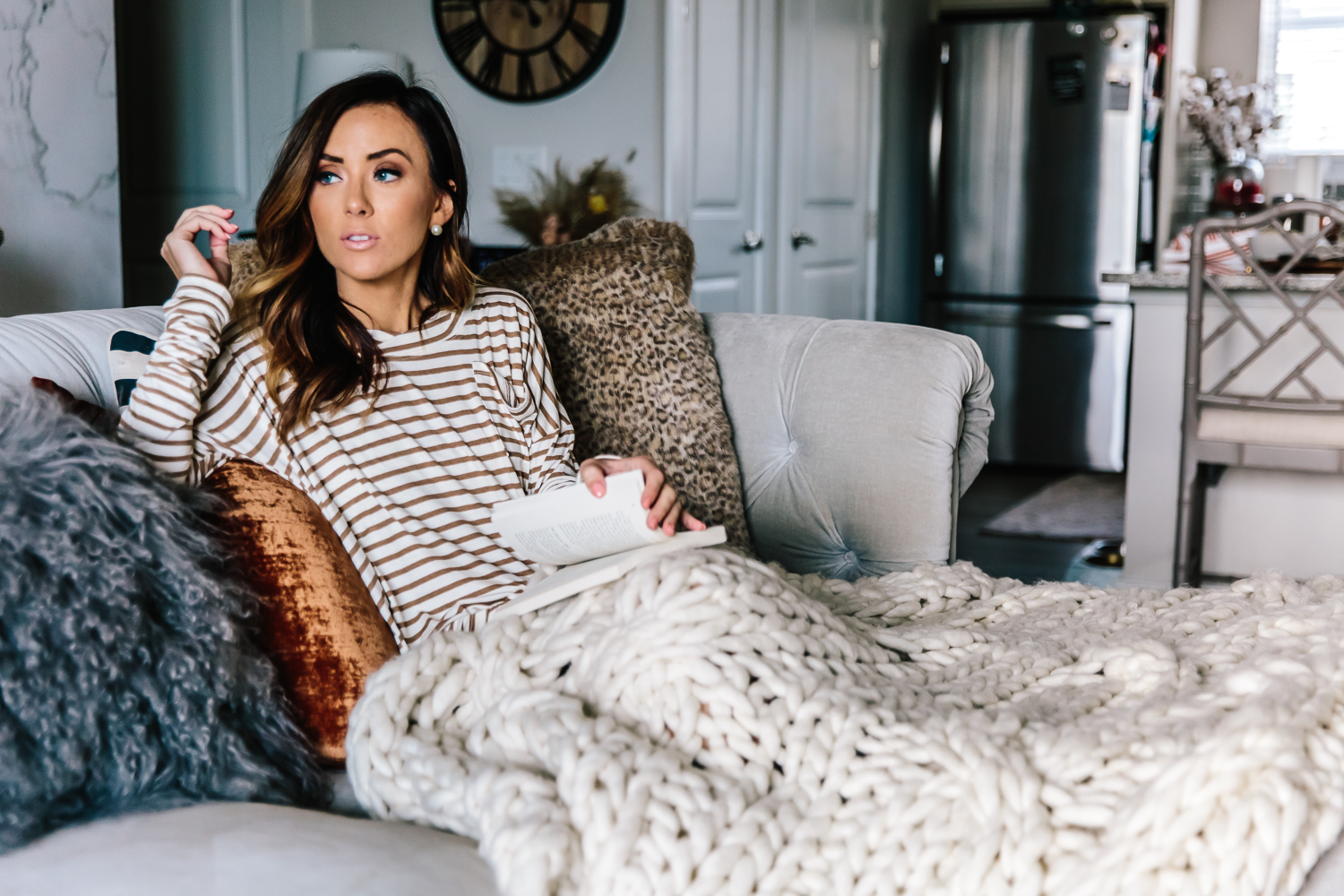 I love spending the evenings in the Fall and Winter season cozied up with the boys on the couch with the candles lit all around me, watching an old favorite movie or reading a book. So, it's always important that my couch space embodies comfort and promotes rest. I do this by mixing textures within the pillows and blankets that I choose. I also ensure that the coffee table is decorated with candles, coasters for drinks and a little something to enjoy like chocolate [located in this little pumpkin].

Small Kitchen Updates
I made some small kitchen updates to my home. My favorites would be this galvanized metal canister where I placed some cotton sprays, this metal & copper bin for a few of my favorite cookbooks and small cake platters [similar here & here] to display seasonal accents, like these velvet pumpkins.
A peek at my place settings can be found exclusively in the LIKEtoKNOW.it app [also here, if you don't have / want the app]! More photos and all the details will be shared in a post next week. I also have a huge wall at the back of my living room that we didn't feature in this post. We are waiting on a piece of art to complete the wall and then we will share everything on the wall with y'all. It looks like we'll be incorporating that into the content calendar in the beginning of November and I'll share some inspiration for how to style your bar cabinet and / or provide y'all with some cocktail options for the Thanksgiving holiday. I can't wait to share that with y'all! The art is truly going to complete this room!
Thanks so much for stopping by today! If you're curious about where something is from, carefully and slowly look through all of the widgets and, especially, the product links below. The team and I meticulously sourced and linked everything so I'm positive everything is there [even if it's not available, we shared where it's from and did our best to find similar options for y'all!] but, of course, this was a lot to link so, it's always possible we missed something. If you don't see something linked after looking a few times, please leave a comment below and we'll get you what you need! 🙂 xo.