Hey there, lovelies!
The Shopbop Event of the Season Event is on! You can save 20-25% off top brands like Free People, Stuart Weitzman, Rebecca Minkoff, Madewell and more! Here are some of the items included in the sale that you CAN'T MISS! Use the code STOCKUP18 at checkout to receive discount! Have fun shopping!
 Karen Walker
MULTIPLE STYLES
If you go back as far as 2014, I can almost guarantee you will find outfit post after outfit post wearing Karen Walker sunglasses. They have been my go to for YEARS. They're definitely pricey so, if either the Super Duper Sunglasses and the Number One Sunglasses that you see tons of bloggers wear, now is the time to buy them because they are included in this sale. Enjoy 20-25% off with code STOCKUP18! You will wear them all. the. time!

Stuart Weitzman
Guys! Great news! One of my favorite over-the-knee boots from last year are included in Shopbop's Event of the Season! This color is from last year but y'all will love the color they have available on sale this year. It's called 'Bridle', a beautiful rich cognac color! Now is the perfect time to snatch these up as they are fully in stock and you will get 25% off. They are an investment and you'll need to spray them down with suede protectant spray but they are WELL. WORTH. IT. I promise!
Outfit details for this outfit can be found in THIS post from last year, but here are some similar options included in the sale:

Lioness
Palermo Blazer
I wore this blazer in NYC during Fashion Week on the first evening I was in town, to a Banana Republic event, and the last evening I was in town, to the LIKEtoKNOW.it party! Blazers have never suited my frame. They are always way too big but this one cuts in at the waist, which provides a much more flattering silhouette for everyone! It comes in three color options, all of which are neutral and great for professional settings, and is a steal for $88 before your 20% discount! So, overall, there are so many reasons to recommend this blazer! Don't miss out on your opportunity to snag it on sale!
It runs true to size!
Free People
Gossamer V-Neck Sweater
While not everyone is a fan of almost sheer sweaters, I personally loved this one by Free People last year. I purchased it in this cream color and wore it a few times as the Winter chill started to fade. I loved wearing my favorite bralette underneath, which is also available in the sale in a few colors! I just recently got the sweater in the rust color and share it styled below:

Agolde
Parker Vintage Loose Fit Cutoff Shorts
These shorts are a staple in my Summer wardrobe. They're a little pricey so now is a great time to snag them if you have been seeing bloggers wear them but could never justify the price. The great thing is that you will certainly get your money's worth during those hot Summer months, albiet they are behind us now. There's never anything wrong with buying for a completely different season that you're in if you know you will need the item later.
SIZING | Go one size down from your normal!
Shop this entire look HERE, and here are the items that are on sale:

White + Warren
Cashmere Travel Wrap
If there is one thing I'd recommend over everything else, aside from the boots I'm wearing maybe, it would be this cashmere scarf [also here and here]. I have multiple colors, and I've always gotten them during this sale, and one of them has always been packed during my Fall and Winter trips. I also wore the gray one with literally EVERYTHING when I lived in London in 2016. From October on, I never left the house without it because it would get really, really chilly at night and it would keep me so warm and toasty!
They just released a few new colors that are so, so pretty. Yesterday, when I made my purchase, I couldn't help but pick one to add to my lineup. I went with the Golden Olive Heather and I can't wait to style it on my upcoming trip to Vermont! Can you guess who is going on this trip with me? I cannot wait! It's going to be so fun!
This outfit to the left was posted in 2016 when I was living in London. You can check it out here but due to the launch of the new site, the old list of outfit links are no longer available. I'm so sorry!
I brought the light brown one that I have to France with me last year. The color is no longer available but there's a really similar one here called Sand Wisp Heather.
Free People
Slouchy Tunic
I shared this look on the blog last week and it's been one of my favorite ones to date! I love all of the tones and colors together. The slouchy tunic is included in the Shopbop Sale, as well as the cute two-tone fiddler cap [although I know a lot of y'all hate those hats, ha!] and my go-to Karen Walker sunglasses. My SPANX leggings are sadly out of stock but I will link a couple of other options here for you guys!
A few other items to mention …
The other day I shared THIS look on Instagram. While this $20 isn't included in the sale, there are quite a few items in the photo that are, like:

I shared this look a couple of weeks ago! This thermal henley will be on repeat as it gets cooler around here and it's included in the sale! The hat is included, as well!
It's a great sale and I hope you find something that you've been wanting for awhile! Here are a few things that I snagged: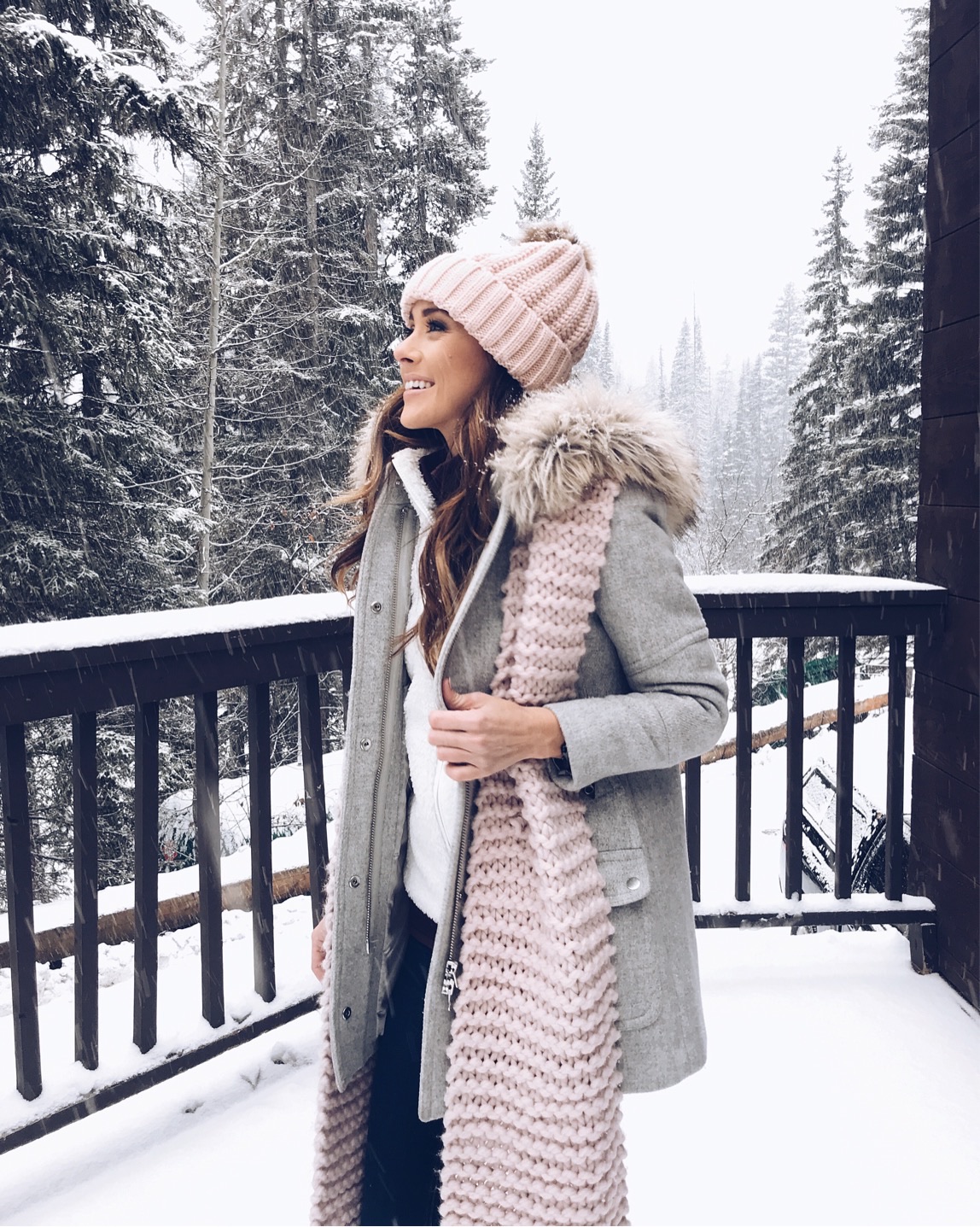 Also … another GREAT sale alert! This wool coat is available again this year in a bunch of colors and is currently 40% off! Don't miss this great deal!
Happy Shopping, loves! Come by tomorrow for the recipe I mentioned earlier this week on stories for a delicious Fall dessert! Can't wait to share! xo.