Hey there, friends!
Today, I'm doubling up on blog post content to share two looks I styled recently that incorporate my favorite jeans by Free People under $100. Not only is this pair super affordable but they fit like a dream! They're made slightly stretchy material and hug you in all the right places. I highly recommend you give these a try for those warmer Fall days. I'm wearing the Dark Blue wash.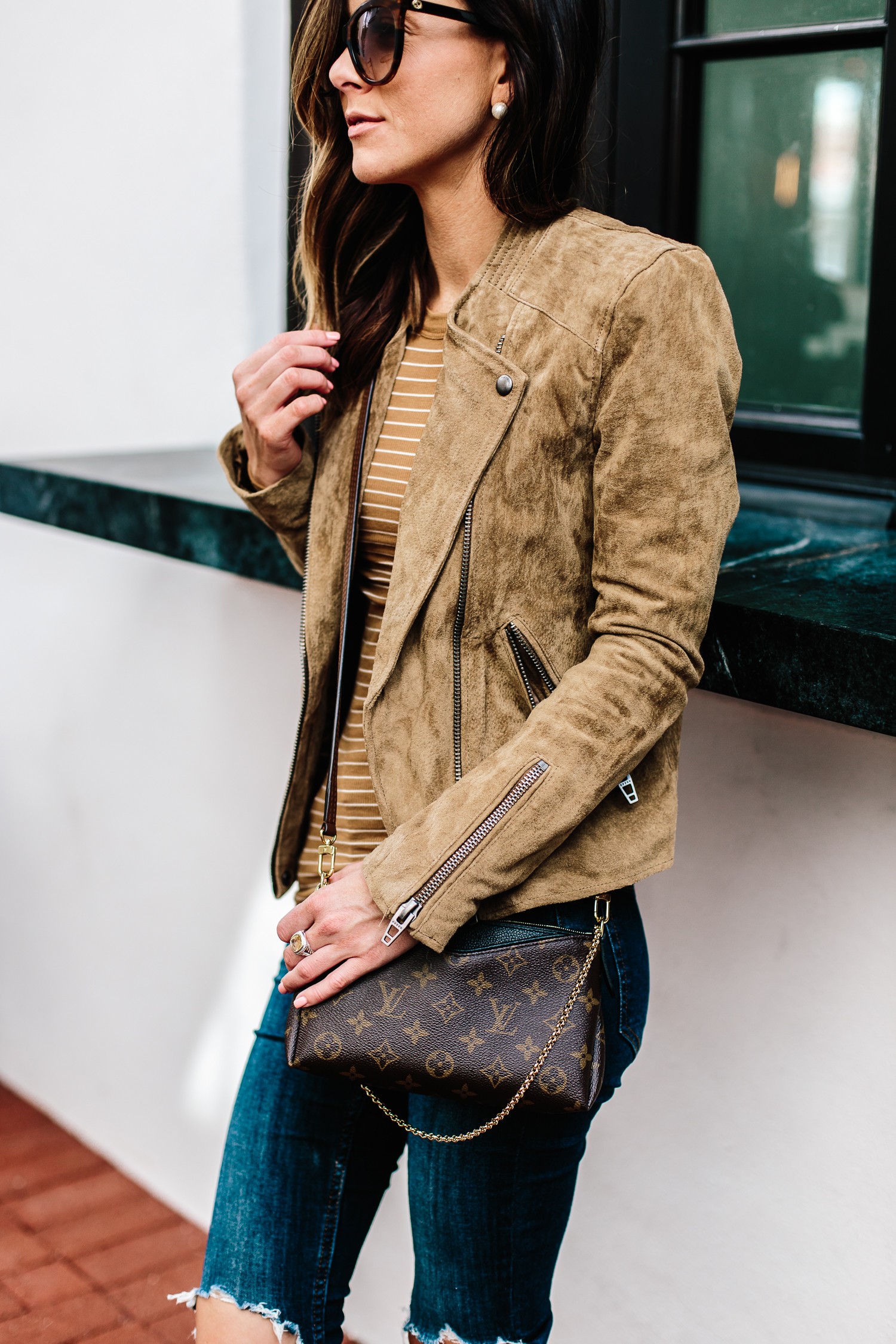 I shot the look you see above about a month ago but, luckily, all the items are still in stock! This ribbed long sleeve tee is $25 and comes in two stripe options and three solid color options.  It runs small. I would go one size up. I also linked some other stripe top options for you guys in the Editor's Notes at the end of the post.
Have you considered trying out this BLANK DENIM suede moto jacket? I resisted for awhile but I really liked this color they introduced this year. Y'all … I now understand why it's been all the rage the last couple of years! It fits SO good and is such a great outerwear option when you have to get dressed up for an event but want to add a bit of edge to complete the look! I'll try and style it in a few more outfits in the weeks' to come for you guys but I promise, it is worth the purchase if you've been debating!
I literally cannot get over these photos from Vermont that Victoria took during our trip. We were just walking around the Edson Hill property on the first day we were there. It was a bit overcast but the leaves were so, so beautiful!
This turtleneck is from J.Crew and is currently 30% off with code CHILL. It comes in a few other colors if it's sold out in the one I'm wearing. I love the dark moss color for the upcoming cold weather season. Red can be so overpowering for some people. So, that deep green color is really, really pretty and a great alternative if that is true for you! I would go one size down from normal unless you want more of an oversized fit.
Some great basic turtleneck options can be found HERE.
Have you found the booties that are you are married to this Fall season yet? I'm set with these [currently on sale!] and these but recently tried out these open-toed booties from Vince Camuto and I think they are super fun for nights out!
Y'all ask me about the sunglasses I wear a lot! I'm so excited to share today that the pair that I probably wear the MOST are back in stock HERE. There are only a few pairs left so act fast! They don't restock often in the tortoise color! This is your warning!
One last thing … I get tons of questions from you guys about my eye makeup via DM's on Instagram. I wanted to let you know that more often than not I'm wearing colors from either this palette from Tarte or this palette from Sigma! I'm really loving the Sigma one lately, though! If you've never checked out the brush selection on Sigma's website, you need to. I truly believe the brushes you use have a huge influence on how your makeup turns out, especially eye makeup! Would y'all want a post all about makeup brushes?
I hope you guys are having a great week! We are almost to Friday! I am going to be working on a post all about the hair extensions that I got earlier this week for you guys. I know a lot of y'all are curious about why I got them, what kind I got, my color, what products I'm using, etc. Please leave any questions you have in the comments below!