Throughout the month of January, I've had fun sharing some of the things you guys have loved on the blog over the last year [see your the blog posts y'all flocked to this most & the products y'all loved the most] and, today, I'm excited to round up the top 5 travel destinations that I ventured to this past year. While I realize travel seems like a far fetched thing or idea for some, I do hope you'll aim to be intentional about traveling in even the smallest capacity this year. It really does the soul good to get out of your normal day-to-day to experience somewhere new.
And, if you can, at any point in time, plan a trip to one of these places. They blew my mind!
Budapest
Budapest is a diamond in the rough. From the multiple styles of stunning architecture throughout the city to the traditional Turkish baths, Budapest is a destination not to be missed. I truly did not expect to love this city as much as I did. We only had a day and a half to explore, which I thought would be plenty, but we left wishing we had double that amount of time to do the city the justice it deserves! Highly recommend a stop in Budapest.
Check out my Budapest travel diary for more insight!
Lisbon
Portugal has been on my list for years and, to be honest, it always makes me nervous to go to places that I have built up in mind to be amazing. What if they aren't as great as they seemed they would be on Pinterest?
Well, Portugal really is a beautiful country and I especially loved Lisbon.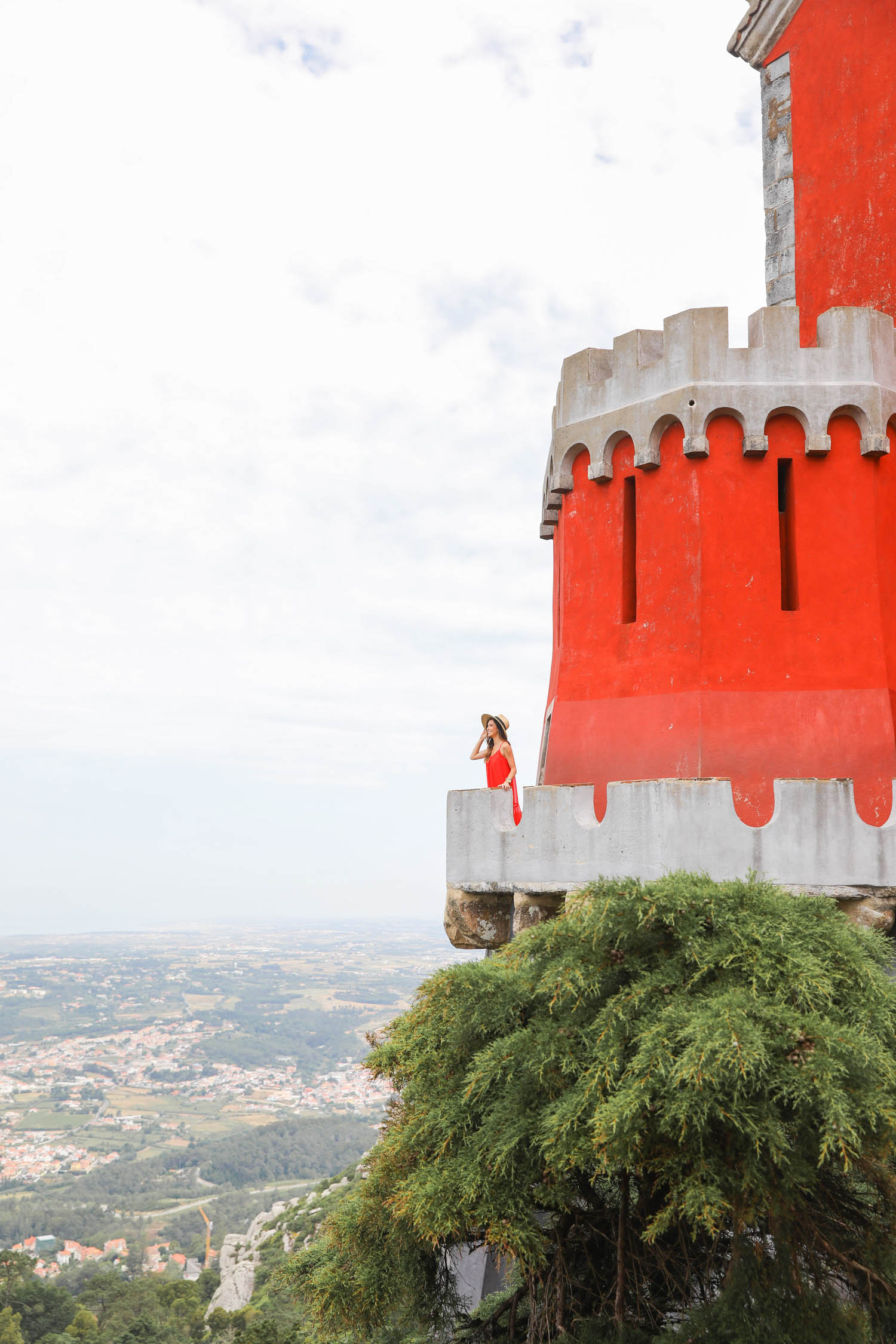 It's a huge metropolitan city with plenty to keep you busy, but if you're into day trips, you can't miss Sintra with seven castles to explore with absolutely stunning views and interesting finds! [see above & below]
Victoria and I enjoyed gorgeous weather, the kindest people, delicious meals, bright colors around every turn and stunning sunsets in Lisbon! I highly recommend going in May or June as the later Summer months would surely make the hills you have to tackle around the city pretty brutal!
More detailed travel diary to come in 2019!
Vermont
Seeing multiple cities in Vermont at peak foliage time might have been my absolutely favorite travel venture in 2018, which proves you don't have to leave the country to have the best travel experiences. Planning a trip aiming to see the leaks at their peak is a bit of a gamble, with no easy way to really nail it, but if you're down to take a chance, get started on your planning early and go for it! It'll be beautiful either way!
Here are some of my favorite snaps from our trip!
There are so many that have yet to be shared so be sure to stay tuned for a more detailed post on traveling to Vermont in the Fall in 2019.
Madrid
Like Budapest, Madrid caught me by complete surprise. Whitney and I planned it on a whim and, to be honest, and I hate to admit this, but I wasn't super excited about it. It had never really been a place I had heard great things about nor had I come across blog posts that got me excited about the city. But, our first day in the city, I just fell in love with the vibe, the food, the grandeur architecture [I'm kind of an architecture lover, I'm not going to lie] and cute neighborhoods just waiting to be explored.
Madrid kind of proved to me how much of a city person I am. I literally come alive and feel so at home in them. But, similar to London, I felt a different kind of draw to Madrid than I have felt in other big cities so, there was just something special about it to me.
Being that Madrid is such a large city, it was absolutely impossible to really even scratch the surface of all that there is to discover and grow to love there but I am confident that the longer I stayed, the more and more I would toot Madrid's horn. I hope to go back someday and spend at least a week there!
Small travel diary to come this year! Stay tuned!
Schloss Neuschwanstein
Out of all of the places on my lust list, I was probably the most excited to check off this one this year and, thankfully, it didn't disappoint. But …
… it almost did!
Be sure to read THIS post I shared in early 2018 that shared how this day didn't exactly go as planned and was a bit unnerving … in more ways than one!
Seriously, I am so happy I got to check this off my list this year. It really is extremely stunning in person. It almost doesn't look real.
Thanks so much for stopping by today's post. It was so fun pulling all of these images together. It was like I was reliving all of these trips over again. I have a busy travel schedule from February through May. Any ideas on where I'm headed? Where would you love for me to go to make your future trip easier? I'm always looking for great travel destination ideas!
I owe y'all quite a few travel diaries so I will try to get some of those to y'all soon! Paris is up next. Fingers crossed I can get it done for y'all by the weekend! Happy Tuesday!  xo.