Can't believe it's already February! I loved sharing my adventures on Instagram with you this past month! Here are some of my favorite outfits and memories from January! xo.


This is one of the coziest pullovers I've seen this season. And, it has been the second highest selling item this month so clearly y'all were digging how it looked! I loved layering it with a tee + my favorite faux leather leggings!


My adorable hoodie is still fully in stock and under $60! And there is a dupe of my slip-ons for under $25 here!


One highlight of January was getting one of my mom's favorite rings refurbished. It means so much to wear something she loved so much.


How cute is this matching pajama top and pant set for Valentine's Day?! Both are on major sale right now!


Don't mind me, just going to Target for two things and coming home with twelve. This pullover is under $20!


I always get requests from y'all to style more work wear, which I do love to style but often don't have a reason to! But I love this professional, pulled-together look!


This was a comfy look to wear to the coffee shop – I swear I could wear these faux leather leggings all day! And I love the moto version too!


My pajama set is so soft and comfy! Linking some others above that I'm loving right now!


I'm always excited to clean off my calendar and write in all the events coming in the new month! My colorblock cardigan is on sale right now, and my peplum tee is on sale too for under $20!


I had a blast with Whitney in Nashville for NYE! These boots have been on repeat all season. They're a splurge, so I'm linking some dupes above!


I LOVE how soft this jacket is! I shared a little Backcountry try-on haul over on Instagram Stories so you could see it a little closer!


Wore this turtleneck to stay warm in Nashville for New Year's! This cute little place was Le Sel!


This was one of my favorite beanies this season! And the gemstone in my ring is citrine.


My v-neck peplum tee comes in multiple colors and is under $40!


Feeling like Elton in these sunnies! And my leggings are only $85 and come in 7 different color combos!


My tunic is super cute for Valentine's Day but honestly, would be great all year round! These jeans are super versatile + my earrings are on sale right now!


Some days, you just gotta match your reusable coffee cup to your sweater. For me, it happens frequently and I'm not mad about it.


This adorable colorblock sweater is still fully in stock! Grab it now in time for Valentine's Day!


This pullover and jogger set together are under $85!


I'm all about a great sparkly sandal! These are really similar to another pair I have, but I love the extra bling!


In case you missed it, I shared the prettiest pastel street in Paris on the blog earlier this week! My outfit is fairly old, but I'm linking dupes of my booties and other outfit pieces above!


These are legit one of my favorite pairs of slip-ons I've ever owned! So comfortable, they fit beautifully, AND they come in seven other gorgeous colors! Enter code ALYSON40 at checkout for $40 off your pair!


I bought this pullover instantly when I saw it! It's so cute! I felt like rocking the preppy look with the button-down underneath! My exact button-down is really old, so I'm linking some similar options above!


Have you noticed I'm bringing my Karen Walker sunnies back into the regular rotation? They're an all-time favorite of mine! This is an old outfit so I'm linking similar items for you above!


I was so happy to celebrate Chips' Gotcha Day this week! Can't believe it's been two years with this little man already! My sweater is 25% off right now!


Y'all know I'm a sucker for stripes! This sweater is really comfortable and under $80. And there's an almost identical dupe of my sunnies for under $10 here!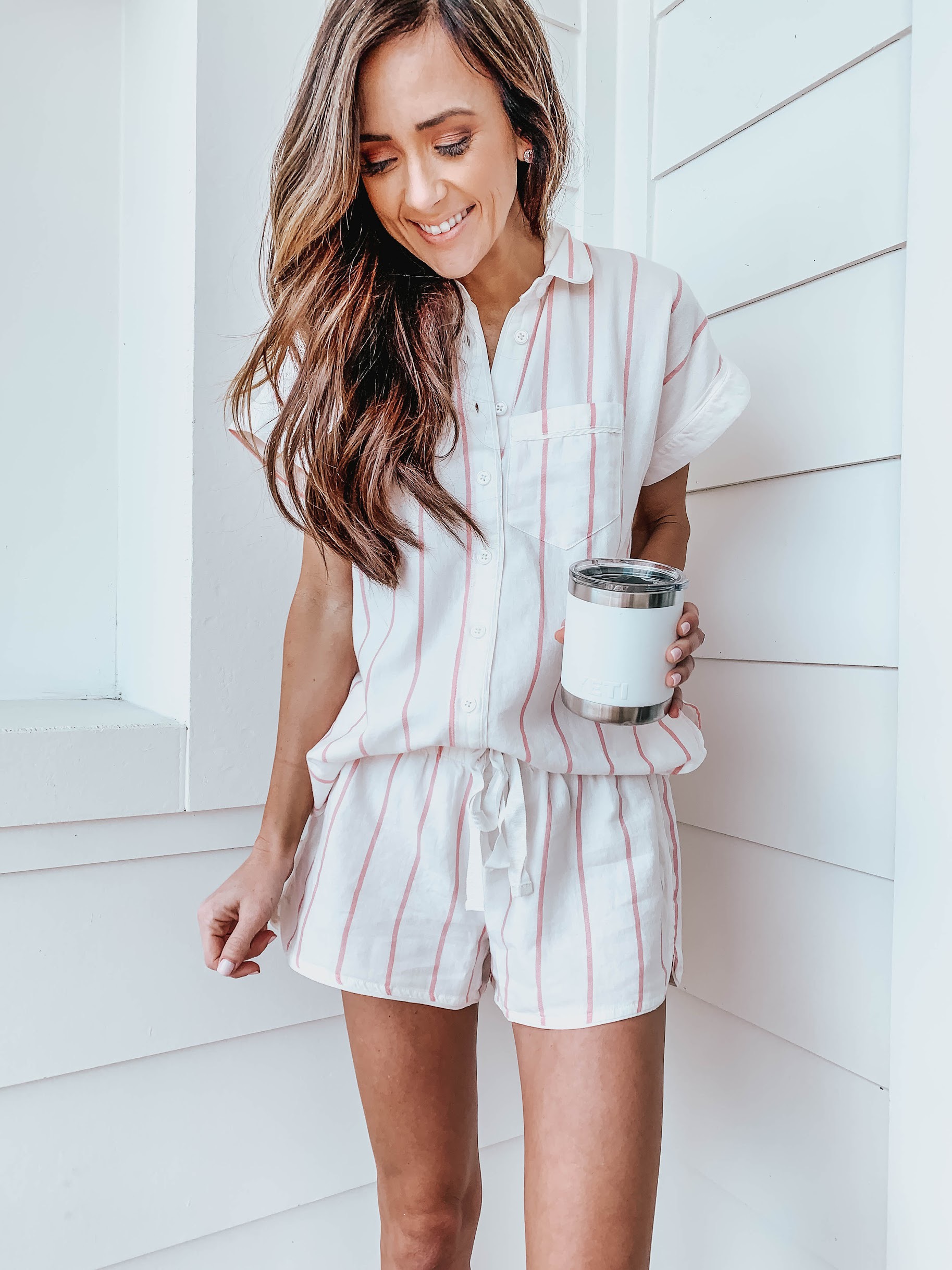 I realize wearing this pajama set outside is NOT realistic for a lot of you right now, but this is one set I've been wearing around the house a lot lately in anticipation of spring!


When you can't decide between casual and dressed up, you go with a little of both! My jeans are on sale for just $44 right now!
Weekend Sales
Here is my round-up of some of the best weekend sales! Happy Shopping!
J.CREW – 25% off full-price styles with code SHOPTOIT
LOFT – 40% off full-price styles with code LOVE
ANTHROPOLOGIE – Select tops $48 and under
ABERCROMBIE & FITCH – 70% off clearance + take an extra 20% off with code 11922
AMERICAN EAGLE – All AE jeans and joggers: buy one get one 50% off
ASOS – Up to 80% off clearance items
WEST ELM – 25% off in stock items + up to 30% off furniture, and up to 40% off rugs, bedding, lighting, and throws
POTTERY BARN– Up to 60% off furniture, lighting & more + up to 40% off AND free shipping on bedding, towels and more
ULTA – 20% off any qualifying purchase with code 637802
LOU & GREY – Take an extra 40% off sale items
GOODNIGHT MACAROON – Get 30% off with code GMXOXO AND 40% off ready to ship items with code READY40
Top 5 Items You Loved In January
Happy Friday, lovelies! Don't forget – you're beautiful, strong and can tackle anything you're faced with! I don't know why – but I just feel led to share that reminder. Love y'all! xo.